Sen. Ted Cruz questioned Judge Ketanji Brown Jackson about Ibram X. Kendi's bestselling picture book.
A children's book became part of the historic Supreme Court confirmation hearings for Judge Ketanji Brown Jackson, who, if confirmed, will be the first Black woman to sit on the court.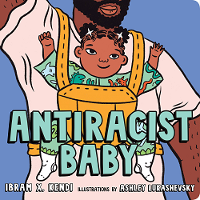 As part of his line of questioning centered around Critical Race Theory, Sen. Ted Cruz questioned the judge about antiracism books. As a staffer put up illustrations from Ibram X. Kendi's Antiracist Baby, Cruz read a few lines from the picture book that he said is taught to students from pre-K to second grade at Georgetown Day School, a Washington, DC, private school. Jackson serves on the school's board.
Cruz read from a portion of the book, "Babies are taught to be racist or antiracist—there is no neutrality."
"Do you agree with this book that is being taught to kids that babies are racist?" Cruz asked.
"Senator," Jackson said. "I do not believe that any child should be made to feel as though they are racist or though they are not valued or though they are less than their victims, that they are oppressors. I don't believe in any of that."
Antiracist Baby, which was published in July 2020, is now the top-selling children's book on Amazon.
Watch the exchange below: