Amid threats and hate-fueled protests, performers and allies remain committed to the program.
Drag Queen Story Hour has faced opposition since it began. But over the last six months, objection has escalated to menacing, harassment, and threats. Proud Boys, some armed, showed up at events in California and Nevada, terrorizing kids, parents, performers, and library staff. Protestors have shouted vile accusations at readers, organizers, and those in attendance. Some events had to be canceled; others increased security measures. Performers have changed their routines for precautionary reasons. But one thing that hasn't happened—drag performers aren't quitting, and supporters haven't been intimidated into abandoning the events.
"Oh, no, I think even more people want to join the program, and more people want to know how they can help," says Jonathan Hamilt, executive director of Drag Queen Story Hour (DQSH), adding that this is nothing new for the performers. "A lot of people who aren't in the LGBTQ community don't realize that this adversity happens on a daily basis. You always have to watch your back and make sure you're safe constantly. This threat is not new to any queer person. It's just in the news right now, so people see it, but this is something that we can face every day, in or out of drag."
This is of course not to say they aren't impacted by the specific threats to DQSH, even in a place like New York City.
"The vast majority of attention we get, at least here in the city, is overwhelmingly positive, especially from the public who attends our events as well as local government, the school system, [and] libraries," says Oliver Click, program director for Drag Story Hour NYC, a DQSH chapter that runs school and public programs. "But starting on June 1 of this year, on the first day of Pride Month, we started dealing with an increase in protesters showing up at events and verbally harassing performers. We had an increase in hate comments online, and we had a few direct threats of violence. Luckily, no one was harmed physically at any point. But that kind of continued to escalate."
As the one who organizes events, Click admits to having second thoughts about continuing business as usual.
"At the peak, when a lot of this was happening, I did have a lot of anxiety as the person who coordinates most of these events, worrying that I was sending people into dangerous situations and being like, 'You know, should we just put a pause on what we're doing so that people aren't at risk?'" they say. "But thankfully, because we had such great support from our venues, as well as from the Anti-Violence Project [and] community members showing up to support, we didn't have to do that. And I'm glad because otherwise, that would have been letting people win and letting people take away the thing that's so important to the communities we serve."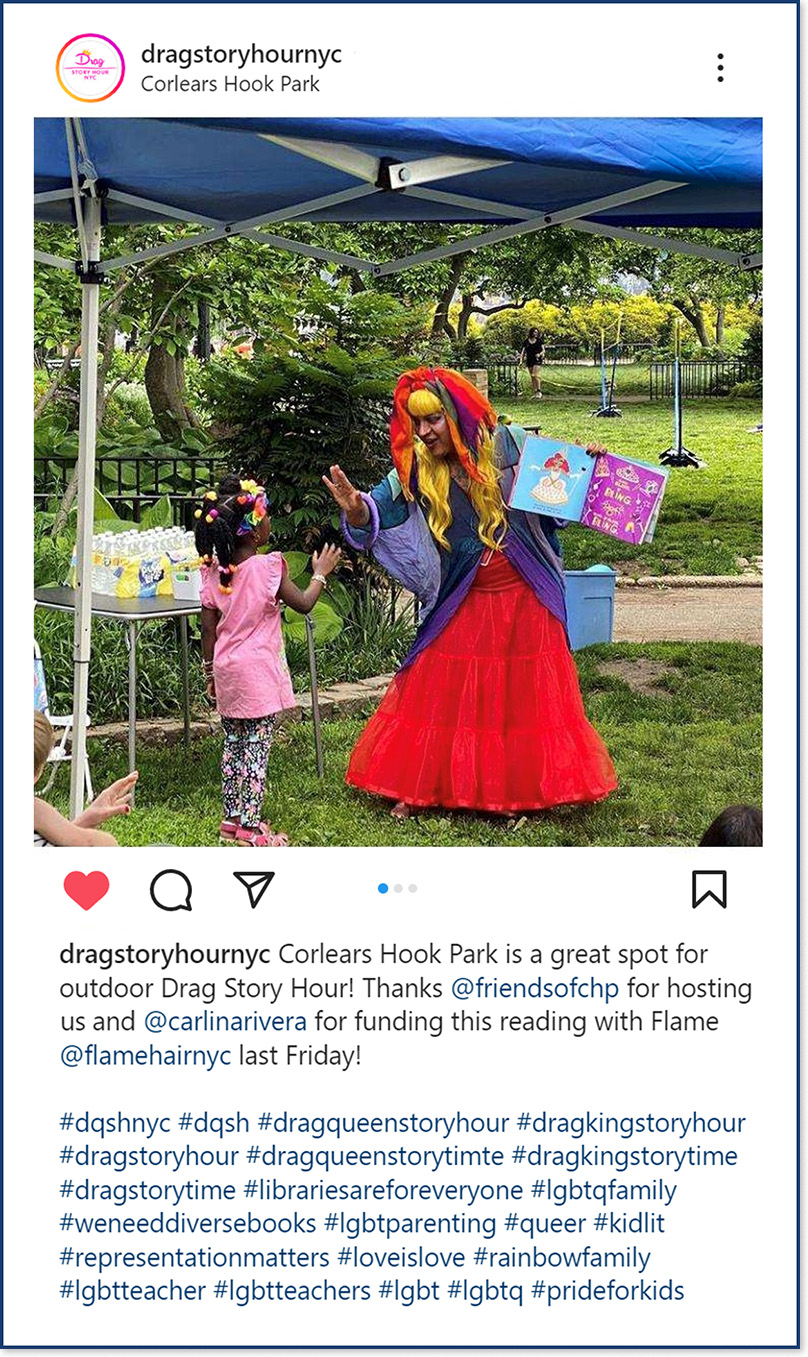 Flame, who has been a DQSH performer for a few years, has altered their routine, changing in and out of drag at the venue instead of at home and taking a car instead of public transportation or their bike. But not once did they consider stopping.
"As scary and terrifying as it is, I know that the work that Drag Story does is life-changing and life-altering, and there's nothing that's gonna stop me from doing it," they say.
As for the protestors, Flame will not engage.
"I know they're entitled to their beliefs, and that's fine, but I don't need to be there butting heads with people. I've had to battle that my entire life," Flame says. "I decided that it's really pointless to argue with people that are never going to see your side of the story. So, at this point, I'm [there] for the people that want to see this, that support us. Maybe we'll change minds along the way. And, if not, that's fine. I just want to be supportive to my community."
Others are doing what they can to support as well. Gwen Mangine is a DQSH volunteer in North Carolina.
"I love the events—they're just beautiful and welcoming," she says. "It gives children experience with things they may not have had experience with before."
Mangine says there is a great deal of support for the program in her area, citing a story from Apex, NC. When DQSH was removed from the town's Pride Festival because of complaints, the backlash from supporters resulted in the storytellers being added back into the event. Local clergy even stood by to intercept protestors, according to Mangine, who says programs like DQSH directly contribute to acceptance.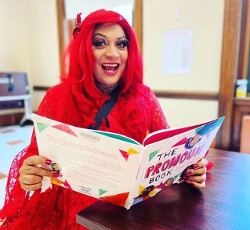 Flame is one of the Drag Story Hour NYC
performers.
"As we normalize the fact that there are a lot of different ways that people can present in this world that are right and correct and good and normal, I think that what we do is we create these spaces for these next generations to really thrive in whoever they are," Magine says. "I look at my children's generation, and how much more accepting they are of folks in the LGBTQ+ community without even having to try. That's the beauty of programs like this. That's the beauty of just giving kids experiences with diverse populations—it just normalizes all of the normal ways people live."
Flame believes that if something like DQSH and all of the books they read existed when they were a child, their young life would have been happier.
"As a young queer child, this would have absolutely changed my life completely," says Flame. "[It] provides the affirmation, the love, and all the positiveness that all kids need."
Flame's favorite book to read to kids is Neither by Arlie Anderson.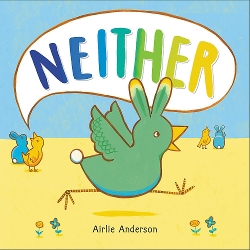 "The first time I read it, it literally made me cry, it resonated so deep in my soul," says Flame, noting that it spoke to how they grew up, never feeling like they belonged in any one category, but that it is not just a book about being part of the LGBTQIA+ community. "It goes for anything. It goes for gender, if you're biracial, if you're too this or too that or not enough. That 'not enough,' I think, resonates with a lot of people, LGBT as well as straight people. It's something that teaches empathy, and speaks up against bullying and treating people unfairly for being different. It's a really beautiful book. I really love reading that to children."
In a time when DQSH performers are facing so much hate, the performers have made a point to support each other, Flame says.
"We have regular meetup events, sometimes in person, sometimes on Zoom," they say. "We accompany each other to events very frequently. I personally like to go to a lot of storytellers' events when they happen on my days off or during the times that I'm not working and be there and show more support. I think it's really important."
Click speaks with venues to make sure they have security in place and a plan to handle possible disruption. One Drag Story Hour NYC event, with a specific threat, did get canceled, but all others have gone on as planned. There has been increased monetary support and overall allyship, Click says.
Meanwhile, Hamilt is working on developing proper protocols and facilitating safety trainings.
"With Drag Story Hour, we've always had opposition, we've always had protests and people not wanting to attend our optional program, which is fine," says Hamilt. "But there's a big difference between standing across the street and praying or peacefully protesting versus these orchestrated, organized hate and white supremacy groups that are attacking us. So, it's definitely a different vibe. It's fueled by anger and threat of physical harm. So that's where the difference in our trainings lie. We weren't prepared to have to do trainings in that capacity."
DQSH is working with the Anti-Violence Project to "produce safety protocols that match up with what's happening right now in the world," Hamilt says.
"Drag Story Hour is just one piece of the story of the full LGBT experience, and it's part of a larger makeup of what's happening in this country with anti-trans bills and anti-LGBT bills," says Hamilt. "It may get harder before it gets easier. We're going to take one story hour at a time, one wig at a time, just take it step-by-step and support our network of chapters and make sure everyone feels supported and safe. And we'll have to deal with what comes to us."