As Hispanic Heritage Month kicks off on September 15, here's SLJ's coverage of titles for kids, tweens, and teens with Latinx creators and characters. Our roundup of this year's reviews and interviews features #OwnVoices creators and books that center Latinx experiences.
For more book recommendations, this month and throughout the year, be sure to also check out the annual Pura Belpré Award winners, Latinxs in Kid Lit, and Las Musas.
And for further reading, take a look at our news and feature stories on the vitality of school libraries for Black and Latinx students, increased graduation rates for Black and Hispanic students, and how libraries can support immigrant families.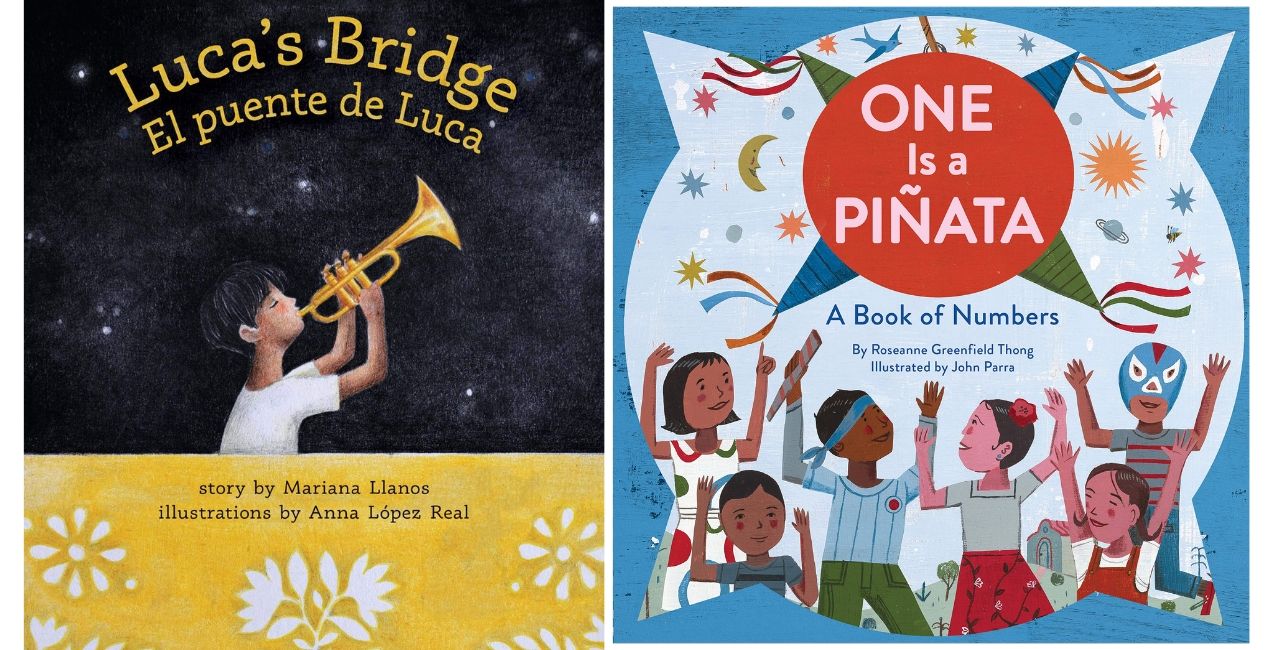 Picture Books
Gonzalez III, Raúl. ¡Vamos! Let's Go to the Market. illus. by Raúl Gonzalez III. 40p. HMH/Versify. Apr. 2019. Tr $14.99. ISBN 9781328557261.
K-Gr 2–It is an exciting day for Little Lobo. Today, he is going to the market with his dog, Bernabé. The desert town is vibrant with commerce, street vendors, and an array of animal inhabitants. For Little Lobo there is no stopping; he absolutely enjoys greeting acquaintances, delighting in street performances, and fulfilling his job of delivering supplies at the market. Gonzalez has created a simple narrative that includes Spanish vocabulary, which is playfully positioned surrounding the many streets, food stores, and buildings, encouraging readers to say the Spanish words as they turn the pages. The cartoon images set a festive tone, inspired by El Mercado Cuauhtémoc in Juárez, Mexico, with a soft-toned autumnal palette. The book contains a glossary with the vocabulary words and their respective pronouns. VERDICT This picture book entertains and informs readers through fresh and engaging art, advancing Spanish vocabulary and cultural references. A winner. –Kathia Ibacache, Simi Valley Public Library,CA
Llanos, Mariana. Luca's Bridge/El Puente de Luca. illus. by Anna López Real. Penny Candy Books. Apr. 2019. 40p. Tr ISBN 9780998799957.
Gr 1-4–Although Luca and his brother Paco were born in the U.S., their parents are undocumented and receive notification that they must return to Mexico. To keep their family together, they move to Mexico, an unfamiliar place to Luca and Paco. Although her house is small, Luca's grandmother welcomes the family with plenty of warmth and food to go around, but Luca yearns for his home and spends his days dreaming of returning. While feeling especially homesick one day, Luca picks up his trumpet, thinking that playing a tune will cheer him up. But his family is tired and asks him not to play, and so Luca drifts into a deep sleep. He dreams that as he's playing his trumpet, the music forms a beautiful bridge and reconnects him back to his friends, his family's old apartment, and the music he'd listen to on the radio. He's so happy that he begins laughing in his sleep. Luca awakes and begins playing his trumpet, filling the home with joy that reminds them all of their old home. VERDICT This bilingual book illustrates how Mexican immigrant families risk everything when they cross the border into the United States in search of a better life. An essential addition to any bilingual collection. –Natalie Romano, Denver Public Library
Quintero, Isabel. My Papi Has a Motorcycle. illus. by Zeke Peña. 40p. Penguin/Kokila. May 2019. Tr $17.99. ISBN 9780525553410.

K-Gr 2–A radiant ode to a young girl's father and her L.A. neighborhood. Every evening, Daisy and her papi snap on their helmets (hers is purple with a unicorn, his a black vintage variety) and begin their ride on his electric blue motorcycle through Corona, CA. At times they "roar past" taquerias and murals, and other times they "cruise," greeting family and neighbors as they pass by. All the while, Daisy absorbs the sights, sounds, and smells of her beloved hometown, imprinting its idiosyncrasies into memory. Daisy's experiences mirror Quintero's childhood memories, recounted through tender language and vivid sensory details. Recalling the motorcycle rides with her papi is an exercise in familial love, but also a way to honor a hometown and present the changes from gentrification. Although the topic is touched upon lightly, its complexity percolates and becomes much more vivid with multiple reads. The illustrations faithfully capture the merriment and love through careful details and a low-key color palette that alludes to warm memories being made and recollected. Peña makes felicitous use of his comics chops, incorporating speech balloons with Spanish phrases, onomatopoeia, and panels to convey movement. Quintero's writing and Peña's art coalesce most beautifully in the infectious look of joy on Daisy's face throughout. VERDICT A book that radiates sheer happiness without shying from reality. Highly recommended for all libraries. –Jessica Agudelo, New York Public Library
Thong, Roseanne Greenfield. One Is a Piñata: A Book of Numbers. illus. by John Parra. 40p. Chronicle. Mar. 2019. Tr $16.99. ISBN 9781452155845.

PreS-Gr 1–This companion to Green Is a Chile Pepper and Round Is a Tortilla makes learning numbers in English and in Spanish a fun fiesta for young readers. Through rhyming stanzas, children can count from one to 10, using bolillos, burbujas, paraguas, and calaveras along the way. Each number has its own theme, representing a year's worth of seasonal pastimes and festivals. The book is playful and fun to read and offers plenty of opportunities for bilingual vocabulary development, incorporating recognizable symbols of Latinx cultural heritage. Short, catchy text will hold the attention of very young learners and add to the book's buoyant appeal. Brightly colored, animated illustrations blend the imaginative with the realistic and complement the singsong rhythm, with words and pictures evenly placed throughout. Colors are vibrant, with a diversity of skin tones represented. Plenty of space around the text will facilitate letter recognition and comprehension for beginning readers; Spanish and English words are woven together seamlessly, accurately relating concepts in both languages. VERDICT An obvious choice for any picture book collection, this book teaches counting skills and new words while celebrating Hispanic and Latinx culture. –Natalie Romano, Denver Public Library
VAMOS, Samantha R. The Piñata That the Farm Maiden Hung. illus. by Sebastià Serra. 32p. Charlesbridge. Jan. 2019. Tr $17.99. ISBN 9781580897969.

K-Gr 2–It takes the hard work and the imagination of many to throw a perfect surprise party. The farm maiden (campesina), a young boy, a farmer, and their group of animal friends prepare for a birthday celebration by gathering all the supplies to make a piñata for their special guest. Each character helps in its creation: The horse (caballo) hauls the water, the goose (ganso) mixes the paste, and the cat (gato) tears the paper that will become the colorful party centerpiece. The boy (niño) hangs the paper flags, while the farmer (campesino) carves traditional Mexican folk-art sculptures (alebrijes). After a long day of decorating the plaza, everyone falls asleep, forgetting to stuff the piñata with treats. But they awaken to fill it just in time as the birthday girl comes home to be surprised by all of her friends. This bilingual book written in cumulative verse poetry introduces new characters as the story unfolds, and the Spanish word for each animal replaces the English word from the previous page. The result is a colorful, festive surprise (sorpresa). Readers will enjoy singing "The Piñata Song" and will be inspired to make their own piñatas using the included recipe and instructions. A glossary of Spanish words and cultural terminology is also included. Reminiscent of a traditional folk rhyme, this book accompanies The Cazuela that the Farm Maiden Stirred, also by Lopez. VERDICT An essential addition to any picture book collection. –Natalie Romano, Denver Public Library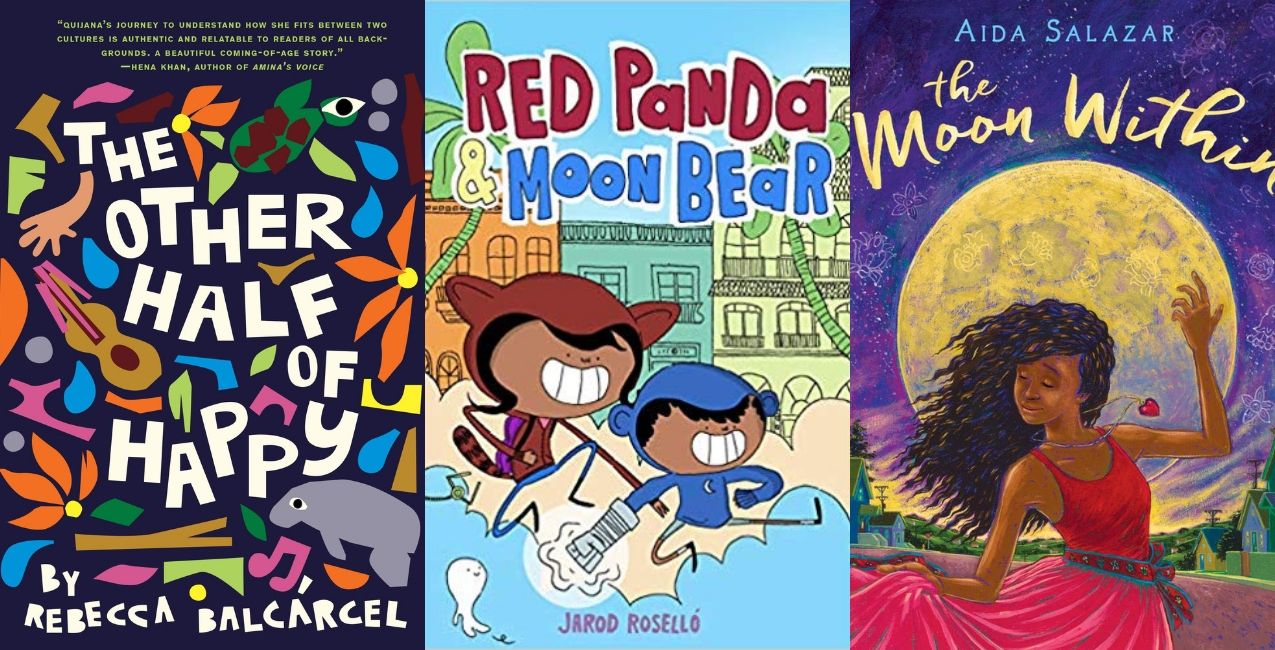 Middle Grade
Balcárcel, Rebecca. The Other Half of Happy. Chronicle. Aug. 2019. 332p. Tr $16.99. ISBN 9781452169989.

Gr 4-7–American-born 12-year-old Quijana lives in Texas and is the child of a Guatemalan father and a white mother. When Quijana starts sixth grade at a new school, her Spanish teacher mistakenly believes that Quijana is a native speaker. Spanish-speaking classmates call her a "coconut," their slang term for a Latino person who "acts white." Luckily, Quijana befriends Jayden and Zuri and quickly develops a crush on Jayden. Outside of school, Quijana struggles with her immediate and extended family. Her paternal family moves to the area, and Quijana's parents pressure her to engage with her Guatemalan side; they want her to wear a handmade garment called a huipil, which her abuela gives her, and speak Spanish with her on the phone. Inspired by her choir class, Quijana secretly learns to play her father's guitar, writing her own music instead of playing the Spanish songs he wants to teach her. The family grows concerned about her younger brother Memito, who may have autism, and her maternal grandmother, Grandma Miller, who lives in Florida and has cancer. When Quijana's parents arrange a family trip to Guatemala over the holiday break, she feels overwhelmed by family expectations and secretly buys a bus ticket to Grandma Miller's house. At its core, Balcárcel's novel is a story of identity within one's self and within a broader community. Quijana wants to embrace the pieces of her Guatemalan identity on her own terms and at her own pace, which gradually brings her closer to her family. Zuri and Jayden also navigate their cultural and sexual identities, respectively. Quijana struggles with being named after Don Quixote, perceiving him, and herself, as people who rarely succeed. The narrative moves at a quick and steady pace, leaving each component of the plot with a satisfying ending and believable loose ends. VERDICT Balcárcel's well-rounded characters, complex friendships, and nuanced family dynamics will resonate with many readers. This is a title that will remain relevant long past its publication date. A must-have for all library collections. –Liz Anderson, DC Public Library
Cartaya, Pablo. Each Tiny Spark. Penguin/Kokila. Aug. 2019. 336p. Tr $16.99. ISBN 9780451479723.
Gr 4-7–There's a lot going on in Emilia Torres's life. On the day her mom leaves town for a job interview, her dad gets home from a long deployment and something isn't quite right with him. Abuela is trying to run her life, Emilia has an unusual type of attention deficit hyperactivity disorder, and, worst of all, a class assignment splits students down the middle and creates a rift between kids who have been friends for years. As difficult as it is for her to focus, can Emilia figure out how to placate her grandmother and help her dad heal while standing up against injustice? Cartaya excels at showing realistic tween drama—no explosions, jumping off cliffs, or magic fairies here. However, there's a lot going on, and it may be as hard for younger readers to keep track of everything as it is for Emilia. Although Emilia's problems are not all neatly resolved by the last page, she grows stronger as she moves forward, which is an inspiring conclusion for readers facing their own complicated life situations. VERDICT Hand to tween fans of realistic fiction, especially those who have enjoyed Cartaya's earlier books. –Elizabeth Friend, Wester Middle School, TX
Fontanot de Rhoads, María Elena & Tony Johnston. Beast Rider. 192p. Abrams/Amulet. Mar. 2019. Tr $17.99. ISBN 9781419733635.
Gr 4–7–The train that passes near Manuel's family farm in Mexico is called The Beast, and Beast Riders are those who jump onto this moving train headed toward the U.S. Manuel has a loving family, but life on the farm is difficult, and he longs to be reunited with his older brother who reached Los Angeles four years earlier. He slips away from home one night at the age of 12 and becomes a Beast Rider himself. Although Manuel knows the ride will be challenging, he is not prepared for the cunning tactics of thieves and gangs; he is beset by violence multiple times, and his severe injuries prolong his journey. With the help of kind strangers and a group of smugglers hired by his brother, Manuel finally arrives in Los Angeles at the age of 15. Their reunion is joyful, but Manuel struggles to become accustomed to life as an undocumented immigrant in a large city and must decide whether this new life is really what he wants. This story feels personal and real; it does not romanticize or try to fully tackle the complex issue of immigration. Manuel narrates in a frank, unflinching manner, using a well-crafted combination of short, abrupt thoughts and longer descriptive sentences. Spanish words and phrases are woven expertly throughout the narrative. Back matter includes a glossary of terms and their English counterparts, as well as an authors' note giving context about real-life Beast Riders. VERDICT Told directly and effectively, this story gives readers an opportunity to be present for one young man's harrowing journey as an immigrant to the U.S. –Sarah Reid, Four County Library System, NY
Hernandez, Carlos. Sal and Gabi Break the Universe. 400p. (A Sal and Gabi Novel: Bk. 1). Disney-Hyperion. Mar. 2019. Tr $16.99. ISBN 9781368022828.

Gr 4–8–Sal Vidón is attending a new school, with new bullies and new teachers who don't understand the needs of a student with Type 1 diabetes. He also causes rips in time and space by transporting objects from other universes. Sometimes he transports harmless prank items, but sometimes he goes home to find his long-dead mother cooking yucca in the kitchen. When Sal meets Gabi Reál, student body president and all-around firebrand, they begin a friendship that may break the universe—or save it. Delightfully weird, this is unlike any other book in the middle grade canon. Hernandez has managed to include conflict and excitement into his first novel for young people, without falling into the trap of unrealistic villainy. Every character is doing their best, even when that best doesn't turn out well. Readers need to be comfortable with a suspension of disbelief and accept unexplained backstories. Many elements of the story, like Sal's superpowers and Gabi's family dynamics (including a robot parent,) are left mostly unexplained. Fans who enjoyed Madeleine L'Engle's A Wrinkle in Time and Rick Riordan's works will love Sal and Gabi, as will readers looking for upbeat fiction with Spanish-speaking characters. VERDICT Hernandez offers a rip-roaring and emotionally resonant sci-fi adventure. A must-have for middle school or upper elementary libraries, especially where there are science fiction and fantasy fans. –Jeri Murphy, C.F. Simmons Middle School, Aurora, IL
Otheguy, Emma. Silver Meadows Summer. 240p. Knopf. Apr. 2019. Tr $16.99. ISBN 9781524773236.
Gr 4–6–When 11-year-old Caroline's father loses his job, the family leaves Puerto Rico and relocates in New York where they live with other family members. Her cousin, Gabriela, is far more social than Caroline, who focuses on her art. Carolina and Gabriela are going to Silver Meadows camp this summer, where Gabriela has been in past years and has friends. Carolina's mom suggests she should make friends and be less "antisocial." Caroline meets Jennifer and they share an interest in art, but Gabriela tells her that Jennifer is "weird" and should be avoided. Jennifer and Caroline find a cabin nestled in the woods of the camp that others don't know about and secretly turn the rundown place into their own private artist studio. This contemporary novel reflects the complications of giving up a home, relocating in a new country, and following one's own interests even when they are not fully understood by others. VERDICT An introspective, character-driven tale that will appeal to artists, introverts, or any child who has felt like an outsider. –Helen Foster James, University of California at San Diego
Pérez, Celia C. Strange Birds: A Field Guide to Ruffling Feathers. Penguin/Kokila. Sept. 2019. 384p. Tr $16.99. ISBN 9780425290439.

Gr 4-7–Lane Disanti is spending the summer with her grandmother as she tries to get used to a newly fractured family. Lane decides to create a secret club to make some friends of her own. Banking on anonymity and mystery being an enticement, she drops invitations into programming bags at the library. Three very different girls find the invitations and attend the first meeting. Ofelia Castillo is a budding 12-year-old reporter always on the hunt for the next big story. Having overprotective parents means Ofelia has little opportunity to put her sleuthing skills to good use. Aster Douglas lives with her grandpa, who homeschools her and teaches her the art of civil disobedience. She whips up culinary delights to distract her from the absence of a father who died in combat and a mother stationed in Japan. Catarina Garcia is a young ornithologist trapped by her mother's desire to see her wearing the feathery crown of the Floras, the local Scouts. The other Floras members, including her old best friend Alice, make fun of her ideas about bird preservation. The four girls learn about friendship as they grow to support one another over a common cause. This story is a wonderful look at the complex and fragile nature of friendships. Pérez skillfully examines themes of change, allowing each girl to shine, and their unique character arcs are creatively explored. VERDICT A perfect title for school and public libraries seeking realistic books about friendship. –Desiree Thomas, Worthington Library, OH
Celia C. Pérez talks to SLJ about tactile story writing, activism, and living vicariously through her characters.
Roselló, Jarod. Red Panda and Moon Bear. illus. by Jarod Roselló. Top Shelf. Jul. 2019. 192p. pap. $14.99. ISBN 9781603094443.

Gr 4-6–Two crime-fighting Latinx siblings star in this series starter that's perfect for readers who like their superhero stories with a heavy dose of humor. Red Panda's hoodie, complete with ears and a tail, gives her "the power of twelve fully grown red pandas," while her brother, Moon Bear, sports a blue hoodie and a gauntlet holding a mysterious magical crystal of unknown power. Between bringing Mauricio's Bakery (and his pastelitos) back from a fold in the space-time continuum and caring for two dubious stray dogs, Red Panda and Moon Bear still have time to teach readers important life lessons—for instance, an encounter with robot aliens leaves the protagonists awed by the "potential and promise" surrounding every kid. The tale is heartwarming and silly, with Spanish interspersed throughout. The bright and cartoonish artwork is just as charming; characters have elongated limbs, and details like a dog wearing an eye patch are reminiscent of Adventure Time's visual humor. VERDICT Offering plenty of fun along with insightful commentary on topics such as environmentalism and the power of storytelling, this graphic novel is a must. –Liz Allen, Middle Country Public Library, Centereach, NY
Salazar, Aida. The Moon Within. 240p. Scholastic. Feb. 2019. Tr $17.99. ISBN 9781338283372.

Gr 4–8–Salazar's debut coming-of-age story told in verse explores the themes of first love, first periods, and gender identity. Eleven-year-old Celi Rivera is mortified by the looming fact that her first period is coming. Her mother, however, is eager to throw her a "moon ceremony" upon its arrival to reclaim and honor their ancestral Mexica traditions and to empower her as she enters young womanhood. Meanwhile, Celi's best friend Magda is also going through a change, asking Celi to use he/his pronouns and call him Marco as he embraces his transition into a xochihuah, "people who danced between/or to other energies/than what they were assigned at birth." But when Celi's new crush Iván repeatedly makes fun of Marco for his appearance, Celi makes a few rash decisions. Celi's and Marco's parents come through with wisdom, shedding light and acceptance on each tween's journey. Celi's mom speaks frankly about sex and health, using poetic imagery to describe "women's most magical parts" and sexual pleasure. This novel contains rich descriptions of Mexica rituals and provides a unique perspective on gender fluidity and the bonds of unbreakable friendship. VERDICT An excellent addition for upper middle grade and middle school readers, especially for maturing tweens in the midst of puberty. –Jane Miller, Nashville Public Library

Nonfiction
Engle, Margarita. Dancing Hands: How Teresa Carreño Played the Piano for President Lincoln. illus. by Rafael López. S. & S./Atheneum. Aug. 2019. 40p. Tr $17.99. ISBN 9781481487405.
PreS-Gr 2–Teresa Carreño achieved global fame as a performer, composer, pianist, and opera singer. By the age of six, she was composing. At the age of seven, she began performing. Revolution in Venezuela forced the Carreño family to migrate to New York, an unfamiliar place where few people spoke Spanish and her family felt out of place. But war would follow them—in 1863 the United States was in the midst of the Civil War. At the age of 10, Carreño was invited to play for President Abraham Lincoln and his family at the White House. But will a poorly tuned piano diminish her performance? This is a story of overcoming fear and using one's talents to spark joy despite unforeseen obstacles. Author and illustrator are well paired in this interesting narrative. Darks and lights, whether representing world events or the colors of the piano keys, are recurring themes that Engle cleverly entwines in her at times poetic writing. López's illustrations practically leap from the page as they mirror the tone of events—bright and beautiful when the story is light; dark, drab, and gray when echoing conflict. A historical note in the back matter provides slightly more insight, but Engle's writing occasionally seems to take liberties with individual characters' thoughts and emotions with little supporting evidence. VERDICT Despite the efficacy of the author and illustrator collaboration, the historical facts remain somewhat sketchy throughout the narrative. A gentle title to add cultural insight to any collection, though possibly best for larger budgets. –Rebecca Gueorguiev, New York Public Library
Engle, Margarita. Soaring Earth: A Companion Memoir to Enchanted Air. 192p. S. & S./Atheneum. Feb. 2019. Tr $18.99. ISBN 9781534429536.

Gr 7 Up–In this stirring companion to her acclaimed memoir Enchanted Air, the Young People's Poet Laureate recounts the tumultuous late 60s and early 70s—a perfect parallel to her turbulent high school and college years. Using mostly free verse with smatterings of tanka and haiku, Engle shines a light on the uncertainty and restlessness of the time period—the Vietnam War; civil, women's, and labor rights movements; the rise of hippie and drug culture; and more—with raw, painful, but always poignant honesty. The peace-loving young woman often found herself at odds with her parents, boyfriends, fellow students, and institutions, but she never lost touch with her roots. No matter how much time passed, at her core, Cuba and her family are knit into the fabric of her identity. The author's evocative language, vivid imagery, and authentic portrayal will engage teens. Her bumpy and circuitous road filled with failures, homelessness, and eventual resolution and academic success will encourage young adults on their own paths. VERDICT An unforgettable peek into an important and relevant time period brought into perspective by a masterly poet. A must-have for every collection. –Shelley M. Diaz, BookOps: The New York Public Library and Brooklyn Public Library
Hale, Christy. Todos Iguales/All Equal: Un Corrido de Lemon Grove/A Ballad of Lemon Grove. illus. by Christy Hale. Lee & Low. Aug. 2019. 40p. photos. sources. Tr $18.95. ISBN 9780892394272.

Gr 3-6–It is 1930, and young student Roberto Álvarez loves school in Lemon Grove, where Mexican and Anglo children learn and play together. When Roberto's family and neighbors discover the school board is planning to create a separate school for the children of Mexican families, they create the Lemon Grove Neighbors Committee, meet with the Mexican consul, and file a lawsuit against the school board. Roberto is chosen to show that the claims the school board is making—that the students were being sent to the second school to receive special attention because they needed additional help—are untrue. Roberto's concise and educated answers (shown to be spoken in complete English) help to convince the judge that separating the children is unjust. Beautiful, stylized illustrations depict the events and individuals' personalities clearly. Text in both English and Spanish accompanies the illustrations, making this a nonfiction book that will be widely accessible to readers of one or both languages. The book includes a corrido, or ballad, of the events of Lemon Grove, as well as pages with more information about the case and the participants, what happened after the case, and additional details about corridos. A source page brings these elements together to create a deeply knowledgeable text about an important time in our history. VERDICT Bilingual text and eye-catching illustrations join a treasure of additional resources to create this significant text. Highly recommended for nonfiction collections for young readers, and perfect for use alongside titles such as Separate Is Never Equal by Duncan Tonatiuh. –Selenia Paz, Harris County Public Library, Houston, TX
Kuklin, Susan. We Are Here To Stay: Voices of Undocumented Young Adults. 192p. chron. index. notes. Candlewick. Jan. 2019. Tr $19.99. ISBN 9780763678845.
Gr 5 Up–While the nine young adults who tell their stories in Kuklin's moving new volume came to the United States from different countries, there are commonalities among them beyond the tenuous situations in which they still find themselves. Narratives detailing their experiences with Deferred Action for Childhood Arrivals, border security, and their feelings about assimilating into U.S. society while leaving behind their homelands are illuminating. In order to protect the participants, they are identified only by first initials, empty frames have replaced photographs of them, and all means of identifying them were removed. Kuklin shares her hope that one day the book will be reissued with the photographs and names intact, though the current format effectively demonstrates that many young people have to live hidden in plain sight. A notes and resources section includes a time line about executive actions and immigration law from 1790 through 2017 as well as a list of websites of interest for undocumented immigrants and those seeking information about them. VERDICT A timely account that most libraries will want to consider. –Betsy Fraser, Calgary Public Library, Canada
Markham, Lauren. The Far Away Brothers (Adapted for Young Adults): Two Teenage Immigrants Making a Life in America. Delacorte. Aug. 2019. 288p. index. notes. Tr $17.99. ISBN 9781984829788.

Gr 6-9–This young adult adaptation of Markham's book by the same name tells the story of twin brothers Ernesto and Raúl Flores. When Ernesto ended up on the wrong side of the gang MS-13, he fled El Salvador for America; Raúl quickly joined his identical brother, fearing he would be mistaken for Ernesto. The brothers crossed the border, ultimately falling into the hands of immigration. They navigated the legal process of acquiring papers, learned English, and figured out ways to send money home to their parents in order to repay the mounting debt they incurred to make it to the United States. Markham tells the story honestly and vividly, and while at times the book reads like fiction, she inserts her expertise as well as facts and data on the issue. VERDICT Readers will get a very human glimpse into the lives of two immigrants while also learning more about the larger picture of immigration in the United States. A must for all young adult nonfiction shelves. –Katharine Gatcomb, Portsmouth Public Library, NH
Levy, Debbie. The Key from Spain: Flory Jagoda and Her Music. illus. by Sonja Wimmer. Kar-Ben. Aug. 2019. 32p. Tr $17.99. ISBN 9781541522183; pap. $7.99. ISBN 9781541522190.

Gr 2-5–Levy's captivating picture book biography tells the story of Flory Jagoda, known today as the "Keeper of the Flame" of Sephardic culture and music. The narrative begins centuries after Flory's descendants, the Altaras family, were expelled from Spain during the Inquisition due to their Sephardic identity. After centuries of living peacefully in Bosnia, Flory's family had to escape the dangers of World War II for the same reason. Forced to flee her home for America, Flory relied on music to stay connected to her family's heritage, even as war ravaged her home and stole away her loved ones. Levy's writing and Wimmer's mixed-media illustrations strike the perfect synergy, working together to celebrate music, heritage, and family histories. The writing is poetic and lyrical, effortlessly weaving centuries of history into the story while maintaining a strikingly intimate tone. Wimmer's illustrations are nuanced, and readers will enjoy discovering new details upon each rereading of the book. VERDICT A beautifully crafted story that touches on a lesser-known historical topic. Together, the words and pictures convey musicality without a single note of harmoniku, Flory's instrument of choice, having to be played. This work is a must-purchase for library collections. –Lauren Hathaway, University of British Columbia
Voces Sin Fronteras: Our Stories, Our Truth: True Comics from the Latin American Youth Center. illus. by various. 318p. Shout Mouse. May 2019. pap. $17.99. ISBN 9781945434662. BL

Gr 7 Up–Sixteen Latinx teens who emigrated from Mexico and Central America tell their stories in this bilingual volume, the result of a collaboration between nonprofit press Shout Mouse and the Latin American Youth Center in Washington, DC. While the artwork is at times unpolished, the comics will reverberate with readers. Following each piece is a reflection by its contributor. This powerful compendium amplifies teens' understanding of the young immigrant experience—facing fears, overcoming sadness and the temptation to give up, learning a new language, and being left by parents who migrated first, then forgiving and reuniting with them decades later. Contributors share the wisdom gained from shaping their identity through storytelling. Tato fled violence in Honduras and crafts his own vision of the American dream: to become someone who has a positive impact on others. Alejandro concludes, "You never fail, you only gain experience." Insightful quotes in the essays are highlighted in large typeface: "The mind is treacherous, just because it tells us we cannot, does not mean it is true." VERDICT Spotlighting underrepresented voices, this work is highly recommended for all communities in their efforts to promote empathetic, inclusive discussions around immigration. –Sara Lissa Paulson, City-As-School High School, New York City
Villalobos, Juan Pablo. The Other Side: Stories of Central American Teen Refugees Who Dream of Crossing the Border. Farrar. Sept. 2019. 160p. glossary. Tr $17.99. ISBN 9780374305734.
Gr 7 Up–In Villalobos's author's note, readers learn that all of the stories in this collection were inspired by 10 immigrant minors from Los Angeles and New York in 2016. And while there are fictional techniques employed and names have been changed to protect anonymity, they are true to the experiences of the Central American teens who crossed the border into the United States. Set off with graffiti-style title pages, each short story highlights the current climate of immigration from hopeful to tragic and showcases a range of experiences including financial payout for transportation, running away from home, and kidnapping. The emotional toll is felt deeply, no matter the bleak circumstances, with narrators recounting experiences of being locked in a shipping container or a jail cell. The weakness of this collection is that the varied fictional techniques do not tie the stories together and infrequently fit the storytelling itself. For example, one story uses chapter headings while another uses dates; another uses hyphens to move the story forward paragraph by paragraph. VERDICT Ultimately, this collection is an additional purchase because of the quality of the writing, not because of the significance of the topic and stories that lie within. Without consistency, the stories feel scattered with the only binding element being the teens' geographic location. –Alicia Abdul, Albany High School, NY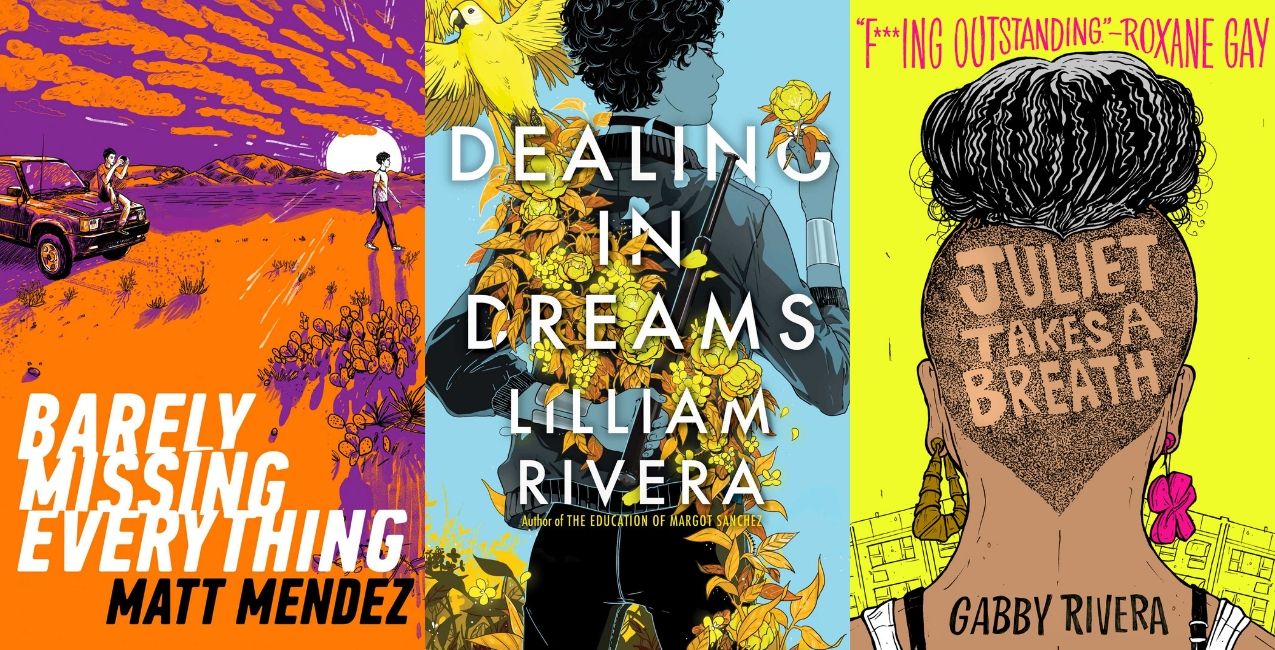 Young Adult
Acevedo, Elizabeth. With the Fire on High. 400p. HarperCollins/Harper. May 2019. Tr $17.99. ISBN 9780062662835.

Gr 9 Up–The acclaimed author follows up her celebrated The Poet X with a love letter to food and a tribute to young, single mothers. Emoni Santiago is an Afro-Latinx high school senior in Philly who dreams up the most delectable concoctions, always mixing up tastes from her two cultures with a spice of her own. The news of a culinary arts course with a possible trip to Spain grabs her interest, but how will she juggle school, work, and taking care of her daughter? The young woman is barely balancing everything on her plate with the help of her talented best friend Angelica, 'Buela (her intractable grandmother), and occasional visits from her activist father (who moved to Puerto Rico after her mother's death). Acevedo populates her first prose novel with complex and unforgettable characters and turns the stereotype of "teen mom" on its head. Emoni has to deal with daycare drop-offs, custody issues, and making ends meet alongside college applications, budding romances, and the high school rumor mill. Realistic dialogue and vulnerable interior monologues about sex, loss, and insecurities will ring true with all adolescents. The author expertly weaves Spanglish, toddler mom worries, and culinary lingo and aptly evokes the Philly and Spain settings, immersing readers in Emoni's world. The novel's three parts are introduced by recipes created and perfected by the protagonist, and hints of Laura Esquivel's Like Water for Chocolate will leave teens hungry for more. VERDICT Acevedo's second serving offers a much-needed nuanced exploration of teen parenting that belongs on all shelves. –Shelley M. Diaz, BookOps: The New York Public Library and Brooklyn Public Library
Cardinal, Ann Dávila. Five Midnights. 288p. Tor Teen. Jun. 2019. Tr $17.99. ISBN 9781250296078.
Gr 9 Up–When Lupe Dávila arrives in Puerto Rico to spend the summer with her Tío Esteban and Tía Maria, she doesn't imagine that she'll become so closely involved in one of her uncle's investigations. As two murders take place within the first few days of Lupe's arrival, she becomes increasingly concerned for her missing cousin Izzy and suspects that the cases are related. At the same time, Javier Utierre, close friend of the victims, realizes that both were part of Los Cangrejos, the group that he was a part of when he was younger. Soon he and Lupe are working together to try to find Izzy and discover who is behind the murders. As they get closer to the truth, they learn that the legendary El Cuco, embedded into the heart of the island and present in many places with many names, may be the shadow that is following Javier and Izzy, seeking to take them as well. Told from the perspectives of several of the characters, this fast-paced mystery delves into life in Puerto Rico—from the beauty of the island to the troubles that people face every day. Short chapters and events happening within the span of a few days will make this a quick read that teens will not want to put down until they uncover the truth. VERDICT A unique mystery brimming with suspense that brings a legendary character from Latin legends out of the shadows. –Selenia Paz, Harris County Public Library, Houston, TX
Charles, Tami. Becoming Beatriz. Charlesbridge Teen. Sept. 2019. 272p. Tr $17.99. ISBN 9781580897785.
Gr 8 Up–It is the mid-1980s and Beatriz worships the TV show Fame. Her mom brought Beatriz and her brother, Junito, to New Jersey from Puerto Rico to escape their abusive father who particularly targeted Junito for not being masculine enough. Beatriz dreams of dancing professionally like her inspiration, Debbie Allen, but when Junito is murdered by Haitian gang leaders, she steps up her involvement with the Diablos, their Newark gang. A Shakespearean twist brings the beautiful and nerdy Haitian Nasser into Beatriz's life. Nasser's multifaceted brilliance inevitably wins Beatriz's heart and leads her back to her passion and commitment to music. Family and school dynamics are spot-on as authority figures range from completely clueless to vitally aware. The language is improbably tame at times for a girl who conceals a razor blade in her cheek every day, but the accurate and immersive '80s music, fashion, and historical references outweigh these scattered lapses. Some of the Spanish dialogue is defined by context, but English monolingual readers may need to translate a few phrases or miss out on details. Similar to The Hate U Give, this book offers readers painful and intimate experiences with injustice through an intensely effective first-person narrative. VERDICT Compelling romance with insightful commentary on racial, cultural, and LGBTQ discrimination alongside the realistic depiction of gang dependency and its impact. –Elaine Fultz, Oakwood City Schools, Dayton, OH
Díaz, Natasha. Color Me In. Delacorte. Aug. 2019. 384p. Tr $17.99. ISBN 9780525578239.
Gr 8 Up–Sixteen-year-old Naveah isn't seen by her peers as African American because of her light skin. When her parents separate and she and her mother move in with her grandparents in Harlem, Naveah is forced to recognize that her relationship with her racial identity is complex. As her father watches her relationship with her mother's Baptist family grow, he chooses to complicate matters by deciding that, instead of having a Sweet 16 party, Naveah should celebrate the Bat Mizvah she was never encouraged to have when she was younger. Meanwhile, in Harlem, Naveah begins a relationship with Jesus and struggles with her relationship with her cousins. Her cousins are very aware that because Naveah "passes" she is able to opt out of conversations about race while they cannot. In the midst of all this, Naveah learns some uncomfortable truths about her mother's past. While the author attempts to use journal entries to explain past events, the narrative complexity of the events does not translate well to the journal format and as a result, the narrative is not completely successful. In spite of that, this story of a young woman struggling with her multifaceted identity and the privileges that come with it fills a gap in teen fiction. VERDICT A worthwhile addition to any collection where contemporary realistic teen fiction is in demand. Recommend to fans of Elizabeth Acevedo's The Poet X. –Kristin Lee Anderson, Jackson County Library Services, OR
Jimenez, Stephanie. They Could Have Named Her Anything. 290p. Little A. Aug. 2019. Tr $24.95. ISBN 9781542003742.
Maria Anís Rosario, a young Latinx woman, is a scholarship student whose long subway ride from Queens to Manhattan's elite Bell Seminary reminds her daily of the distance between herself and her schoolmates. White and wealthy Rocky Albrecht's challenge to authority fascinates Maria because her own family expects her to stay focused. Maria's explicitly sexual relationship with Andres, however, is unsatisfying, and when Rocky tells a shocked Maria that personal pleasure is her right, Maria is grateful for her friend's openness about a taboo subject. Maria's experience of the monied world is eye-opening. At a diner Maria and her friend Karen can't afford, Rocky's pals nibble at the edges of their French fries before throwing the rest of their overpriced lunches in the trash. But Maria also sees that Rocky's home life is cold and that her parents are remote. Rocky has a harder road and knows it, pointing out to Maria that a loving family is one thing money can't buy. Though the plot—that of a working-class character entering a world of privilege—of this debut novel is predictable, it nonetheless offers sharp insights about teens from different worlds. VERDICT Highly recommended for mature audiences. –Georgia Christgau, Middle College High School, Long Island City, NY
Keil, Michelle Ruiz. All of Us with Wings. Soho Teen. Jun. 2019. 360p. Tr $18.99. ISBN 9781641290340.
Gr 10 Up–Seventeen-year-old Xochi's life has never been easy. Her single mother abandoned her to a man who repeatedly raped her, her loving adopted grandmother has died from cancer, and she has no idea who her father is. Xochi ends up in San Francisco, where she meets 12-year-old Pallas. The two bond almost instantly, and Pallas takes Xochi home, where she is hired as a governess for the precocious girl. Pallas's family and living situation are unusual, with unmarried parents who live together and "date" other people, a rock musician father, and various band members and friends all living there together. On the night of their annual Vernal Equinox party, Pallas and Xochi cast a spell for fun and accidentally bring forth two creatures whose mission is to punish anyone who has hurt Xochi. Chaos results as Xochi finds that she can never truly escape her past. This intricately constructed urban fantasy is complex and beautiful, blending folklore, San Franciscan history, the music scene, vampires, magic, and the intertwined lives of characters, including a cat named Peasblossom who sees and understands more than the humans. While some of the minor characters tend to blend together, the main characters are well developed and robust. The hippie "free love" atmosphere and various adult relationships make this a book for older teens that could also be a crossover for new adult and adult readers. This first book by Keil ends with the possibility of a welcome sequel. VERDICT Fantasy fans will find this book appealing, fun, and hard to put down. –Janet Hilbun, University of North Texas, Denton
Mathieu, Jennifer. The Liars of Mariposa Island. Roaring Brook. Sept. 2019. 352p. Tr $17.99. ISBN 9781626726338.
Gr 9 Up–The Finney family's carefully constructed world begins to unravel as they struggle to hide dreams, disappointment, and deceptions. Primarily set in 1986 Texas, brother and sister Joaquin and Elena live with their single Cuban refugee mother, Caridad. Controlling, volatile, bitter, and always drinking, Caridad creates a culture of dread, manipulation, and lies. Elena's only escape is babysitting for the Callahans and sneaking off with her new boyfriend, while Joaquin works as a waiter and dreams of finding the strength to break free from his family and leave Mariposa Island. Their difficult home life is contrasted with chapters set in 1950s Cuba, where Caridad lives an easy life full of wealth and love. When she is sent to the United States during the Cuban Revolution, Caridad's life begins to fall apart. Joaquin makes a discovery that pushes them toward the potential for finally being truthful, but the secrets and silence that feel necessary for survival threaten to destroy the small family as they continue to lie to themselves and each other. With chapters from the perspectives of all three main characters, readers gain insight into the depth of lies, isolation, and frustration they all live with. The flawed, secretive, and well-developed characters make up for a plot that sometimes lags. Mathieu, the daughter of a Cuban refugee, spins an emotional, sensitive, and heartbreaking story about one dysfunctional family's survival and unhappiness. VERDICT Quietly powerful, this layered story full of unreliable narrators will appeal to readers of character-driven stories. –Amanda MacGregor, Parkview Elementary School, Rosemount, MN
Mejia, Tehlor Kay. We Set the Dark on Fire. 384p. HarperCollins/Katherine Tegen Bks. Feb. 2019. Tr $17.99. ISBN 9780062691316.

Gr 8 Up–As the top Primera of the Medio School for Girls, Dani has spent the last five years trying to forget the world her parents fought hard to leave behind—the world beyond the border wall, where people are dying of hunger and illness. Dani has learned to check her emotions and prepare to be her husband's equal, a partner who will help him in all things political. Then she is paired with longtime enemy Carmen Santos, a Segunda who, with her beauty and grace, completes the third side of the marriage triangle to Mateo. When Sota, a member of La Voz—a group seeking to bring down the government that keeps people like Dani's family in the margins—saves Dani by providing her with legitimate documents to keep the government from discovering her true origins, Dani becomes entwined in the group's goals, using her role as Mateo's wife to pass on his plans to the rebellion. As Dani becomes more involved with La Voz, she struggles to keep her feelings for Carmen at bay—emotions that, in Medio, are forbidden. Intricate mythology sets the scene for a cast of characters full of complex motivations. Readers will find themselves drawn to a richly constructed world full of fantasy and diversity, with a mystery that will keep them guessing until the very end. VERDICT A must-have fantasy filled with action and political intrigue. –Selenia Paz, Harris County Public Library, Houston, TX
Tehlor Kay Mejia discusses resistance, radical empathy, and the responsibilities of privilege.
Mendez, Matt. Barely Missing Everything. 320p. Atheneum/Caitlyn Dlouhy Bks. Mar. 2019. Tr $17.99. ISBN 9781534404458.
Gr 9 Up–Juan Ramos has big dreams: to play college basketball and one day be a professional basketball player. His friend JD Sanchez wants to make great movies and has been collecting old equipment. When Juan and JD run from the police at a friend's party, an avalanche of problems that has surrounded them all their lives collapses around them. JD's mom kicks his dad out of the house after finding out about his affair. Juan's mom, Fabi, and her current boyfriend bail him out of jail, and a sprained ankle and failing algebra grade threaten to bring Juan's basketball career to a complete halt. When Juan discovers a letter to Fabi from an inmate on death row, he is certain this man must be the father he has never known. JD and Juan agree to travel to meet Armando Aranda, with JD documenting their experiences on camera. As the friends set off to find out the truth, a tragic misunderstanding changes their lives forever. The writing flows easily and, coupled with letter excerpts and lyrics, will make this a fast read, though some may find that the ending comes too abruptly. VERDICT Recommended for fans of Matt de la Peña's Mexican Whiteboy. –Selenia Paz, Harris County Public Library, Houston, TX
Moreno, Nina. Don't Date Rosa Santos. 336p. Disney Pr. May 2019. Tr $17.99. ISBN 9781368039703.
Gr 9 Up–Rosa Santos has Cuba in her blood. Living in a seaside community in Southern Florida with her abuela, she knows only part of the family stories that tie her to the Caribbean island where her ancestors lived. Both her mother and grandmother have experienced tragedies related to the sea, and they caution Rosa to stay away from the water at all costs. Her mother, an artist who has abandoned Rosa to travel the country, returns intermittently, and though their relationship is strained, Rosa yearns to know more about the woman who gave birth to her. When Rosa encounters Alex, an attractive sailor who works by the docks, she cannot resist his charms and begins to fall for him despite her family's superstitions. As her senior year ends, Rosa struggles to make decisions about college, but one thing continues to influence her choices: her desire to connect to Cuba and her family's past. The teenagers in the book experience conflicts and growing pains, and the Latinx culture of their environment infuses the action with traditions, language, and attitudes that are refreshing. While there is room for more in-depth character and plot development, these deficiencies are easily forgiven in the midst of the vibrant setting. VERDICT A sweet story that celebrates Latinx culture. –Karin Greenberg, Manhasset High School, Manhasset, NY
Motayne, Maya. Nocturna. 480p. (Forgery of Magic: Bk. 1). HarperCollins/Balzer +Bray. May 2019. Tr $18.99. ISBN 9780062842732.
Gr 8 Up–After his brother Dez's murder, Prince Alfehr is poised to become king—something he fears almost as acutely as finding concrete proof that his brother is truly dead. Alfie left Castallan months ago to grieve and, he hopes, to find a way to bring his brother back from the void—even if it means using his bruxo magic to ill ends. Finn is a faceshifter who can change her appearance at will. It's a magical ability that serves her well as a thief. When their paths cross, Alfie and Finn accidentally unleash a dangerous ancient power that could destroy Castallan and the rest of the world. Together they will have to confront their failures and their greatest fears to contain this dark magic before it's too late. Motayne's debut novel is an epic fantasy set in a Latinx-inspired world with a unique magic system where moving shadows can reveal a person's feelings and spells will be immediately recognizable to Spanish speakers. Alternating chapters follow Alfie and Finn, giving nuance to their motivations and bad decisions. Alfie and Finn's relationship, which evolves over the course of the novel from a reluctant alliance to obvious respect and affection, helps fill the void left by world-building that remains thin even with the added dimension of Castallan trying to assert itself in the wake of generations of Englass colonial rule. VERDICT A promising debut with unique magic and two strong protagonists among a varied ensemble cast. –Emma Carbone, Brooklyn Public Library
Namey, Laura Taylor. The Library of Lost Things. Inkyard. Oct. 2019. 384p. Tr $18.99. ISBN 9781335928252.
Gr 9 Up–Darcy just has to hold on until her 18th birthday, when the state will no longer have the power to remove her from her home. Suffocated by her mother's hoarding and confronted by the possibility of others finding out, all Darcy can do is burrow into her books. Books, after all, are safe. Until Asher, who is recovering from a life-altering accident, enters the picture. Now, Darcy must decide whether to keep hiding between the pages of her book or take the risk of nonfiction by living life. This book is, first and foremost, a gentle love letter to books and book lovers. Through her story, Darcy articulates the importance and transcendence of words with which many readers will identify. With a number of strong themes, including the humanity and imperfection of parents, the trauma of having to grow up too fast, and what real love is, the storytelling is elevated by its thoughtful prose. Yet readers will be pleased to find a lack of melodrama, which is instead balanced and measured in ways that give the novel its intuitive sense of reality. Although the prose gives the book a more adult feel, Namey uses references and dialogue to keep Darcy's world otherwise relevant and contemporary. Readers will also enjoy Darcy's cast of family, friends, and classmates as people they recognize from their own lives. VERDICT For fans of Katie Cotugno, John Green, and Melina Marchetta, this will be a reader favorite. –Abby Hargreaves, District of Columbia Public Library
Rivera, Gabby. Juliet Takes a Breath. 320p. Dial. Sept. 2019. Tr. $17.99. ISBN 9780593108178.
Penguin will release an updated edition of Juliet Takes a Breath this year. Here's our starred review of the 2016 publication.

Nineteen-year-old Juliet Palante writes a you-changed-my-life letter to her favorite feminist author and is granted a summer internship at the author's home in Portland, OR. Leaving her loving Puerto Rican family in the Bronx is difficult, but Juliet also welcomes the chance to enter a new environment: her mother has been communicating with her through closed doors ever since Juliet told her that she is a lesbian and has a girlfriend. In Portland, Juliet discovers a new world—gay, artsy, "crunchy," hippie types who welcome her with open arms and offer her marijuana. She falls in love, her heroes fall, her family supports her, and her friends save her. Juliet also discovers women of color writing science fiction, hot library paraprofessionals, and her own self-esteem. At the end of the summer, Juliet reflects, "I'm a messy, over-emotional, book nerd, weirdo, chubby brown human and I needed to learn how to love myself, even the shameful bits." This humorous and heartbreaking summer coming-of-age tale is reminiscent of Isabel Quintero's 2015 Morris Award winner Gabi, a Girl in Pieces. Teens will appreciate the integrated definitions of words such as polyamory and theodicy in the narrative. Even older teens will appreciate the discussions about microaggressions and white privilege. VERDICT After reading this book, teens will want to fight for social justice. A powerful novel that will resonate with most young people. –Sarah Hill, Lake Land College, Mattoon, IL
Rivera, Lilliam. Dealing in Dreams. 336p. S. & S. Mar. 2019. Tr $18.99. ISBN 9781481472142.

Gr 7 Up–Nalah, "Chief Rocka," heads a battle-ready crew of teenage girls known as Las Mal Criadas, brawling with other gangs to prove their dominance, patrolling the streets of Mega City, and enforcing the curfew established by Déesse, the city's ruler. Déesse's female dominated society is strictly stratified; young men are relegated to dancing in "boydegas" as entertainment for the girl crews, while most residents are "toilers," producing food pellets and "sueños" tablets, doled out to keep the populace compliant and on the precipice of addiction. Nalah is determined to leave the streets behind and join Déesse's inner circle, which means moving into a high-rise tower with Mega City's elite, who indulge in nightly parties and luxurious furnishings. When Déesse recruits Las Mal Criadas to scope out an infiltrating group outside of Mega City, the protagonist imagines their opportunity has finally arrived, but dangers and surprises abound beyond the city walls, testing Nalah's trust in her crew and their confidence in her. There is plenty of gritty action to propel readers through the plot, but it is Chief Rocka's internal struggles and vulnerabilities that are the most compelling and memorable. Rivera effectively presents the complexity of female relationships, which will resonate strongly with readers. Most notably, Rivera posits whether a society can really thrive when any one group dominates another, especially through violence and deception. VERDICT A novel exploration of societal roles, gender, and equality through the eyes of captivating lead. Recommended for all young adult collections. –Jessica Agudelo, New York Public Library
Ramos, NoNieqa. The Truth Is. Carolrhoda Lab. Sept. 2019. 272p. Tr $18.99. ISBN 9781541528772.
Gr 7 Up–Self-described Boricua Verdad, age 15, is a bundle of contradictions—sad and isolated since the murder of her best friend, Blanca, by a racist mass shooter; dryly funny when observing her classmates and family; and prone to blurting out pejorative terms just before or after lightbulb moments about the intersections of identity and privilege. In fact, Ramos has created a voice so authentic it may surprise readers used to teen characters sounding and acting like adults. The plot unfolds fast, with Verdad meeting and falling for sexy new student Danny (who is transmasculine) the same week she's involved in a poorly supervised classroom activity-turned-melee that results in the unfair expulsion of a Black classmate. Within days of realizing she may be queer, or questioning, or pansexual, Verdad leaves home, joining Danny and his culturally diverse band of friends, all queer and homeless. If this seems like a lot, it is, before even considering Verdad's burgeoning awareness of her OCD and PTSD or several sub-plots involving familial backstories. There are some well-realized and brief sex scenes, and flashbacks to the shooting are handled sensitively. Some aspects of the ending are a bit logistically neat, and not every character in the large cast feels fully realized. However, Ramos succeeds in portraying early adolescence in visceral emotional detail. VERDICT Ramos writes with intensity and poeticism in this fresh, painful, but ultimately optimistic coming-of-age novel. Notable for its up-to-the minute depiction of gender identity, sexual orientation, and race. –­Miriam DesHarnais, Towson University, MD
Villasante, Alexandra. The Grief Keeper. Putnam. Jun. 2019. 320p. Tr $17.99. ISBN 9780525514022.
Gr 9 Up–What happens when an undocumented immigrant gets caught? With nowhere else to go, Marisol, who is denied asylum, gets pulled into being a psychological test subject for the U.S. government. Marisol becomes the vessel in which the CTS (corticotropin transfer system) takes place, otherwise known as the grief keeper, an experimental study on how one can take on another's shame, regret, anxiety, and grief—a useful tool for the military soldiers coming back with post-traumatic stress disorder. This hauntingly beautiful story is written in first person and dives into the themes of love and heartbreak. It deals with social issues revolving around female/female love and flawed immigration policies. Although the novel is written with simple language, every topic is tastefully handled and woven into the story. The straightforward style gives younger readers a foot in the door into the themes discussed. In the end it's truly about a girl coming to terms with her life and the pain she has gone through, learning not to be ashamed, and discovering how to love. VERDICT This book will attract those looking for a sci-fi read incorporating all types of love. –Gilly Yildiz, Eisenhower Public Library, Harwood Heights, IL