A New Jersey school librarian fought to keep Fun Home on the shelves, an author is uninvited from a teen lit festival, the Carle Honors Art Auction is underway, and a few tech resources added features for the start of the new school year in this edition of News Bites.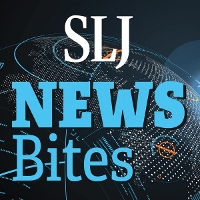 A New Jersey school librarian fought to keep Fun Home on the shelves, an author is uninvited from a teen lit festival, the Carle Honors Art Auction is underway, and a few tech resources added features for the start of the new school year. There's also news of a children's non-fiction imprint coming in 2020 and the U.N.'s latest book club titles, all in this edition of News Bites.
---
NJ School Librarian Receives 2019 NCTE National Intellectual Freedom Award Honor
Martha Hickson, school librarian at North Hunterdon High School in Annandale, NJ, has received an Honorable Mention for the NCTE National Intellectual Freedom Award. NCTE recognizes Hickson for her "willingness to take a stand on behalf of youth's rights to have access to and to choose books that show their lives in text, and for her tenacity in maintaining her stance in the midst of administrative pressures."

The NCTE Intellectual Freedom Award honors individuals, groups, or institutions that advance the cause of intellectual freedom.
The award selection committee shared Hickson's story, outlining the reason for her recognition: "Administrators in a New Jersey high school district challenged the book Fun Home by Alison Bechdel. Ignoring the district policy for text reconsideration, the principal asked the librarian, Martha Hickson, to remove the book from the shelves of that high school's library. She refused. She sought and received support for retaining the book from her union representative. Through direct outreach and networking, Ms. Hickson galvanized the attention and collective response of the broader community, including students, faculty, parents, and members of the New Jersey library community. The National Council of Teachers of English (NCTE), National Coalition Against Censorship (NCAC), and American Librarians Association (ALA) also worked to support Ms. Hickson's effort to retain the book in the library. Throughout February of this year, the challenge continued, until the superintendent received a collaboratively written letter from NCAC that included signers such as American Civil Liberties Union (ACLU), Lambda Legal, and ALA. Finally, the principals of both high schools in the district put Fun Home back on the regularly accessible library shelves."
Hickson will receive the award at the 2019 NCTE Annual Convention in Baltimore in November.
---
Writer Uninvited from Knoxville Teen Lit Event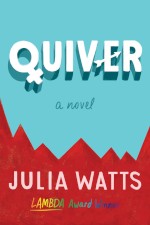 Author Julia Watts was scheduled to appear at the Knox County Public Library's LitUp Festival in her hometown of Knoxville, TN, but the Quiver writer was uninvited and controversy—and a discussion about inclusion and censorship—has ensued. The library's official reason was that one of the event's organizers learned the Watts, whose work typically explores the lives of LGBTQ youth, has written erotica for adults in the past and teens who look her up may find that instead of her YA work.
The library's statement said: "We looked for authors representing diverse genres in teen literature including LGBTQ authors. Julia Watts was invited to present. It later came to our attention that some of her work is described as erotica and is inappropriate for teens. Based on that alone, the Library decided to change course. We have reached out to Ms. Watts to offer our sincere apology, and deeply regret this situation."
According to her publisher, Three Rooms Press, Watts was told she could read at a separate event if she wanted, but not be part of the festival.
Kat Georges, co-director at Three Rooms Press, called the suggestion "a throwback to an intolerant time."
"This is segregation, pure and simple, by a public, taxpayer-supported institution," she said in a statement. "It's unacceptable and discriminatory, and is a throwback to an intolerant time where 'separate-but-equal' was the unfortunate norm."
Watts is now scheduled to appear at the Nashville Festival of the Book that same weekend, according to her publisher, but she had said she would accept a new invitation to the LitUp Festival if the organizers changed their minds.
"The whole reason I write is to make a change for the better by showing kids from rural and small towns that being lesbian or gay is not a choice and is not wrong. It's just who you are. Knowing this can change a kid's life for the better. It could even save a kid's life."
---
11th Annual Carle Honors Art Auction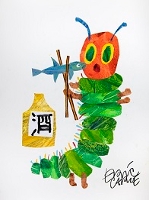 The Eric Carle Museum of Picture Book Art has works from 29 picture book artists up for online bid at the 11th Annual Carle Honors Art Auction. The group of artists includes Carle, Catia Chien, Elisha Cooper, Floyd Cooper, Pat Cummings, Lulu Delacre, Kazu Kibuishi, Jarrett J. Krosoczka, Grace Lin, Yuyi Morales, John Parra, Dav Pilkey, Melissa Sweet, and others. In addition, the Maurice Sendak Foundation donated a limited-edition poster autographed by Sendak.
Bidders can register and bid through 9 p.m. Eastern on September 26. The auction coincides with the Museum's 14th annual Carle Honors benefit gala in New York City on September 26, but bidders do not have to be present at the event to win. The gala and auction raise funds to support the museum.
---
Destiny 17.0 Has Arrived
Follett released Destiny 17.0, a new version of the library software featuring enhancements to Destiny Library Manager, Destiny Discover, Collections by Destiny, and Destiny Resource Manager. The changes include:
• Destiny Discover. Simplified themes, with bright colors and easier navigation, were added to help engage K-5 students to search and access content. The four theme options include: space, kids outside, aquarium, and book fair. Follett has also added customizable homepage options for news and links, easy-to-see search results, and clickable links.
• Destiny Library Manager. Two enhancements will help protect patron information and privacy during the self-checkout process. Also, options to streamline book check-in are being added.
• Destiny Resource Manager. A new feature allows users to see the number of items on-hand when ordering resources from a district warehouse. Users can order new items and ship them to the requesting site.
---
C-SPAN Opens Submissions for Annual StudentCam Documentary Competition
This year, C-SPAN's StudentCam competition is asking students: "What's Your Vision in 2020? Explore the issue you most want presidential candidates to address during the campaign." The network's documentary

competition, in its 16th year, is open to all middle and high school students.
The C-SPAN Education Foundation recognizes 150 students and 53 teachers with cash prizes totaling $100,000. The grand-prize winner receives $5,000, and multiple cash prizes of $3,000, $1,500, $750 and $250 will be awarded to students in first, second and third places, as well as honorable mention categories.
Last year more than 6,000 students from 48 states entered the competition.
Guidelines and information can be found at studentcam.org. Deadline for entries is Monday January 20, 2020. Winners will be announced on March 11, 2020 and some of the winning videos will air on C-SPAN the following month.
---
SDG Book Club Releases Goal 4 list

The Sustainable Development Goals (SDG) Book Club released its selections for Goal 4: Quality Education. The SDG Book Club initiative—which is a collaboration among the United Nations, the International Publishers Association, International Federation of Librarian Associations , European & International Booksellers Federation, International Board on Books for Young People, and Bologna Children's Book Fair —aims to encourage children ages 6-12 to learn about the U.N.'s 2030 Agenda for Sustainable Development and "discover new voices and concepts from around the world." Reading lists related to each of the sustainability goals are curated in all six official U.N. languages: English, Arabic , Chinese , French , Russian and Spanish.
The Quality Education reading lists "cover many of these topics and we hope the stories will inspire you to take action for all children to get quality education." The English titles are:
Razia's Ray of Hope by Elizabeth Suneby
Rain School by James Rumford
When I Was Eight by Christy Jordan-Fenton and Margaret Pokiak-Fenton Jury
---
Capstone Re-Launches PebbleGo with Enhancements

Capstone PebbleGo database starts the new school year with new features focused on accessibility and equity. Improvements include compliance with standards that make it accessible for children with vision, hearing, cognitive, and physical disabilities.
The features include:
Simple, intuitive, and predictable navigation
Text-to-speech on all articles
Transcripts for all videos
Alternative text and descriptive titles for meaningful images
Screen reader support
Access keys for keyboard-only navigation
Color contrast design to support students with color-blindness and low vision
PebbleGo is also mobile now, with intuitive touchscreen navigation and access on smartphones, tablets, and computers.
---
Britannica Group Adds Non-Fiction Children's Imprint
Britannica Group is teaming up with What on Earth Publishing to launch Britannica Books, a reference imprint for young readers. The group will publish between five and 10 titles a year for children age three to 14. The inaugural list will be released in fall 2020.
---
Nearpod Announces Google Slides Integration
Nearpod launched an integration with Google Slides for teachers to add interactivity and for better collaboration with other educators. This will allow the incorporation of Nearpod features, such as virtual field trips, polls, drawing, and collaboration tools directly into Google Slides.
The company is also releasing a suite of new interactive and "culturally-relevant content" and teaching tools. With Nearpod's Lesson Library, supplemental curricula and Flocabulary's catalog, teachers have access to more than 9,000 standards-aligned lessons.