Gotta sing? Gotta dance? Gotta run away fast? This collection may help children who have never stood up in front of big or small crowds quell those butterflies, take deep breaths, and take their first steps toward the footlights.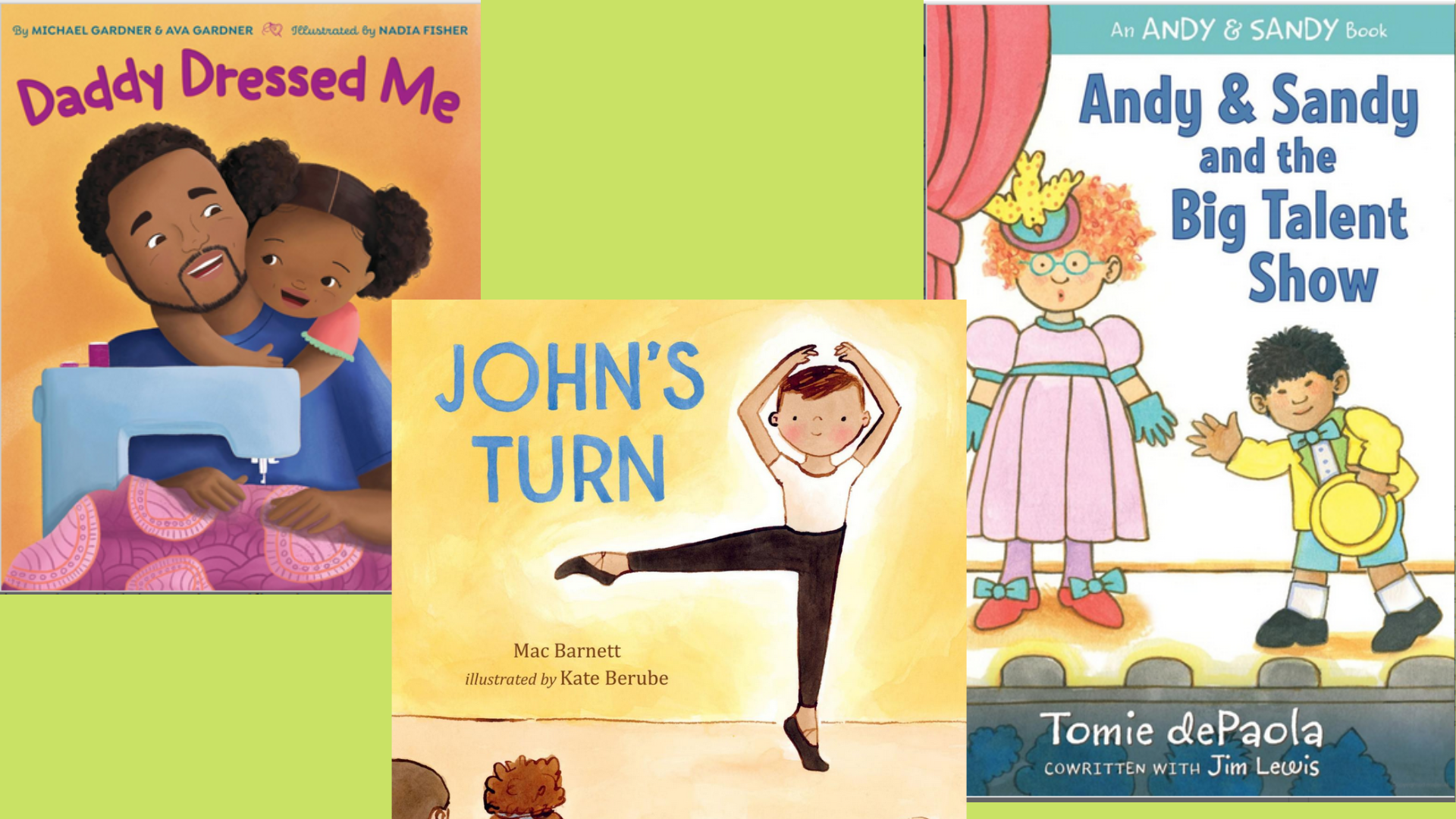 When the curtain goes up, no one really knows who is ready for the bright lights and the sea of faces in the audience. Few children—or adults—face the stage without butterflies. Whether it's Move Up Day between kindergarten and first grade or a chance to dance, those days are rare and we've got the books to help children put their best feet forward, or leap into the air.
Barnett, Mac. John's Turn. illus. by Kate Berube. Candlewick. 2022. ISBN 9781536203950.
K-Gr 2–When the blue curtain opens, John, in his white leotard, black pants, and slippers, could not look more apprehensive. His expression barely changes through his first steps to the music, but then, after a graceful leap that spans two pages, John begins to dance with confidence and joy. He scissors his legs, spins, and soars with pointed toes and arms outstretched until the music stops. His worried eyebrows are gone, and there is a small smile on his lips.
dePaola, Tomie. Andy & Sandy and the Big Talent Show. illus. by author. (An Andy & Sandy Book). S. & S. 2017. ISBN 9781481479479.
K-Gr 2—Sandy is encouraging Andy to join her in the talent show, but Andy is uncertain as to what kind of talent he has to offer. Sandy seems to be able to do it all; but Andy can't do anything. Sandy comes up with the idea that they dance. She tells Andy to "follow me," and the next few pages show Andy trying to do just that, with Sandy taking the lead. On the day of the talent show, Sandy gets stage fright, but Andy saves the day by making it seem like part of a comedic act, telling Sandy to "follow me."
Gardner, Michael & Ava Gardner. Daddy Dressed Me. illus. by Nadia Fisher. S. & S./Aladdin. 2023. ISBN 9781665921954.
PreS-Gr 2–Daddy makes the best oven-baked chicken, paints whimsical floral murals on her bedroom walls, and above all sews the most brilliant dresses. Ava, a young Black girl finishing kindergarten, is anxious about moving up into first grade and all it means, and she's supposed to recite a poem at the Move Up Day Celebration. What if she cannot remember all of the words? Daddy comforts Ava with hugs, reassurance that he will help her prepare, and offers the idea of a new special dress. Ava knows one of Daddy's dresses would give her the extra boost of confidence she will need to shine on stage, and it works.

[Read: Our review of Chicken Karaoke by Heidi E. Y. Stemple, illustrated by Aaron Spurgeon]
Glasser, Robin Preiss & Jacqueline Preiss Weitzman. Gloria's Promise. illus by Robin Preiss Glasser. Random House Studio. (American Ballet Theatre). 2023. 40p. ISBN 9780593181003.
Gr 1-5–Gloria is a balletomane of the first order. She lives, eats, breathes, and moves through life as a ballerina, a child with brown skin and dark curly hair in the regulation bun who, even bundled into blizzard-proof clothes, leaps down the front stoop in her hurry to get to the audition for a summer program at the American Ballet Theatre. She fails the audition, yet this remains a celebration of dance, dreams, and hard work, from the inside out, and a book that delivers on its promise.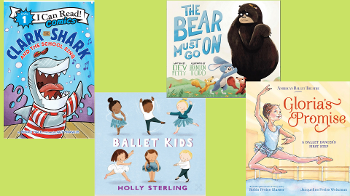 Hale, Bruce. Clark the Shark and the School Sing. illus. by Guy Francis. HarperAlley. (Clark the Shark). 2021. ISBN 9780062912572.
PreS-Gr 2–Clark quickly realizes that, unlike his fish classmates, he cannot sing and dance at the same time. Though frustrated at first, Clark keeps practicing up until the big performance. When an ensemble case of stage fright takes hold, it is Clark's outgoing personality that saves the day for him and his fish classmates. A satisfying beginner comic book set in an underwater school with themes of perseverance and teamwork.
Petty, Dev. The Bear Must Go On. illus. by Brandon Todd. Philomel. 2020. ISBN 9781984837479.
PreS-Gr 2–Three woodland creatures want to put on the perfect show. Shy Bear is the scribe, taking notes on all the elements of production, happy to stay away from the spotlight. The night of the production, everything is ready to go, but the critters forgot a major detail: They never wrote a script. Bear, a performer at heart, might be able to save the day with an original song, as the show must go on. From the author of I Don't Want to Be a Frog comes this adorable, theatrical tale of overcoming stage fright.
Sterling, Holly. Ballet Kids. illus. by author. Candlewick. 2022. ISBN 9781536220377.
PreS-K–Thomas selects the sparkly purple tutu of the Sugar Plum Fairy. He expresses slight trepidation about the public performance, but the rest of Thomas's ballet experience, including the recital, is purely joyful. The students encourage and compliment one another throughout the class, and there is none of the nervousness, teasing, or discomfort that often accompanies a story about a boy attending ballet class. An easygoing, refreshingly natural addition to the ballet bookshelf.