Chin's watercolor illustrations of Andrea Wang's personal text about a Chinese immigrant family picking watercress by an Ohio roadside earned the prestigious award.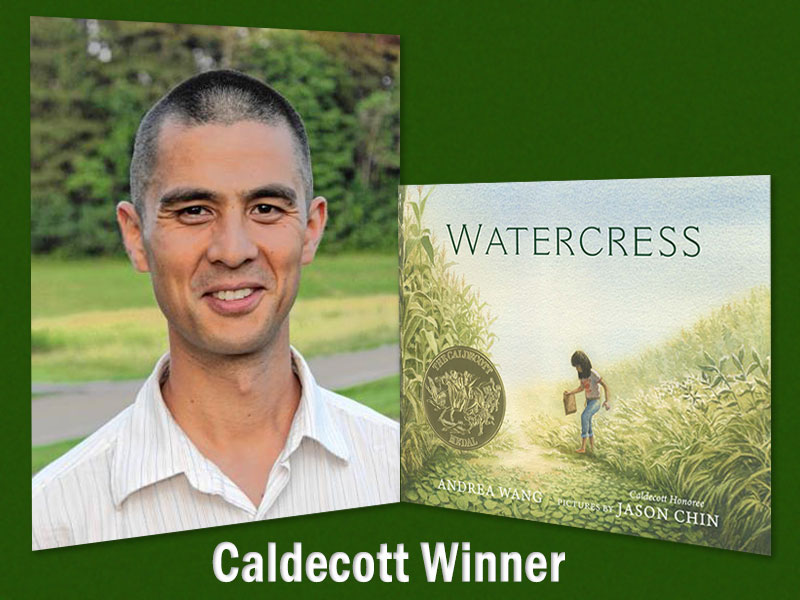 Courtesy of Jason Chin
A once-in-a-lifetime manuscript. That was Jason Chin's first thought when he read author Andrea Wang's Watercress.
"The text was just that incredible," says Chin, who wondered, though, if this very personal and specific story would resonate with readers.
He need not wonder anymore.
Chin's work earned the 2022 Caldecott Medal winner for Watercress, which was also named a Newbery Honor title.
The story of Chinese immigrants stopping to pick watercress by an Ohio roadside describes the young protagonist's embarrassment about taking food that wasn't paid for, followed by a discussion of food insecurity among relatives in the family's homeland.
"There are so many emotions crashing around my brain right now," says Chin, who previously earned a Caldecott Honor for Grand Canyon, which he wrote and illustrated. "It's a mixture of disbelief—although I guess I've had a couple of days to absorb it—gratitude, so much gratitude. For Andrea and her text. For Neal Porter, our editor who put this together. For everyone at Holiday House. The art director Jennifer Browne. There are so many people involved in the book. It's a shared experience. I'm just overwhelmed with joy that I get to share it with everyone. We put so much of our heart, our collective heart, into the project. It's just so amazing."
He delivered the book early in the COVID-19 lockdown and is particularly appreciative of the work by the Holiday House team, whom he imagined at home wiping their groceries with bleach one moment and working on Watercress the next.
When Wang saw the first Watercress sketch from Chin, she cried. As the Youth Media Awards announcement approached, she was hoping his work would be recognized by the Caldecott committee.
"There's so many deserving books out there, but I had the pleasure of being able to purchase a couple of his paintings from the book, and just seeing them in real life, his work is incredible," Wang says.
"This book elicited so many emotions from the committee members," Caldecott committee chair Claudette McLinn said in an email. "Wang's powerful text and Chin's expressive and detailed watercolor illustrations complement the various layers of this universal story. There were so many emotions of joy and tears shed. Why? This is a story that everyone can relate to: family, memories, the embarrassment of a young girl's culture, the appreciation of her culture after learning why the plant is important, the experience of riding in the backseat of the car on a road trip, and the value of the immigrant experience, which resonated with many."
According to Wang, this book was a more of a collaborative process between author and illustrator than most picture books, because of the personal nature of the story. The two met in person at an NCTE conference and then spoke throughout the book development process.
In one of those early conversations, they shared family stories, says Chin.
"That was really important for me as an illustrator, because I was pretty nervous about illustrating the author in her own book," he says. "The protagonist is not Andrea, but it kind of is, and that's [a bit] nerve-wracking. Andrea is so wonderful. It wasn't like I was asking for permission to illustrate the book, but I felt like I had permission after meeting her and getting to know her."
Chin's process began with finding a way to connect to the story.
"One of the things I try to do in any book is relate the content of the book," he says. "I always want to identify with the characters myself, so it's a process of empathizing with them and putting myself in their shoes. In this case, I spent some time in self-reflection, thinking about times when I felt like this character feels in the book. I don't know if it's a weird thing, or if other illustrators do this, but I try to hold whatever emotion the character has in the picture I'm making—I try and hold that emotion in my mind as I'm making that picture."
The book became more emotionally taxing as he researched the Chinese famine, and he wondered if they were really going to give this challenging and difficult text to children. At one point, Wang shared his concerns about who the right audience was for this very personal and emotional story.
"Jason and I came to realize that although the book is heavy at times, and there's a lot of grief in it, that not only can kids understand that—because kids have hard lives, too, especially these past few years—but they can handle talking about it, too," Wang says. "I think they need books that kind of touch on these heavier issues, right? If the book makes them feel less alone, then I will just be just, you know, overjoyed."