These books will appeal to readers who have lots of different interests, while also supporting their literacy development and understanding of both new and familiar concepts.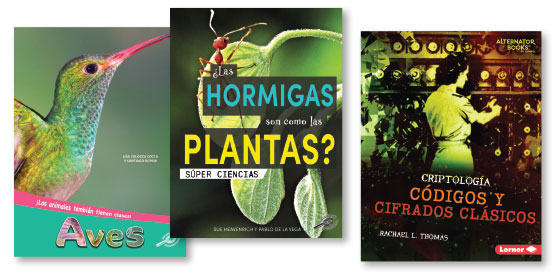 Research and writing projects are common in all areas of the curriculum, and linguistically diverse learners deserve books that are representative of their varied skill levels, interests, and hobbies. A strong movement to include nuanced, specialized topics for readers who speak, read, and write Spanish as their first language, and for all children to learn and appreciate other languages, continues to build. These books will appeal to readers who have a variety of interests, while also supporting their literacy development and understanding of new and familiar concepts.
Elementary
Cocca, Lisa Colozza. Artrópodos. ISBN 9781731654595.
––––. Aves. ISBN 9781731654557.
––––. Reptiles. ISBN 9781731654588.
Furstinger, Nancy. Mamíferos. ISBN 9781731654540.
Hogan, Christa. Peces. ISBN 9781731654571.
Mangor, Jodie. Anfibios. ISBN 9781731654564.
ea vol: 24p. (Los animales también tienen clases). Rourke/Discovery Library. Mar. 2023. Tr. $29.93.
Gr 2-5 –This series introduces readers to the many types and subtypes of different living things, including mammals, fish, arthropods, birds, reptiles, and amphibians, as well as basic concepts like evolution, how different classes and species of animals are organized, distinguishing characteristics of different animal types, and more. Concepts are explained in short, simple paragraphs, as well as through simple diagrams, full-color photographs, and suggested activities, like making comparisons between their own human features and those of their favorite animals, animal subtypes, and species. These books include comprehension questions that will help growing readers remember what they learn and practice as they put new concepts into context. The only drawback to this series is its font, which may be difficult for some readers to decode. VERDICT An overall fantastic Spanish-language series that introduces nuanced historical and scientific concepts; best for larger public and school library collections.
Hansen, Grace & Maria Puchol . Las aves de los presidentes. ISBN 9781098265175.
––––. Los animales de granja de los presidentes. ISBN 9781098265205.
––––. Los caballos de los presidentes. ISBN 9781098265212.
––––. Los felinos de los presidentes. ISBN 9781098265182.
––––. Los perros de los presidentes. ISBN 9781098265199.
––––. Mascotas raras de los presidentes. ISBN 9781098265229.
ea vol: 24p. (Mascotas presidenciales). Abdo Kids Junior. Jan. 2023. Tr. $31.36.
K-Gr 3 –Who knew that President Lincoln had two pet goats? Or that President Eisenhower had a pet parakeet named Gabby? Did you know that President Coolidge had two pet raccoons? This unique six-book series reveals conventional and surprising pets of almost every American president. Birds, cats, horses, dogs, farm animals, and unusual pets that have called the White House their home are covered in these books, which are best for early readers in the elementary grades. Fascinating facts, historical photos, and lots of historical information fill these books, while remaining accessible to readers who are learning to sound out words and learn new concepts. A picture glossary, index, and brief review of concepts are included at the end of each book to support comprehension and retention. VERDICT Readers will be inspired to study history—and maybe adopt their own pet—thanks to this series, which is best for larger public library collections; some school libraries may also want to consider.
Heavenrich, Sue. ¿Las hormigas son como las plantas? ISBN 9781731654762.
––––. Espías del cielo. ISBN 9781731654779.
MacCarald, Clara. ¡Las vacas no viven en los árboles! ISBN 9781731654755.
Mangor, Jodie. ¿Las moscas lloran? ISBN 9781731654731.
––––. Amigos polinizadores. ISBN 9781731654748.
––––. Hogar, dulce planeta. ISBN 9781731654724.
ea vol: 24p. (Súper ciencias). Rourke/Discovery Library. Mar. 2023. Tr. $29.93.
Gr 1-4 –This engaging six-part Spanish-language series explains essential scientific concepts in playful, humorous ways. Each book is packed with fascinating facts about science, nature, the human body, and how the study of these concepts has evolved over time (for example, the history of stargazing and locating asteroids in space before telescopes were invented). Questions you never thought to ask yourself, like "why don't cows climb trees?" and "do animals ever cry?", are explained in fun, interactive ways that will support what readers are learning, inside and outside the classroom. The layout of these books includes a balance of photographs, simple diagrams, infographics, and charts that do a great job explaining sometimes difficult-to-grasp concepts. True to Rourke's other series, these books include science experiment ideas that will inspire readers to test out the theories presented in these books. VERDICT A unique and awe-inspiring series that's best suited for larger collections and STEM school libraries.
Klepeis, Alicia. Hojas. ISBN 9781731654465.
––––. Raíces. ISBN 9781731654472.
––––. Tallos. ISBN 9781731654496.
Whipple, Annette. Flores. ISBN 9781731654458.
––––. Suelo. ISBN 9781731654489.
ea vol: 24p. (Un acercamiento a las plantas). Rourke/Discovery Library. Mar. 2023. Tr. $29.93.
Gr 1-4 –This five-book series in Spanish introduces different aspects of plant biology to readers in the early elementary grades. Through diagrams, illustrations, and short chapters, various aspects of plant life are revealed, including leaves, soil, stems, flowers, and roots. Each book is divided into seven or eight short chapters that explain the many varieties of each type of plant or plant part, different species of plants, and the role that different plants play in their ecosystems. Text is surrounded by plenty of white space, making it easy to read, and clear visual representations help put essential information in context. The strength of its series is its inclusion of science experiments that are relevant to each concept and accessible to readers at different levels. Also included in each volume is a glossary, questions to enhance comprehension, and a review of important concepts. VERDICT These books provide a ­much-needed boost to large science collections.
Upper Elementary to Middle School
Hoena, Blake. La guitarra eléctrica (The Electric Guitar). illus. by David Buisán. ISBN 9781728477886.
––––. Teléfonos celulares e inteligentes (Cell Phones and Smartphones). illus. by Ceej Rowland. ISBN 9781728477879.
––––. Tenis (Sneakers). illus. by Ceej Rowland. ISBN 9781728477893.
Tulien, Sean. Videojuegos (Video Games). illus. by David Buisán. ISBN 9781728477909.
ea vol: tr. from English by Zab Translation Solutions. 32p. (Invenciones Increíbles (Amazing Inventions)). Lerner/Graphic Universe. Jan. 2023. Tr. $29.32.
Gr 3-6 –This high-interest Spanish graphic novel series about amazing inventions in popular culture introduces middle-grade readers to the making of the electric guitar, cell phones, sneakers, and video games. Each book highlights the amazing innovators who turned dreams into reality, along with the advances in scientific and technological innovation that made each of these incredible inventions come to life. Each book is divided into three or four sections that are long enough to challenge advanced readers, while remaining manageable for readers who benefit from additional practice. The artwork is top-notch and represents a range of skin tones and identities in each book, with plenty of detail for readers to pore over. VERDICT This standout series is ideal for large public library collections.
Thomas, Rachael L. Cadena de bloques y criptomoneda (Blockchain and Cryptocurrency). ISBN 9781728477213.
––––. Códigos y cifrados clásicos (Classic Codes and Ciphers). ISBN 9781728477220.
––––. Criptología digital (Digital Cryptology). ISBN 9781728477237.
––––. Criptólogos profesionales (Professional Cryptologists). ISBN 9781728477244.
––––. Secretos de la esteganografía (Secrets of Steganography). ISBN 9781728477268.
––––. Secretos de los locutores de claves navajos (Secrets of Navajo Code Talkers). ISBN 9781728477251.
ea vol: 32p. (Alternator Bks. ® en español: Criptología). ediciones Lerner. Jan. 2023. Tr. $29.32.
Gr 3-6 –This series of six books in Spanish provides an introduction to cryptology, or the study of codes, through several different lenses: blockchain and cryptocurrency; classic codes; digital cryptology; becoming a professional cryptologist; steganography; and Navajo codetalkers. The history of how codes have been foundational in everything from law enforcement, advances in military science, the Bitcoin phenomenon, computer science, mathematics and more is explained in each installment. Notable about this series is its fascinating coverage of how Navajo Marine soldiers used Navajo language to help the United States win battles in World War II, as well as its up-to-date and timely highlighting of the rise and fall of cryptocurrency. These books are filled with full-page color photographs, simple diagrams and charts, and suggested activities that will help readers apply what they read to real-life questions and problems. VERDICT This series provides essential information about a timely and specialized topic, while remaining interesting to readers who are interested in history, science, and mathematics. Both school and public libraries should consider it.
---
Simply put, these books reflect the momentum that continues to build in children's publishing to provide lots of reading options that suit an intersectional range of interests and reading levels. Criptología (Lerner) fills a gap by providing essential information about exciting coding concepts in Spanish. ­ Mascotas presidenciales (Abdo Kids) will satisfy readers' every curiosity about presidential pets while also imparting curriculum-supporting facts about history and more.