Fans of Eric Carle will rejoice in this well-presented, comprehensive app.
Parents looking for a digital library offering multiple tools to introduce and reinforce concepts for the preschool set will want to try this subscription app. A seven-day trial is available, but be sure to read the fine print to learn how to adjust the settings to subscribe or opt out after seven days.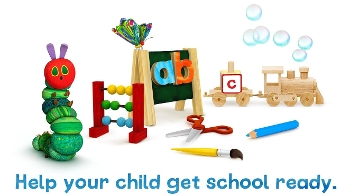 The talent of Eric Carle have been harnessed to create Hungry Caterpillar Play School (iOS, $1.99 limited offer, $5.99 per month, or $49.99 per year, also Android; PreS-Gr 1), a subscription app with numerous cross-curricular connections. Upon opening, users are greeted by the familiar caterpillar and presented with images of toys representing the areas of educational play in the app: "Shapes and Colors," "ABC," "123," "Books," and "Art." Each section has a choice of activities created from Carle's signature collage art and enhanced by animations and interactive musical elements. Most offer increasingly difficult levels of play so that children may build on what they have learned.
"Shapes and Colors" allows preschoolers to sort shapes, match colors, and assemble puzzles. In the "ABC" area, youngsters will sing the alphabet, become familiar with the 26 letters (upper and lower cases), and recognize their names. Classic number songs lead the "123" category, which also includes exercises in number identification and pattern recognition, and activities that work with colorful graphs and 3D shapes. In these sections, the text is highlighted when read by the narrator.
The "Art" area includes digital pages of Carle's artwork, which children can paint, color, or use to create collages. A puzzle section offers three levels of difficulty, while an exercise in building blocks lets kids explore cause and effect. "Books" takes users to a nonfiction library of five simple, "learn-about-the-world books" (Down in the Barn, How Seeds Grow, Wild About Animals, etc.) and six "learn-to-read" titles (Winter Wonderland, Seed to Seed, Day to Night, etc.). These selections reinforce the vocabulary, characters, and concepts presented in the app. Collectively, the activities provide opportunities to exercise fine motor skills, spatial awareness, visual discrimination, critical-thinking and problem-solving skills, and creativity.
The app also contains a "Parent Center" where adults may read about each section's activities, as well as narrated section overviews that explain the educational rationale behind the activities. Suggestions on reinforcing the app's lessons at home are included. A trailer is available. VERDICT Fans of Eric Carle will rejoice in this exceedingly well-presented, comprehensive app. The combined use of music, math, science, and reading with the award-winning art and characters of Eric Carle presents a unique learning opportunity. Monthly updates add variety to an app already bursting with activity.—Cindy Wall, Southington Public Library, CT
For additional app reviews, visit School Library Journal's dedicated app webpage.