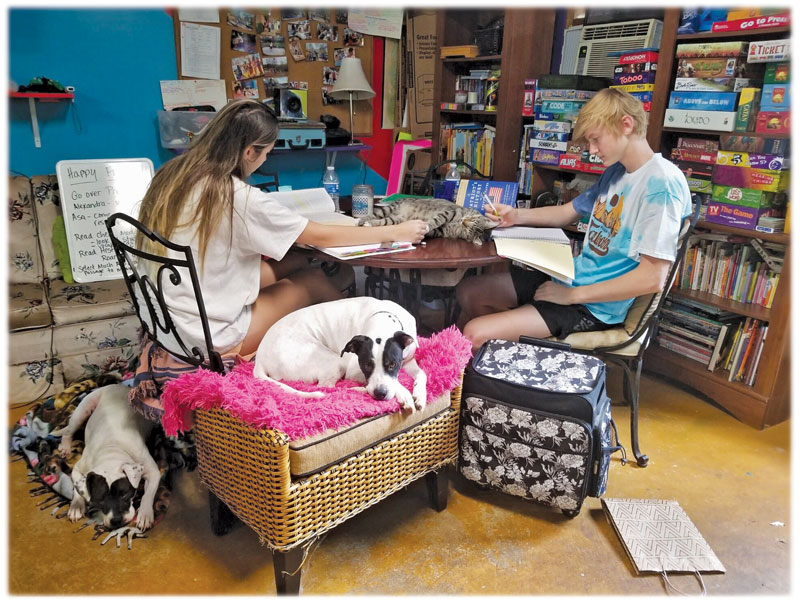 Classical Conversations siblings, Alexandra and Asa, with pets, working together on American history and Shakespeare.
Photo courtesy of Classical Conversations
Related articles:
Unschooling
Homeschool Helpers
When the pandemic pushed all students home and into virtual learning last spring, parents and caretakers became partners with schools. It seemed likely that some parents would take the opportunity to homeschool their children.
Now, statistics bear this out. In the first research on the issue, a survey from the U.S. Census Bureau shows that those who consider themselves taking part in homeschooling have more than doubled from spring 2020 to fall. In an earlier survey, 5.4 percent of households said they were homeschooling children; 11.1 percent were doing so by October 2020. (Over concerns that some respondents were using the terms "homeschooling" and "remote learning" interchangeably, the question was clarified mid-survey; the results include answers from both questions.)
"It's clear that in an unprecedented environment, families are seeking solutions that will reliably meet their health and safety needs, their childcare needs, and the learning and social-emotional needs of their children," the survey states.
Deciding to homeschool is more complicated than closing a Zoom window and engaging children with face-to-face time. Parents can be confused about a wide variety of factors, from how long sessions should last to how closely they must follow school curricula.
One of the first decisions parents face is what materials to use. Before the pandemic, almost half of parents said the top reason for homeschooling was to provide a better education for their children; they were unlikely to seek the same programs that the schools relied on.
The need for new materials has only grown since last spring. "Eighty percent of the calls we have gotten over the past year have been from parents looking for specific curriculum materials to meet their specific needs and desires," says J. Allen Weston, executive director of the National Home School Association. His organization created an online curriculum match service at curriculummatch.com. Parents and vendors fill out questionnaires and the site connects them.
Other content creators, from the religious Classical Conversations to the African-themed Sankofa Science Solutions, report the same surge that Weston mentions.
"There's been a real rise in internet searches," says Robert Bortins, Jr., CEO of Classical Conversations, noting his business has seen a 25 percent increase in inquiries and a 15 percent increase in sales over the last year.
"There's more of a demand of customized curriculum," says Sankofa founder Cresanda Allen, especially in early education grades.
"This is a huge departure from when a great many parents didn't even know [homeschooling] was an option available to them," Weston says. "Consequently, there is no doubt the trend will continue to grow."
"The pandemic only let us see how prepared we were [to be teachers]," says Joyce Burges, the cofounder of National Black Home Educators. "It ushered in personalization."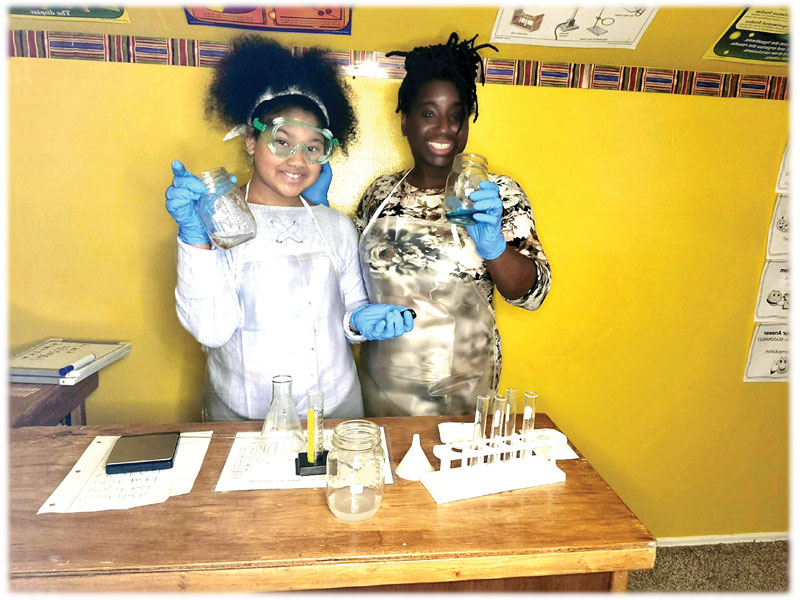 Cresanda Allen (right) with her daughter Akerele Sosa.
Photo courtesy of Sankofa Science Solutions

The push for secular materials
This new set of homeschoolers is fueling at least two trends: a search for secular teaching materials and an interest in lessons and readings that celebrate Black culture.
Pre-pandemic, nearly 40 percent of homeschoolers cited "religious reasons" as the main factor for eschewing schools, according to a Trinity University survey. That might be an undercount. In the same survey, a quarter of respondents cited a "poor learning environment at traditional schools," and 12 percent objected to what is taught in traditional schools.
Bortins says that homeschooling for religious reasons "has been decreasing for a while." Homeschooling started with the counterculture movement and then was adopted by some religious fundamentalists, he adds, but later grew well beyond these two groups. Classical Conversations, which started 24 years ago in Bortins's basement, now serves 120,000 students in 51 countries.
According to its website, the companies materials are intended to "enable parents everywhere to equip their children with a Christ-centered worldview," and include everything from grammar books to a wide range of parent guides on how to teach various subjects. While Bortins says he hasn't seen a lot of new companies producing materials for homeschooling, he adds that he wouldn't be surprised if more are created, especially if homeschooling numbers stay up into the next school year.
Black families homeschooling surge
While the homeschool increase might have been easy to see coming, the growth of one segment of this group caught experts by surprise. The proportion of Black families homeschooling surged from 3.3 percent in April and May 2020 to more than 16 percent last fall. No other racial group doubled its percentage of homeschoolers; among Black families, it quintupled.
These numbers "surprised me," says Cheryl Fields-Smith, an associate professor of elementary education at the University of Georgia. Fields-Smith has been studying Black homeschoolers since 2009.
Making the choice to homeschool can be complicated for Black parents, she says, because of African American's history of fighting to get into schools. In an early study she found that only 11 of 46 families who homeschooled had made the decision to do so right from the birth of their children. Many of these families eventually decide to homeschool "because of their negative perceptions of the schools their children attend," she says. With so many public schools resegregating, Black families are finding their schools underresourced while their children face potentially harsher discipline than white students at majority white schools, Fields-Smith says. Add in health concerns during the pandemic, and it becomes easier to understand why this group's numbers surged over the past year.
Black families transitioning to homeschooling bring a different focus to the search for curricular materials, she says. While these families may be religious, that's not the major factor for leaving schools.
"Lots of materials are religious and favor Christianity. Secular families can have a hard time finding materials," says Fields-Smith.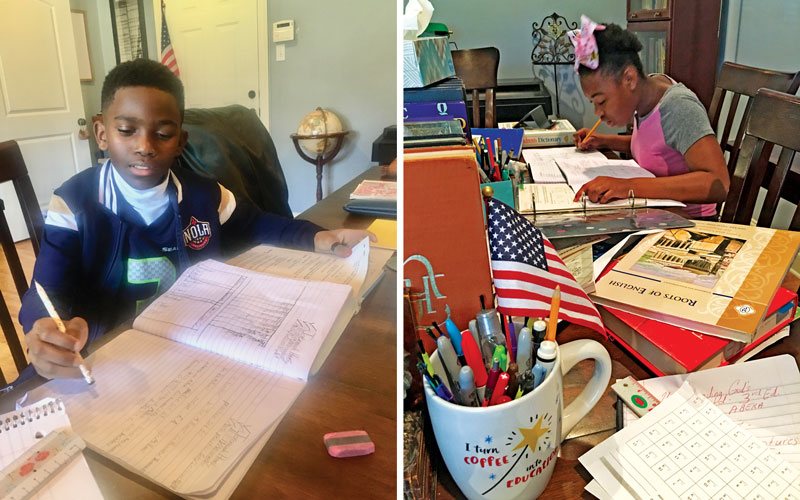 Two young students make the most of NBHE materials and their home resources.
Photos courtesy of National Black Home Educators

Seeking resources
Many new homeschoolers find a group of like-minded parents through social media, with Facebook groups especially popular, Fields-Smith adds. But for most parents, one of the first stops for materials is their local library.
"Everyone talks about using the public library as a central resource," she says. "The librarians know them and they can get all kinds of materials there." One parent from her 2009 study created such a bond with her library that librarians would seek her advice before buying new materials.
The need for new materials is why Allen decided to create Sankofa. A sometime homeschooler and sometime middle school teacher, she and her daughter decide every year whether to attend school or learn from home. During the pandemic Allen kept her daughter home and tried to balance the surge in requests to her one-person business.
She began creating materials, especially science curriculum and lab projects, because she wanted her daughter to be more culturally aware, she says. "We need to bring more exposure to African scientists and creators [into the] curriculum."
Allen admits that creating a nine-week curriculum takes significant time, but she's able to scale the work up or down to different grades by making adjustments. During the pandemic, the bulk of requests she has received are for early learning and elementary. She hopes to expand her offerings by creating virtual field trips to places such as Ghana, and providing curriculum and materials to accompany the trips.
Burges, of the NBHE, does the same type of work in ELA. Her company offers a series of books on distinguished African Americans such as poet Phillis Wheatley, the Tuskegee Airmen, and opera singer Marian Anderson. Her materials also detail the efforts of people like Eleanor Roosevelt, who helped support prominent African Americans.
"These are the books I want my children to read," she says. "We have to share our family values, heritage, culture, and legacy."
What happens next?
"There's so much
unknown. This is a new
era of homeschooling."
The big unknown in homeschooling circles is what will happen when the next school year starts, under what more people consider normal circumstances. Will the families who pulled out last year return, or will they have found enough success homeschooling to continue?
"That's the multimillion-dollar question," says Fields-Smith. "What would keep me homeschooling is if I see my child flourishing, I'd stick with it."
That's exactly the sentiment of some homeschool advocates. "The illusion [that public schools are effective] has been broken," notes Weston. "The only surprise to me is that there are so many families that are still willing to subject their children to public school now that they've seen what homeschooling can be like."
Allen expects some children to return to school in the fall, but she adds that if families have a productive start in homeschooling, they'll be more willing to stick with it. While parents with elementary-age children seem more willing to experiment, those with students in higher grades often feel they don't have the expertise to continue teaching their children, she says.
One point that argues against a mass return to schools is the lifting of pandemic restrictions, says Fields-Smith. Many adults new to homeschooling gain support and knowledge from getting together with other parents, whether in formal learning pods or just to increase their children's socialization. When this was mostly lost during the lockdown, some parents suffered, she says. Now, with rules relaxing and vaccines expanding, the ability to reconnect with other families may encourage parents who are not themselves returning to physical workplaces to continue homeschooling.
"There's so much unknown," Fields-Smith says. "This is a new era of homeschooling."
---
Wayne D'Orio has covered education for 10 years.