Migrant kids in foster care and secure holding facilities will get books thanks to a new grant from First Book, plus coming titles from Lois Lowry and Megan Rapinoe, and more news.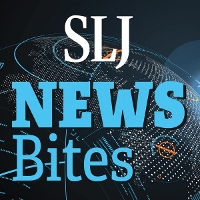 A grant was awarded to help get books to migrant children, plus there will be new titles from Lois Lowry and Megan Rapinoe in 2020, and more.
---
Grants Will Help Migrant Children
First Book, the nonprofit social enterprise focused on equal access to quality education for children in need, has awarded Urban Librarians Unite and the REFORMA Children in Crisis Task Force nearly $100,000 to provide books to migrant children in foster care and secure facilities, as well as to give to attorney's offices, support agencies, and into the hands of kids as they are being moved around.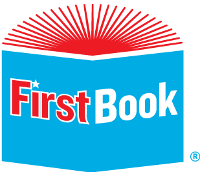 "This award will allow us to provide books to thousands of kids across the country," said Christian Zabriskie, executive director of Urban Librarians Unite, in a statement. "These children have very little to call their own and are living in high-stress conditions. These materials will go a little way to helping them feel like they belong and distract them from the difficult circumstances they are in. This will send a signal that there are people in America that care and show it in a way that they can carry with them until they finally settle into new homes."
The $95,412 grant is part of First Book's OMG Books Awards: Offering More Great Books to Spark Innovation, a program that will provide more than $4.7 million in funding used to distribute 1.5 million new books and ebooks to children living in low-income communities in 33 U.S. states and territories.
---
Rapinoe To Write Middle Grade Book
Fresh off her second World Cup win and ticker tape parade, United States soccer star Megan Rapinoe has signed a deal to write two books for Penguin, including a middle grade title for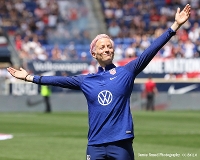 Razorbill, a division of Penguin Young Readers. The book will not just be about Rapinoe's life and soccer, but will discuss social justice issues and "the power young people have within their own communities and the world at large," according to the publisher.
"The extraordinary platform of the World Cup 2019 win provides a perfect vehicle for an honest, thoughtful, unapologetic, idealistic discussion of women, social justice, role models, gay issues, nationalism, and even a little soccer," Penguin Press president and editor-in-chief Ann Godoff said in a statement.
The adult and middle grade books are expected to be published in fall 2020.
---
Libby Teams Up with Apple CarPlay
Libby, a reading app available from 90 percent of public libraries in North America, is now compatible with Apple CarPlay, which will allow any user with a valid library card to access and control audiobooks through

their vehicle's dashboard display and listen through the sound system. The Libby app, which is also compatible with Android Auto, was created by Rakuten OverDrive, a digital reading platform used by libraries and schools worldwide.
---
New Lois Lowry Title Coming in 2020
Houghton Mifflin Harcourt acquired world rights to On the Horizon, a nonfiction title in verse from two-time Newbery medalist Lois Lowry.
Lowry, author of The Giver, Number the Stars, The
Willoughbys, and numerous other books for children and young adults, has not written in verse before. The middle grade book is drawn from Lowry's memories as a child in Hawaii and Japan, as well as from historical research. It tells the story of soldiers and civilians whose lives were lost or forever altered by the attack on Pearl Harbor and bombing of Hiroshima.
Artist Kenard Pak will illustrate the project. This is Lowry's first new book since 2014. It is scheduled to be released in April 2020.
---
GoNoodle Adds Character with a Disability
In an effort to bring more disability diversity to kids media, GoNoodle and RespectAbility partnered to create Flash Bolton, a new GoNoodle Champ. GoNoodle Champs are characters with their own
unique personality and interests. They are featured in the brand's school platform and encourage kids to stay active. To create Flash Bolton, GoNoodle worked with RespectAbility, a non-profit that fights stigmas and advances opportunities for people with disabilities.
GoNoodle is a "movement and mindfulness platform," used in four out of five U.S. public elementary schools, according to the company. Its goal is to get students moving. Flash Bolton is part of GoNoodle's Yes! You!—an initiative that "celebrates kids of different backgrounds, interests, perspectives and disabilities." He rides a wheelchair and loves all things fast. Flash Bolton will debut in GoNoodle's school product on July 31 and will also appear in a new video slated to launch on September 2.
---
New Imprint Brings Expanded 4D Options
Educational publisher ABDO has launched DiscoverRoo, a new nonfiction imprint in the Pop! Division. It will launch four new series, "Amazing Young People," "Extreme Weather," "Football

in America," and "Inside the Military" in August. DiscoverRoo features free, web-enhanced 4D nonfiction.
An evolution of its predecessor Cody Koala, DiscoverRoo "expands the 4D web-enhanced concept" for readers in grades 2 to 5. QR Codes take readers to videos, activities, booklinks, and more. If readers don't have a QR scanner, they can use the website printed in each book.