These bold Caldecott titles broke new ground in many different ways.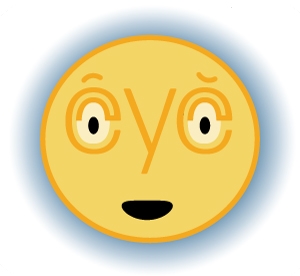 The Caldecott Medal, annually awarded to the artist of the most distinguished American picture book, has been around since 1938.
In that time, a lot of great books (and, let's all be honest here, a few head-scratchers) have won the prestigious gold and silver medals. My favorite Caldecott books are the ones that broke ground. That were bold. That opened some eyes to what a Caldecott Medal or Honor winner could be. It got me thinking: What are the 10 Caldecott Medal or Honor titles that most changed the way we think about the award? Here are my picks. If you disagree, I encourage you to write a piece detailing how and why I'm wrong. Which is to say, the books that opened my eyes might be different from the books that opened yours.
Let's begin….

---
by Brian Selznick. Scholastic.
You can see why this book opened eyes from across the room. Literally. On a shelf full of slim Caldecott winners, this thick tome jumps out. At more than 500 pages (due to large chunks of wordless pencil illustrations), it's much longer than the typical Caldecott winner. Selznick's cinematic masterpiece about an orphan boy living in secret in a Paris train station has allowed all future committees to expand their thinking. I even think it may have helped open the door for the next book on our list….

Book image Courtesy of Scholastic

---
illustrated by Jillian Tamaki, written by Mariko Tamaki. First Second.
Since it won an Honor and not the Medal, this book didn't quite have the impact and shock value of Hugo Cabret, but it's close. I'm calling Tamaki's This One Summer the Chuck Yeager of Caldecott books. Yeager broke the sound barrier; this book broke the Caldecott F-bomb barrier. Hasn't happened before or since. The 2015 Caldecott committee took to heart the idea that the award encompasses books for "ages up to and including 14." A beautiful and often brutally honest coming-of-age friendship story, this fantastic book really throws the unprepared for a loop. And it's no stranger to the ALA Most Challenged list. Oh, and did I mention that it's the first graphic novel to take a Caldecott Honor? Yeah, eye-opener for sure.

Illustration by Jillian Tamaki



---

Noah's Ark
by Peter Spier. Doubleday.
You hear that? Blessed silence. Sometimes folks say that if an illustrator wants to win a Caldecott, they should make a wordless book. Visions of David Wiesner (Tuesday), Jerry Pinkney (The Lion & the Mouse), and Chris Raschka ( A Ball for Daisy) abound. But no one said this back in 1978. Because at that time, no wordless book had ever won the Caldecott Medal. Spier's retelling of the ubiquitous Bible tale of Noah, his wife, and every animal on earth (x2) escaping a massive flood changed all that and opened the door for all the silent goodness that has followed.

Book illustration by Peter Spier



---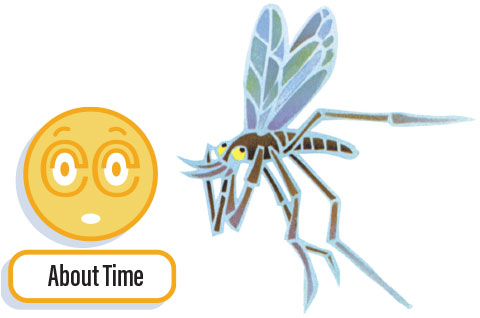 Why Mosquitoes Buzz in People's Ears
illustrated by Leo and Diane Dillon, written by Verna Aardema. Dial.
Some books are eye-opening for reasons that disappoint.
Thirty-nine years. It took that long before the Caldecott Medal was awarded to a Black illustrator. Then came Why Mosquitoes Buzz in People's Ears, with art by Leo and Diane Dillon. It's a cumulative tale that tells the African legend of why mosquitoes annoy us humans. After the Dillons won back-to-back (taking Caldecott gold the following year with Ashanti to Zulu, also published by Dial), it was another 32 years before the first solo Black artist won the Caldecott Medal: Jerry Pinkney in 2009. Bonus eye-opening points: Why Mosquitoes Buzz in People's Ears is one of the few Caldecott winners illustrated by a duo.

Book illustration by Leo and Diane Dillon



---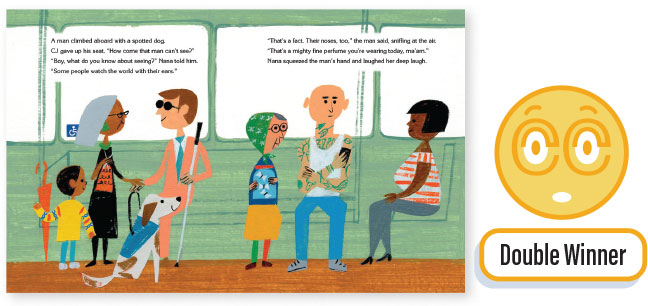 illustrated by Christian Robinson,
written by Matt de la Peña. Putnam
Last Stop on Market Street isn't eye-opening because it won a 2016 Caldecott Honor. It's eye-opening because it's the first straight-up picture book to win a Caldecott Honor and the Newbery Medal.
"But what about A Visit to William Blake's Inn?! That won a Caldecott Honor and the Newbery Medal in 1982!"
Come on! That's a picture book poetry collection, so I don't consider it a picture book in the 32(ish)-page-continuous-visual-narrative sense.
"But what about Crown: An Ode to the Fresh Cut?! That won a Caldecott Honor and a Newbery Honor in 2018!"
That is a straight-up picture book, but it came after Last Stop on Market Street! And while this story about a boy and his grandmother on a cross-town journey to help those in need didn't take Newbery gold, I'd argue that Last Stop helped open the door for Crown's Newbery Honor.

Book illustration by Christian Robinson



---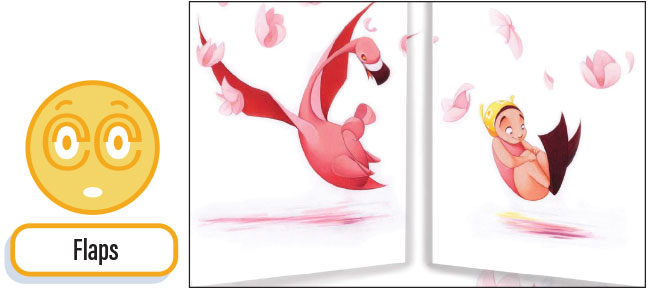 by Molly Idle. Chronicle.
Some books have delayed eye-opener effects. Take Molly Idle's Flora and the Flamingo. This book about a drama-filled ballet between a girl and a pink flamingo won a Caldecott Honor in 2014. After a few weeks, some award watchers came to a slow realization (actually, it was more of an unsure wondering): Is it the first book with flaps to receive Caldecott recognition? We all pondered the question, and slowly, unsurely, answered: Yes, yes, I believe it is. There have been Caldecott books with die-cuts (Joseph Had a Little Overcoat, Color Zoo, etc.), but flaps? No, no, no. That's a belatedly eye-opening first.

Book illustration by Molly Idle



---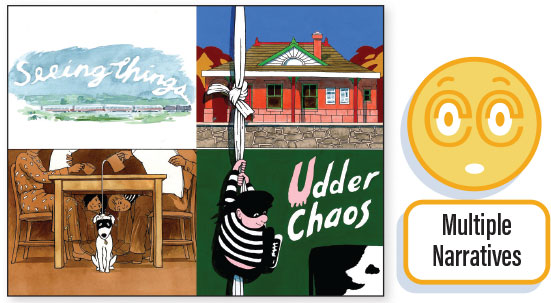 Black and White
by David Macaulay. Houghton Mifflin.
If you're old enough to remember, you know how as soon as the calendar turned to 1990, you'd see characters on TV shows say things like "Hey, it's the '90s!" as a way to explain that we are now in the future and we need to retire the old way of doing things. Black and White by David Macaulay has serious '90s "We now live in modern picture book times" vibes. Has a more narratively challenging book ever won a Caldecott? Black and White—about, um, a cow stampede and its repercussions (I think?)—pulls a split screen technique, requiring readers to hold four seemingly unrelated stories in their heads as they turn the pages, eventually discovering that the four narratives are (surprise!) all part of one story. It's a shock this book was even published, let alone won the most prestigious of picture book awards. I, for one, am thankful it did.

Original art from Black and White by David Macaulay, reprinted by permission of the artist

---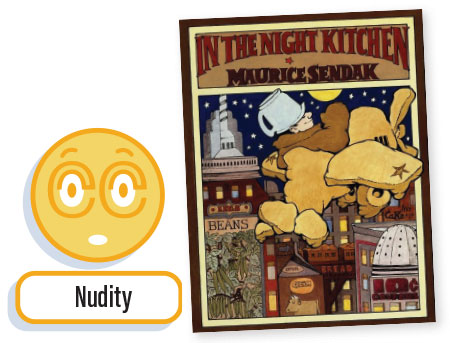 In the Night Kitchen
by Maurice Sendak. Harper & Row.
Cock-a-doodle-doo! This Caldecott Honor book famously launched a million drawn-on diapers, as librarians across the country scrambled to grab their Wite-Out and Sharpies to preserve the main character's modesty via their own added artwork. The book has a "Maurice Sendak had a crazy dream and then he woke up and drew it" vibe, with a surreal storyline following a boy in a world of ecstasy, danger, and baked goods.

---

Tops and Bottoms
by Janet Stevens. Harcourt.
This book dared to ask the question, "But what if we put the binding . . . on the top?"
That unusual design decision led to a story that reads in a unique way, as the pages turn up and down instead of side to side. This fable about a clever hare duping a lazy bear opened up new dimensions for the award and was a precursor to the excellent (and similarly constructed) 2022 Caldecott Honor book Mel Fell.

---

by Carson Ellis. Candlewick.
I would have loved to have been at the editors' meeting about this book:
"OK, we have a picture book manuscript here. But it's a bit different."
"Different how? Wordless?"
"No, it has words."
"Then how is it different?"
"Well, it has words. But no one can read them."
Who invents a new language to use in a picture book? Some things just work better when you see them in action, and many (myself included) who saw Ellis's ode to the hidden and miraculous natural world thought it worked pretty dang well.

Du Iz Tak illustration by Carson Ellis.

---
Travis Jonker blogs at "100 Scope Notes" (slj.com/100ScopeNotes).