Higuera's novel, which combines Mexican American folklore with science fiction, earned her the 100th Newbery Medal and the Pura Belpré Youth Author Award.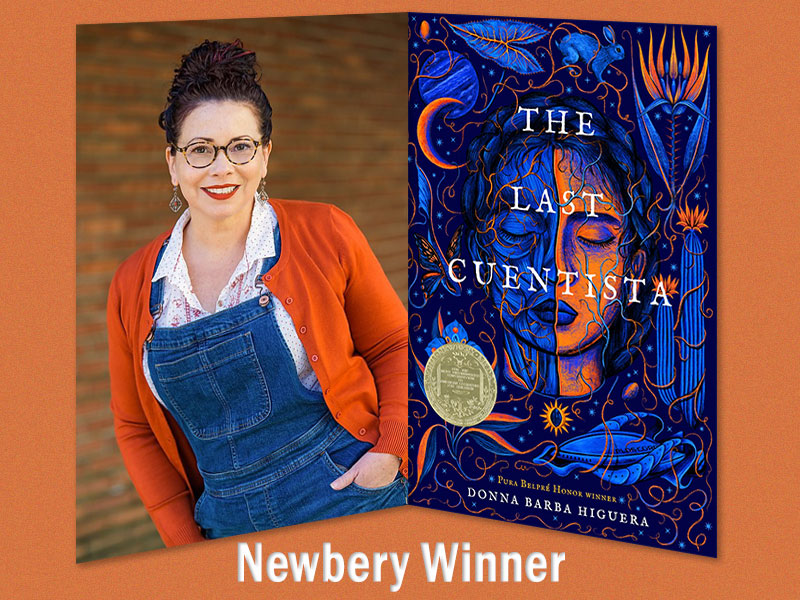 Higuera photo credit: studiobportraits.com
Donna Barba Higuera is still "a deer in the headlights" over her 2022 Newbery Medal, truly stunned by the recognition of her novel The Last Cuentista.
Higuera thought it was odd that her publisher, Levine Querido, set up two Zoom meetings with Barnes and Noble over the weekend. But Levine Querido gave very detailed explanations, and she prepared appropriately. Notes in hand, she signed into the Saturday morning Zoom only to learn it was actually a meeting with the Pura Belpré committee to tell her she had won the 2022 Pure Belpré Youth Author award for The Last Cuentista.
When that call was over, Higuera "doubled down on my gullibility."
"I said, 'OK, so tomorrow's the real meeting with Barnes and Noble?'" she said laughing. Her editor and publisher told her yes, Sunday was the actual meeting with representatives from Barnes and Noble.
"So yeah, I have never been accused of being the most clever when it comes to those things," says Higuera. "I believe, hook, line, and sinker, everything that people tell me. I think no one lies except me when I tell stories."
Her story of a 12-year-old Mexican American girl who uses memories of her family's stories and a copy of Yuyi Morales' Dreamers to try to save others from a dystopian society turned out to be a pretty good one. When Higuera called into the Zoom meeting on Sunday afternoon, she thought she had mistakenly dialed into the one from the day before. This appeared to be another Youth Media Awards Zoom, not a call with Barnes and Noble reps. She was about to disconnect when she saw her editor, Nick Thomas, and then her publisher, Arthur Levine, on the call.
This time, it was the Newbery Committee calling to tell her she was the 2022 Medal winner. It is the first book to win the Newbery and the Pure Belpré Youth Author award.
"I completely just lost my cool," says Higuera. "It's not something that you're expecting, and there's this initial shock and then the flood of emotions. It doesn't matter if I'm extremely happy or extremely sad; for me, it's always just, you know, ridiculous crying."
She doesn't remember using her scarf as a tissue for her eyes—and perhaps her nose—but can't deny it after Levine Querido posted video of the call on Instagram.
"I was not as cool as I thought I was," she says.
While some authors might spend the days leading up to the Youth Media Awards announcement hoping for, or possibly even expecting, a call, Higuera was truly in shock that her book, which combines Mexican American folklore with sci-fi, was recognized by any award committee.
"It's a really bizarre concept," says Higuera, who is Mexican American and white. "This book was not one that would ever be winning any sort of award, because I thought it was too different."
When she saw the committee members getting emotional on the call, however, she realized she was wrong about the book. It wasn't too different. Or maybe being so different was what made it great. While members of the committee might not have personally shared her cultural background or love of sci-fi, her novel still "hit a nerve," as she puts it.
"We found Higuera's rich themes and immersive worldbuilding powerful as she explored themes of storytelling, memory, and survivance—that the things that make us different are also the things that can ground and unite us," Newbery committee chair Tad Andracki said in an email.
She is not just any Newbery winner, but the winner of the 100th Newbery Medal.
"No pressure, right?" says Higuera.
The Pura Belpré was an equally meaningful, and possibly more emotional, honor for Higuera, who says that receiving recognition from people who share parts of her culture means that she she got the representation right, confirming that this is an important book for kids to read.
"That is so important," says Higuera. "As a child, even though I was mixed race, I just really didn't see many books with any children like me. So to be able to say, 'I have a book that a kid like me is going to be able to pick up,' it means everything."