Author Cynthia Levinson knew that Jewish artist and activist Ben Shahn would be a great subject for a children's book. Her work, The People's Painter: How Ben Shahn Fought for Justice with Art, won the 2022 Sibert Award.
Cynthia Levinson knew Jewish artist and activist Ben Shahn (1898-1969) was someone kids should know, and someone whose life and work would resonate with them.
"There was so much about Shahn's life that is kid-appropriate, kid appealable," she says. "Once I started writing for kids and focusing on social justice, he seemed like a natural."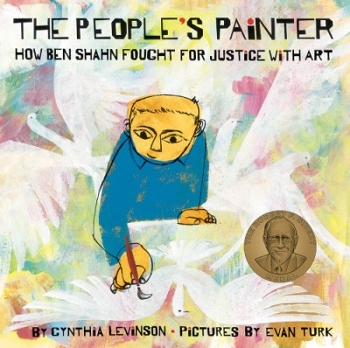 There was a vast amount to learn about the social realist painter, who was born in Lithuania and emigrated to Williamsburg, Brooklyn, with his family in 1906. Shahn's paintings, public murals, and mosaics explored themes of immigration and organized labor.
Levinson had to go "soup-to-nuts, birth-to-death" while researching Shahn, who is not well known as other artists of his era. And in his lifetime, Shahn did so much: his artwork spanned different mediums, he wrote for teenagers and younger children, and he was driven by social justice causes throughout his life.
"It was very, very challenging for me to find a through-line for the story," she says.
That struggle to find a focused way to convey all of that information led her to seek some help by hiring an editor about five years ago. The editor's advice: Don't do it.
"I can understand why the editor said that, but Shahn himself just wouldn't let go of me," says Levinson. "I was just determined to try to make this book appealing to children in a focused way."
Levinson found a way, and six years after she started sending drafts to her writers' critique group, her picture book The People's Painter: How Ben Shahn Fought for Justice with Art, illustrated by Evan Turk, was named the 2022 winner of the Sibert Informational Book Award.
"I was gobsmacked," she says.
The Sibert has been on Levinson's radar for years. A former history teacher, she always valued the informational texts. Once she became a children's author, she hoped to someday write a book that might receive recognition from the Sibert committee.
"It's really the accomplishment of something I've been hoping for for a long time," she says. "And this particular prize—it covers so much territory, from infants to teenagers, fiction, nonfiction, science, nature, history; the universe of the Sibert is pretty vast. To rise to the top of that? Literally, I cried throughout the call. I just felt like a fool. I just sort of blabbered the whole time. Now I regret that, because I wanted to meet the committee members. But I just kept saying, 'Oh, oh, thank you!' I hardly let Evan get in a word."
As young people continue to step up as activists on causes from police in schools to gun control, book banning, and COVID safety protocol, Shahn's life is relatable. He created art that told stories and had meaning and a message.
"I think it's so important for kids to know that you can tell a whole story in a piece of art," says Levinson. "And it could be a story with a message of something that they care about, an issue that they care about."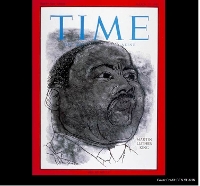 Levinson had been interested in Shahn and his work since she first saw his illustration of Martin Luther King Jr, on the cover of the March 19, 1965 issue of Time Magazine.
As a Jewish author writing about a Jewish artist and activist in this time of rising anti-Semitism, Levinson finds the honor especially meaningful.
"It does feel important, and much appreciated right now," she says.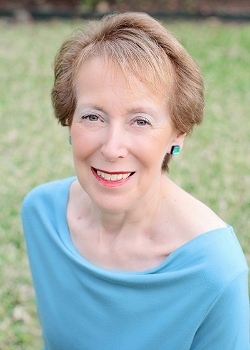 Cynthia Levinson.
Photo: Sam Bond Photography
The banning of Maus, Art Spiegelman's Pulizer Prize-winning graphic novel about the Holocaust, at a school district in Tennesee; a hostage-taking at a synagogue in Colleyville, TX; a Nazi rally in Orlando, FL; and anti-Semitic flyers distributed in cities across the country have all been in the news. Levinson has experienced anti-Semitism firsthand recently. Her husband and their neighbors have received threatening, anti-Semitic mailers, police officers once kept a car on their street for protection, and recently, an arsonist set fire to a temple near hers in Texas.
"Given the overt vociferousness of anti-Semitism, it just so happens, this book came out at an unfortunate but appropriately monumental time," she says. "I'm very, very grateful to the Sibert committee. I'm just thrilled that it's a Sydney Taylor notable book, and that it's a finalist for the National Jewish Book Award. But to have a committee that, as I said, before, looks at books of all themes and topics and genre and ages, to have it be highlighted by that group is—it's just really significant."
After she learned she had won, Levinson tried to get a sense of the book's place in the history of the Youth Media Awards.
"I asked my agent how many books with overtly Jewish content have been recognized by some of the ALA committees of the Youth Media Awards," says Levinson. "She came up with four or five wonderful ones, not too many very recently, but popular, good books."
While Levinson was thrilled when The People's Painter was named a Sydney Taylor Award notable picture book, she is also happy that recognition by a wider-reaching committee at the Youth Media Awards can bring a bigger audience.
"That is important, because a lot of people then know to care about this artist, this person, his history, his place in America and the world, and his Judaism," says Levinson. "It's not that Jewish writers are pigeon-holed into the Sydney Taylor [Awards], and the American Jewish Library. We're very grateful for those, but [the Sibert]—it's not a higher platform, but it definitely shines a broader beam."