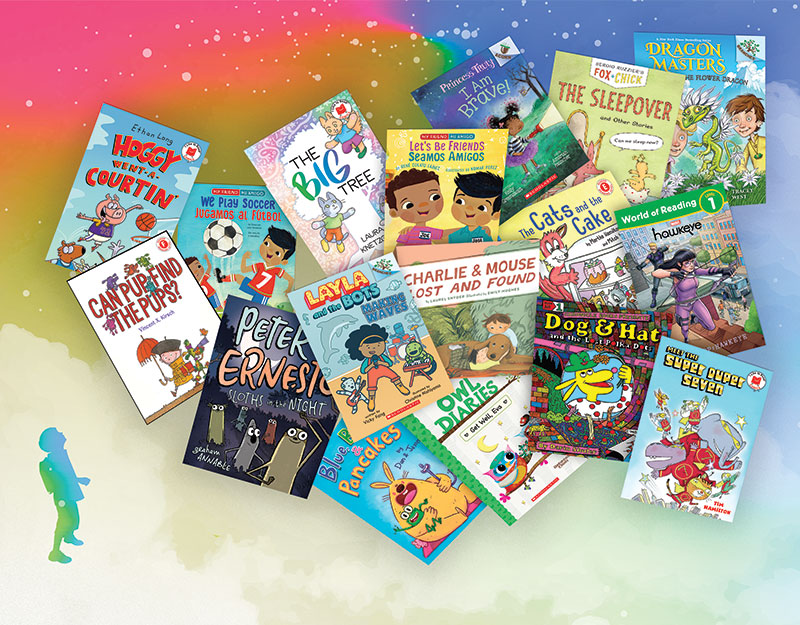 When Françoise Mouly's children were learning to read, she schlepped a suitcase full of comic books from her native France to the United States to read to them. "With comic books, [children] get the pleasure. It's not like a bit of medicine," she says.
While the art and wit of comics engaged her kids, Mouly saw potential for them to deliver educationally, as well. That led her to create Toon Books, which publishes hardcover comic-book early readers, in 2008.
Mouly says creating engaging comics for young children was the easy part. The harder job was gaining broad acceptance for these books. "We learned a lot from educators and teachers," she says. "Learning to read is a complex endeavor, especially in English. We were able to build an understanding of the medium without losing the pleasure principle."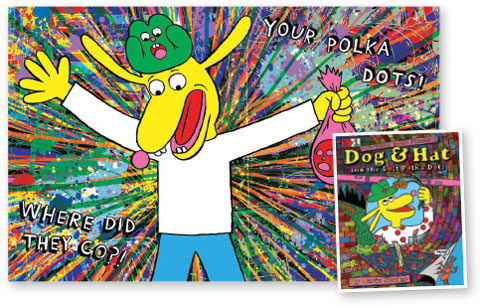 Courtesy of Chronicle Books
The combination of engaging tales, funny pictures, and language children can grasp while learning to read is propelling a booming market for early readers. Comic and graphic novel formats are driving the popularity of these books for fledgling book enthusiasts.
After a stagnant 2020, children's book sales, including early readers, increased about nine percent in 2021,
according to a report from Kristen McLean of the NPD Group. Graphic novels and comic book sales for children's books rose 17 percent, confirming the uptick in interest from readers, parents, and librarians,according to the report, which tracks commercial sales.
Calista Brill, creative director of Macmillan's First Second imprint, which publishes a line of graphic novels for early readers, was surprised by the robust market. When the pandemic hit, "We had no idea if this was the end of the industry," she says.
Sales are also driven up as federal money fills school coffers and parents seek to bridge gaps brought on by remote and disrupted schooling.
"People are spending more time at home, and books are an important way to bond" with children, says Laura Demoreuille, editorial director of Scholastic Early Learners. "If parents and guardians are worried about kids falling behind, early readers are an affordable way to bridge those gaps."
Scholastic publishes several graphic novel series for early readers; its "Dog Man" series by Dav Pilkey is wildly popular with first to third graders mastering their reading skills.
"There's a huge demand for these books right now," says Ann Marie Wong, editorial director of Henry Holt Books for Young Readers. Holt publishes the "Fitz and Cleo" series by Jonathan Stutzman, illustrated by Heather Fox, and a new series, "Surviving the Wild," by Remy Lai, debuting this spring.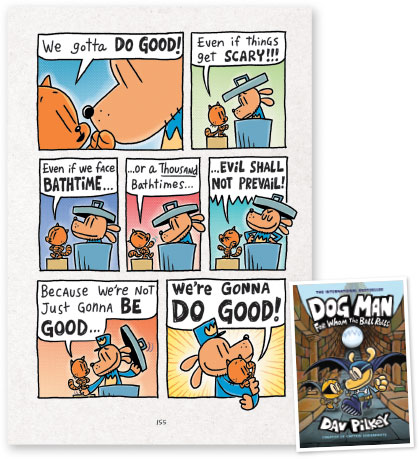 Courtesy of Scholastic
The secret sauce
What makes a great early reader for today's kids? "I'm always on the hunt for more early reader graphic novels that are fun and kid-friendly, ones that strike an emotional chord without taking themselves too seriously," says Wong.
"A great early reader book is a book that welcomes any kid—and makes them excited to open a book again. It's as simple, and as important, as that," according to Taylor Norman, editor at Chronicle Books.
"The facial expression, the body gestures, the size of the lettering, the passage of time from panel to panel all weave together to tell an emotionally rich story," Mouly says.
Holiday House executive editor Grace Maccarone favors "a classic story structure with conflict, build-up, climax, and resolution. [Kids] like happy endings. They tend not to like irony, ambiguity, and unresolved endings. That said, there are exceptions to my 'rules.'"
Educators are among the biggest cheerleaders for early graphic novels and comics, editors say. "Teachers have been such champions. They want to pick up these books," according to Demoreuille.
Scholastic's "Dog Man," which started in 2010, is the biggest selling kids' graphic novel series currently, McLean reports. Scholastic also launched its Branches line for "growing readers," in 2013. These titles serve independent readers who have outgrown leveled readers but aren't yet ready for chapter books. Five years later, the company launched Acorn, for ages four to seven.
Despite the popularity of early readers, small publishers say it can be hard for new books to be noticed right now. When the American Library Association's annual conferences went remote, Holiday House lost its opportunity to host its annual Friday night cocktail party—and 300 librarians in one space, says Maccarone. Holiday House relies on schools and librarians for 90 percent of its sales.
As a result, awards carry more weight now in garnering attention for new titles, she adds.
The Geisel Award, for most distinguished American book for beginning readers, was first presented in 2006, has great relevance for this category. Maccarone praises Geisel committees' recent choices that show the group is "more sensitive to what's appropriate for new readers."
When the Toon book Benny and Penny in the Big No-No! by Geoffrey Hayes won the Geisel in 2014, it helped legitimize the comic book format for early readers. In 2021, Candlewick's cartoon-style send-up of classic primers, See the Cat: Three Stories About a Dog, by David LaRochelle and illustrated by Mike Wohnoutka, won. This year, Fox at Night by Corey R. Tabor, in the "My First I Can Read" series from HarperCollins's Balzer + Bray, took the prize.
Maccarone is excited by the hardcover comic book Super Duper Seven by Tim Hamilton, a cartoonist published in The New Yorker and MAD Magazine. Out this summer, the book is about "the silliest superheroes you will ever meet" and is aimed at first and second graders. Part of the publisher's "I Like to Read Comics" line, "it has the silliness that first graders enjoy," she says.
While Chronicle already publishes successful series including "Charlie & Mouse," by Laurel Snyder, illustrated by Emily Hughes, and Sergio Ruzzier's "Fox & Chick," both for the preschool to kindergarten set, Norman holds high hopes for "Dog & Hat," a new series from Darin Shuler. The bold comic strip-like art follows a dog and his talking hat as they search for polka dots that have fallen off his shirt. The first book comes out in late March.

First Second publishes about 45 graphic novels yearly; the fourth book in the "Blue, Barry & Pancakes" series, about a worm, bunny, and frog who are friends and adventurers, will be out in June. The series for emerging readers is created by Dan Abdo and Jason Patterson, co-creators of Nickelodeon's hit animated show Rocket Monkeys.
Brill notes that it can take parents a little getting used to reading comics aloud. When she was reading to her own five-year-old, he impatiently said she was describing the pictures too much. "Just do the voices," he told her.

Courtesy of First Second
To level, or not?
Publishers of early readers have varying opinions on whether to level books.
Norman is against it. "Turning art into math doesn't ever work. We deliberately don't," she says.
Even though Holiday House does level its early readers, Maccarone admits, "It's still just a tool, it's not an exact science. People can take leveling too seriously sometimes. It's OK to not know every word."
Brill says First Second doesn't level its graphic novels, citing the difficulty of assessing language, story, and pictures. But she praised Toon's thorough system, saying the publisher invented a 1-2-3 system that does work.
Toon, which was acquired by Astra Publishing in February, goes well beyond levels, offering teachers lesson plans, reading tips, craft activities, and even read-along videos. "It's a multimodal medium. It can take teachers four pages to describe a single-panel comic," Mouly says. Two of Toon's most recent titles are Blancaflor, the Hero with Secret Powers, released in English and Spanish, and Black Heroes of the Wild West.
It's a balancing act to combine factors so kids can comprehend and read with intonation on their first reading. "It sounds easy, but it's not," Mouly says. "It means you understand what you read as you read it—it is an amazing, triumphal experience for young readers."
---
Freelance journalist Wayne D'Orio writes frequently about education and equity.