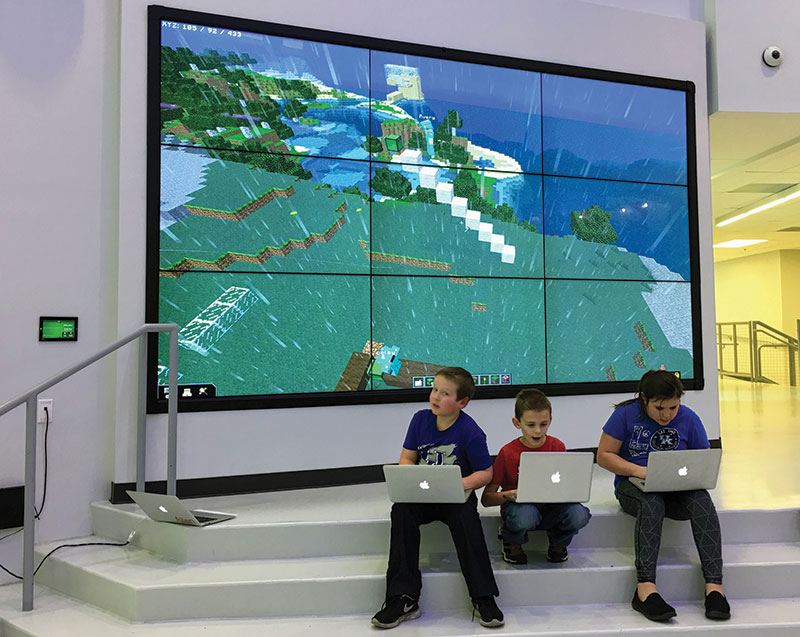 Students at the Eminence (KY) Independent Schools EDHub
EDHub photo courtesy of Eminence (KY) Independent Schools

Once considered the alternative to academics, Career and Technical Education (CTE) programs have seen a rebirth in recent years. Largely rooted in science and math, these programs are fueled by new career opportunities that students can dip into while still in high school.
Formerly referred to as "vocational programs," the CTE of today often provides a pathway to post-secondary work, whether it be certifications, associate's degrees, or bachelor's degrees. With the rise of the tech economy, the courses cover careers from automotive engineering to medical science to cosmetology. Sometimes they're electives available through magnet programs or specialized schools. As high schools embrace the digital tools of information technology, cybersecurity, and other tech-based CTE courses, project-based learning and makerspaces have brought the hands-on aspect of CTE into academic courses across the country.
The U.S. Department of Education (DOE) reports that 98 percent of public high school districts had a CTE program in 2016–17, the majority of them offering both high school and post-secondary credits.
As secondary schools race to meet the growing demand for more robotics, coding, and graphic design courses, administrators are also seeing a growing demand for hands-on experience and earlier exposure to traditional white-collar professions. Modeled after European apprenticeship programs, many job shadowing and specialized pre-professional classes cater to students interested in law, medicine, and architecture.
The needs of such programs quickly outstrip the amount of tech in a traditional classroom, and many school libraries have become the hubs where students access specialized tools and information sources required for CTE. Equipped with makerspaces, focused databases, professional journals, and tech manuals, the library vibe can feel like the kind of workspace where career-minded students hope to end up.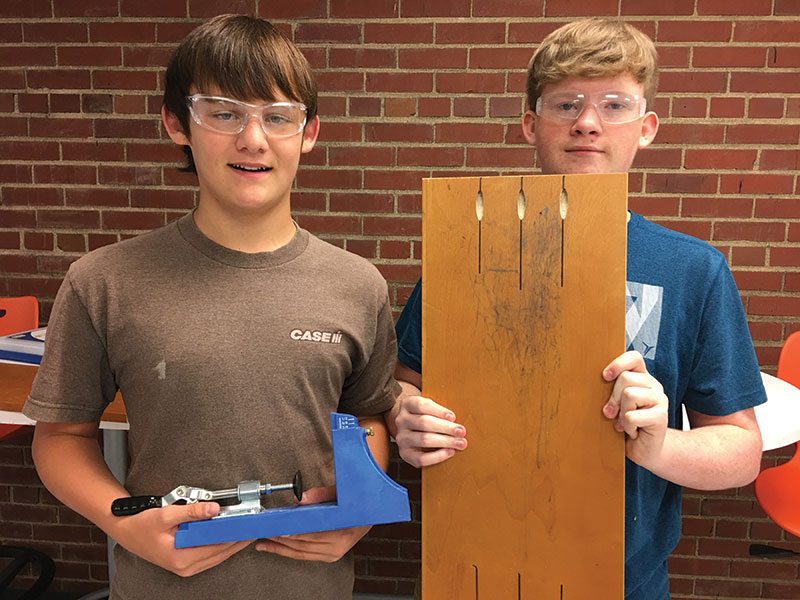 Students at the Eminence (KY) Independent Schools EDHub
EDHub photo courtesy of Eminence (KY) Independent Schools
A library reinvents itself
School librarian Laura Sisson is slowly remaking her library to meet the needs of three unique schools—CAST Tech, the Advanced Learning Academy, and Fox Technical High Schools—that share a downtown campus in San Antonio (TX) Independent School District. Sisson has been tasked with taking a traditional space with shelves and carts and turning it into a resource for the tech-heavy curriculum at CAST Tech, project-based learning at the Advanced Learning Academy, and two magnet programs at Fox Tech.
CAST Tech has yet to graduate its first class, but the Advanced Learning Academy and Fox Tech send graduates to colleges including the local San Antonio law hub, St. Mary's University, and Princeton University. To make room for a green screen, robotics equipment, and makerspace materials, Sisson cleared out her research collection. "If you can find it easily, accurately online, it's gone," she says.
Digital tools have transformed the format and scope of class projects. To make the most of new tools and resources, students need to develop skills. Robotics programs can be great in the classroom, Sisson says, but someone has to devote time to exploring all that they can do. Teachers may learn the basics, but a kid tinkering for hours will discover new ways to use equipment.
Sisson has designated theme days in the library, offered on a drop-in basis during students' lunch breaks and free periods. On Maker Mondays, students can experiment with materials from arts and crafts items to design software. On Tech Tuesdays, she opens the library to anyone wanting to tinker with robotics or hone their digital skills. Wacky Wednesdays are for communication arts, when students and teachers can use the green screen and recording equipment to make silly broadcasts and videos—skill building in a fun atmosphere.
The library isn't always buzzing. On Thoughtful Thursdays, it's a tranquil place for individual projects. Sisson is teaching the students to crochet. It relates to coding patterns and is also a peaceful activity for quieting minds. Fun Fridays are free-form; students can choose from any tools and resources. On any day, a particular material or software may catch someone's interest, and the students become classroom experts.
The same thing happens with online research, says Sisson, who maintains that digital literacy and citizenship is vital for all careers. While some students will dig deep into academic resources, everyone needs to know how to find reliable information. She wants all students to be well-versed in evaluating online resources, identifying doctored or unreliable images, and distinguishing between marketing, journalism, and research.
Reconsidering the four-year degree
While information tech creates new possibilities in K–12 education, the student-debt crisis is causing many to question the value proposition of what comes next. Is college still worth the cost, when many jobs hinge more on experience than a degree?
Though fields like web development and medical tech don't necessarily require a degree, students still benefit from formal high school education as they pursue tech and STEM careers. The DOE statistics show that more than half the CTE courses count for high school credit in core academic subjects.
CAST Tech students are taking advantage of the market demand for tech-based skill sets such as coding and cybersecurity, while also preparing for a post-high school education or advanced certification in graphic design, cybersecurity, or information systems design. The first two years focus on fundamentals, and then students move into internships and entrepreneurship.
To stay up to date, Sisson subscribes to Wired and other industry magazines. She helps students access technical materials online and offers space to experiment with podcasts. Fox Tech's two magnet programs, focused on law and health professions, also require specialized databases and industry periodicals. Sisson teaches students to use JSTOR and subscribes to Trial Magazine, Texas Medicine, and the New York Times. Some of the most in-demand jobs in San Antonio are in medical tech.
For the Advanced Learning Academy, which emphasizes project-based learning, Sisson's play-based approach to tech tools allows students to exercise innovative thinking. When that project-based learning specializes in STEM or STEAM curricula emphasizing robotics, 3-D printing, and model engineering, the line between CTE and 21st-century academics can be blurry.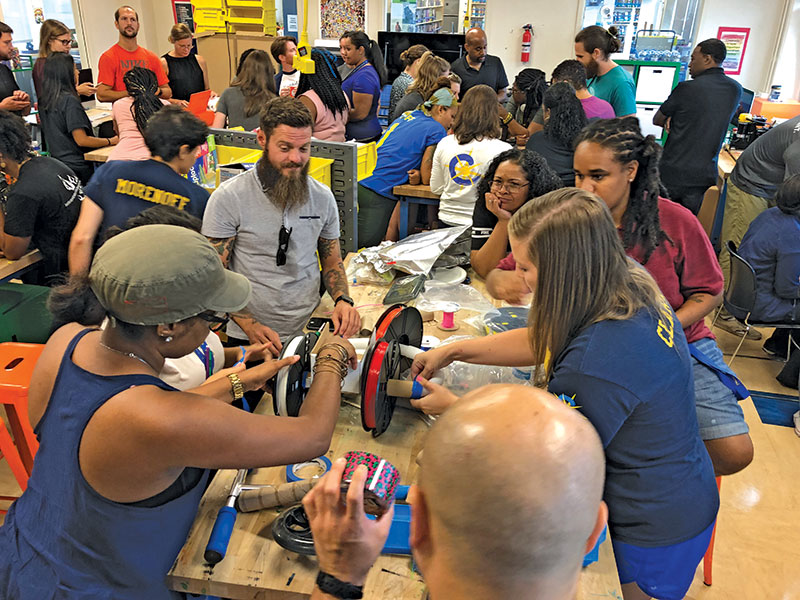 The makerspace at the Capital City Public Charter School in Washington, DC
Photo courtesy of Capital City Public Charter School

Tech campus or library?
In rural Eminence, KY, Superintendent Buddy Berry spearheaded a $6 million fundraising effort through a five-cent property tax called a "nickel tax" to create EDHub at the district's only campus, shared by Eminence Elementary School and Eminence High School. The 30,000-square foot facility, opened in 2016, is as much a lab as it is shop class and library. The building has books for checkout. It also has a production studio, two maker rooms, a woodshop, and robotics, biology, math labs.
EDHub looks like a tech company campus. There's even a two-story spiraling slide, a favorite feature of some tech workplaces, including Google and Rackspace. With white-board walls, flexible seating, and floor-to-ceiling windows, student work is always on display.
There's plenty of work to show. The entire 900-student district has embraced a STEAM curriculum, and teachers take full advantage of the state-of-the-art EDHub to build robots, websites, and woodshop projects.
For librarian James Allen, who runs EDHub, this is a welcome enhancement. "I get to skip that step where you beg teachers to come use the space," he says.
The space, and the collaborative spirit of the librarians, has expanded teaching capacity for middle school and high school teacher Kendra Waddell. "Students know they are welcome in the EDHub with or without a teacher. Mastering tools there are rites of passage that students deeply value," she says.
Over the past year, sixth-graders used laser cutters to make lamps while learning about the engineering process. They designed codes for Sphero robots and used Bloxels, 3-D printers, Merge Cubes, and green-screen video editing to showcase their learning innovations.
As students become proficient with 3-D printers, laser cutters, power tools, and VR equipment, they can earn micro-credentials, valuable résumé builders for their next steps in STEAM fields from movie production to mechanical engineering.
Technically, EDHub is not a CTE facility. While the Fox Tech library specifically serves CTE programs, EDHub is an extension of a STEAM curriculum that Berry championed starting in 2012. Most of Eminence's CTE students are bussed to nearby Shelbyville to take nursing, welding, automotive diesel, business information, tech, and industrial maintenance classes at the Shelby County Area Technology Center. Everyone else might not be preparing for a specific career, but have exposure to and experience in aspects of many at the EDHub.
A CTE makeover in DC
When the Capital City Public Charter School in Washington, DC, entered a 2016 DOE "CTE Makeover" contest to win funding for its makerspace, the school based the proposal in the library—already a destination for hands-on learning, collaborating, and design thinking.
"We felt it aligned really well with our current curriculum," says library director Chip Chase. The school uses the "Expeditionary Learning" model, in which core subjects such as math, language arts, science, and social studies are taught through hands-on exploration of real-world settings including parks, food markets, and community service projects.
Capital City was one of 10 DOE contest winners, and the overnight infusion of the $20,000 reward made the makerspace a reality. The tech was current, and the team had accountability to stick to their cohesive, strategic plan. The school has made staffing the makerspace library a priority, Chase says. Some positions needed to be reconfigured to keep trained staff in the makerspace full-time. "It's a skill set that's kind of hard to come by," he says. Chase also pursues grants to continue updating CTE resources and growing staff.
As staff evolves, so does the role of students, said sixth-grade teacher Amanda Carella. "The makerspace has evolved from a space led by library staff and teachers to a collaborative and creative space for students to realize their visions," she says.
For one project, the tools helped Carella's students make sense of the supercontinent Pangea with puzzle pieces made of acrylic using a Glowforge 3-D laser printer. They used Google VR headsets to immerse themselves in geologic time and in space and made their own laser-cut maps.
Enthusiasm has been boosted by local businesses offering feedback on types of skills most in demand: information systems management, coding, and soft skills such as managing people and pitching projects to funders. It's a positive feedback loop, Chase says. While gaining marketable skills energizes some kids, others are already excited about certain projects or fields of study. The makerspace lets them put that excitement to work.
"The focus for us has been, 'What do our students want, and how can they see success as soon as possible?'" Chase says. When kids see the relevance of what they're doing in the makerspace, they want to do more of it.
---
Bekah McNeel is a San Antonio-based journalist.