The House on Mango Street centers around Esperanza Cordero's coming of age in her Chicago neighborhood. The below resources, including nonfiction and artwork, can enhance students' engagement with Sandra Cisneros's classic.

Last month, SLJ asked librarians and educators to weigh in on which classics should remain on summer reading lists. Inspired by the most popular titles that emerged, SLJ editors and members of NCTE's Build Your Stack® Committee have curated this year's round of "Refreshing the Canon" selections.
Additionally, we've put together multimodal lists of recommendations—including nonfiction, graphic novels, documentaries, and more—that educators can feature in classrooms and libraries alongside the exemplar texts. Our aim is to inspire educators to breathe fresh life into lessons around these works by giving students new context to understand why these classics are still relevant today.
Be sure to check out the 2022 "Refreshing the Canon" lists for more read-alikes of longtime summer reading picks.

Sandra Cisneros's The House on Mango Street, published in 1984, centers around Esperanza Cordero's coming of age in her Chicago neighborhood. Even though their new house on Mango Street is an improvement on where they used to live, it's not what Esperanza yearns for—a "real" house like the ones on TV. The vignettes follow Esperanza as she makes friends, goes through puberty, and comes into her own. The book also addresses sexual assault, poverty, racism, and the Chicano culture. The below texts and materials can enhance students' engagement with Cisneros's debut.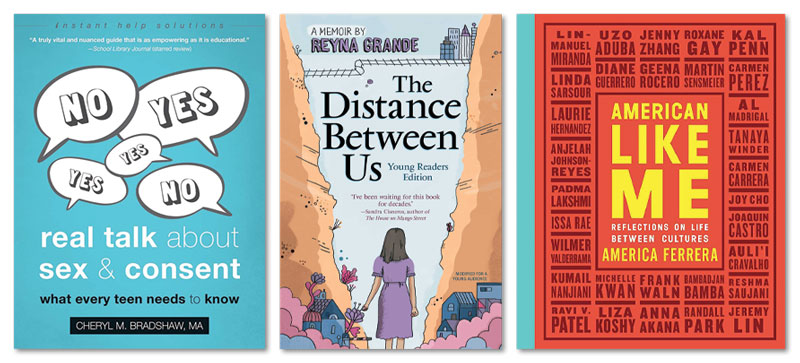 Nonfiction
Real Talk About Sex and Consent: What Every Teen Needs to Know by Cheryl Bradshaw. Instant Help. 2020. ISBN 9781684034499.
Gr 8 Up-This guide provides information to help young people as they navigate adolescence, including a detailed explanation of what consent looks like. A conversation on consent will help readers discuss the trauma of sexual assault and how The House on Mango Street addresses it.
The Distance Between Us Young Readers Edition by Reyna Grande. S. & S./Aladdin. 2016. ISBN 9781481463713.
Gr 6–9-This incredible memoir tells Reyna Grande's story of being abandoned by her mother, coming to the United States to live with a father who was absent most of her life, the struggle of her immigrant experience, and how she overcame many obstacles to become an author. Reyna and Esperanza have a lot in common. Students will be connect the two young women's stories about coming up against incredible odds while still embracing their heritage.
American Like Me: Reflections on Life Between Cultures by America Ferrera. Gallery. 2018. ISBN 9781501180910.
Actress America Ferrera and some of her famous friends share stories about their cultures, identities, and struggles for belonging. With this essay collection, an educator could pair specific stories with specific vignettes in The House on Mango Street.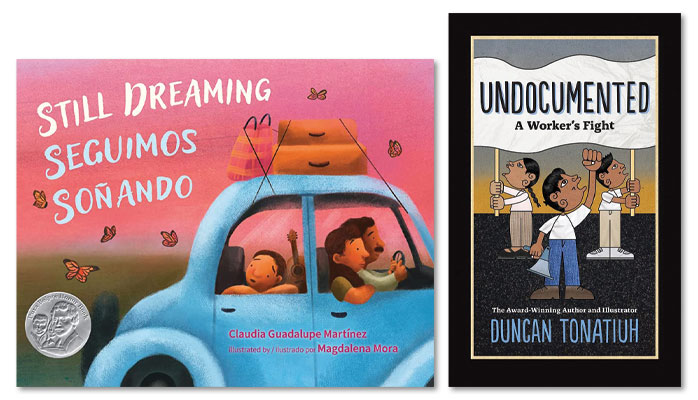 Fiction
Still Dreaming/Seguimos soñando by Claudia Guadalupe Martinez & Magdalena Mora. Bilingual edition. Lee & Low. Oct. 2022. ISBN 9780892394340.
Gr 3-5–In first-person narrative style, an American boy relates his journey to Mexico from his Texas house, the only home he has ever known. Although this picture book is inspired by the Mexican Repatriation of the first part of the 20th century during the Great Depression, the plot and illustrations portray a current scene familiar to present times. The English text relies on sporadic Spanglish, with a fluid Spanish translation that reads naturally. This book contains back matter with the author's notes referring to the Mexican Repatriation and the Treaty of Guadalupe Hidalgo. Both books speak to the Latinx experiences within the U.S. and the historical concepts of being targeted during the great depression.
Graphic Novel
Undocumented: A Worker's Fight by Duncan Tonatiuh. Abrams. 2018. ISBN 9781419728549.
The Pura Belpré winner crafts a gorgeous, timely, and necessary offering about the daily plight of Latinx undocumented workers in the United States. Through striking mixed-media illustrations, Tonatiuh depicts Juan's exploitative white employer as a large skeleton, giving the tale a mythic but timeless feel. A thoughtful author's note discusses Tonatiuh's inspiration and includes bibliographic information, making this a good start for research or curricular tie-ins.

Multimedia
Interview with Sandra Cisneros on her writing and the 25th Anniversary of The House on Mango Street.

The work of Chicana artist Lorraine García-Nakata, especially her work at Museo Eduardo Carrillo—"Navigating by Hand."
This exhibition includes four decades of pieces that speak to ideas of identity, memory, and bearing witness.

The Great Wall of Los Angeles
This mural is one of the country's largest dedications to interracial harmony, where students can learn about California's diverse history and its unique identity.