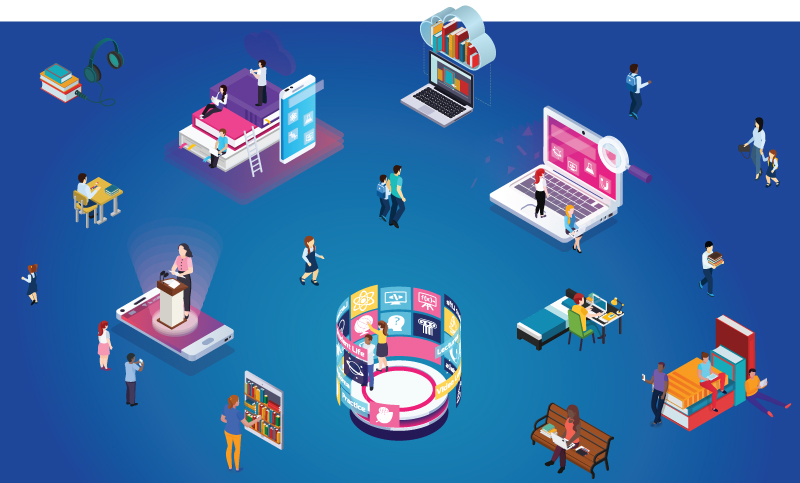 Macrovector/Getty Images (modified)
When the pandemic first sent his daughters home to learn remotely, Howard Cameron says it was difficult to manage. Now, he's got it down. Every day, Cameron puts on a pot of coffee and settles in to supervise his daughters, now in third and fourth grade, as they log into school at the Philadelphia Virtual Academy.
Though most kids across the country have returned to the classroom, some families like Cameron's are choosing to stay virtual, finding that their kids thrive in or require the virtual setting for a myriad of reasons.
"I feel better with them right here," he says. "I know where they're at. I feed them, take care of them, and know that they're safe. I don't have to worry about bullies."
Far from the haphazard, emergency remote schooling marked by a lack of preparation and failed execution that took place when school buildings closed across the country in March 2020, these virtual options offer developed curriculum, student support, and academic options. Some offer a hybrid schedule that involves in-person schooling. Others are all online. Many districts already had a virtual school before the pandemic hit. Some of those programs, in Gwinnett County, GA, for example, have expanded. Other areas found parents demanding a virtual option even as school buildings reopened. While district leaders estimate that only about six percent of students opt for virtual school, according to a RAND survey (bit.ly/3rs4p1Q), that is approximately three million students across the country. Now, virtual schools are fighting a stigma created during the school building closures and trying to meet the varied needs of their communities.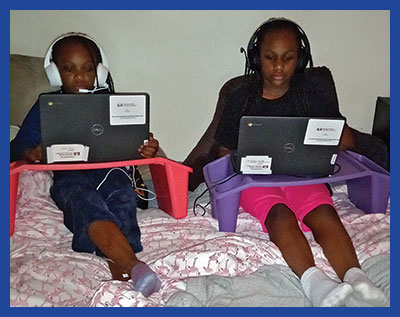 Howard Cameron's children attending online classes at the Philadelphia Virtual Academy.
Photo courtesy of Howard Cameron
"I think online learning took a big hit [in 2020]. There were some places that the quality just wasn't there, so that kind of left a bad taste in some people's minds of what digital learning is," says Christopher Ray, principal of Gwinnett (GA) Online Campus (GOC), a virtual option for Gwinnett County Public Schools. "But I know if it's done right, there can be a great reward."
GOC expanded to add K-3 for this school year and has an enrollment of about 2,200, compared to 700 pre-pandemic. Gwinnett offers a hybrid schedule that allows students to come to a school building for three hours one day a week. They hold in-person class, hands-on activities such as science labs, and social events including a prom. GOC has been running a virtual option for district students since 2011.
"As we have developed the school, we realized that there needs to still be opportunities for students to come in for the social aspect, but also to see that teacher presence," says Ray. "When you think of the continuum of online learning, you have purely online—either asynchronous or synchronous—and then you can move into more of a blended model. I would consider us more of a blended model; there are students that work online, and then they have an opportunity to come to this campus at least once a week."
While some districts ended their virtual option as pandemic concerns waned heading into the 2022-23 school year, according to a new review (bit.ly/3SCVhmT) from the Center on Reinventing Public Education, two-thirds of the country's 100 largest public school districts have a virtual option—including 31 that now have a virtual option not offered pre-pandemic, with 34 continuing their pre-pandemic option.
With intention, not in desperation
Districts looking to add virtual options need to ask themselves why, Ray says.
"You design an online school based on your [desired] outcome," he says. "Are you looking to help increase the graduation rate? Do you want to supplement the brick-and-mortar to give students options within their schedule? Do you want to support students having maybe discipline issues or health issues or traumatic events in their life? I don't think it's cheaper than brick-and-mortar, regular education, so don't look for that. But I would look to add it as another option for students and for families that you could provide in your district."
New York City, the country's largest district, created its first virtual option this school year. A School Without Walls gives ninth graders a choice between completely remote and hybrid learning. In Los Angeles, LAUSD's six specialized virtual academies saw enrollment increase from 1,500 in pre-pandemic times to approximately 7,000 students this year.
One question that remains for many parents, however, is whether virtual schools provide an education equal to traditional schools. While schools like the Philadelphia Virtual Academy are new, virtual schools have been around for decades. Many are private or charters. A report from the National Education Policy Center at the University of Colorado Boulder showed that before the pandemic, only about 50 percent of students enrolled in virtual high schools graduated within four years, compared to 84 percent nationally. However, due to the increase in demand for virtual schools and new innovations prompted by the pandemic, new research is needed to determine how effective virtual schools are today, says Heather Schwartz, a researcher at RAND who co-authored the 2021 report on virtual schools.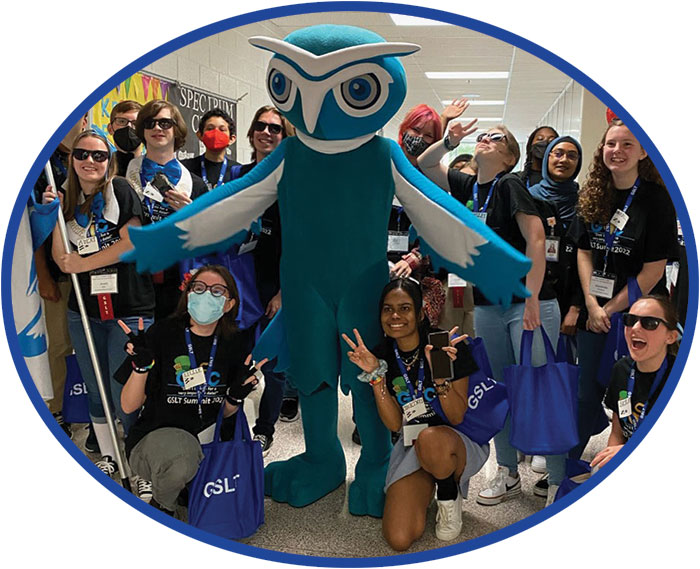 Gwinnett Online Campus students meet in person once a week.
Photo courtesy of Gwinnett Online Campus
Lisette Agosto-Cintrón is the principal of the Philadelphia Virtual Academy's K-5 program, which opened last year due to parent demand. She has about 400 students enrolled now, which is 100 less than she ended with last year, but that was expected. "It's lower than last year because the panic [about COVID] isn't there," Agosto-Cintrón says. "Now I have students who just like online learning."
Unlike GOC, Philadelphia is online only. Over the last few years, Agosto-Cintrón has learned a lot about what works and what doesn't. Last year, the younger kids used a curriculum that was self-paced and asynchronous, meaning students didn't need to be in class with a teacher. But this year, things are different.
"It probably looked more like homeschooling before," Agosto-Cintrón says. "But this year, after talking to parents and kids, my little ones need a little bit more than that. They need more direct instruction."
About 20 percent of the families at her school continued with the asynchronous program this year, but the rest are now in class in front of a screen about half the day. The rest of the day, they are broken into smaller groups or do one-on-ones with teachers. The kids can drop in to talk to a teacher at any time, whether to get help with their work or just have someone to talk to.
Extra supervision is not only required, but necessary for success according to Agosto-Cintrón. "The younger they are, the more we rely on the parents, because now they're the teacher at home."
Cameron actually prefers this setup, even though it's more work for him. When he has a question or a problem, he says he can immediately get in touch with a teacher. Before, he says, he would've had to wait.
"The teachers are much more helpful here than they were in school, because they're right here looking at you," says Cameron. "You're talking to them."
More than classes
Philadelphia Virtual Academy isn't just academics, offering counseling and stress management, as well as online clubs and activities. Both of New York City's new virtual school options offer in-person and online extracurricular activities and social support.
NYC students can choose from activities including podcasting, music production, film, esports, and more according to Terri Grey, principal of the all-virtual option. Grey says her students can participate in extracurricular activities after school or during lunch, however, many students have created their own lunch groups on platforms like Slack. There are also counseling services and assistance for students with various learning needs.
The all virtual option has 118 students. Both will welcome a new ninth grade class next year, as well as hoping to expand the class size of the current group.
"It's been very exciting," says Grey. "My staff is really energized. I feel like the parents and students feel like they're a part of something historic right now, and we're capitalizing on that energy and leveraging it to make sure that we get the most out of them."
Her biggest issue?
"It was hard to meet the demand, and we still get a lot of inquiries," says Grey. "Every day, I have to tell people that we're over capacity. That's been a challenge, because parents really are fighting for this option for their child."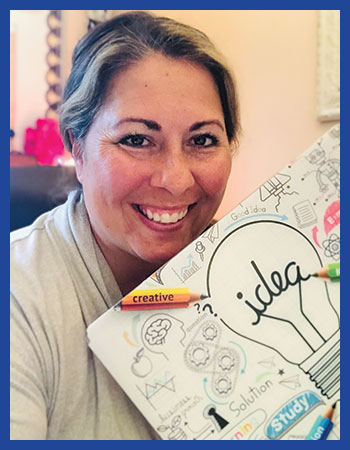 Angela Raven teaches classes from home for the Saint Paul (MN) Public Schools Online School.
Photo courtesy of Saint Paul Public Schools Online School
The hybrid option, which has 55 students, centers around a passion project using project-based learning and offers internship opportunities and a chance to go out into the community for service-based learning.
"I think this kind of learning that allows students to not be in a brick-and-mortar school building all day is sort of the future of high school education," says Veronica Coleman, principal of the hybrid school. "I'm excited to be part of that."
The hybrid option also offers extracurricular activities, including anime, movie, and skateboarding clubs and plans to add photography, intramural sports, and more as the year goes on.
Advantages of a flexible schedule
At the Saint Paul (MN) Public Schools (SPPS) Online School, high school students have the option to join live classes for about half the day, or they can watch the recorded sessions on their own time. For the other half of the day, they can meet one-on-one with teachers or in small tutoring groups, or just work on their assignments.
The flexibility allows them to work when they are best able to, whether that's nights and weekends or during the traditional day, says high school English teacher Angela Raven. This works well for students who have to work or help out around the house with younger siblings, as well as students who typically get bored in traditional schools because they are ahead of their classmates. Raven has one student like this in her ninth grade accelerated English class.
"She can fly through her work at a high achieving rate, and she isn't held back by the confines of a traditional classroom," Raven says.
Despite less class time, Raven, who taught in schools in the district for 20 years prior, finds she actually gets to spend more time with students in the Online School, which she considers a benefit for both of them. The one-on-one time in the afternoons allows her to connect with them without worrying about managing the chaos of a classroom full of students. And she checks in frequently with students to make sure they are doing their work, even on nights and weekends.
Keeping kids engaged during class can be a challenge.
"When the camera comes on, it's like showtime," Raven says. "It can be like that in a classroom, too, but you have to bring it even more so online. You have to create that space where the kids are excited to see you when they turn on that camera."
Another challenge is absenteeism. While her students aren't usually required to show up to class, some of them use virtual school as an opportunity to hide—and not complete their work. Internet connectivity issues also arise regularly, creating headaches for the teachers and students who can't get their work done without it.
Aside from their classes, Online School students can join virtual clubs. Principal Jeff Bush sees many opportunities for social connection online.
"I've been doing this for a long time, and it's always been amazing to me how our kids get to know each other even in this environment," Bush says. "It's one of those things where everyone questions how you do it, but society in general has changed in the way we socialize as well. The pandemic had a lot to do with it, but many of our kids had been doing it through video games for a long time."
Like the Philadelphia Virtual Academy, the Online School saw a drop in enrollment this year, but they plan to stick around for the families who want to stay for the long haul.
Howard Cameron is availing himself of that option. He's taking it day by day and hasn't decided whether he'll keep his daughters virtual once they enter middle and high school, but he's happy with the choice he's made so far.
"This is the best thing I ever did," he said. "It is a lot of work, but I gotta do what I gotta do. It's all about them."
---
Colleen Connolly is a Minneapolis-based journalist who writes about children and education, among other topics. Kara Yorio is SLJ's senior news editor.