Banned Books Week 2023 Youth Honorary Chair Da'Taeveyon Daniels writes about his journey to self-acceptance and advocacy, and the importance of the fight against censorship.
In the heart of Texas, I embarked on a journey that would shape not only my academic path but my identity as a young, Black, and queer individual. My story is one of resilience: an ongoing battle against book bans, censorship, and the stifling of intellectual freedom.
Since I learned to read at six, I have loved books, seeking not only entertainment but a connection to characters who shared my experiences. It was a search for validation, a way to navigate the complexities of my identity in a world that often felt hostile to those who didn't conform to the heteronormative, white-centric narrative.
Growing up, I quickly realized the world around me was not fully reflected in the books available to me. I read The Adventures of Huckleberry Finn when I wish I'd had Hey Black Child. With a unique lived experience as a minority on many levels, I was keenly aware of the lack of adequate media representation for individuals like me. When representation was visible, it often shed negative light, perpetuating stereotypes and misconceptions.
The absence of diverse voices and narratives in my educational sphere was painfully evident. Our literature and curricula existed within a narrow spectrum, often disregarding the stories of marginalized communities, including mine. Finding material that resonated with my lived experiences, my identity, and my aspirations became a daily struggle.
The wave of book bans and censorship attempts across the country only exacerbated the challenges. As the battle intensified over what students could read and learn, the adults charged with protecting my voice silenced it, erasing my identity. The narratives that could have provided solace, understanding, and a sense of belonging were deemed inappropriate, and dangerous even, by those who held the power to decide what we could access.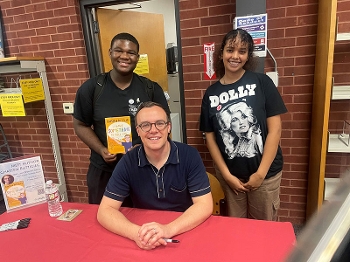 Da'Taeveyon Daniels (left) with fellow SEAT organizer
Ayat Noriat (right) at the Dallas Public Library
for a Chasten Buttigieg book signing.
I felt a particular kind of loneliness when realizing the books that helped validate my existence, which offered a glimpse into the rich tapestry of my identity, were those censors sought to pull from shelves. For LGBTQ+ youth and individuals from marginalized racial and ethnic backgrounds, the struggle to find literature that mirrors our experiences is fundamental to our unique situation. The fight for representation is a fight for recognition, validation, and the right to be our authentic selves.
While navigating the challenging terrain of adolescence, I began to understand the gravity of the situation. The absence of representation in literature and the threat of book bans were not merely inconveniences; they were barriers to self-discovery and acceptance. My journey toward self-acceptance was fraught with hurdles, and these bans felt like additional obstacles to overcome.
But adversity has a way of shaping us, of pushing us to find our voices in the face of injustice. I realized that I couldn't remain passive. My experiences were not unique; they were shared by countless other young people who deserved better.
This realization led me to become a passionate advocate for students's rights, particularly as a student organizer with several organizations, including the Student Advocates for Speech, where I led youth advocates throughout Texas in the fight against censorship and book banning in our schools. More recently, I started working with Students Engaged in Advancing Texas, where I organize and advocate for the rights, freedoms, and liberties of youth in the academic, domestic, and social spheres. Through my participation in these organizations, I've discovered a community of like-minded individuals who are equally committed to ensuring that all young people, regardless of our background, have access to literature that reflects our experiences, and most importantly, our identities.
Together, we work tirelessly to combat censorship and promote intellectual freedom. The battle is ongoing, and not just about me or the LGBTQ+ community or any single group. It's about all young people who deserve to see ourselves reflected in the literature we read. It's about dismantling oppressive power structures and ensuring that education remains a beacon of enlightenment, not a tool of oppression.
Our advocacy efforts extend beyond Texas. This is a national issue, one that affects young folks from all walks of life. The battle over book bans is not exclusive to any single state or community; it is a pervasive threat to intellectual freedoms and the right to access diverse narratives.
In recent years, Texas has led the charge on this attack, with challenges and book bans increasing significantly. In 2023 alone, the rate nearly doubled, and the year isn't over. These bans are not occurring in isolation but fueled by organized groups advocating for "parental rights." The day of reckoning for these groups is soon approaching. As more and more people call out their actions and work with legislators to combat these issues, a powerful movement is emerging.
We need a chorus of voices, united in our determination to protect intellectual freedom and diversity of thought. It's time to reject the stifling influence of politics on our education system. We must demand that our schools remain spaces where all voices are heard, and all stories are valued as we work toward a more inclusive, empathetic, and enlightened society.
My personal journey through book bans and censorship has been a tumultuous one, marked by challenges and triumphs. But it has also been a journey of self-discovery, of finding my voice. I've come to understand that my identity as a Black queer individual is not a hindrance, but a source of strength.
As I reflect, I'm reminded of the words of Audre Lorde, "Your silence will not protect you." In a world where book bans and censorship threaten to silence the voices of marginalized communities, I refuse to be silent.
I stand as a testament to the resilience of young advocates and the power of a united voice. As I continue to fight for my right to access diverse literature and embody my true self, I am also fighting for the rights of countless other young folks around the country who share similar struggles. In unity and mutual aid, we shall prevail against the forces of censorship, for the sake of a brighter and more equitable future. This battle is not just for today; it's for the generations to come. It's for the Black and Brown bodies who have historically been silenced. It's for the indigenous communities, it's for the disabled individuals, and all those whose voices have been marginalized for far too long.
To reach a more inclusive society, we must start with our education system. It's the foundation upon which our society is built. If we want our children to inherit a world that values humanity, acceptance, and understanding, we must take action today. Our advocacy efforts must be about fostering empathy, understanding, and acceptance. We must expand the circle of empathy to include voices that have historically been silenced. The diversity of our experiences makes us stronger, not weaker.
Throughout my journey, I've learned the power of storytelling. Not just the stories we read, but the stories we tell. Our truths have the potential to inspire change, challenge prejudice, and bridge divides. In my work with SEAT, I've witnessed the transformative power of young people sharing their truths. Our stories are our most potent weapons against censorship and oppression. We must continue to share them, listen to others' stories, and build a world where diversity is celebrated not silenced. Our experiences, no matter how unique, are interconnected.
As I look ahead to the future, I see a world that is changing. The war for intellectual freedom is far from over, but the momentum is on our side. With each attempted book ban challenged, with each voice raised at school board meetings, with each library read-in, and advocacy day, we inch closer to a more inclusive, empathetic, and enlightened society.
Drawing strength from the wisdom of writer and activist June Jordan, who reminds us that "we are the ones we have been waiting for," we must join together in mutual aid and be ready to confront the forces of censorship and oppression. Together we will write the next chapter in our relentless quest for intellectual freedom and the rights of students everywhere.
Yours in advocacy, Da'Taeveyon Daniels
---
Da'Taeveyon Daniels (he/him) is a high school senior in Fort Worth, TX. He is the partnerships director for Students Engaged in Advancing Texas, the 2023 Youth Honorary Chair of Banned Books Week, and the youngest serving member of the National Coalition Against Censorship's Advisory Council.