At the 2019 American Association of School Librarians National Conference, Ellen Oh, Adolph Brown, and Jarrett Krosoczka spoke with emotion and humor while calling on librarians to lift up all children.
Ellen Oh opened the 2019 American Association School Librarians (AASL) National Conference with a resounding message: "We need to read diversely, every single one of us," in order to help kids grow into the best version of themselves, the author and We Need Diverse Books (WNDB) co-founder told the crowd of library professionals in her opening keynote for the Association of American School Librarians (AASL) National conference on Thurs, Nov. 14.
Diversity, understanding bias, and the power of human kindness were main themes in all three conference keynote speeches. Oh, educator Adolph Brown, and graphic novelist Jarrett J. Krosoczka also spoke of the profound influence libraries had on their childhoods and lives.
Oh spent time in the library and found comfort in books while her parents were at work. She described how the "Once Upon a Time" story trope promises a journey of transformation for children, but as a child, she could never fully imagine herself in those tales, because she isn't white.
"Stories are what connect us to each other; how we share the human experience," Oh said. "There tends to be a similarity to those stories and who gets to be the hero. I started writing stories so girls could have a hero who looked like my daughter. It took 10 years to be published."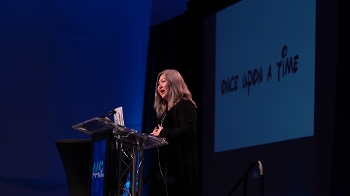 Oh's books include the YA "Prophecy" trilogy and the middle-grade "Spirit Hunters" series.
She spoke powerfully about her own children—with their permission, she noted—drawing connections between their experiences and her conviction that young people need to see themselves in books. One of Oh's children has experienced suicidal depression, and another is transgender. She emphasized her belief that the organization WNDB should strive for more portrayals of mental illness and LGBTQ+ experiences, along with their work for racial and ethnic representation.
If we don't read about people who are different than ourselves, "we aren't providing the best care for our students as they enter the world," she said.
Oh emphasized the power of diverse books to introduce "new people, new worlds, new customs, and new friends."
She urged the attendees to "have those uncomfortable conversations" regarding race. "Let's stop thinking about race as a dirty word—[racism is] a systemic problem that we all need to work together to resolve," she said.
"People seem to think that diverse books are not for them," she added. "A child does not care who the book is about, as long as it's a good story. It's only the gatekeeper [who cares]."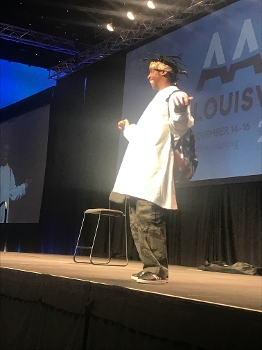 Bias and the brain
Brown, Friday's keynote speaker, challenged the audience to "stop believing everything you think" with a live, and often humorous, demonstration of how implicit bias works.
The former dean at Hampton University took the stage with a swagger, dressed as "Undercover Brother," in baggy clothes and a droopy backpack, and, a floppy dreadlock wig. "Don't judge a book by its cover," he reminded the audience, describing how, that morning, a guard didn't believe Brown was the AASL keynote speaker. He recounted other pat-downs and biased treatment he has received in Undercover Brother mode, and when he wasn't. While traveling to an event in Canada, a designated limousine driver holding up a sign for "Dr. Adolph Brown" paid no attention to him at the airport.
"Challenge the brain and the information it gives you," said Brown, who holds a doctorate in clinical psychology and was wearing a graduation gown by the end of the AASL talk. "The brain doesn't help us be correct, it helps us be efficient. Stop believing everything you think."
Implicit bias, he explained, is the brain's way of categorizing information by turning to familiar assumptions and stereotypes.
"Whatever you thought about me when you saw me today says more about you than it does about me," he added, while asking all people to treat one another with kindness and remember that "we're human."
Equating kindness with "unconditional human regard," Brown described growing up in poverty, with an absent father; his only brother was murdered when Brown was 11. Guidance from his grandfather, who had little formal education, encouragement from teachers, and the blessing in disguise of being sent to the library when he misbehaved, all helped. (His favorite book was John Henry, he added.)
Brown credited librarians with recognizing the "seed" inside of him that grew into the tree of learning. Librarians, he said, need to challenge their assumptions and challenge others who make people feel "less than" others. He asked the audience to think about the environment we create. Are we being nice and reactive—or kind and proactive? The latter is what makes us human.
"Creativity is intelligence having fun," he said, referring to a quote attributed to Albert Einstein. "If you are not having fun, you are not doing it right in the library."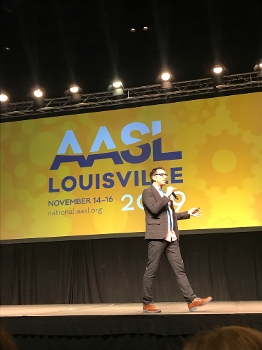 Power of a librarian—and love
Graphic novelist Krosoczka, whose books include the "Lunch Lady" series and 2018 National Book Award finalist Hey Kiddo, took the audience through a slide show that included photos of his family, childhood drawings, working cover ideas for Hey Kiddo, and snapshots of the library in the elementary school he attended, now demolished.
First, the library was near the school kitchen, so it smelled like tater tots and pizza. Then it was moved near the boiler and boys' bathroom and smelled like "piss and cigarettes." Still, he said, there was a librarian—and that human presence made it superior to the fancier library in the new school building, which doesn't have one.
Krosoczka attested to the power of love in children's lives to pull them through and lift them up. His mother was addicted to heroin and incarcerated when he was a child, and his father was out of the picture. Krosoczka's unconditional love came from his often gruff grandparents, who raised him, recognized his artistic talent, and supported it. He told that story in graphic format in Hey Kiddo, a 2018 National Book Award Finalist, and at a TED Talk several years earlier at Hampshire College, where he presented on four hours' notice after another speaker dropped out. The video of that talk has been viewed more than a million times.
Krosoczka recounted his childhood "Batman obsession" and his discovery of Anne of Green Gables—which he picked up, despite the girly cover—in seventh grade and then devoured several books in the series.
He also recalled the first time a Hey Kiddo author visit was cancelled because of its "inappropriate" content around drug abuse—and he emphasized the importance of books with "difficult truths" that reflect the lives of so many children who are struggling.
Regarding a parent who might deem a book inappropriate for their child, he said, there's "another kid who is living an 'inappropriate life' who would benefit from that book. "These are well-meaning adults," he said of people who try to shield kids from these books. "They're just not right."
In any school community, whether 95 percent of students have reduced-price lunch or families pay steep private-school tuition, "There's going to be one kid with a parent who has addiction or is in jail," he told the crowd.
Some 2,300 library professionals registered for the event in Louisville, KY, from Nov. 14-16, according to AASL executive director Sylvia Knight Norton. Stay tuned to slj.com for more coverage of the 2019 AASL National Conference.

Photograph of Ellen Oh courtesy of ALA