Educators emphasized the fun side of learning and reading.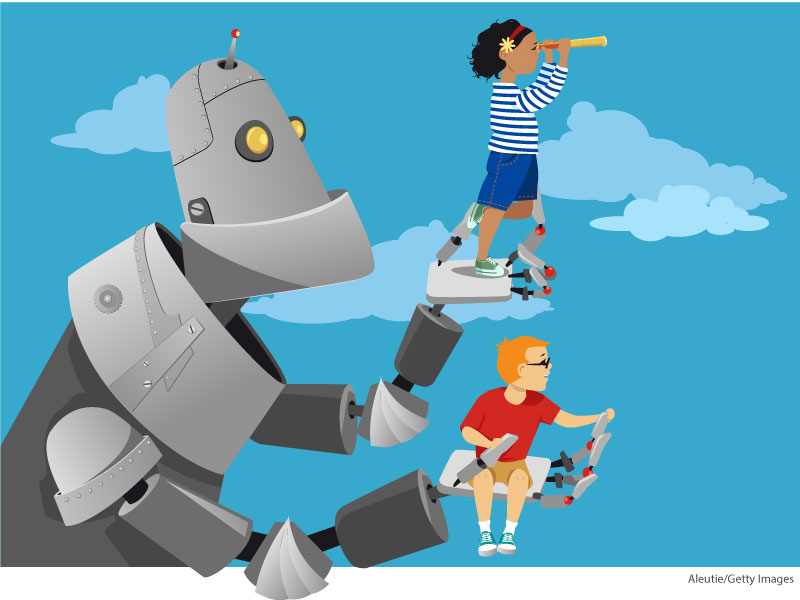 Educators emphasized the fun side of learning and reading, with messiness and experimentation encouraged, at the 2019 American Association of School Librarians National Conference.
Experiment and see what sticks
"Don't freak out!...Just try it….What's the worst that can happen?" That was the attitude that All the Things presenters Jen Gilbert and James Allen of Eminence (KY) Independent Schools took while trying out a bunch of new things in their library last year. That included using Google Sites to create the school library/makerspace EDhub site to promote their 40 book challenge and create permalinks to magazines so students could browse them in free moments. The challenge had no rules about reading or level requirements: audiobooks, ebooks, graphic novels, and picture books were all fair game; they handed out shoelace charms for every 10 books read.
With the Harry Potter breakout box, students even had to find a clue in a vending machine that dispenses items students have made. The school uses RFID technology for books and for locks, and the librarians coded a book that would enable a door to unlock.
Using a vinyl cutter, they created new signage for the library shelves and had a projector installed in the ceiling for digital signs. They designed micro-credentialing for students in things such as 3-D printing and ethical use of information. Extra takeaway: the presentation tool genial.ly "makes you look better than you are."
Imperfection is appealing
In Podcasting for People in a Hurry, Chris M. Young, director of libraries at Metairie Park (LA) Country Day School, walked participants through the entire process of getting started with simple podcasting. Young shared compelling, and imperfect, examples to show that perfection isn't the objective; rich, meaningful storytelling is. "I love that we are listening to each other" in a world that can feel full of visual overload, Young said.
Bots bring out the joy
An entirely interactive session, Do the Bot: Librarians Using Robots to Impact Learning with Archon Auzenne, Gloria Miller, Lee Glover, got the audience playing and learning with three robots: Bee-Bots, Edison, and Sphero. The Bee-Bots, resembling bumblebees, have simple coding commands that are ideal for introducing coding to younger learners. Each Bot can remember up to 40 commands; instructional ideas include introducing students to computational thinking, understanding coordinates, distance, and location; the presenters also showed how they can play Chutes and Ladders.
The Edison is agile enough for kindergarteners, but high schoolers like it, too. Programming can be done in multiple ways, including using barcode programming or Scratch. Edisons make a great tie-in to math for learning angles, area, and geometry. Students love to race Spheros around the library…but they can do a lot more, the presenters showed. Sphero Edu's lesson plans let you create classroom lessons, including tie-ins to science and math curricula. Spheros can also be used for storytelling, by creating a character with makerspace materials, using the Sphero movements, and building in sound, music, and voice with the iPad app.
Research says graphic novels teach effectively
During "That's Not Real Reading" Making the Case for Graphic Novel Inclusion in Every Classroom, Alicia Abdul, Kate Covintree, and Amanda Melilli pointed to research findings: Students who read graphic novels in educational settings exhibit equal or greater text comprehension; increased motivation to read assigned graphic novel texts over traditional prose texts; and increased content area literacy, for starters.
There's no such thing as "real reading," they maintained; "that idea is based on [our] own implicit biases which are influenced by our own reading and educational history." Regarding the graphic novel format, they asked, "Teachers use books which include letters, powerpoints, screenplays, podcasts, scrapbooks, briefing reports, poetry, and drawings…Why not graphic novels?" Presenters shared valuable resources for curating a graphic novel section.
Tech can make reading more fun
In the popular session Reading Goes Collaborative: Leveraging Technology to Promote and Enhance Reading, presenters Jane Lofton and Michelle Luhtala showed how a raft of resources, from Goodreads to Biblionasium, connecting readers to one another, and get them fired up about reading.
Get a better grip on nonfiction
Meanwhile, during 5 Kinds of Nonfiction: Rethinking Your Book Collection, award-winning author Melissa Stewart started by dividing nonfiction into two main types: Expository (ideas and information) and narrative (driven by characters, with a setting and scenes.) While librarians work hard to bring award-winning narrative nonfiction to their collections, 42 percent of elementary students prefer expository nonfiction, she noted. Stewart then outlined the five main types of nonfiction: active, browsable, traditional, expository literature, and narrative. She then suggested examples and tools to help librarians update collections. Her website and blog have many lessons and resources.
What were your top takeaways from AASL? Let us know in the comments.