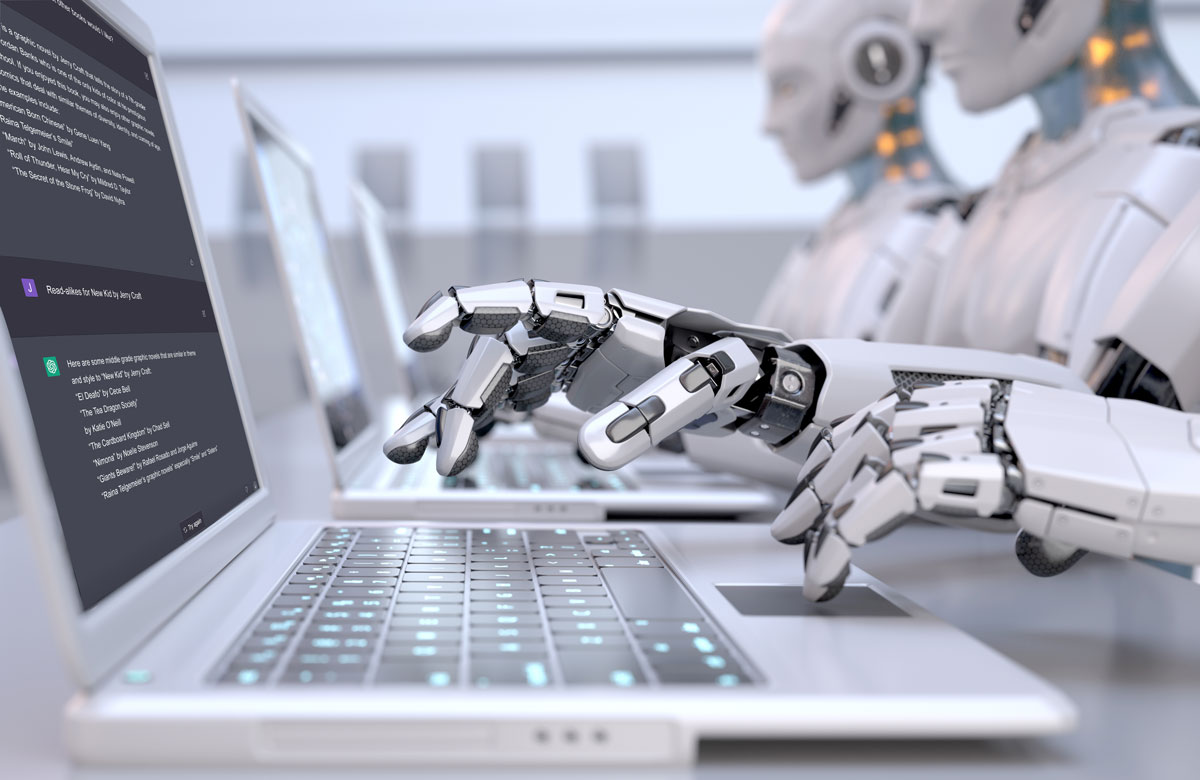 iLexx/Getty Images
The internet. Smartphones. Google. All technological advancements that changed the way we live and work. Will ChatGPT be added to the list?
On November 30, 2022, OpenAI released ChatGPT, an artificial intelligence-powered chatbot using software that replicates human conversation and can create original material from simple or complex prompts. Need a five-paragraph essay on the theme of loss in literature? Done. Want to write an email to a professional colleague thanking them for their time and assistance? ChatGPT can do that too.
New Jersey high school librarian Elissa Malespina says that ChatGPT could be as revolutionary as Google, maybe more so.
"I think it's actually probably bigger than Google," she says. "This is the first time where [technology] can produce original work that sounds more human. Whenever they've done these in the past, you're always like, 'Oh, you're talking to a robot.' You know it. Google just generates the information that's already there. This is producing its own work based on the work that's already there."
While many English teachers have sounded the alarm, worried about the trustworthiness of future written assignments, school librarians responded with curiosity about what it could mean for their profession and inside classrooms around the school.
The response from many school districts across the country was to immediately ban the site from its school devices. That was the administrative "solution" in New York City schools, as well as Suzanna Panter's Tacoma, WA, district.
"Our district has, of course, blocked it," says Panter, school libraries program manager, who manages 43 librarians serving the 56 schools of Tacoma Public Schools. "We do have it for teachers, but we don't have it for students. But everybody does everything on their phones anyway, so it doesn't really stop it. So we just thought, 'Okay, it's not going away. How can we turn this into something that's going to help us?'"
What can school librarians do with ChatGPT? SLJ went to the source and asked the chatbot, "How can school librarians use ChatGPT?" This was the answer.
School librarians can use ChatGPT in a variety of ways, such as:
Providing reference assistance: ChatGPT can assist students and faculty in finding information on a wide range of topics, from general research to specific assignments.
Recommending books and other materials: ChatGPT can recommend books and other materials based on a student's reading level, interests, and reading ­history.
Helping with writing assignments: ChatGPT can assist students in generating ideas, writing outlines, and proofreading their work.
Providing digital resources and online tutorials: ChatGPT can help students access digital resources and online tutorials, such as databases and e-books.
Creating interactive learning experiences: ChatGPT can be used to create interactive learning experiences, such as virtual book clubs or author visits.
Providing language assistance for non-native speakers.
Please note that, as a language model, ChatGPT does not have the ­ability to access or provide any specific resources, it can generate text based on the input it receives, it is up to the ­librarian to validate and provide the resources needed.
Panter didn't need to ask the bot what it could do for her. She began exploring the possibilities as soon as she learned about the site and started with readers' advisory.
"It gives about five things and just a little synopsis, and we're like, 'Gosh, this is going to be so quick and easy—for that one-on-one attention or for displays,'" she says.
One of the benefits is users can continue to adjust their request without starting over. The software will adapt its answer.
"You can go back and keep talking to it: 'I want something a little less scary, or I want something that's more about this [specific topic].' It'll keep revising, and as it revises, it gets closer and closer to what you're looking for," says Panter.
This can make a difference for her time-strapped librarians.
"Here in Washington state we do not have library assistants, and our elementary libraries have two or three schools or you have one librarian with 1,700 students," she says. "So anything that we can do to lessen the burden, anything that we can do to help us out."
It can even develop lesson plans to specific standards, including those of the American Association of School ­Librarians. After such a prompt, ChatGPT offered an entry task that Panter and her librarians found useful. Of course, ­librarians and their fellow educators can adapt Chat GPT's initial ideas for a specific lesson and school community. The full possibilities are unknown, as the technology evolves with its users.
"We're just scratching the surface," says Panter. "We're learning, and like any other kind of database searching, it's all about keywords, it's all about syntax, and [knowing] what you're asking it to do to get the results that you're looking for."
Malespina, librarian at Union (NJ) High School, sees the value in using it for readers' advisory or creating plot summaries for titles she hasn't read. The first library-related task she tapped it for was to plan daily social media posts for Black History Month. After asking ChatGPT for quotes from African Americans, it took seconds to produce a list to choose from for her posts. She later adapted the request slightly to receive a new set of quotes.
"You have to get specific on what you want," says Malespina. "It's learning from every inquiry, so it'll get better as it goes."
When Malespina first heard of the program, she immediately knew she needed to get ahead of it and talk to her school's teachers. She created a video for them discussing what ChatGPT is, how to know if students use it, and more. She also created a Wakelet of resources.
Some teachers who experimented with it after receiving her video told Malespina that they were hoping to use it to discuss plagiarism with students. Others are rethinking their assignments.
Panter and Malespina hold out a little hope that this may be the tech that finally forces educators to rethink their assignments and assessments of students. Could it be the thing that ends the rote five-paragraph essay and changes the focus of grading how much a student has learned from the outcome (the final essay) to the process (how did they get to the ideas presented in the essay)?
Malespina continues to explore ChatGPT, experimenting with it for writing emails and more.
The revolutionary bot is not without drawbacks. Its knowledge base ends at 2021, and it can give incorrect answers. In addition, with all of the interest, site capacity has been an issue. Everybody wants to check out ChatGPT, whether it's to just go down a rabbit hole of personal possibilities or explore professional applications, especially for educators K-12 and in higher ed. Attempts to log in often receive a message saying to try again later—albeit in a more clever way, including a prompt and an answer. One recent attempt to log on was met with this message:
Write a guided meditation about the status of ChatGPT.
As you read this message, please take a moment to pause and breathe. Notice the sensations in your body and the rhythm of your breath. Remind yourself that you are not alone in wanting to try out ChatGPT. Many others are interested in it as well. Be patient and know that the website is doing its best to accommodate everyone. Trust that the right time for you to try ChatGPT will come. In the meantime, continue to focus on your breath and stay present in the moment.
Both Malespina and Panter see the possibility for this technology to change education for the better. While classroom teachers want to know how to make sure their kids aren't cheating—and have no fear, English and history teachers, there is now a bot called GPTZero that can review assignments and alert educators if they were written by ChatGPT—­some librarians continue to explore, trying to keep up with each new development, while educating their educators on the latest. Panter is running professional development for the district's librarians in February "just to make sure everybody understands it and looks for ways to make it user-friendly for ourselves and help us out with our jobs—and ways to kind of calm the fears of our English department."
For the administrators who blocked access and hope that pretending ChatGPT doesn't exist will solve any potential problems, ­Malespina and Panter have a message: Ignoring ChatGPT is not the answer.
"The technology's here, what are we going to do?" says Malespina. "We either embrace it—figure out how we use it in our classrooms and how we accept it—or we don't. It's not going to go away. This is going to be the future."