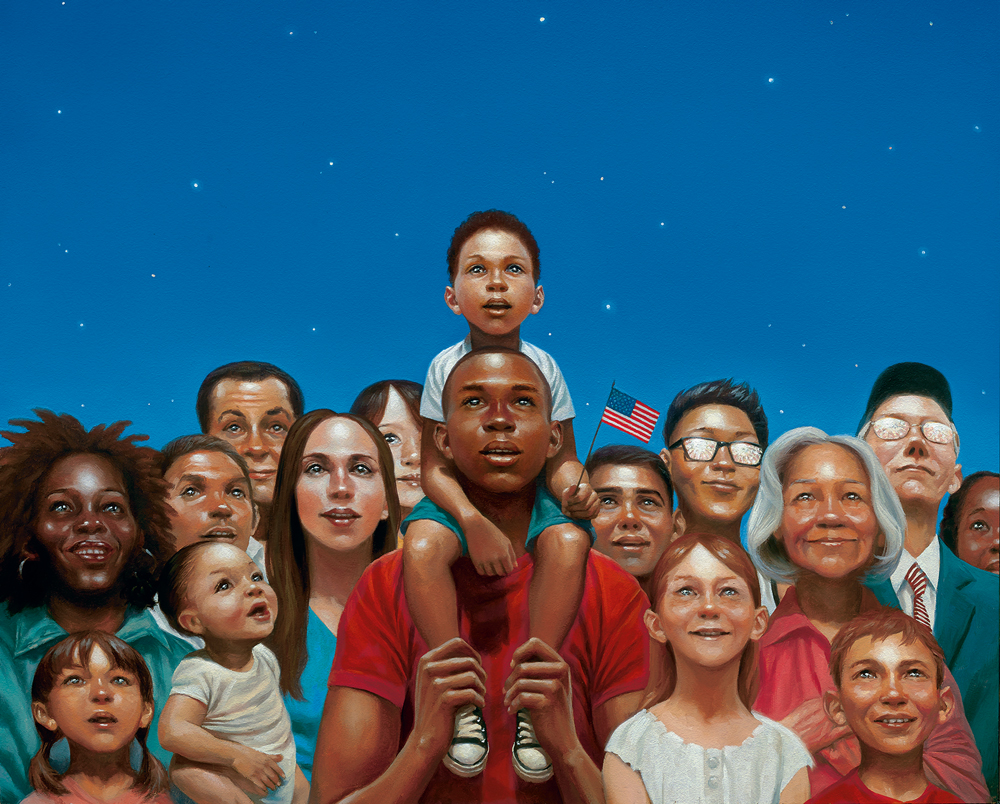 Blue Sky White Stars by Sarvinder Naberhaus, illustration by Kadir Nelson (Dial, 2017)

We work with children in schools and know the power of community as it plays out every day, with classmates helping one another to learn, play, and solve problems. We hunger for stories in which people come together.
These picture books represent a panorama of people working and playing together while respecting differences and honoring similarities. With each title, we have included possible discussion questions or an activity that extends the reading. Many of the activities address a range of literacy standards, which in turn offer an opportunity to collaborate with classroom teachers.

Individuals, Family, and Friends
These titles stress the importance of recognizing one's individual qualities, acknowledging and honoring physical and cultural differences in friends and family, and working together to solve problems, despite differences.
BRITT, Paige. Why Am I Me? illus. by Selina Alko & Sean Qualls. Scholastic. 2017. ISBN 9781338053142.
PreS-Gr 2 –The title question is asked again and again as two main characters go through their day sometimes interacting with peers, other times observing the people around them. Through the subtle message, this book celebrates the uniqueness of each person.
Classroom Extensions: Have students create self-portraits or body biographies that highlight their assets and write artist statements to accompany the portraits to explain how they shine.
BYERS, Grace. I Am Enough. illus. by Keturah A. Bobo. HarperCollins/Balzer + Bray. 2018. ISBN 9780062667120.
PreS-Gr 2 –This book is about affirming the importance of each individual's potential to thrive, especially when helping others. The world is a better place because, "I know that we don't look the same: our skin, our eyes, our hair, our frame. But that does not dictate our worth; we both have places here on earth."
Discussion Questions: Can you think of ways to affirm positive actions or behavior in the school you attend? In your neighborhood?
FOREMAN, Michael. The Seeds of Friendship. illus. by author. Candlewick. 2015. ISBN 9780763678340.
PreS-Gr 2 –Adam just moved from his home in the African countryside. He loves his new home but misses all that he left behind. He lives on the top floor of an apartment building, where he can see children playing in a park below. Adam finally goes outside to experience snow for the first time and to interact with the other kids.
Discussion Questions: What are ways that you can help new students feel welcome in your neighborhood or school? Prepare a guide, such as "The 10 Most Important Things You Should Know About Our School (or Neighborhood)."
GONZALES, Mike. Yo Soy Muslim: A Father's Letter to His Daughter. illus. by Mehrdokht Amini. S. & S./Salaam Reads. 2017. ISBN 9781481489362.
K-Gr 3 –In poetic language, a father tells his daughter to be proud of her Muslim heritage. He tells her that she has questions like any other child, such as, "Why wasn't I born with wings?" While cautioning her that there "will come a day when some people in the world will not smile at you," he also assures her that she will dance, smile, pray, and laugh because she can proudly say, "Yo soy Muslim."
Discussion Questions: What gives you hope? Help your students create "I Am" poems tinyurl.com/kudj94t.
RICHARDS, Doyin. What's the Difference? Being Different Is Amazing. photos by author. Feiwel & Friends. 2017. ISBN 9781250107091.
PreS-Gr 1 –Friends share differences but realize that what they have in common is far more important. "What's the difference if your neighbor has blue eyes and yours are brown? All that matters is when your eyes see ice cream, you eat it together." "What's the difference if your friend has straight hair and yours is curly? All that matters is you love putting your hair inside funky hats together." Crisp, colorful photos of diverse pairs of children illustrate each concept.
Classroom Extensions: Ask students to find another student they don't know well, then have them interview each other to determine something they share in common. Take a photo of them, print it, and have them provide a caption to the photo that follows the same written format as the book.
SIBLEY O'BRIEN, Anne. I'm New Here. illus. by author. Charlesbridge. 2015. ISBN 9781580896122.
K-Gr 3 –Three children, one from Somalia, one from Korea, and one from Guatemala, adjust to their new lives in the United States, feeling lost and lonely until other children in their classrooms take them under their wings. We see from the newcomers' perspectives how a move from one home to another can be difficult, especially when the country, languages, and way of life are new as well. This follow-up to the author's Someone New is a good companion book to the aforementioned The Seeds of Friendship.
Classroom Extensions: Instruct children to look around their school or neighborhood for newcomers and introduce themselves. Invite the newcomers to join in an activity.

Community and Beyond
This next group of titles represents the world at large. They often depict unrelated groups interacting to help others, celebrate events, or overcome obstacles or tragedy.
ANCONA, George. Can We Help?: Kids Volunteering To Help Their Communities. photos by author. Candlewick. 2015. ISBN 9780763673673.
Gr 1-4 –This nonfiction title depicts a range of projects school-age children have undertaken in their Southwestern community, such as knitting hats for homeless people; sorting, packing, and delivering items for a food bank; and picking up trash in an area important to the children. This is a good introduction for schools or classrooms considering a service learning project.
Classroom Extensions: Have the class think of ways they can help or get others to help their community. Use the book as a model/mentor text for helping the students to create documentation of their own service projects.
CAMPOY, F. Isabel & Theresa Howell. Maybe Something Beautiful: How Art Transformed a Neighborhood. illus. by Rafael López. HMH. 2016. ISBN 9780544357693.
K-Gr 3 –Based on the true story of the Urban Art Trail in San Diego, CA, this book shows how one little girl's love for art transformed a once-gray community. Mira first starts to share her paintings with people in the community, attracting the attention of a muralist. They paint the neighborhood and are joined by many people who are inspired to bring joy, music, and colors to the community. López's charming illustrations with acrylic paints on wood and digital touches enliven this empowering story.
Discussion Questions: Are there "gray" places in your school or neighborhood? Make a plan with students and community partners for spiffing up the space with a colorful mural.
DRUMMOND, Alan. Green City: How One Community Survived a Tornado and Rebuilt for a Sustainable Future. illus. by author. Farrar. 2016. ISBN 9780374379995.
K-Gr 3 –While rebuilding their city after a tornado in 2007, residents in Greensburg, KS, decided to go green. They made new eco-friendly and wind-resistant buildings, a wind farm, and a hurricane-proof water tower. The city was transformed thanks to all the hard work and dedication of the community.
Discussion Questions: What is your community doing to protect the environment? Brainstorm ways kids can help the community become or stay green.
GENHART, Michael. I See You. illus. by Joanne Lew-Vriethoff . Magination Pr. 2017. ISBN 9781433827587.
K-Gr 3 –This wordless, colorful book makes a powerful statement on compassion. A young boy first notices a homeless lady from his apartment window and starts seeing her everywhere. The actions he takes by the end of the story make an impact.
Discussion Questions: What are ways your community is reaching out to the homeless? How can young readers help, too?

LAMBA, Marie & Baldev Lamba. Green Green: A Community Gardening Story. illus. by Sonia Sanchez. Farrar. 2017. ISBN 9780374327972.
PreS-Gr 2 –People of diverse backgrounds get together to create a community garden. As their city grows, tall buildings spring up and construction and litter increase. Several families clean the area and work hard to make the community greener. This simple and poetic story reminds us of the joy of working together to make the community a better place for everybody.
Discussion Questions: Where are the green, plant-rich areas in your city? If there are none near your school or home, investigate why. What can children do to make their world more green?
LEANNAH, Michael. Most People. illus. by Jennifer E. Morris. Tilbury House. 2017. ISBN 9780884485544.
K-Gr 2 –Based on what they observe through the daily news media cycle, children might conclude that the world is a scary place. The author of this book tries to put it all into perspective by reminding readers that most people want to be kind and helpful.
Classroom Extensions: Begin an all-class or all-school bulletin board that offers suggestions for ways to show kindness and be helpful around the school or neighborhood.
MCCARNEY, Rosemary with Plan International. The Way to School. photos. Second Story Pr. 2015. ISBN 9781927583784.
K-Gr 3 –Children from around the world overcome many challenges to go to school. These photos show children climbing steep canyon trails, crossing waterways on bamboo bridges or high-wire cables, and more. This is a stirring testament to young people's dedication to obtaining an education.
Discussion Questions: Talk about how students get to school. Do their routes change along with the seasons? Create a map of the things they encounter as they go to school.
NABERHAUS, Sarvinder. Blue Sky White Stars. illus. by Kadir Nelson. Dial. 2017. ISBN 9780803737006.
K-Gr 2 –This gorgeous work celebrates the diversity of the United States using the American flag as a motif. The author relies on exuberant wordplay and homophones. An illustration of Betsy Ross making the flag, accompanied by the phrase "Sew together won nation," is followed by a page resplendent with an array of adult faces of different races: "So together one nation."
Classroom Extensions: Make a list of principles and values that your class thinks represents what it means to be "American." Create a collage or a "Wordle" (www.wordle.net) based on that list.
SEHGAL, Surishtha & Kabir Sehgal. Festival of Colors. illus. by Vashti Harrison. S. & S./Beach Lane. 2018. ISBN 9781481420495.
PreS-Gr 3 –Chintoo and Mintoo are excited about the festival of colors in India—Diwali. They collect flowers and get ready for the event. Their neighbors and people in the community gather to celebrate the festival.
Classroom Extensions: Research whether there are community organizations that celebrate Diwali. Invite a guest speaker from that group to talk about the holiday.
STRICKLAND, Tessa & Kate DePalma. Barefoot Book of Children. illus. by David Dean. Barefoot. 2016. ISBN 9781782852964.
PreS-Gr 2 –Each spread is richly saturated with vibrant depictions of children of different ethnicities and races enjoying similar activities, from the little treasures they pick up here and there to the stories they tell about themselves. It opens with a picture of the world and an array of people's faces. With each spread, the text invites readers to consider how they might engage in a similar activity as another child somewhere else in the world.
Discussion Questions: Have young readers think about what they have in common with the children on any given page. In what ways are they different? Research that country or region to gain background information on the activities in which the kids are engaged.
TATE, Nikki. Better Together: Creating Community in an Uncertain World. Orca. 2018. ISBN 9781459813007.
Gr 4–9 –This book defines the essentials of a thriving community, no matter where in the world it exists, starting with safe housing, health, education, and food, all of which require us to work together to connect. The photographs are from around the world.
Discussion Questions : What events in your area promote community building, social justice, fair trade, and sustainable gardening? Research which activities or events would be appropriate for students to participate in.
While these selections do not directly address some of the more serious issues our nation is facing (e.g., refugees, the current administration's attitude toward immigration, poverty), they do offer opportunities to see potential—potential for collaboration, understanding, appreciating the human condition, and compassion, no matter our race, nationality, religious beliefs, sexual orientation, or level of income.
---
Dr. Eun Hye Son and Dr. Margaret Chase are associate professors of Literacy, Language, and Culture at Boise State University, Idaho.