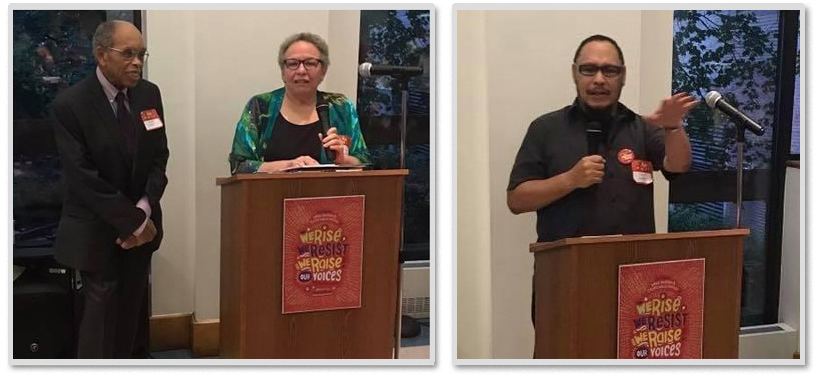 George and Bernette Ford (left) and Floyd Cooper were guest speakers at the Just Us Books 30th anniversary celebration in 2018. The event, held at the Schomburg Center for Research in Black Culture, also launched the anthology We Rise, We Resist, We Raise Our Voices, with works by Bernette Ford, Cooper, and Arnold Adolf.
As children's book publishers and authors, we are always thinking about the stories we tell, the children and adults we want to reach, and the change we want to help drive to make the industry more diverse, inclusive, and equitable for creators and publishing professionals alike. The loss of four beloved pioneers in children's book publishing over the past few months—Arnold Adoff, Bernette Ford, Floyd Cooper, and Eloise Greenfield—has us thinking even more deeply about the long, difficult struggle to achieve and sustain the progress we have seen in the past few decades.
All of us involved in the important work of creating good books that are reflective of our varied experiences and getting them into the hands of readers have been blessed by trailblazers like Arnold, Bernette, Floyd, and Eloise. Being among the early pioneers of this work was not easy for them. But they remained committed and refused to give up, even when a sometimes-bright horizon dimmed, and the progress they had helped to make started to slip away. Today's progress—more books by BIPOC creators on the shelves, more imprints dedicated to publishing culturally diverse books, more BIPOC creators winning top awards and having their work optioned for tv and film—in so many ways, is a result of their outstanding work and the contributions of peers including Walter Dean Myers, Tom Feelings, Patricia and Floyd McKissack, Leo and Diane Dillon, Virginia Hamilton, and Jim Haskins, as well as librarians Henrietta Smith and Sandra Payne, champions of kid lit diversity who also passed away this year.
We were fortunate to have the opportunity to work with most of these literary giants during our almost 35 years in the publishing industry. We did workshops and projects together. We gathered to discuss ways we could organize to increase diversity, ensure inclusion, promote equity. We supported, encouraged, and inspired one another.
So, we were crushed when we learned that Arnold Adoff, whose career spanned nearly 60 years, passed away on May 7, 2021. An anthologist, poet, and author, he wrote or edited more than thirty books, including Black is Brown is Tan, the first picture book to feature an interracial family as the main characters. Arnold worked closely with his wife, the celebrated author Virginia Hamilton, on over 70 manuscripts. He negotiated her contracts and was an integral part of her success. Years before the term "multiculturalism" became part of the kid lit vernacular, Arnold spotlighted the poetry of BIPOC. He was a fierce advocate for social justice and rarely backed down from a wrong he felt should be righted—including in the publishing industry.
On June 20, our dear friend Bernette G. Ford left us. We did not know when we had prayer with her, her husband George, and daughter Olivia, over the phone that day, that she would be gone a short time later.
Bernette was one of the first African American executives at a major children's book publishing company. Starting as an editorial assistant-in-training at Random House in the early 1970s, she went on to establish a stellar career at companies such as Western, Grosset & Dunlap, where she became editor-in-chief and publisher, and at Scholastic, where she established the Cartwheel Imprint in 1989 and helped lead the hugely successful Clifford the Big Red Dog and I Spy series.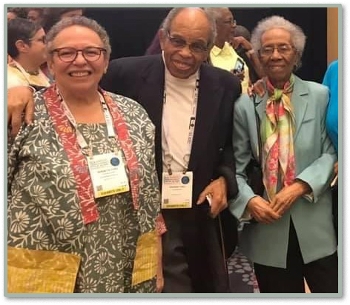 Eloise Greenfield (right) with the Fords during the 2018 Coretta Scott King Awards Breakfast, where she received the Virginia Hamilton Award for Lifetime Achievement.
She was a champion of diversity in children's book publishing, and many writers and artists of color, as well as those who desired to work in the industry, got their start because of Bernette. Her "Just For You" line of books, produced and packaged by her own company, Colorbridge, included works by children's book creators like Derrick Barnes, Nikki Grimes, Nikki Giovanni, Christine Taylor Butler, Sylvia Walker, and Nicole Tadgell. We collaborated with each other on numerous projects: Bernette cowrote Bright Eyes, Brown Skin, illustrated by George Ford, one of Just Us Books's classic titles, and we each wrote a title for her "Just For You" line.
But most of all, Bernette, her husband George, himself a publishing pioneer, and their daughter, Olivia, were family. We shared meals, great conversations, inspired ideas, and offered each other the encouragement, support, and advice we all needed to continue our work in the challenging world of publishing.
Just a month later, on July 16, another friend, Floyd Cooper, passed. Floyd began his award-winning career as an illustrator in 1988, the same year we founded Just Us Books. His first illustrated book was Grandpa's Face by Eloise Greenfield. He went on to illustrate or author more than 100 books, winning honors such as the Coretta Scott King Award and the Golden Kite Award. Floyd had a special gift for depicting Black history and experiences. His latest book, Unspeakable: The Tulsa Race Massacre, published by Carolrhoda and written by Carole Boston Weatherford, is a powerful telling of a dark moment in this country's history that was virtually erased for almost 100 years.
We did many events with Floyd and always saw how generous he was with his time and advice. During school presentations, we watched how students, totally immersed in his every movement, gravitated to Floyd as he made his gift of illustrating come alive right before their eyes. He had a similar impact on aspiring book creators he mentored.
When we were all still new in the industry, we worked with Floyd on two projects: Pass It On: African American Poetry for Children and How Sweet the Sounds: African American Songs for Children—projects on which Bernette worked as executive editor for Scholastic. He contributed to several anthologies we edited, including the upcoming title Recognize! An Anthology Honoring and Amplifying Black Life. Floyd's powerful, captivating illustration graces the cover.
On August 5, beloved children's author and poet Eloise Greenfield died. Eloise began in the industry when most publishers didn't consider books about Black people marketable, writing unapologetically about everyday Black life, Black history, and Black historic figures. Her work was illustrated by artists like George Ford, Jerry Pinkney, Leo and Diane Dillon, Jan Spivey Gilchrist, and Floyd Cooper. A gifted storyteller, she had an extraordinary ability to connect with children. The love and respect she had for them infused her work.
During an interview in 2020, Floyd credited Eloise with giving him his start in publishing. She insisted that her publisher find an illustrator of color for her picture book Grandpa's Face, refusing to accept the excuse that they were rare or hard to find. She wouldn't give up until one was secured, and that was Floyd.
Eloise created classic works for children include Honey, I Love and Other Love Poems, Childtimes, Paul Robeson, Night on Neighborhood Street, African Dream, and Nathaniel Talking. She received many honors for her tremendous body of work, including the 2018 Coretta Scott King-Virginia Hamilton Lifetime Achievement Award, the Hurston/Wright Foundation North Star Award for Lifetime Achievement, and induction into the Literary Hall of Fame for Writers of African Descent.
Whenever we met Eloise at a conference or some other event, she always asked how we were doing and offered advice and insight about the inner workings of the industry. We, like many others, considered her the "queen" of children's book creators.
Making a difference, no matter what the cause, is not easy. It never is. In the early stages of any movement, the committed are few. Those who stay the course are the ones who continue to push, prod, complain, endure setbacks and false starts, promises made and not kept, doors closed, and being told "no" time after time. Never giving up. They are the ones who create change and make progress possible.
The friends who made their transitions this year left an indelible legacy. The progress they helped us all to achieve did not come easily. And that progress does not mean the struggle for change is over. Rather, it helps us better understand how much still needs to be done.
We miss Arnold, Bernette, Floyd, and Eloise terribly. But we know that we must continue without them here in the physical realm—and do the demanding work that sustainable change requires. And as we do, we can be inspired and encouraged by their legacies and all the others who helped to pave the way. They have passed the baton on to us and to the younger generation of kid lit creators pushing for change. They've passed it to organizations like the Brown Bookshelf, the African American Children's Book Project, We Need Diverse Books, Kweli Color of Children's Literature Conference, the Coretta Scott King Awards Committee, the Black Caucus of the American Library Association, and the growing list of partners such as the Highlights Foundation, the Children's Book Council, the Author's Guild, and others who recognize the need for a more inclusive and diverse kid lit canon and industry.
We must continue the work because we know how important it is, especially for our children.
Wade Hudson and Cheryl Willis Hudson have been leading advocates for diversity and inclusion in the children's book publishing industry for more than three decades. In 1988, they founded Just Us Books, an independent publisher of books that center and celebrate Black people, history, and cultures. Authors as well as publishers, their latest projects include Recognize! An Anthology Honoring and Amplifying Black Life (Crown, Oct. 2021) and Wade's middle age memoir Defiant; Growing Up in the Jim Crow South (Crown, Oct. 2021)