Author Rick Riordan wrote a blog post in response to fans upset with the Disney+ casting of Percy Jackson and the Olympians; publishers and educational organizations join ALA's Unite Against Book Bans; and more, in this edition of News Bites.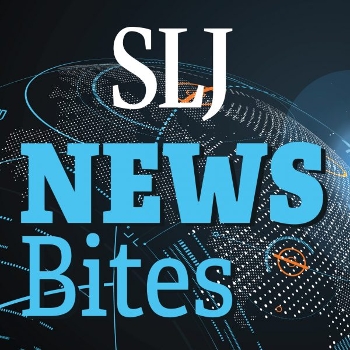 Author Rick Riordan wrote a blog post in response to fans upset with the Disney+ casting of Percy Jackson and the Olympians; publishers and educational organizations join ALA's Unite Against Book Bans; and more, in this edition of News Bites.
---
Rick Riordan responds to racists
With the announcement of the cast for the Disney+ series adaptation of Rick Riordan's Percy Jackson and the Olympians came criticism of young Black actor Leah Sava Jeffries playing Annabeth Chase. Riordan responded, particularly angry at those who attacked the 12-year-old online.
"This post is specifically for those who have a problem with the casting of Leah Jeffries as Annabeth Chase," he wrote on his website. "It's a shame such posts need to be written, but they do. ...
"The response to the casting of Leah has been overwhelmingly positive and joyous, as it should be. Leah brings so much energy and enthusiasm to this role, so much of Annabeth's strength. She will be a role model for new generations of girls who will see in her the kind of hero they want to be.
"If you have a problem with this casting, however, take it up with me. You have no one else to blame. Whatever else you take from this post, we should be able to agree that bullying and harassing a child online is inexcusably wrong. As strong as Leah is, as much as we have discussed the potential for this kind of reaction and the intense pressure this role will bring, the negative comments she has received online are out of line. They need to stop. Now."
Riordan went on to write about those harassing the young actor being "offended" when called racist.
"You are judging her appropriateness for this role solely and exclusively on how she looks. She is a Black girl playing someone who was described in the books as white.
"Friends, that is racism."
And, finally, he told those "fans" that they, in fact, knew nothing at all about Percy Jackson.
"The core message of Percy Jackson has always been that difference is strength. There is power in plurality. The things that distinguish us from one another are often our marks of individual greatness. You should never judge someone by how well they fit your preconceived notions. That neurodivergent kid who has failed out of six schools, for instance, may well be the son of Poseidon. Anyone can be a hero.
"If you don't get that, if you're still upset about the casting of this marvelous trio, then it doesn't matter how many times you have read the books. You didn't learn anything from them."
---
ALA's Unite Against Book Bans building coalition
ALA announced its Unite Against Book Bans campaign in April in an effort to give people the tools to oppose the censorship movement and learn about organizational efforts to amplify voices fighting against censorship. In May, the campaign became a coalition when more than 25 groups joined the cause. Among them: American Booksellers Association Free Expression Initiative, American Federation of Teachers, American Indian Library Association, Asian Pacific American Librarians Association, Association for Library and Information Science Education, Association of Bookmobile and Outreach Services, Authors Guild, Baker & Taylor, Black Caucus of the American Library Association, Candlewick Press, Chinese American Librarians Association, Comic Book Legal Defense Fund, Freedom to Read Foundation, Human Rights Campaign, Lerner Publishing Group, Macmillan Publishers, National Book Foundation, National Coalition Against Censorship, National Council of Teachers of English, Overdrive Inc., Penguin Random House, Simon & Schuster, Society of American Archivists, Sourcebooks, Steve and Loree Potash Family Foundation, and The Quarto Group.
"Three-quarters of the 1,100 plus books currently banned in public schools in the United States have been written by authors of color, LGBTQ authors, or other traditionally marginalized voices," Authors Guild CEO Mary Rasenberger said in a statement. "All of us who understand the importance of literature must ban together to fight this misguided, coordinated attack on our country's literary culture. That is why we joined Unite Against Book Bans and continue to implement programs such as our recently launched Banned Books Club."
---
Internet companies to provide access for low-income households
The Biden administration announced that 20 internet companies agreed to provide discounted service as part of the infrastructure package that includes $14.2 billion in funding for the Affordable Connectivity Program, which provides $30 monthly subsidies ($75 in tribal areas) on internet service for millions of low-income households. Forty-eight million households will be eligible for $30 monthly plans. Their internet service would be free with government assistance if they sign up with one of the participating providers, which are Allo Communications, AltaFiber (and Hawaiian Telecom), Altice USA (Optimum and Suddenlink), Astound, AT&T, Breezeline, Comcast, Comporium, Frontier, IdeaTek, Cox Communications, Jackson Energy Authority, MediaCom, MLGC, Spectrum (Charter Communications), Starry, Verizon (Fios only), Vermont Telephone Co., Vexus Fiber and Wow! Internet, Cable, and TV.
---
Epic survey shows kids kept reading after COVID restrictions eased
Epic e-reading platform for kids released the results of a survey that showed even when COVID restrictions were lifted kids still turned to books. In 2021, kids' demand for reading and story time remained at an all-time high, Epic reported. Ninety percent of surveyed parents claim their kids spent about the same amount or more time reading in 2021 as compared to 2020, and 58 percent reported that their kids spent more time each day reading than other activities.
As far as how that reading impacted their daily lives: 62 percent of parents noticed better school performance when their kids read regularly and about half used books to help with conversations about climate change (56 percent) and mental health (50 percent). Twenty percent reported using a book to help talk about the war in Ukraine.
---
Baker & Taylor launch Paw Prints Publishing
Baker & Taylor will launch a new original children's publishing program, Paw Prints Publishing, on June 28, 2022. Paw Prints will publish content for readers ages 3 to 8, according to the announcement. The titles will feature underserved or underrepresented kids and focus on social-emotional learning, diversity, and inspiring readers to be their "most authentic and successful selves."
On June 28, 2022, Paw Prints Publishing will release its first titles across four series with a focus on diversity and social-emotional learning. Additional books will be released through the summer and fall for a total of 15 titles in 2022.
All titles will be available first in the library-exclusive format Paw Prints* and eBook format with print trade editions to follow in September 2022. Titles, available in English and Spanish, will be leveled by Fountas & Pinnell and Lexile Reading leveling systems and aligned to early learning and CASEL standards with their pillars in social-emotional learning, according to the company announcement.
---
Lerner and Thomson Reuters partner on nonfiction titles
Lerner Publishing Group and Thomson Reuters announced a partnership that aims to publish five nonfiction books written by authors of color by spring of 2024. Lerner will develop, publish, and distribute the books while Thomson Reuters will print them.
"From social justice to race and ethnicity, to social class, Lerner believes that books have the power to affirm our identities and to build understanding with people unlike ourselves," Adam Lerner, publisher and CEO of Lerner Publishing Group said in the announcement.
The first title, to be released in spring 2022, is Reimagining Police: The History and Future of Law Enforcement by Artika Tyner, a civil rights attorney and the director of the Center on Race, Leadership and Social Justice. The YA nonfiction will be an analysis of the history of law enforcement, criminal justice, and mass incarceration.
Future books are expected to cover Black musical influence, missing and murdered Indigenous people, tribal sovereignty, and the impact of wildfires and climate change on world cultures, according to the announcement.
---
Applications open for Author Israel Adventure
PJ Library, a program of the Harold Grinspoon Foundation, invites experienced and published children's book authors and illustrators to apply to be part of the Author Israel Adventure third cohort. The program is designed to inspire creators to bring Israel, Jewish ideas, and diverse Jewish stories to board book, picture book, and middle grade titles. Applicants should be published children's and middle grade authors and illustrators who have written in English and who are planning to publish books with Jewish and/or Israel content. The application deadline is June 1.
The free adventure begins with online meet-ups and customized webinars in October 2022 before the group travels together to Tel Aviv and Jerusalem in May 2023. After returning from Israel the cohort experience will take part in a writers' retreat in North America, currently scheduled for the week of October 15, 2023. Participants must be vaccinated against COVID-19.
Authors who have participated in the past include Marla Frazee, Adam Gitwitz, Gail Carson Levine, and Barney Saltzberg.