In these works, silly creatures impart wise messages.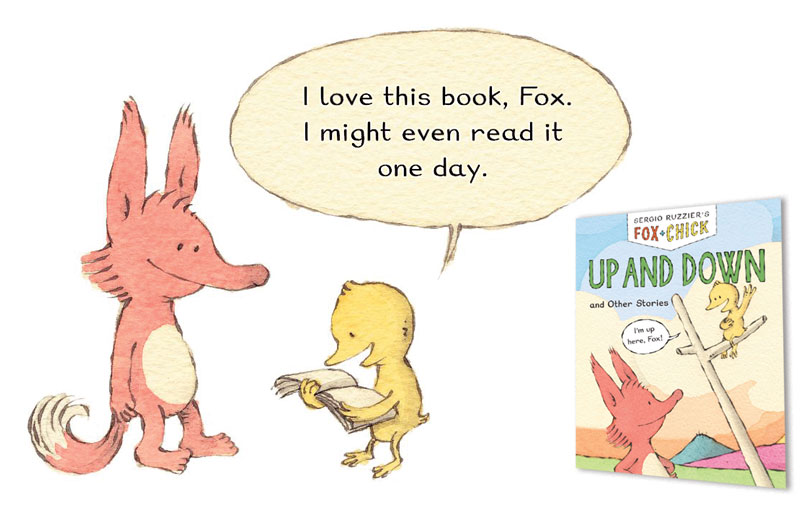 From Fox + Chick: Up and Down and Other Stories by Sergio Ruzzier © Chronicle Books LLC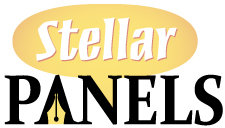 Animal stories have been around since Aesop told his first fable, and probably before. In the modern era, there's a storied legacy of tales about funny animals who talk, wear bowler hats, play baseball, or act human in other ways. Humorous critters have a long history in comics, too, including one of the first American comic strips, Jimmy Swinnerton's The Little Bears, a weekly that ran on the children's page of the San Francisco Examiner from 1895 to 1897. The genre has been popular ever since.
Comics about talking animals have grown more sophisticated in the age of the graphic novel. There's often a quiet message mixed in with the humor, as characters who talk about their feelings or respond empathetically to others serve as models for young readers just starting to figure things out for themselves and confronting big, confusing feelings. Animal characters distance the reader from awkward or hurtful types of human-to-human situations they may have experienced, allowing them to see the story from a more objective point of view. In this way, these silly comics are actually very wise.
Dav Pilkey's "Dog Man" books set the modern template for middle grade funny-animal comics: colorful, action-packed, absurdly silly stories often sneak in positive messages about kindness and believing in oneself alongside slapstick humor and poop jokes. Comics for emerging readers are gentler, with simple plots and even more humor; they often depict friends helping friends and modeling good behavior. Ben Clanton's "Narwhal and Jelly" books were a big breakout in this category. Other popular titles include Dan Abdo and Jason Patterson's "Blue, Barry and Pancakes" and Brian "Smitty" Smith's "Pea, Bee & Jay" series.

Here's a look at recent graphic novels with animals that walk, talk, and more.
CHANANI, Nidhi. Shark Party: Shark Princess. illus. by author. Viking. May 2023. ISBN 9780593464649.
K-Gr 2–Chanani, the creator of the middle grade graphic novels Pashmina and Jukebox, turns to a whimsical undersea setting for this story about two shark princesses: the gregarious Mack (yes, Mack is a male princess—it's allowed) and the more retiring Kitana. Mack wants to go to a party, but Kitana just wants to chill with him alone. Mack prevails, but the party makes Kitana nervous. When they break away to invite a deep ocean shark to join the party, the shark's polite refusal helps Kitana find words to express her feelings and learn that it's OK to like to be alone. All this is told in clear, often funny dialogue. Chanani's deft artwork is a delight to the eye. This book is the second in the "Shark Princess" series but stands well on its own.
DAV. Beneath the Trees: A Fine Summer. illus. by author. Magnetic Press. 2022. ISBN 9781951719548.
K-Gr 2–A group of young animals is splashing and playing basketball in a pond, which annoys two older neighbors, a toad and an owl. The story is mostly told from the point of view of Mr. Owl, who's trying to relax in his armchair with a book while the youngsters shout outside. When their ball comes through his window, he hangs on to it, and after they go home he tosses it back into the pond and sinks a basket. Soon he's playing ball with the kids and even mending their dock after it gets smashed, much to the annoyance of Mr. Toad, although he eventually gets pulled into the fun, too. This landscape-format book has charming, Disney-esque watercolor art, an old-fashioned feel, and delightful storytelling, especially wordless sequences where Mr. Owl discovers his inner owlet and starts splashing in the pond. One of four "Beneath the Trees" books, each focusing on a different season.
GURNEY, John Steven. Baseballoween. illus. by author. Papercutz. Jul. 2023. ISBN 9781545810064.
Gr 2-3–In this fifth "Fuzzy Baseball" book, the Fernwood Valley Fuzzies, a ragtag team of assorted animals, get an invitation to play a mysterious team on Halloween. The opposing team turns out to be a lot like the Fuzzies, only spookier. Gurney has fun playing with readers' expectations, like when the full moon comes out and a wolfman pitcher on the opposing team turns into a salesman. The story evokes laughs, not chills, with a subtle message about not judging others because they look different. There are some meta elements as well: It opens with Gurney himself getting dressed down by his editor, a giant bulldog; later, the Reading Level Police give a character a ticket for using a big word. Gurney's critters look like both real creatures and specific people, and the action sequences are solid. A good Halloween pick with broad enough humor to appeal any time of year.
HARRELL, Rob. Batpig: Go Pig or Go Home. illus. by author. Dial. Mar. 2023. ISBN 9780593531945.
Gr 2-4–Gary Yorkshire was an ordinary anthropomorphic pig until he was bitten by a radioactive bat and gained superpowers. A comics fan, Gary created a new persona, Batpig, and uses his newfound powers to fight evil wherever he finds it. This book, the third in the series, contains two complete stories. In the first, Gary sprinkles magic powder on his textbooks to help him cram for a test but unintentionally creates two oddball hybrid creatures, a shark that resembles Abraham Lincoln and an evil squidclown, that wreak chaos in his school and beyond. Amid this, the story makes a sensible point about cheating. In the second story, Gary and his pals Carl and Brook go to summer camp, and Gary makes the fateful decision to leave his Batpig costume behind. Carl and Brook make new friends, and Gary feels left out until he befriends Ruby, the local lake monster, a cryptid with a sensitive stomach. These action-packed stories filled with goofy humor and relatable characters are a good pick for "Dog Man" fans.

HRAB, Naseem. Otis & Peanut. illus. by Kelly Collier. Apr. 2023. Owlkids. ISBN 9781771474962.
Gr 2 Up–Otis is a guinea pig with shaggy hair; Peanut is a peanut-shaped naked mole rat with big glasses and buck teeth. Each of the three stories in this slim volume shows a different aspect of their friendship. In the first chapter, Otis's fear of getting a haircut turns into a lively conversation about change. Meanwhile, Peanut gets a new hat, coat, and boots, so he looks like a new version of the same creature. In the second, they swing side by side in a playground while talking through their feelings about a friend who is gone. The third has Otis moving into a new house and trying to figure out what makes it a home, a question that Peanut answers by knocking on the door, emphasizing that your home is a place that's special to your friends as well. Lightened with jokes and silly antics, these stories also portray many quiet gestures as the friends support each other. The limited palette, simple backgrounds, and exaggerated features of the characters evoke classic children's books of the 1950s and 1960s.
JONES, P. Knuckle. Bog Gone! illus. by author. Penguin Workshop. Aug. 2023. ISBN 9780593519851.
Gr 1-3–This lighthearted mystery is the first in the "Finder's Creatures" series. Almost all of the animals in Belly Acre Bog have disappeared, and it's up to amateur sleuth Finder (a tree frog) and her friends Chopper (a beaver) and Keeper (a turtle) to figure out what happened to their fellow forest creatures and get them back. When a scary-looking monster appears in the woods, they decide it must be the culprit, and while Chopper and Keeper try to build a perfect trap, Finder follows a set of slimy green clues. The characters are drawn with thick black strokes, simple shapes, and flat colors with a mostly green palette, as befits a story set in a bog. With a nice mix of silliness and mystery, this is a good pick for fans of "Narwhal and Jelly" who are ready for something a little more ambitious.
LAROCHELLE, David. See the Ghost: Three Stories About Things You Cannot See. illus. by Mike Wohnoutka. Candlewick. Jul. 2023. ISBN 9781536219821.
PreK-Gr 3–In three short chapters, a dog and a cat encounter a ghost, the wind, and a fairy; each causes gentle chaos in different ways. The layout is similar to picture books, with a sentence or two of text on one page and a single cartoon panel on the facing one. The dog and the cat are drawn in a simple, cartoony style, with minimal backgrounds. But the storytelling has clever flourishes, such as the wind blowing words and characters off the page. This is the third book in the "See the Cat" series; the other two are See the Cat: Three Stories About a Dog and See the Dog: Three Stories About a Cat. Each stands alone. The creators, who also do picture books, are the winners of the ALA's Theodor Seuss Geisel Award for best book for early readers.
RUZZIER, Sergio. Fox & Chick: Up and Down and Other Stories. illus. by author. Chronicle. 2022. ISBN 9781452183398.
K-Gr 3–This is the fourth book in Ruzzier's "Fox & Chick" series about two friends: a chick who is easily flustered, and a calmer, wiser fox. When Chick climbs to the top of a tree and can't get down, Fox distracts and buoys Chick until Chick climbs down without thinking about it. Fox also deals with Chick's impatience with issues like waiting for enough snowfall to go sledding with aplomb. Ruzzier's delicate watercolor art is light and airy, with uncluttered backgrounds and large speech balloons, making the panels easy to read. Most pages have one to three panels, though Ruzzier varies the layouts to visually rich effect.
WATSON, Andi. Punycorn. illus. by author. Clarion. Nov. 2023. ISBN 9780358571995.
Gr 3-7–Watson's tale puts a fantasy spin on a scruffy group of misfits who are determined to win the day. Carbuncle is a happy land filled with rainbows and cupcakes, free from evil because it's guarded by the Chosen Ones: an elite group of unicorns. Punycorn is the smallest, rawest recruit in the Chosen Ones and is left behind to guard (and clean) the palace when others go on a mission. Thus, when an evil ogre summons an army of orcs and other creatures to invade and conquer Carbuncle, Punycorn is the only unicorn there. While the situation seems hopeless, he gathers a set of mismatched companions: a magical sword that has vowed never to kill again; a dragon who can't breathe fire, though he can spew condiments; and a dung beetle who never travels without his giant ball of dung, which also contains his family. Together, they save the day. Watson draws the characters with deft, curving strokes, varying the layouts and backgrounds and using a candy-colored rainbow palette. While the story in this volume is complete, a scene at the end signals there's more to come. Watson's many graphic novels for children include Kerry and the Knight of the Forest , another fantasy adventure with a slightly darker vibe and a more subdued palette.