The craving for social interaction that parents and children have felt throughout the pandemic was obvious this spring when the new North East Branch of the Cecil County (MD) Public Library (CCPL) held its grand opening.
Families lined up outside the door, accustomed now to COVID-19 protocols no matter where they go. Children entered "wide-eyed and awestruck," says Rachel Wright, associate director of CCPL. "More than one teacher, parent, or caregiver was brought to tears" when they filed into the children's room and the Our Town Early Literacy Center.
Inspired by the setting of this community along the Chesapeake Bay, the Our Town center features a replica of the Turkey Point Lighthouse, a scene from an estuary, and a play garden. Young patrons can fix things in the workshop, stage a theater production, or whip up a meal in the child-size kitchen.
The design of the space—what CCPL director Morgan Miller once described as "the ultimate cardboard box"—expands on what other branches in the system were already doing. At the Cecil Station branch, for example, children can build a tower, set the table for a feast, or imagine themselves as a firefighter or a princess. "Engaging with this kind of play has really changed how [families] are using the library," Wright says. "They understand this is a place for children to be children."
The spaces themselves are intended to encourage the five practices of Every Child Ready to Read—talking, singing, reading, writing, and playing—and are now viewed, along with books, as part of the early literacy experience.
In an age when toddlers can reach for a tablet or smartphone just as easily as they can a book or a toy, public libraries are creating active learning environments to encourage pretend play and social interaction. Following a year in which even preschoolers had to interact with their classmates over Zoom and experts expressed alarm over increased screen time, library play spaces can serve as a bridge to more formal learning arrangements in the fall.
"As schools prepare for a return to in-person learning this fall, libraries are poised this summer to provide young children, especially those for whom an in-person learning environment is a distant memory, the opportunity to engage with their peers at the library," Wright says, adding that the interactive play and in-person programming are "especially critical for young children who may have had limited opportunities to interact in group settings."
No longer places to sit quietly for reading and listening, libraries are bustling hubs for parents, grandparents, and others caring for young children. Experts say these settings are especially important for young children in informal care arrangements who don't attend preschool or go to a childcare center and may lack opportunities to spend time with peers or be surrounded with materials that foster learning. Because most state-funded preschool programs don't have space for all eligible children, library-based early-learning initiatives are filling a gap in many communities.
According to the National Women's Law Center, more than five million children under age six are cared for by a relative, and almost three million spend time with an unrelated caregiver.
When a 2013 report in Colorado showed that 142,000 children under six spent some time in unlicensed childcare and another 160,000 were home with parents during their early years, the Colorado State Library responded with Growing Readers Together. Supported by the Temple Hoyne Buell Foundation, as well as a federal Preschool Development Grant, the program encourages library staff to actively connect with informal providers in their community and involve them in programming for young children.
An evaluation of the program, which has reached 37 library systems across the state since 2016, showed that in a survey, roughly two-thirds of the family, friend, and neighbor providers from small rural areas said they became more aware of library resources and services. Roughly the same percentage said they expected to visit the library more often with children in their care.
The initiative also now includes Play, Learn, and Grow—workshops for informal providers focusing on play-based activities to reinforce STEM and literacy concepts—as well as "play-based programs" for the children, says Joyce Johnson, who directs the program at the Colorado State Library.
With funding through the initiative, libraries also made space enhancements, such as adding more toys, dress-up areas, mirrors, and sensory materials, and "intentionally differentiating areas for younger children from those for older children," according to the evaluation.
Kids interact with each other, learn, and have fun at the Our Town Early Literacy Center at the North East Branch of the Cecil County (MD) Public Library.
All photos courtesy of Cecil County (MD) Public Library
'A destination place'
When Susan B. Neuman of New York University and Donna Celano of La Salle University in Philadelphia were evaluating Every Child Ready to Read, they visited libraries in 10 major systems across the country, including New York, San Francisco, and Salt Lake City. They found that play spaces, such as replicas of train stations or areas for singing and movement, were just as common as colorful rugs and soft seating for story times.
They saw structured and unstructured play, staff members who strategically brought out toys to fit with a theme during a story time, and libraries where toys and other materials were always available.
"Especially in high-poverty communities, the library would become more of a destination place," Neuman says.
At the time of their research, they didn't hear a lot from librarians about whether digital media played a part in the activities for young children. "The librarians were almost ignoring technology to some extent," Neuman says.
But she and Celano also observed carrels in which seating for watching videos or interacting with screens was designed to fit a child and an adult—a reflection of the shift toward "co-viewing"—and parents using apps or other technology as opportunities to extend learning, conversation, and play.
She agrees with Wright that as families prepare for school in the fall, play opportunities at libraries provide children with a wide range of benefits. They're not being graded, so they can "try on behaviors without risk of failure."
The "socio-dramatic play" allows children to "invent and inhabit new worlds," Neuman says. And the social engagement "encourages lots of talk and conversations between children, which is critical for language development."
Architects have also responded to the ways families are now using the library by building areas that accommodate children and adults instead of spaces that more clearly distinguish between the two. That was the design challenge that Jeffrey Hoover of Tappé Architects and BCWH Architects faced when consulting with community members while developing the concept for the new Fairfield Area Library in Henrico County, VA. They resolved the issue by creating a new "family collaborative zone" that allows adults to use computers or other materials at the same time their children are playing.
The same architects designed the North East branch in Cecil County. The structures include spots for adults to comfortably sit and participate in play instead of having to fold themselves into a child-size chair or sit on the floor. Screens, however, are not part of the space. If children want to interact with technology, they can visit the children's room on the second floor or the STEM lab in another area, Wright says.
Reopening during a pandemic requires new safety measures that the staff didn't envision when the branch was designed. Family restrooms are close to play spaces, but there are also "highly visible hand-sanitizing stations with friendly, accessible signs reminding families to wash their hands before and after play," Wright says. There are special containers for items that might require more frequent cleaning, seating is spaced to allow for proper distancing, and the staff limits the number of families and adults in the space at one time.
The branch is also adding outdoor programs over the summer, which will give families additional safe activities for children.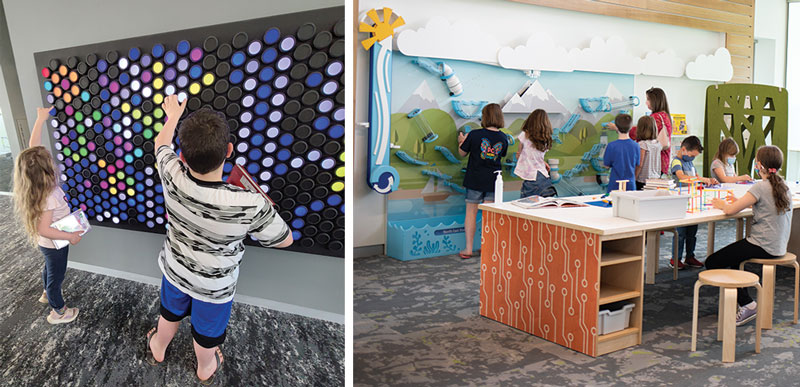 The spaces encourage the five practices of Ready to Read—talking, singing, reading, writing, and playing—and are now viewed as part of the early learning experience. Library play spaces can serve as a bridge to more formal learning arrangements this fall.
Play and 'community building'
Across the country, the California State Library, with funding from the David and Lucile Packard Foundation, supports young children's creativity and imagination with its Stay and Play initiative. After story time, parents and other caregivers are invited to stay for more free play. The program has also led to a series of classes for informal providers on how to pursue childcare as a career and help children prepare for school.
Rachel Tucker was the youth librarian at the Grass Valley Library–Royce Branch in Nevada County when the site received funding for the program.
"The Nevada County area has a large number of retired individuals, and we had noticed that many were bringing their grandchildren to the library but had no program that directly met their needs," she says. "We felt that by working with this grant and developing this program, we would be better able to serve this part of our community as well as other informal caregivers."
Painting with watercolors, creating sensory bins, and turning cardboard boxes into a toddler car wash are a few of the activities that have emerged from the program, says Tucker, who is now the branch manager. The staff also looked to the Center for Childhood Creativity and its Reimagining School Readiness Toolkit for inspiration on how to weave math and science into children's play.
"For example, one of our talk stations has balls of various size and tubes that they can roll through," Tucker says. "We ask the caregivers to discuss the different sizes and experiment with which size of ball will be the best option to roll through the tube."
Caregivers—and children—choosing screens over interaction hasn't been an issue.
"Often the caregivers are speaking with each other or the children in their care, and the only time phones are brought out is to take cute pictures," Tucker says. "We see a lot more interaction and community building during this program than during a regular story time program."
A place for 'self-directed education'
As pandemic restrictions are lifted, more libraries are taking play outside into the community. A 2020 report from the Joan Ganz Cooney Center at Sesame Workshop highlighted the Madison (WI) Public Library's partnership with Madison Parks to offer an outdoor experience inspired by Anji Play, an approach to early learning developed in China. Others incorporate outside playgrounds into new designs, further recognizing that play is an integral part of children's development.
"I am personally very excited about the idea of libraries becoming centers for play," psychologist Peter Gray, a research professor at Boston College, wrote in a 2019 article. "As I see it, libraries are publicly supported centers for self-directed education, and, for children, play is the single most important vehicle of self-directed education."
While the role of libraries in young children's learning continues to evolve, children's librarians that Neuman and Celano interviewed said they didn't have any training or education related to parent engagement or child development.
"A lot of people that talked to us felt like they needed to learn it on their own," Neuman says.
Wright adds that in her own training, there was no attention to how the library space could be one of the services for families.
When CCPL began the work of incorporating play spaces into existing libraries, leaders took it "branch by branch" so the children's librarians could be involved in the planning and learn from each other. Staff members now receive training in how to encourage play, and those from other library systems come to learn from them.
"It is a different mindset from what the traditional library has looked at," Wright says, "but our staff has embraced it."
---
Linda Jacobson is a Los Angeles-based writer who focuses on education.