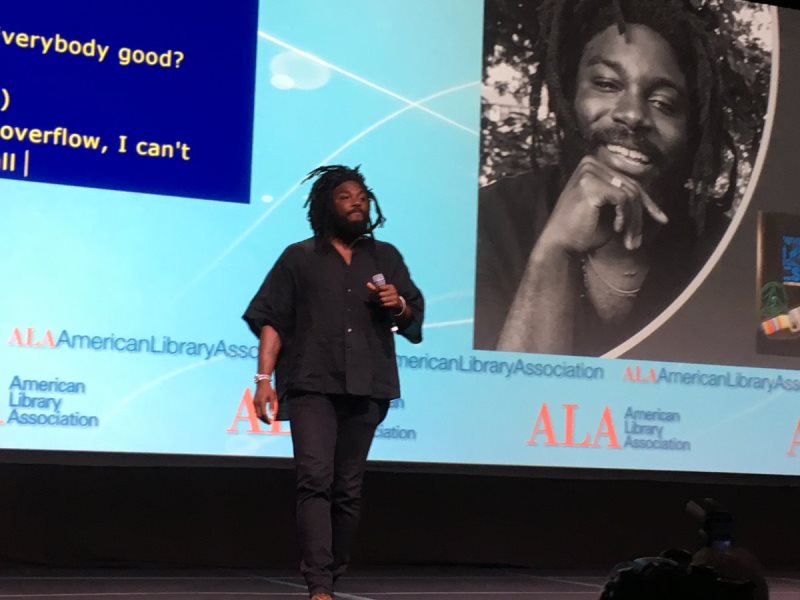 There were inspiring speakers, thought-provoking sessions, and protests at ALA Annual. Here are some highlights, news, and notes from this year's conference in Washington, DC.
Jason Reynolds Challenges ALA Crowd
Jason Reynolds took the stage to rousing cheers from ALA Annual attendees who packed the huge Washington Convention Center ballroom (and an overflow area) to hear him give the opening session keynote.
The crowd laughed, applauded and, for much of the keynote, sat in rapt silence. They left having been issued a challenge by the bestselling author.
But before he asked them to reimagine their role and the way the approach it, Reynolds spoke of libraries as sacred spaces where all are welcome and one can build a family and be of service. At the library, the narrative is "what we use to fortify us," Reynolds said, while he also addressed the challenges that face librarians.
"I'm in the schools. I'm in your neighborhoods. I'm watching librarians have to serve six schools. I'm in the schools where there are no librarians. I'm in the prisons where there are no libraries. Something is the matter when people are trying to stop information from flowing," he said. His next words were drowned out by applause and cheering.
Reynolds also drew a parallel between religious institutions and libraries.
"Every single religious practice, no matter what religious practice it is, historically has been persecuted. All of them. Including the yogis," he said. "Every single library, every single library system or system for information dissemination, has been challenged historically. All of them. Which means the library is sacred. Just like the church is sacred. And if my body is a temple like my mama said, that would mean it would be possible my body could be a library."
Then came Reynolds's challenge for librarians in the room to think of themselves a little differently than they do—to reimagine their roles in the lives of their young patrons, and to be willing to consider changing the way they do things to meet that role.
Maybe, he said, librarians are really architects, and libraries are warehouses for building human libraries. He asked the audience to imagine these "walking, talking libraries"—a generation of young people with an internal reference desk to tap when they needed answers; young people who were walking safe spaces for others.
"All that being said, the role of the architect in any situation is two things—they can build a building that pays homage and tribute to you…or you can build a building that services the world," he said. "This is what I want you to think about. I hope your ALA is blueprint planning. I hope you spend this time drafting up what you want these libraries to be like, because every one of them would be different. For all the books they possess, the ones that make you a little uncomfortable, they still deserve to live on their shelves. Remember that. They might not always make you feel good. They might be a little different. They may come from a different space but those books belong. They deserve to have a space…." Again, his words were lost in a loud affirmation from his audience.
"You get to make that decision," he continued. "And I for one am so grateful to be a person who gets to stand beside you. Not as a foreman, as a partner. Watching you draft your blueprint, watching you create walking, talking –imagine a generation of walking talking libraries."
For anyone who thought he was preaching to the choir, Reynolds answered with this: "The funny thing about choirs is every the choir get together, they've still got to practice their songs, they've still got to work on their harmonies. Every now and then they've got to learn a new song, and if they don't learn a new song, it don't hurt nobody to remix an old one."
---
CIA Booth Brings Protest to Exhibit Floor
This year, the conference's publisher booths, vendors, author signings, and pop-up events on the floor were joined by a recruitment booth for the Central Intelligence Agency (CIA). On Friday afternoon, a group of librarians from Librarians for Democracy, including Alison Macrina, director of the Library Freedom Project, staged a protest against the CIA's presence there.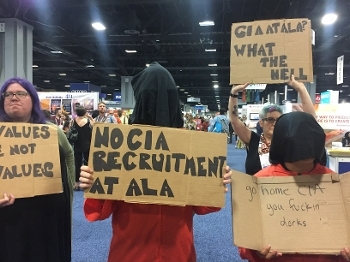 Photo by Lisa Peet
In a statement handed out during the protest, the organizers explained, "The Central Intelligence Agency stands in direct opposition to our core values.... That is why today, we join those librarians who came before us as we stand up to oppose CIA recruitment at the ALA Annual Conference....The CIA has participated for decades in the violent overthrow of governments while propping up dictators all over the world. The CIA believes in absolute secrecy for itself, but total surveillance for all others. The CIA makes use of ultra-secretive 'black sites' to conduct torture and extrajudicial detention. We need not list their entire history to show that library workers should not be associated with them, that the CIA's actions are incompatible with the values of librarianship. In an era where democracy is in jeopardy, where the government and its agencies are under the control of a dangerous white supremacist regime, library workers must take a stand against undemocratic forces — particularly those as powerful as the CIA."
The statement went on to say, "There are some who might read our demand and think that we are stifling the free speech of the CIA, but rejecting the influence of an incredibly powerful US intelligence agency is not censorship, it is resistance. As a voluntary membership organization embodying the values of librarianship, the American Library Association must work with vendors, exhibitors, and conference speakers who reflect our values. ALA must think about what this means."
---
Librarians Plan White House Protest for Detained Immigrants
Librarians also planned a demonstration at the White House for Monday night to protest and make a plea to "shut down immigrant prison camps."

The group that organized the protest released this statement:
"With so many librarians in our nation's capital during a time in which crimes against humanity are being committed by our government, we feel it is a moral imperative to speak out while we're here.
"Libraries are founded upon the values of free and open access to information and to public spaces where people can safely exit free from harassment or discrimination. We champion equity, diversity, and inclusion of all people into the civic life or our libraries and our communities, regardless of citizenship status. We are positioned as a cornerstone of democracy.
"We therefore strongly condemn the immigration policy of President Trump that persecutes immigrants and currently operates a series of prions camps along the border where migrants are being held in deplorably inhumane conditions.
"These prison camps not only impede upon the human rights of the immigrants being detained but they also erode the fabric of our communities and the basis for a democratic society. These prison camps are thus in direct conflict with our values and mission as librarians. Neither our libraries nor our communities can truly be free or safe while such policies of separation, deportation, and detention terrorize millions among us.
"We therefore demand the immediate release of all migrants currently detained within the United States and the swift reunification of children separated from their families. And we stand in solidarity with all who are organizing for the safety of our immigrant communities."
---
Best Apps and Websites of 2019 Announced
ALA released its annual list of Best Apps and Best Websites for Teaching & Learning. The yearly selections honor apps and websites that "provide enhanced learning and curriculum development for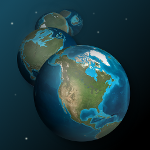 school librarians and their teacher collaborators" and "foster the qualities of innovation, creativity, active participation and collaboration," as well as supporting AASL's "National School Library Standards for Learners, School Librarians, and School Libraries."
The 2019 apps are: Chatterpix Kids, EarthViewer, Equity Maps, Figment AR, Green Screen by Do Ink, iCell, iCivics-Suite, Khan Academy Kids, Mixerpiece, Nearpod, Novel Effect, Object Viewer for Merge Cube, PBS Kids Scratch Jr., Quizlet, Sites in VR, Sora App, Stop Motion Studio, Tynker, Wakelet, and Wolfram Alpha.
The websites are: Anchor, Bootstrap, Brush Ninja, CS First, Deck.Toys, Edpuzzle, Elementari, Empatico, Explore, Genially, GeoGuessr, Knightlab, Storytelling, Libraries Ready to Code, National Geographic Education, NCMA Learn, NowComment, Pulitzer Center, Storyline Online, Teaching Tolerance, Thunkable, Tour Creator, Unite for Literacy, and Wakelet.
---
AASL Announces Crystal Apple Recipients
OverDrive Education was selected as a 2019 recipient of the AASL Crystal Apple. The Crystal Apple honor is given at the discretion of the AASL president to an individual or group that has had a significant impact on school libraries and students.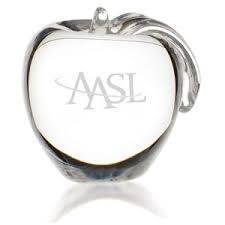 OverDrive Education's support enables AASL to launch a two-year initiative to engage with school administrators. The "AASL School Leader Collaborative: Administrators & School Librarians Transforming Teaching and Learning" aims to strengthen AASL's collaboration with school administrators.
"The initiative champions the school librarian's integral role in teaching and learning. AASL will convene a national AASL School Leader Collaborative to serve as active ambassadors for school libraries and to create messaging and advice on advocacy strategies," the press release said.
Also receiving the Crystal Apple honor was retired middle school librarian Marina "Marney" Welmers:
"Since 2016, Welmers has sponsored the Inspire Collection Development and Inspire Special Events Grants," the AASL said in its announcement. "The collection development grant provides up to $5,000 in funds for school libraries to extend, update, and diversify their book, online, subscription and/or software collections. Up to $20,000 is available annually. The special event grant provides up to $2,000 in funding to a school library looking to engage students with school library resources and promote reading, books, literacy, and authors. A total of $10,000 will be distributed to schools annually.
"In 2017, Welmers expanded her commitment to school libraries by funding the Inspire Disaster Recovery Grant. The grant supports public middle or high school libraries that have incurred damage or hardship due to a natural disaster, fire, or an act recognized by the federal government as terrorism. The grant also provides funding to schools impacted by an increase in enrollment due to displaced/evacuee students. A total of $30,000 in funding is available each year."