Ukrainian children's books can help Americans understand the war in Ukraine and its impact.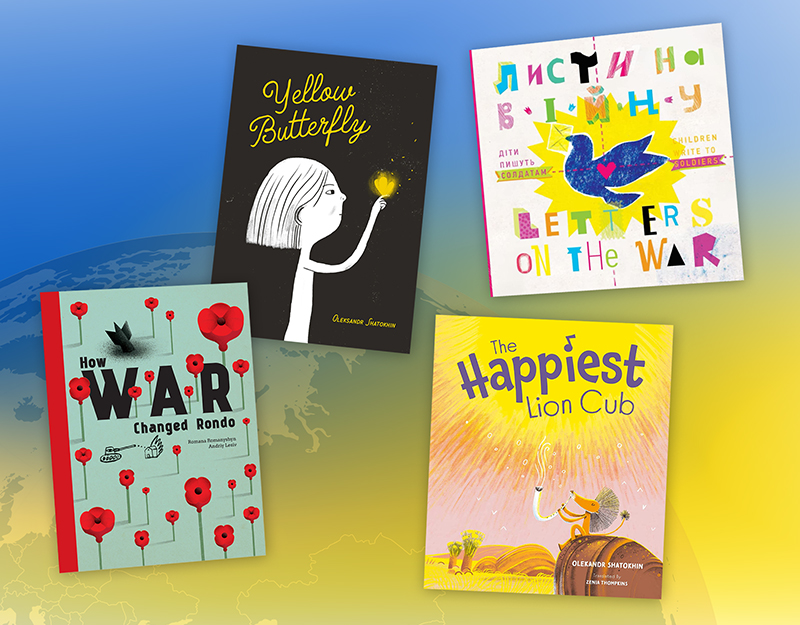 We all can learn from Ukraine. But to bring the lessons to American children, we need books. While in Ukraine citizens and soldiers continue to fight the Russian invasion, there is a lot of work to be done to help people in the United States understand the situation and its impact. Ukrainian children's books will surely help us with this task.
But U.S. publishers have brought very few Ukrainian children's books to America. We need more. Three of the books that are available were published in response to the war and educational demand: How War Changed Rondo by Romana Romanyshyn and Andriy Lesiv (Enchanted Lion), Yellow Butterfly by Oleksandr Shatokhin (Red Comet), and The Happiest Lion Cub by Oleksandr Shatokhin (Red Comet).
Two of those—How War Changed Rondo and Yellow Butterfly—reference how lives change with the destruction of war and how to remain good human beings despite the cruelty and atrocities.
How War Changed Rondo is a story of three gentle but brave friends who struggle to stop the war from destroying their town by harnessing the power of light and community. The victory is achieved, but all three of them are changed forever.
In contrast, Yellow Butterfly is a wordless picture book that focuses on a child's response to the war. Using powerful visuals and metaphors, the book contributes to the understanding of the devastation of war and gives a glimmer of hope for a peaceful future. The black-and-white of the bombs and barbed wire contrast to the yellow butterflies and blue sky (the colors of the Ukrainian flag) on other pages.
Both books reflect the multiple impacts of war and place the focus on global basic needs: safety and peace. Moreover, they offer lessons to be learned and cherished—safety and peace are made by people and their values. And safety and peace are works in progress and depend upon the decisions we make.
In 2014, when Russian president Vladimir Putin annexed Crimea and started the war in Ukraine, I co-edited Letters on the War: Children Write to Soldiers with Valentyna Vzdulska; Olena Staranchuk was the illustrator and designer. In 2022, when Russia launched a full-scale invasion, the book was the most requested children's book in Ukraine.
Children's books can be carriers of peace, but how do we make sure that they provide deep emotional and empathetic connection to the people struggling through war right now? While new children's books on war are actively published, they almost always reflect the historical perspective, making war more emotionally distant. Turning away from only using historical lessons, teachers and librarians should pay closer attention to current children's books from Ukraine.
Let's demand more current Ukrainian children's books for U.S. schools and libraries to expand our children's reading and understanding. When it comes to war in our contemporary and highly interconnected world, we are all witnessing it, and moreover, we are all living it.
Oksana Lushchevska is a Ukrainian writer and translator. An active member of PEN UKRAINE and the author of more than 50 children's and young adult books, Lushchevska is currently a children's literature consultant and a creative curator of STORY+I Creative Workshop Group.