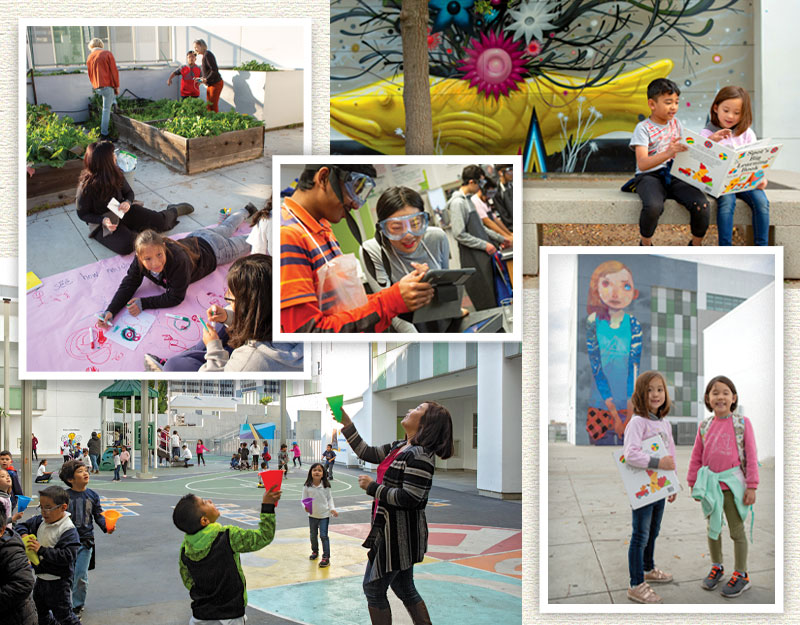 Along with classroom curriculum and a community garden, the UCLA Community School provides immigration, legal, and mental health services.
Photos by Allison Shelley for EDUimages
More than 100 years ago, education reformer John Dewey made a speech to the National Education Association advocating for schools as "social centers." He argued that schools should provide social services and "operate as a center of life for all ages and classes."
The idea was popular at the time, says John Rogers, a UCLA professor of education and author of the report "Community Schools: Lessons from the Past and Present," as the United States was grappling with economic and industrial changes. Schools today, with their auditoriums and playgrounds, still reflect Dewey's vision as the center of the community.
"These wouldn't just be facilities used during the school day, but they would be used after school and during summer," Rogers says. "This was a radical departure from what had happened only a few decades before."
Community schools, as the concept is known today, have experienced bursts of popularity over the decades, particularly during times of social and political turmoil, such as the Great Depression and the civil rights era. Today, education reformers are again advocating for them after the pandemic wreaked havoc on education and families. In response, the Biden administration has promised to increase federal funding for community schools—from $30 million to $443 million—in its Build Back Better plan.
The hallmarks of community schools today are wraparound services and partnerships with other organizations to provide, among other things, medical and dental care, therapy, after-school programming, and food pantries—all for free for students and their families.
An increase in federal money for community schools may help existing schools increase the services they offer—or extend them for a longer time, considering many of the extra staff hired are grant-funded. Many states are making even more significant investments. California has started a grant program with ESSER funding. Maryland is providing every school that has 75 percent of its students qualifying for free or reduced-price lunch with a community school coordinator and a health care worker. And states like New Mexico and Oklahoma are investing in grant programs as well.
"What's striking to me is that we see momentum across the country in urban places, in rural places, in places that are more politically conservative or politically liberal," says Anna Maier, a research analyst at the Learning Policy Institute.
There is no single model for a community school. By definition, each school is unique to its community and responds to the specific needs of its students and families. But many community schools follow a widely accepted model from the Learning Policy Institute, which outlines four broad pillars: integrated student supports (which addresses issues including physical and mental health), expanded learning time (like summer school and after-school care), family and community engagement (such as educational opportunities for adults), and collaborative leadership (including engaging families and community members in decision-making).
Other models exist as well, including one from the National Education Association, which touts six pillars. But all community schools have one thing in common, says Maier.
"At [its] core, a community school is a place. It's the physical school building and facilities, and it's also the relationships between the members of the school community and the students, families, and educators," Maier says.

At Dayton's Bluff Achievement Plus Elementary in Saint Paul, MN, the hub of the school community is the library, says principal Amanda Musachio. It's located in the middle of the building and serves as not just a place for kids to check out books, but also a gathering place for different organizations in the community. But one of the biggest benefits of being a community school is that Dayton's Bluff also has a partnership with a local branch of the Saint Paul Public Library. This was especially important when the school building was closed because of the pandemic. Students couldn't check out books from the school library, but they could go to the public library. And, thanks to the partnership, they were already familiar with the space and felt safe going there.
These relationships are key to making community schools function. Most have a coordinator, whose job is to communicate with all the partner organizations and make sure students have access to the extra services offered. Cindy Torguson works in this role at Dayton's Bluff, which has been a community school for over 20 years. As part of her job, she coordinates with the recreation center next door, where kids can go after school; a nonprofit that helps families access necessities like food, housing, and electricity; a therapist; and a dentist. Torguson also helps families with other things, like designing a morning routine that allows the kids to get to school on time and connecting them with free or low-cost summer camps and sports teams.
Torguson says the best part about having all these services at the school is that it eliminates the need for families to go across town to access them. As a result, kids never miss their therapy or dental appointments, and families don't need to make a trip to the grocery store to buy food for the evening or take their kids from school to an after-care program.
"It's nice having that accessibility right in the neighborhood," Torguson says. "Otherwise, where would people go? We don't have a nearby dental clinic or other things real close to their homes."
Dayton's Bluff looks like a typical community school in terms of the services offered, but each school is a little different. The UCLA Community School in the Koreatown neighborhood of Los Angeles, for example, not only offers mental health services to students, but also a legal clinic, which provides free consultations and referrals for families experiencing immigration, housing, and worker rights issues.
Queena Kim, one of the school's assistant principals, also sees a community school as a way to bring community issues into the school curriculum and encourage students to be a part of the greater community. At a time when there were a lot of immigration raids and deportations, an on-campus student organization spearheaded know-your-rights workshops and created a document declaring the school to be a sanctuary school.
"If our teachers are working on a project in a class, many times they're asked, 'How does this impact our community?'" Kim says. "How should the learning take place, and in what ways should the learning impact the community?"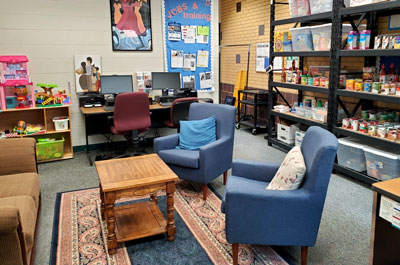 The family center at Dayton's Bluff has food for families in need and provides a place for staff to meet to discuss assistance with bills, morning routines, and more.
Photo courtesy of Cindy Torguson
Though community schools have been around for more than a century in some form or another, there isn't a lot of hard data on how well they work. Most studies show positive impacts overall, with modest gains in attendance and graduation rates at many schools. But as a 2017 article in Chalkbeat pointed out, some study results are mixed. Community schools do not necessarily lead to increased test scores and improved grades. Educators who work at those schools, however, say there are many benefits that can't be easily measured, such as students' excitement about coming to school and a greater connection to the surrounding community.
A 2020 RAND Corporation study of the New York City Community Schools Initiative, the largest in the country with over 300 schools, showed that the schools did increase attendance and graduation rates and had a positive impact on students' feelings of connectedness to their peers and adults at the school. Disciplinary incidents decreased for elementary and middle school students, but not for high school students. Math achievement improved only in the third and final year of the study, while improvements in reading achievement were not statistically significant.
Musachio says her school's test scores "are not anything to write home about," but attendance and energy are up. "I would say 100 percent of our parents want their kids at school every single day," Musachio says. And their partnerships and extra services help make sure kids can get there.
Across the country, many districts have seen big dips in attendance and enrollment in the pandemic. Schools have struggled to reach families in remote learning, especially those families without reliable internet or childcare. Though community schools struggled as well, they were more equipped to handle the sudden closures and communication challenges the pandemic created.
In the fall of 2020, Rogers wrote a report analyzing public school responses to the pandemic and found that the schools that fared best had adopted community school strategies. "They were seeking to connect the school to the community by going out into the community to make sure young people had meals, checking in on families, and checking in to make sure that families had access to the internet," Rogers says.
Mort Elementary in Tampa, FL, became a community school in 2015. The school's students are a highly transient population, with many of them in foster care or frequently moving to different homes with different family members, and 98 percent of them qualify for free or reduced-priced lunch, according to principal Latiecea Hailey-Brown. Despite the challenges of serving these students, when the pandemic arrived, Hailey-Brown says they were ready to handle it.
"We didn't close our doors," she says. "It was like, 'OK, there's a pandemic, so put a mask on, but we're still going to go.' We were told you can't go to their houses, and we were like, 'Well, we go to their houses anyway.'"
While the children were not attending classes in the building, the school's other services continued, and new ones emerged. Mort already had a food pantry, and the school kept it running, delivering food to families' homes. They also provided technology like hot spots and made physical copies of homework for those who didn't have a computer. The biggest loss, Hailey-Brown says, is that they couldn't be all together as a community for several months when students were learning from home.
Despite the fact that Mort hadn't been a community school for very long before the pandemic hit, Hailey-Brown says the school has completely changed. In Florida's school rating system, Mort has moved from a D to a C rating. But more than that, the school now has an Elementary Honor Society, and students encourage and applaud one another for being smart, she says. Before, it was not considered cool to be smart. It also has a robotics club, a community garden, and chickens on campus, who are cared for by students dubbed "chicken tenders." For many, it's the first time they've had the opportunity to watch something grow.
"My biggest accomplishment is when I have a high school student that's walking across the stage and they remember what we did here," Hailey-Brown says. "That for me is a lot more tangible because that means we made a lasting impact."
As states commit to bigger investments in community schools, some may ask whether it's really up to a school to solve so many of society's problems, from housing and hunger to mental health care. Will the burden for schools to accomplish so much be too big?
Musachio, who previously worked as a principal at another school that was not a community school, says this approach actually lessens the burden. She can't focus on academics if kids are going hungry or not showing up for school. Having Torguson as her community school coordinator allows her to address those needs while Musachio can keep her focus on academics.
Maier also argues that community schools aren't necessarily doing anything that affluent schools haven't always done. In those schools, parents expect that they have a say in decision-making and that their kids receive care and enrichment beyond the classroom.
"It's an equity-enhancing strategy in that sense," Maier says. "We're saying all students and families deserve to have that experience."
---
Colleen Connolly is a Minneapolis-based journalist who writes about children and education, among other topics.