The editor of the most challenged book in America discusses the censorship uproar over the graphic memoir, its impact, and the role of publishers in these times.
Over the last two years, Maia Kobabe's graphic memoir Gender Queer has become the lightning rod title for the book banning movement.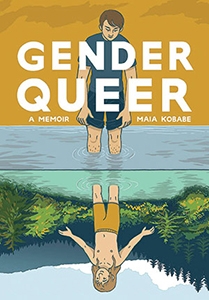 On Monday, the American Library Association Office for Intellectual Freedom released its most challenged booklist, and Gender Queer held the top spot for the second year in a row. PEN America released a report last week that noted the book has been banned in 15 school districts, the most of any title. Kobabe, who is nonbinary and uses e/em/eir pronouns, even faced a Virginia lawsuit that sought to declare the book obscene and make it illegal to sell to minors. (The case was dismissed for being unconstitutional.)
"It's very upsetting to see Maia have to go through this," says Andrea Colvin, who was the editor for Gender Queer. Just putting emself out there was a big deal, Colvin says.
"It's a big thing for any creator who does memoir," says Colvin.
Colvin met Kobabe at San Diego Comic-Con and acquired and worked on the book for Lion Forge Comics, where Colved worked at the time. The graphic novel is now published by Oni, and Colvin has moved on to be editorial director of Little, Brown Ink, the graphic novel imprint of Little, Brown Young Readers.
"I felt a little bit helpless," she says as the bans and uproar against Kobabe escalated over the last two years. "Luckily, Maia's had great support."
"I'm not able to, from the publisher's perspective, make statements or be helpful in that way," Colvin adds. "So that's been tough. It's a lot of me reaching out [and asking] how can I help?"
Colvin didn't anticipate the controversy surrounding the book. "You didn't expect this sort of reaction," she says. "I mean, how could any of us, right?"
"I guess it was a different time," she says of 2019, when Gender Queer was published. "Maybe this is very naive of me, but I didn't worry at all. I was really excited. I [thought], this book is amazing, and think of all the people who are going to read this book and have this outlet to discuss things that are happening inside of them and be able to point their family to something that explains how they feel and give this language to something that we haven't been talking about as much. I just couldn't wait for it to get out into the world."
There was no consideration of content as related to kids, because the book was not produced as a children's or YA title.
"We specifically published it for adults," Colvin says, noting that it did win an Alex Award, given to books written for adults that have special appeal to readers 12 to 18.
As she currently works on titles for children through readers in their early 20s, Colvin has conversations about books that she might have had about Gender Queer if it were published as a YA title.
"The same issues are coming up,"\Colvin says, offering an example from a current project. "There are parts in it that are drawings of genitalia [and] it gets technical. And I'm looking at this, and I'm like, 'Well, this is not titillating. This is appropriate for the age group. This is aimed at older young people, and these are the kinds of things they want to know about.' So, you think about it that way."
There are now more discussions with authors during the publishing process about possible pushback and preparing the creators for it, says Colvin.
"I do have books that as I'm working on, I'm like, 'Well, this one's gonna get banned.' It's tough, because you do think more about preparing the creator and trying to talk to them about strategies and make sure they're supported."
Some creators are nervous; others she works with take more of a "come at me" approach, according to Colvin. But either way, it becomes a difficult situation—and publishers are still figuring out their role.
"We're going to have to think, excuse the phrase, outside the box a little bit," she says. "Supporting authors is one thing, and that's really important obviously because authors are being personally attacked, if not physically. But I think that there are all sorts of other people on the front lines—librarians first and foremost, but also teachers, and a lot of parents who don't have the resources to go elsewhere to get their kids access [to] some of this content that could, in some cases, be life and death for children. … It's really important for us to support those people, and also figure out a way to make these books accessible to children who live in places where they're not accessible anymore."
How best to do all of that, she admits, she still doesn't know.
Recent stories like Scholastic's attempt to remove a reference to racism in an author's note have brought the publishing response to the censorship attacks into the spotlight.
"I could empathize with publishers looking at it like, 'Oh, gosh, we'll be able to sell more, we'll be able to get it out there [more], if it doesn't have this,'" she says. "However, I tend to come at this from the other direction. If people are taking issue with this, then it needs to be out there even more, then it's something that is scaring people, and therefore, we need to get this in front of as many kids as possible."
When Colvin thinks about Gender Queer, she is struck by something of a paradox that she says the publishing world hasn't figured out how to talk about yet: Thanks to the banning efforts and ensuing publicity, Gender Queer is getting to more people than it probably would have originally.
"When Gender Queer first came out, it sold okay," she says. "Then the banning and the attacks happened, and Gender Queer is selling significantly more copies than it probably would have. So that's sort of this weird thing to kind of get your head around, and I've talked to Maia about this. On the one hand, this is so great, more people are coming to the book. But as Maia says, on the other hand, how many people who really need the book are never going to be able to get it at this point? That's really tough."
Gender Queer is part of a minority of challenged books that see boosted sales compared to the overall number of titles challenged and removed from shelves right now. The majority of books and authors don't receive the same notoriety. Those books just disappear, and authors are left to deal with it all in the aftermath.
"It's really heartbreaking," says Colvin, who adds that even authors who carry a "come at me" attitude toward the censors don't celebrate when people ban their books. "No one is happy. It's a personal attack. Someone is attacking the way you live, your values, and who you are."