Individual award committees seek the best book that meets the criteria they've been handed. But, in the context of the times, the 2022 Youth Media Awards winners list made a collective statement to those across the country trying to ban books.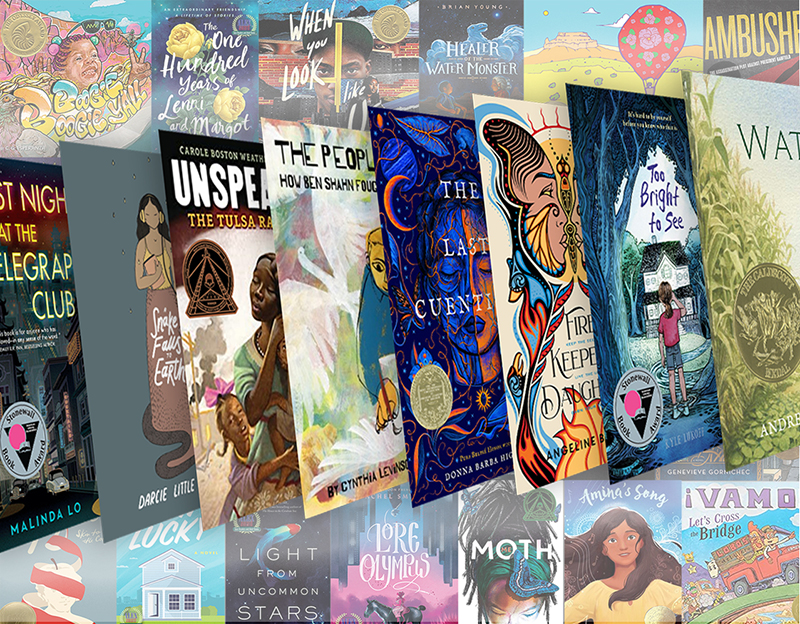 The Youth Media Awards (YMA) committees make their decisions based solely on the specific criteria of each award. But collectively, the titles recognized each year never fail to represent something about the times, and the 2022 awards reflect this, chosen in an increasingly fraught climate with rising attempts to ban books and censor what is on library shelves.
"Seeing the winners, just the wide expanse of different books and different cultures that were represented, was a little bit of a statement to say, 'Okay, look, you can ban books over there, but we're going to recognize what we do over here,'" says Donna Barba Higuera, whose The Last Cuentista won the Newbery Medal. "'We're going to work just as hard, if not harder, to put those books in those children's hands that you're trying to take out.'"
The YMA winners spotlight published books that have risen to the level of excellence required to earn one of these awards. Winners are the books that merit such prestigious recognition.
"While I think it's hard to completely remove the current climate for libraries, librarians, and books from our minds, I can say that the committee focused on the criteria for the award," Newbery committee chair and middle school librarian Tad Andracki wrote in an email.
Focusing on the criteria is the committees' job. When they are done, a look at the long list of winners and honor books can say something more. These books share the stories that resonate with committee members most. They are the titles these educators and children's literature experts believe kids should read. And this year's list showed a diversity of authors and subjects that the children's publishing world strives for. Their mere existence is a shot at those trying to shut down these voices.
This is, of course, not the first year that books by BIPOC creators were honored, or those that tell stories of the LGBTQ community. But amid coordinated attacks and attempted censorship of books, the 2022 YMAs did indeed make a statement. With Monday's announcement, the children's literature world stood up and reaffirmed the excellence and importance of these books for young readers.
At a time of increased hate crimes against Asian American Pacific Islanders (AAPI) and Jewish people, Andrea Wang's Watercress, illustrated by Jason Chin, won the Caldecott Medal and a Newbery Honor, and Cynthia Levinson's story of Jewish painter and activist Ben Shahn, The People's Painter: How Ben Shahn Fought for Justice with Art, won the Sibert Award as the best informational book for children.
"I think [Watercress] is hitting at a time when the stories that show AAPI humanity is really needed," says Wang. "And I'm just really grateful."
As books by Black and brown creators about their communities and histories are increasingly being challenged and pulled from library shelves, the Newbery Medal was awarded to a novel that combines sci-fi with Mexican American folklore and was written by Higuera, a mixed-race author. And Carole Boston Weatherford's Unspeakable: The Tulsa Race Massacre earned four awards—the Coretta Scott King Author Award, the Coretta Scott King Illustrator Award for the late Floyd Cooper, and a Caldecott and Sibert Honor.
While books written by LGBTQIA+ authors that include queer content are being called pornography at school board meetings across the country, for the first time in Newbery's 100-year history, the committee recognized two titles with LGBTQIA+ protagonists, naming Too Bright to See by Kyle Lukoff and A Snake Falls to Earth by Darcie Little Badger Newbery Honor books.
"I am as thrilled by my win as any author would be in any particular time," Lukoff said via email. "But it does feel especially meaningful to know that, the year after my books were pulled from schools and read aloud to jeers of derision at board meetings, one of my stories about a trans boy has been given the same institutional credibility and backing as, say, Charlotte's Web, Ramona Quimby Age Eight, and Hatchet. In the library world we love to argue about 'the classics;' with that comes the power to create new classics, and to redefine what we, and our young readers, can expect from and demand of a book given the opportunity to become 'timeless.'"
Lukoff also won the Stonewall Award for Children's Literature.
Malinda Lo's novel Last Night at the Telegraph Club, which already won the National Book Award for Young People's Literature, was a Printz Honor title and won the Stonewall Award for Young Adult Literature. It also won the Asian/Pacific American Award for Literature in the youth literature category. Watercress won in the picture book category.
"The books that have won that are by and about AAPI deserve to be there on their own merit, not just because they're about or by AAPI creators," says Wang. "But I do think it speaks to the time in society that we're at with the pandemic and the rise in anti-AAPI hate that people are recognizing that they need to speak out about it and to do something about it.
"One of those ways is through children's literature, to talk to our young people about these issues. And I really do hope that my book, and all of these other books, provide that entry point that means to start the discussion about why Asian Americans and Pacific Islanders are really important or just that we all share a common humanity. We belong here. We are American, too. And we're just like everybody else."
Higuera agrees that sharing these stories is one way of promoting a better understanding of one another.
"When you invite someone into these cultures and places that are unfamiliar, they end up leaving feeling like they're family, feeling like they've made a friend," she says. "Then those things are not quite so scary or foreign feeling anymore."
For Native author Angeline Boulley, whose novel Firekeeper's Daughter won the 2022 Printz Award, the most meaningful part of winning is showing other creators from underrepresented communities a sense of what's possible. She is also happy to give young Native readers a book that shows proper respect for, and representation of, the community. It is something she would have cherished in her youth, to have a Native writer recognized "for the quality of writing, the strength of the story, and the representation. That would have meant the world to me."
She wants the award to help shine the spotlight on other Native authors, as well.
"I'm thankful for the visibility," she says. "I hope that when they read my book, it spurs them to read other books by Indigenous authors."
As Chin, who illustrated Watercress, watched the awards ceremony, he appreciated that there were so many categories, allowing so many different kinds of books, by a diversity of authors to be celebrated and acknowledged for their excellence. As the stickers are added to covers and collection development purchases are made, it is now the job of the librarians and their fellow educators to decide which of these stories will make it to their shelves.
"I am really, really grateful that librarians are such advocates for diversity of representation and fighting against censorship, and for free speech and artistic expression," says Chin. "I'm just grateful for all of the effort that so many librarians and teachers put into that work."