Here is a list of the 2021 Youth Media Awards winners announced during the virtual ceremony at the ALA Midwinter conference.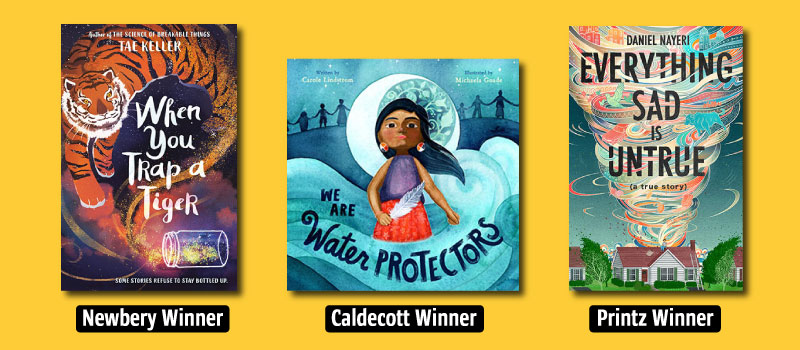 The biggest day in children's literature has arrived, and while there will be no in-person audience cheering the Youth Media Awards winners today, it doesn't take away from the excitement and achievement during this difficult year.
Following is the list of winners announced at this morning's virtual ceremony. Please check back at SLJ.com throughout the day for more coverage, including and interviews with winning authors and selection committee members.

[READ: "When You Trap a Tiger" Wins Newbery, "We Are Water Protectors" Earns Caldecott at 2021 YMAs]


Newbery Medal
When You Trap a Tiger by Tae Keller

Randolph Caldecott Medal
We Are Water Protectors, illus. by Michaela Goade

Theodor Seuss Geisel Award
See the Cat: Three Stories About a Dog by David LaRochelle, illus by Mike Wohnoutka

Children's Literature Legacy Award
Mildred D. Taylor

Excellence in Early Learning Digital Media
The Imagine Neighbohood

Robert F. Sibert Medal
Honeybee: the Busy LIfe of Apis Mellifera by Candace Fleming, illus by Eric Rohmann

Mildred L. Batchelder Award
Telephone Tales by Gianni Rodari, illus. by Valerio Vidali, translated by Anthony Shugaar

Pura Belpré Awards
Illustration
¡Vamos! Let's Go Eat by Raul Gonzalez

Text
Efrén Divided by Ernesto Cisneros

Young Adult
Furia by Yamile Saied Méndez

Michael L. Printz Award
Everything Sad is Untrue (a true story) by Daniel Nayeri

YALSA Award for Excellence in Nonfiction for Young Adults
The Rise and Fall of Charles Lindbergh by Candace Fleming

William C. Morris Award
If These Wings Could Fly by Kyrie McCauley

Odyssey Award
Kent State by Deborah Wiles, narrated by Christopher Gebauer, Lauren Ezzo, Christina DeLaine, Johnny Heller, Roger Wayne, Korey Jackson, and David de Vries

Margaret A. Edwards Award
Kekla Magoon

Coretta Scott King Book Awards
Coretta Scott King Author Award: Jacqueline Woodson for Before the Ever After
Coretta Scott King Illustrator Award: Frank Morrison for R-E-S-P-E-C-T: Aretha Franklin, the Queen of Soul
Coretta Scott King/John Steptoe New Talent Author Award: Tracy Deonn for Legendborn
Coretta Scott King-Virginia Hamilton Award for Lifetime Achievement: Dorothy L. Guthrie

Stonewall Book Award
We Are Little Feminists: Families by Archaa Shrivastav

Schneider Family Book Awards
Young Children: I Talk Like A River by Jordan Scott, illus. by Sydney Smith
Middle Grade: Show Me a Sign by Ann Clare LeZotte
Teens: This is My Brain in Love by I.W. Gregorio

Sydney Taylor Book Awards
Picture Book: Welcoming Elijah: A Passover Tale with a Tail by Leslea Newman, illus. by Susan Gal
Middle Grade: Turtle Boy by M. Evan Wolkenstein
Young Adult: Dancing at the Pity Party by Tyler Feder

Asian/Pacific American Award for Literature
Picture Book: Paper Son: The Inspiring Story of Tyrus Wong, Immigrant and Artist by Julie Leung, illus. by Chris Sasaki
Children's Literature: When You Trap a Tiger by Tae Keller
Youth Literature: This Light Between Us by Andrew Fukuda

Alex Awards
Black Sun by Rebecca Roanhorse
The House in the Cerulean Sea by TJ Klune
The Impossible First by Colin O'Brady
Kent State by Derf Bakderf
The Kids are Gonna Ask by Gretchen Anthony
The Only Good Indians by Stephen Graham Jones
Plain Bad Heroines by Emily M Danforth
Riot Baby by Tochi Onyebuchi
Solutions and Other Problems by Allie Brosh
We Ride Upon Sticks: A Novel by Quan Barry