Rosen Digital's interactive ebook collection provides information on Raspberry Pi, algorithms, Ruby, and more.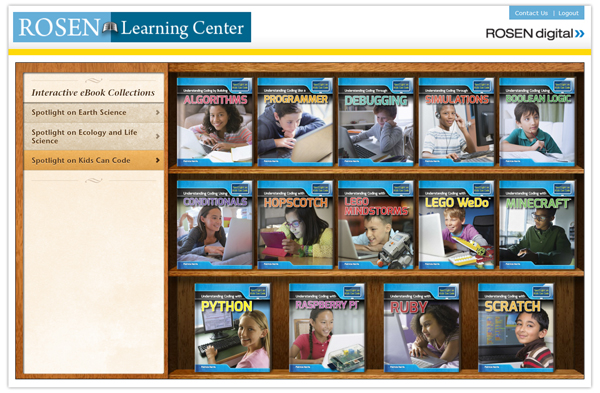 Rosen Digital's interactive ebook collection on coding offers students an ­engaging way to access the material found in the publisher's physical editions.
Rosen Digital's Spotlight on Kids Can Code
Grade Level Gr 3-7
Cost $1399.30 for a one-time purchase price with unlimited simultaneous access. Schools and libraries will receive a 25 percent discount (for a price of $1,049.39) when they order directly from Rosen.
Overview As with previous databases in this series (which included Spotlight on Native Americans and Spotlight on American History), Rosen has repurposed material from its print books, presenting it in a dynamic ebook format. Compatible with multiple digital devices, such as Chromebooks, tablets, smartphones, and whiteboards, the 14 books found here, from the "Spotlight on Kids Can Code" series, introduce students to the fundamentals of coding and encourage independent exploration beyond what is covered in the texts.
Ease of Use and Visual Appeal With its simple point-and-click navigation and user-friendly interface, Rosen's collection of ebooks is easy to use. After kids make a selection from the digital bookshelf, the window opens to a full-screen view of the chosen ebook's cover. Students then click "Start" to open up the book. The focal point is the ebook, which appears in striking hues that include cobalt blue, chartreuse, and yellow, and users need only click on the "Next Page" option to move forward in the text. After the first two-page spread pops up, the "Previous Page" tab appears.
An interactive black bar sits just below the ebook material, and when hovered over, it opens to its full size to display tabs for the table of contents and index while also allowing users to jump around the book through its "Browse Pages" option. Additional material, appearing in pastels, forms a sideways "L" around the ebook; learners who find the page too overwhelming can simply select the "View Book Only" tab at the top to remove the extra material from their view.
Content The topics range from the foundations of code (Algorithms; Simulations) to job-related information (Programmer; Debugging) to specific programs of varying difficulty (Hopscotch; LEGO Mindstorms). Though not comprehensive, the titles provide users with a solid introduction to each subject and emphasize one or two defining properties of each so that students can easily distinguish one concept from another.
Visuals such as photographs, art reproductions, maps, charts, and short videos support and enhance the material, and an interactive, color-coded time line presents a snapshot of major events in the history of coding in a bite-size, accessible format.
The "Explore This Page" feature, on the left side of the screen, contains bonus content corresponding to each ebook spread: vocabulary words, brief biographies, video and audio clips, and more offer students a wealth of information that supports and extends the ebook content. Much like the other features, a "Get Answer" window poses questions that change from page to page.
Students conducting research can obtain the proper MLA and APA citation formats in "Cite This Book." It is worth noting that the material throughout the site is continually being updated to keep content fresh and timely and that the books meet both ISTE Science Standards and the K–12 Computer Science Framework.
Student and Teacher Resources Educators will appreciate the number of "Instructional Support" materials available for each ebook. Here, teachers can find up to three hands-on activities to illustrate and expand individual computer science principles as well as supplemental materials for each activity that can be downloaded and printed. Other valuable resources include a lesson plan template, a list of concepts and people to know, and a vocabulary/word sort. Most notable, though, is the inclusion of a 158-page "Planning Guide" that pulls together into one comprehensive document all of the activities included throughout the site as well as the correlations to the national and international standards.
Verdict Coding and programming will soon be as important as literacy and numeracy in students' lives, and Rosen Digital's vibrant ebook collection, with its multimodal, standards-based content; clear and concise language; and engaging hands-on activities, provides users with the foundation they need to better understand, navigate, and excel in the digital world. Institutions that purchase this resource won't be disappointed.
---
Audrey Sumser, Akron-Summit County Public Library, OH