It's back-to-school time, and this year many parents need to shop for face masks as well as notebooks and pencils. For young people (and adults) who love books, movies, comics, and cartoon characters, there are many cool and creative face coverings available. Here are some of our favorites.
It's back-to-school time, and this year many parents need to shop for face masks as well as notebooks and pencils. To help prevent the spread of the coronavirus, a number of states and local districts have mandated that all students and staff wear face coverings while they are in school buildings and riding school buses. Getting children to wear face coverings is not always easy, but it definitely helps if their masks are cheery, fun, and include images of something kids enjoy.
For young people and adults who love books, movies, and cartoon characters, there are many cool and creative face coverings available. Experts recommend that children have a few masks to rotate through so it's worth stocking up on different options for the youngsters in your family. Here are some of our favorite themed masks for kids and adults.
The company Out of Print makes appealing book-themed masks, including one featuring the beloved Pigeon character from author and illustrator Mo Willems. This style costs $12 and is available only in adult sizes. The company is donating a portion of mask sales to the Book Industry Charitable Fund (BINC) to assist small bookstores impacted by COVID-19.
Masks designed by author and illustrator Vashti Harrison are available at the lifestyle site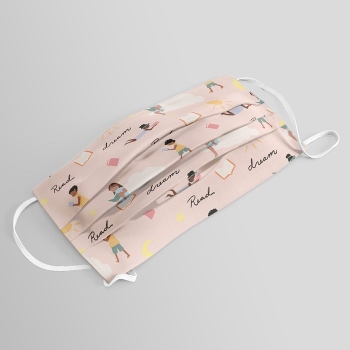 Society6.com. This style, Readers and Dreamers, sells for $13.59.
Disney fans of all ages can find masks with Mickey Mouse, Ariel, and other favorite characters at shopdisney.com, the official company site. Disney's cloth coverings come in sets of four for $20 and also include Pixar, Marvel, and Star Wars styles. Disney said it will donate profits from face coverings to MedShare, a nonprofit group that delivers medical supplies.
Gryffindor or Slytherin? MaskClub, a new company, is one of many sites selling "Harry Potter"–themed masks for kids and adults. HP fans can choose from styles that feature Hermione, lighting bolts, logos of the four Hogwarts houses, and more, all selling for $13.99. Other MaskClub styles for kids include Elmo, Hello Kitty, and the Paw Patrol crew.
Litographs, best known for artwork and clothing that includes all the text in a particular book, is branching out with literary-themed masks for adults retailing for $14.99. Styles include images of banned books, literary fiction, and science fiction, as well as Jane Austen quotes.
RedBubble's literary- and library-themed masks, like the Armed With Knowledge Mask by Martina Scott, feature art from independent designers that start at $9.99.
TeePublic, a marketplace for independent designers, has a wide selection of library- and book-themed face coverings. This book lover mask, from the seller Greatmanthan, sells for $10.
The company Storiarts offers the Commit to Lit mask with quotes about books. It sells for $12, and a portion of every sale goes to LitWorld, a literacy organization.
Zazzle, another online marketplace, also sells masks with literary and library themes from different designers. This comics-themed style from the company Tiny Design Factory is priced at $12.95.
For those who want to create their own book-themed or any other kind of mask, snapfish.com has over a dozen designs that can be customized with names, initials, photos, and embellishments. Prices start at $10.99.
Last but not least, there's always Etsy, which is chock full of interesting and unique masks for adults and kids. Many of its offerings are crafted at home by artists in small quantities. Designer Merrie Marks has a shop with book-themed masks, including a covering featuring Max and the monsters from Maurice Sendak's Where the Wild Thing Are. Hobbit masks can be found on Etsy at the shop FourSideMerchCo, and fans of Jeff Kinney's "Diary of a Wimpy Kid" series can find a mask at designer Stephanie VanKyle's shop.
---
Melanie Kletter is an educator and freelance writer and editor.