Read enough survival stories, and you will find a common thread among even the most harrowing events: the will to live.
In June 2018, expert rescuers from all over the world assembled at the Tham Luang cave complex in northern Thailand to search for a group of 12 soccer players and their coach who had become trapped inside by rising floodwaters. For the first 10 days of the mission, these elite professionals did everything they could to locate the boys, to no avail. One Thai rescuer I interviewed told me that after day 10, most of the people at the base camp believed the boys were dead. How could a group of ordinary kids with no food or clean water survive for so long underground?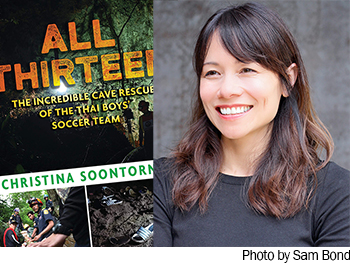 As we now happily know, the boys were indeed found alive (and eight days later, were rescued). How was this possible? The boys kept themselves alive by keeping their hopes alive. Read enough survival stories and you will find a common thread among even the most harrowing events: the will to survive. It turns out that in our hierarchy of human needs, hope is the most important.
As I researched and wrote this story, I found myself drawn to the same question again and again: How did these young people keep up their hopes in such a desolate and hopeless situation?

[Read: SLJ Review: All Thirteen: The Incredible Cave Rescue of the Thai Boys' Soccer Team]
The boys, ages 13 to 17, were regular kids. They had no specialized survival training. They were athletic, but by no means were they elite. But after listening to their stories and meeting them in person, I have come to realize that there were two factors that aided their survival:
They had each other.
And they had a teacher.
The boys were already a team, and the bonds of trust and friendship built on the soccer field were vital to keeping their spirits up inside the cave. When one boy was feeling despondent or needed to cry, the others would comfort him as best they could. Just as they had huddled up together before a soccer match, the boys huddled close in the cave to keep themselves warm and to make sure that no one felt alone in the darkness. They talked about their families and what they would do (and what they would eat!) when they got out. Not if they got out. When.
As much as the friends supported one another, the most important person to their survival was their coach. The boys could not have asked for a better person to guide them through their 10-day trial. Coach Ekkapol "Ek" Chantawong had trained for years as a novice Buddhist monk before becoming their coach. The practices that he implemented with the boys inside the cave were simple, but essential.
He kept himself calm, knowing that the children would subconsciously mirror his mindset. Even when he realized they were trapped, after trying and failing to swim out through the flooded cave passages, Coach Ek reminded himself not to panic. He maintained composure, but he never lied to the boys about their situation or his own feelings and fears. By being honest, he demonstrated that he trusted his players to be able to handle the truth, and in turn they rose to the occasion.
Coach Ek also gave the boys a sense of purpose: Each day they kept to a schedule, taking turns using stones and their bare hands to dig a tunnel into the cave wall. This small activity broke up the dark monotony and gave structure to their day. More importantly, it sent the message to each boy that he was important and had a part to play. This feeling of being needed is a crucial one in a survival situation. Many survivors have recounted that they would have given up if they hadn't felt that other people were depending on them to keep going.
Coach Ek also led the group through breathing and meditation exercises. Deep breathing releases stress, lowers your heart rate, and helps you manage pain and discomfort. It is an essential component of meditation and calming the mind. The boys could not control the outside world, or what happened the next day. But they could control the most important thing for their survival: their own minds.
We are now entering our eighth month of a global pandemic; an election looms; the symptoms of climate change flare all around us; and the fight for racial equity continues to run up against barriers of hatred and ignorance. No, we are not physically trapped inside a cave, but this moment in time is testing the hopes of so many of us. And yet, hope is what must hold onto if we are going to make it through and make change in the world.
Right now I am trying to practice the lessons I learned from those ordinary, extraordinary teenage boys. I am trying to breathe. I am reminding myself that even though there is so much I cannot control, I can control my own mindset. I can be a calm presence for my children and remind myself that they need me. I remind them that I need them, too.

[Read: 10 Adventure-Filled Middle Grade Reads]
When I see children during an author visit these days, it is always through a screen. It's not the same as gathering in person, but I am grateful that we can gather at all. It still feels good to be together. I smile for the students and tell them that they are very important. I tell them that just knowing they are there helps me feel more bright and hopeful, which is very much the truth!
And I tell them what the Wild Boars taught me: we are stronger than we think we are. And we are going to get through this—and whatever comes next—together.
Christina Soontornvat is a Thai American storyteller, engineer, and science educator. She is the author of a dozen books for children, including the "Diary of an Ice Princess" chapter book series and the middle grade novel A Wish in the Dark. For her forthcoming book All Thirteen: The Incredible Cave Rescue of the Thai Boys' Soccer Team, Christina traveled to Thailand to interview first responders and conduct research.