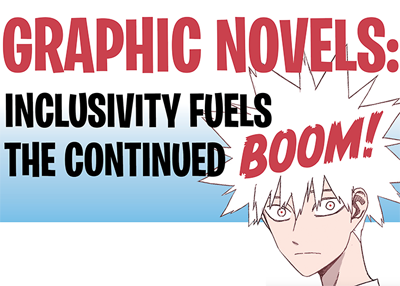 In 2023, graphic novels are no longer a new category but an established staple on library shelves. All signs point to the continued boom and increasing expansion of the format across all genres.
While this first volume is more setup than payoff, the suspense is undeniable, and readers of series like "Attack on Titan" will have a good time embracing this manga's eccentricities.
For collections where the series is already circulating, this transitional segment teases what might kick into higher gear next volume.
The sci-fi setting creates high stakes for this realistic story of a tween ready for adventure, navigating her relationships with separated parents. Highly recommended; give to fans of Molly Brooks's "Sanity & Tallulah."
Despite some hiccups, this is a nice choice for Spanish-language collections, especially those in need of graphic novels.
The book's path toward healing is an example of bibliotherapy for teens. An excellent choice for YA collections.
This heartfelt, must-read title belongs on all library shelves, as it beautifully accompanies Craft's first two graphic novels with these characters.
As an original superhero satire, this might have had some appeal, but for fans of these well-known characters, it lacks sufficient charisma, conceptual cohesion, or fresh commentary on the source material.
A fast-paced graphic novel about making friends in unlikely places and opening up your heart after experiencing grief.