Connecting with kids' interests and showing how math is woven into every aspect of the world around us is at the heart of the Mathical Book Prize, which recognizes math-inspiring kids' literature for Grades PreK-12.
Library staff at all levels within their organizations have the power—and the responsibility—to help cultivate an antiracist culture, from evaluating spaces, programs, services, and collections to examining policies and practices to reflecting on one's own implicit biases. Creating an internal culture founded on principles of equity, diversity, and inclusion is essential to building a community-centered library that meets the needs and expectations of its users.
Join us October 7 for the most anticipated librarian gathering of the fall 2021 publishing season—fully virtual and free to attend. Our daylong program of author panels, in-depth conversations, and keynote talks will keep you informed, inspired, and entertained, and provide insight into industry trends as you work to grow and diversify your collections.
Join Library Journal, School Library Journal, and school and public leaders from across the country for a three-week long virtual event on school district and public library partnerships.
For libraries to effectively meet their mission of serving the educational, informational, and entertainment needs of their communities, their collections must be diverse and inclusive, offering windows into and mirrors of the vast array of perspectives and stories that make up our world.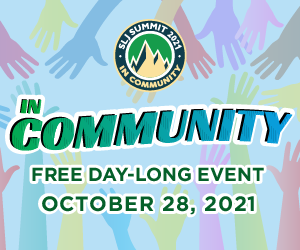 Join us Thursday, October 28 for SLJ Summit: In Community. Beyond geography, community can mean a lot of things. We all work and live in the context of community, and the fact of our interdependence—how all aspects of our lives, our very fates, rely on how we function together—has never been made more apparent than in our shared experience of the pandemic.
SLJ's School Librarian of the Year (2020) Cicely Lewis founded Read Woke, a movement and call to action to give voice to the disenfranchised in education and literacy.