Presented by: School Library Journal
Event Date: Thursday, February 18, 2021
It's Spring Graphic Novel time! Join publishing insiders from Diamond Book Distributors, Image Comics, and Yen Press to learn about the hottest new graphic novels that you've got to have on your shelves this spring! From spectacular comics that weave otherworldly tales exploring identity through contemporary poetry, to sci-fi conspiracy thrillers, to epic manga/fantasy, this webcast will showcase the latest new titles that you and your readers will not want to miss! Check out a few of the featured titles:
Embodied: An Intersectional Feminist Comics Poetry Anthology
Mystical, rooted, painful, joyous, and ecstatic; visions of the body, our genders, and our very identities from across the spectrum of contemporary poetry come together in this monumental intersectional feminist anthology where verse and comics unite in spectacular new ways.
The Department of Truth, Vol. 1: The End of the World TP
Cole Turner has studied conspiracy theories all his life, but he isn't prepared for what happens when he discovers that all of them are true, from the JFK Assassination to Flat Earth Theory and Reptilian Shapeshifters. One organization has been covering them up for generations. What is the deep, dark secret behind the Department of Truth? Bestselling writer JAMES TYNION IV (Batman, Something is Killing the Children) debuts his first Image ONGOING SERIES alongside breakout artist MARTIN SIMMONDS (Dying is Easy)!
Solo Leveling, Vol. 1
The official English print publication of the popular Korean webcomic! E-class hunter Jinwoo Sung is the weakest of them all. Looked down on by everyone, he has no money, no abilities to speak of, and no other job prospects. So when his party finds a hidden dungeon, he's determined to use this chance to change his life for the better...but the opportunity he finds is a bit different from what he had in mind!
Presenters:
Emily Botica, Director of Publisher Relations and Trade Marketing, Diamond Book Distributors
Chloe Ramos, Book Market & Library Sales Manager, Image Comics
Mark de Vera, Sales and Marketing Director, Yen Press
Morgana Santilli, Sales and Marketing Assistant, Yen Press
SPONSORED BY: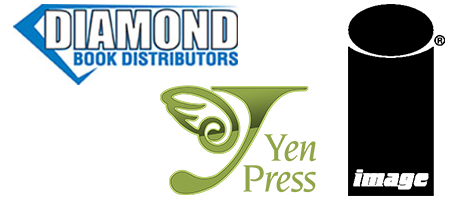 Follow us on Twitter! @SLJournal #SpringGraphicNovels
Need help getting registered? Send us an email describing your problem.