Presented by: School Library Journal
Event Date: Tuesday, March 23, 2021
Come see what's buzzing this spring with publishers Houghton Mifflin Harcourt, Inkyard Press, Page Street Kids, and Yen Press! In this webcast, School Library Journal brings you an exciting first look at all the latest and greatest titles from your favorite YA authors, as well as some stellar debuts that you will not want to miss. Here are just a few of the titles that will be featured:
The Prison Healer - The Trial by Ordeal should be the end. For Kiva, it's just the beginning. From bestselling author Lynette Noni comes a dark, thrilling YA fantasy that Sarah J. Maas calls "a must-read for any fantasy lover."
Counting Down With You - In this sparkling and romantic YA debut, a reserved Bangladeshi American teenager has 28 days to make the biggest decision of her life after agreeing to fake date her school's resident bad boy.
Hani and Ishu's Guide to Fake Dating - A heart-warming rom-com that takes on the popular fake dating trope and offers a nuanced perspective on the intersection of race and sexuality from the author of The Henna Wars.
Solo Leveling, Vol. 1 - The official English print publication of the popular Korean webcomic! E-class hunter Jinwoo Sung is the weakest of them all. Looked down on by everyone, he has no money, no abilities to speak of, and no other job prospects. So when his party finds a hidden dungeon, he's determined to use this chance to change his life for the better...but the opportunity he finds is a bit different from what he had in mind!
PRESENTERS:
Taylor McBroom - Marketing Specialist, School & Library, Houghton Mifflin Harcourt
Linette Kim - Library Marketing Manager, Inkyard Press
Lizzy Mason, Director of Marketing and Publicity, Page Street Kids
Mark de Vera - Sales & Marketing Director, Yen Press
SPONSORED BY: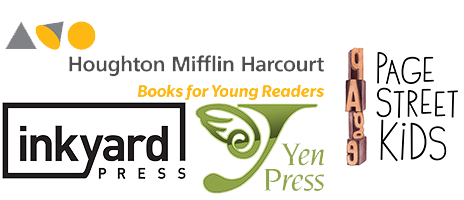 Follow us on Twitter! @SLJournal #SLJTeenBookBuzz
Need help getting registered? Send us an email describing your problem.