A week-long antiracist teach-in and more—whether you're still in the grip of summer or starting to think about back-to-school, take a look at our continuously updated calendar of events for your patrons, families, and you.
It's AUGUST, and if you're looking for things to do...
August 16 - 22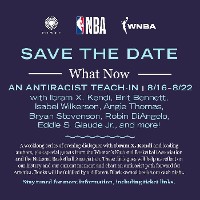 Dr. Ibrahim X. Kendi will be in conversations nightly with "one of America's leading authors and thought leaders, plus special guests from the well of activism within the WNBA and NBA."
PBS has reading projects broken down by age group. Click here for the full array of read-alongs available. Well-known TV personalities show off their read-aloud talents: Tim Gunn takes on Mary Had a Little Glam.
Time Out magazine's virtual programming includes a Dinosaur Dance Party and SummerStage events. And families don't have to live in New York to take advantage of what they have put together.
Charlesbridge is hosting Student Staycations with activities, downloads, videos, and more, arranged by age group:
August 3-8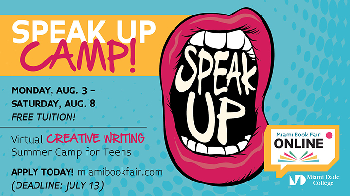 The Virtual Summer Writing Camp promises workshops, feedback, inspiration, and fun for teens 13 and up, sponsored by Miami Dade County's Bookfest.
Author-illustrator Grace Lin is teaching children to draw through a series of YouTube videos. There are six posted already.
Little, Brown Books for Young Readers has an expanding list of quizzes and activities on Instagram, from read-alouds and drawing lessons to funny posts.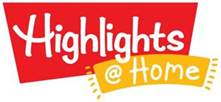 August 4 and 7: Get that Beach Vacation Feel – Inspired by National Sandcastle Day and National Lighthouse Day, August 7
August 11 and 14: Get Creative! – A boredom-buster packet for families who are tired of hearing "I'm bored!" as summer stretches on
August 18 and 21: Dig In! – A celebration of the August bounty of garden/farm-fresh veggies/fruit
August 25 and 28: Pet-a-Palooza – Celebrating National Dog Day (August 26) and activities paying homage to all pets.
Anyone interested may sign up to directly receive Highlights@Home at www.highlights.com/email-sign-up , and links to each collection and downloadable content will reside on www.highlights.com/parents .
Now through August 31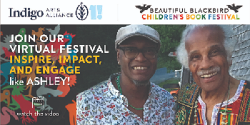 Now and throughout the summer, in honor of Ashley Bryan's 97th birthday, children can check out free activities at the Beautiful Blackbird Children's Book Festival. The organizers encourage everyone to check back weekly, and there are prompts for sharing the work of children, with permission, online and in video format.
Don't forget these other opportunities to attend virtual camp!
Holiday House Summer Camp offers weekly activities to keep children engaged this summer! There's even a place to keep track of all the summer reading kids are doing, and events with their favorite authors.
Welcome to CAMP SCBWI, a digital directory of summer camp activities for students grades PreK-12 and adventurous adults! Featuring activities created by our PAL members in the arts, nature, nutrition, sports, and theater, as well as weekly live-streams led by a prominent member of the Society of Children's Book Writers and Illustrators community, CAMP SCBWI is a virtual camp experience for students, caregivers, and educators.

Cam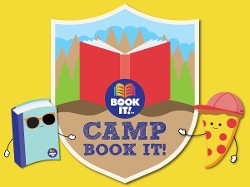 p Book IT! from corporate sponsor PizzaHut is offering virtual camp materials (June's activity book is still available, so don't worry about catching up) for parents and educators all summer long. Enrollment is open now, for outdoor fun as well as book recommendations and rewards for reading.
Now through August 27
Camp Candlewick, part of the publishing house's Stay at Home with Candlewick campaign, is a 12-week virtual camp with cabins sorted by age level. The downloadable suggested activities are intended to promote critical thinking, curriculum engagement, and reading. Judy Moody will be on hand, as will other stars from the Candlewick universe.
Camp Wonderopolis is a free online summer-learning destination with interactive STEM and literacy-building topics. The theme-based educational content is delivered via an online mix of videos and instructions.
Wide Open School is collection of online learning resources curated by Common Sense Media but sponsored by companies including Head Start, Scholastic, and Nat Geo, allows you to log in and choose content based on "Educator" or "Family."
Summer Read-a-Palooza gets a makeover—Scholastic has "reimagined" its free Scholastic program "to leverage a safe interactive digital community which aims to increase book access and ensure engaging experiences." Scholastic is also offering plenty of resources on its Scholastic Learn at Home page.
#PrideOnEveryPage with HarperCollins Children's Books.
2 p.m. ET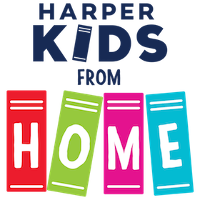 The HarperKids team offers daily storytimes and read-alouds, activities, and other fun content and entertainment. Includes appearances from favorite authors and illustrators, Harper employees, and special guests, posting suggestions for activities, and more. Follow HarperKids on Facebook, Instagram, and YouTube Kids.
WEEKLY
Monday, 12 p.m. ET
Michelle Obama Reading Series, where the former First Lady covers an array of children's classics.
Monday, 4:00 p.m. ET
At HarperStacks, noting that library programming and classroom learning are going to look very different for the near future, the publisher is posting videos and other resources for teachers, librarians, and parents to keep kids learning while keeping it fun! Follow HarperStacks on Facebook.
Tuesday and Thursday at 10:30 a.m. ET
Jason Reynolds continues to drop new video episodes of "Write. Right. Rite." First launched in April, episodes can be found at the Grab the Mic resource guide. Reynolds addresses young people directly and provides helpful ways to express creativity through various prompts and activities. Viewers are encouraged to share their projects on social media using the hashtags (#WriteRightRite and #tellyourstorywithjason).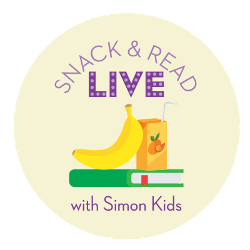 Tuesday, Wednesday, & Thursday
2 p.m. ET
Snack & Read Live with Simon Kids offers live read-alouds and activities around bestselling and award-winning books. Also, Read & Learn with Simon Kids, on YouTube, is a new video initiative full of story times, sing-alongs, writing prompts, and other activity videos with Simon & Schuster authors.
Friday
IDav Pilkey's drawing projects from home. Each new episode drops in a setting where "Draw it! Construct it! Act it out!" are the watchwords.There are appearances by favorite characters from Dog Man and Captain Underpants plus new activities, videos, and more.
Sunday
Caldecott and Coretta Scott King Honoree Christian Robinson offers a creative escape for kids/families at home during the coronavirus pandemic via a new book, You Matter , and newly released video series, "Making Space." Each episode featuring a special theme (gratitude, friendship, perseverance, caregivers), an art activity, and sometimes a special guest.
VARIOUS DAYS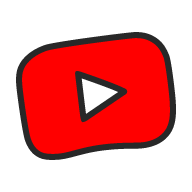 Antoinette Portis is the most recent participant in YouTube's StoryMakers show, discussing her new book. The channel features many other children's book creators, including Paul O. Zelinsky and Aaron Becker.
American Public Media launched a storytelling podcast series, Julie's Library, starring Julie Andrews and her daughter Emma Watson Hamilton. Episodes will be released weekly for the first six weeks, with more becoming available later in the year.
Harry Potter Reads Harry Potter: Daniel Radcliffe's read-aloud of the first chapter of J.K. Rowling's Harry Potter and the Sorcerer's Stone kicked off Wizarding World's latest Harry Potter at Home lockdown, and all chapters are still online.
#SketchSchool from First Second publishers is a series of drawing lessons online, taught by familiar graphic novelists such as The InvestiGators' John Patrick Green. Viewers can draw along and learn some new skills, or just enjoy the show.