Just Dropped | Just in Time for AAPI Heritage Month
Explore books for adults, kids, and teens that spotlight a range of experiences within Asian American and Pacific Islander communities. A new booklist from the New York Public Library features all the hottest authors and stories kids won't want to miss!
Story times, virtual book clubs, and family activities are all part of the line up. Click here, and follow the links to register for updates.
NYPL
May Afterschool Activities
Find STEAM activities, book talks, and tips for staying focused while learning remotely. This week, use the first line of your favorite story to create a new one of your own, make a thaumatrope optical illusion, and find out how to use BookFlix with your library card! Plus, download new NYPL activity packs for May.
Free live streams at the Met
Each stream becomes available at 7:30 p.m. ET and remains accessible for on-demand viewing until 6:30 p.m. ET the following day:
Thursday, April 29
Massenet's Manon
Starring Lisette Oropesa, Michael Fabiano, Artur Ruciński, and Kwangchul Youn, conducted by Maurizio Benini. Production by Laurent Pelly. From October 26, 2019.
Friday, April 30
Verdi's La Traviata
Starring Ileana Cotrubas, Plácido Domingo, and Cornell MacNeil, conducted by James Levine. Production by Colin Graham. From March 28, 1981.
Saturday, May 1
Cilea's Adriana Lecouvreur
Starring Anna Netrebko, Anita Rachvelishvili, Piotr Beczała, and Ambrogio Maestri, conducted by Gianandrea Noseda. Production by Sir David McVicar. From January 12, 2019.
Sunday May 2
Puccini's La Rondine
Starring Angela Gheorghiu, Lisette Oropesa, Roberto Alagna, Marius Brenciu, and Samuel Ramey, conducted by Marco Armiliato. Production by Nicolas Joël. From January 10, 2009.
Monday, May 3
Strauss's Elektra
Starring Nina Stemme, Adrianne Pieczonka, Waltraud Meier, and Eric Owens, conducted by Esa-Pekka Salonen. Production by Patrice Chéreau. From April 30, 2016.
Tuesday, May 4
Handel's Rodelinda
Starring Renée Fleming, Stephanie Blythe, Andreas Scholl, Joseph Kaiser, and Shenyang, conducted by Harry Bicket. Production by Stephen Wadsworth. From December 3, 2011.
Wednesday, May 5
Thomas's Hamlet
Starring Marlis Petersen, Jennifer Larmore, Simon Keenlyside, and James Morris, conducted by Louis Langrée. Production by Patrice Caurier & Moshe Leiser. From March 27, 2010.
Thursday, May 6
Bellini's Norma
Starring Sondra Radvanovsky, Joyce DiDonato, Joseph Calleja, and Matthew Rose, conducted by Carlo Rizzi. Production by Sir David McVicar. From October 7, 2017.
Friday, May 7
Berg's Wozzeck
Starring Elza van den Heever, Tamara Mumford, Christopher Ventris, Gerhard Siegel, Andrew Staples, Peter Mattei, and Christian Van Horn, conducted by Yannick Nézet-Séguin. Production by William Kentridge. From January 11, 2020.
Saturday, May 8
Puccini's Madama Butterfly
Starring Patricia Racette, Maria Zifchak, Marcello Giordani, and Dwayne Croft, conducted by Patrick Summers. Production by Anthony Minghella. From March 7, 2009.
Sunday, May 9
Handel's Agrippina
Starring Brenda Rae, Joyce DiDonato, Kate Lindsey, Iestyn Davies, Duncan Rock, and Matthew Rose, conducted by Harry Bicket. Production by Sir David McVicar. From February 29, 2020.
Monday, May 10
Puccini's La Bohème
Starring Teresa Stratas, Renata Scotto, José Carreras, Richard Stilwell, and James Morris, conducted by James Levine. Production by Franco Zeffirelli. From January 16, 1982.
Tuesday, May 11
Mozart's Don Giovanni
Starring Carol Vaness, Karita Mattila, Dawn Upshaw, Jerry Hadley, Samuel Ramey, Ferrucio Furlanetto, and Kurt Moll, conducted by James Levine. Production by Franco Zeffirelli. From April 5, 1990.
Wednesday, May 12
Wagner's Tristan und Isolde
Starring Jane Eaglen, Katarina Dalayman, Ben Heppner, Hans-Joachim Ketelsen, and René Pape, conducted by James Levine. Production by Dieter Dorn. From December 18, 1999.
Thursday, May 13
Strauss's Der Rosenkavalier
Starring Renée Fleming, Christine Schäfer, Susan Graham, Eric Cutler, Thomas Allen, and Kristinn Sigmundsson, conducted by Edo de Waart. Production by Nathaniel Merrill. From January 9, 2010.
Friday, May 14
The Audition
This feature-length documentary takes you behind the scenes of the Met's National Council Auditions, in which, each year, thousands of hopefuls compete for a cash prize, the chance to sing on the Met stage—and the opportunity to launch a major operatic career. Directed by Susan Froemke.
Saturday, May 15
Rossini's Il Barbiere di Siviglia
Starring Isabel Leonard, Lawrence Brownlee, Christopher Maltman, Maurizo Muraro, and Paata Burchuladze, conducted by Michele Mariotti. Production by Bartlett Sher. From November 22, 2014.
Sunday, May 16
Donizetti's Roberto Devereux
Starring Sondra Radvanovsky, Elīna Garanča, Matthew Polenzani, and Mariusz Kwiecień, conducted by Maurizio Benini. Production by Sir David McVicar. From April 16, 2016.
Don't forget!
The Louvre Museum in Paris has opened up almost its entire collection for free, online.

Ongoing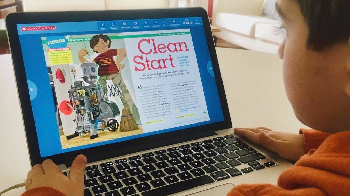 Learn at Home with Scholastic
Scholastic created Learn at Home, an online curriculum for students in grades Pre-K to 6—and made it free for all to use. A five-day program of lessons are posted every week one Mondays. There are texts to read, videos to watch, questions to answer and interactive activities. Why not reach out to other families who are also following Scholastc's Learn at Home, and let the kids video chat about the day's lessons? No registration is required, although you might need to sign up for a free trial of one of the book readers depending on the course.
Khan Academy
From one of the most comprehensive educational resources in the world, with free online courses that address essentially every topic a student could encounter from Pre-K to 12th grade. Choose from interactive math tutors to video lectures that make history come alive.
The Smithsonian
is offering free subscriptions to students through September 1, 2021. Share