Her first picture book, which was sold when she was still a student, earned her a Caldecott Honor. Now she's back with another brilliantly illustrated story.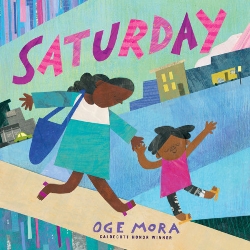 Fond memories of a grandmother's stew flavor Oge Mora's picture book, Thank You, Omu! (2018), a book sold when Mora was still a student at the Rhode Island School of Design. That title garnered the debut author/illustrator a 2019 Caldecott Honor. In Mora's second book, Saturday (Oct. 2019, both Little Brown), a mother and daughter head out for a highly anticipated day together, only to meet with a few disappointments; ultimately, the day ends on an upbeat note due to the resourceful and imaginative child. Like Omu, Saturday is imbued with warmth and is illustrated with brilliant collage images bursting with color and snippets of print.
Both of your books reflect the cadence of a natural storyteller. Were you a big reader as a child?
Why thank you! I definitely was a big reader as a kid. I lived right across from my local library and I probably spent more time there than I did at home. Reading, especially reading out loud, has always been a big thing in my life.
There is so much joy expressed in this book, and while it is not a message book, it does speak to the lessons we teach our children and those they teach us. Can you talk about that?
I think that mothers—and I imagine my own relationship with my mother when I say this— sometimes underestimate what they role model and give to us. Since Ava's mother is resilient, uplifting, and hardworking, Ava embodies those qualities. I wanted to explore the reciprocity of the mother and daughter bond. Because mothers are the adults, we imagine them in the teacher role, but in reality, children know a lot and teach, too.
While there are many scenes bursting with activity, in the scenes in which mother and daughter pause to collect themselves after various mishaps, the art zooms in on the two, adding a particularly poignant, but positive, dimension to the story.
Early on as my editor, art director, and I were hashing out this book, it was very important to us that the relationship between Ava and her mother remained at the forefront. I had a lot of fun drawing the different locations throughout the city, but I also wanted pages composed in a way that celebrates their bond.
You clearly love color, and the autumnal tones of Omu reflect the warmth of a home and a hot meal. Here you adopt a different color palette. How do you arrive at a book's palette? Is it intuitive or a matter trial and error?
Usually when I am brainstorming a book, a color here or there comes to mind. For Omu I was really obsessed with a yellow sky. For this book, I was excited to play with hot pink and electric blue. From there I assemble a mood board of artwork I want to be inspired by. I cut all of the artwork out and I glue it on a black foamcore board. Every artist has a color palette they are naturally drawn to. My mood board inspires me to try new things. I then make color studies of characters to try different colors (and collaged papers) out.
After my mood board/color study phase, I start making my backgrounds. That process is really trial and error. I completely paint over every background several times before I end up with the right hue. It can be nerve-wracking starting a new book, but I approach it less like a taxing burden and more like an intriguing mystery.
The emotion and movement you are able to express in your art through the tilt of a head or the shape of a shoulder is incredible. What's your process?
I am really particular about every expression down to the slight angle of every eyebrow. Picture book illustrators are kind of like movie directors in that way. If I am not buying the emotion my actors are bringing to the script, I retake or redraw it till it looks right.
For body expressions, [it's] is all about weight distribution. I actually get up from my desk and mimic my character's body movements so that I can be sure of how their hip would tilt and where their foot should be placed. I probably look very silly, but it helps!

Oge Mora introduces and shares some of the backstory about creating Saturday, courtesy of TeachingBooks.net.