Navigating new places and spaces, meeting teachers, and making friends—it's all part the school experience. Below you'll find a selection of 2019 picture books that can ease the way.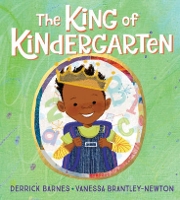 BARNES, Derrick. The King of Kindergarten. illus. by Vanessa Brantley-Newton. 32p. Penguin/Nancy Paulsen Bks. Jul. 2019. Tr $17.99. ISBN 9781524740740.
PreS-K–Joyful and empowering, this picture book celebrates the first day of kindergarten. A child wakes up on his first day of school with the knowledge that he is going to be the King of Kindergarten. On this special morning, everything takes on a royal shine, from brushing teeth to pulling on pants. Right after breakfast he's off for a ride on a "big yellow carriage" to school where he meets his fellow students with typical royal grace and charm. With the introduction of each part of this brand new day comes the assurance that nothing is too difficult for the King of Kindergarten. The vibrant and cheerful hand-drawn and digital illustrations feature a diverse classroom of children all helping one another. The text leads readers through a typical first day of school with lots of emphasis on being a kind and brave classmate and ruler. The young protagonist is backlit by a crown of a rising sun on several spreads; on others his imagined crown is seen reflected in windows or in chalk outlines on the ground. This marvelous story will give each reader an opportunity to see themselves as "the charming, the wonderful, and the kind King of Kindergarten." VERDICT Perfect for storytime or one-on-one readings, this book is an absolute first purchase.–Laken Hottle, Providence Community Library, RI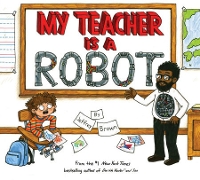 BROWN, Jeffrey. My Teacher is a Robot. illus. by Jeffrey Brown. 40p. Crown. Jun. 2019. Tr $17.99. ISBN 9780553534511.
K-Gr 2–Fred thinks school is boring and is convinced that his teacher Mr. Bailey is a robot. As the school day starts, Fred is already unhappy until he spots a spider during math. He suddenly envisions a giant spider taking over the class. Fred's class ventures outside for recess but the rain cuts their playtime short. Fred thinks its because Mr. Bailey will short circuit. During history class, Fred is excited because he wants to learn about dinosaurs. He finds they are learning about Japan and decides not to participate. After lunch, Mr. Bailey says he's going to test them. Fred interrupts him saying he thinks Mr. Bailey is going to assign numbers to his classmates so he can keep track of them when he turns them into robots. Mr. Bailey is really just testing their writing skills and Fred is finally happy they get to write about what they want. When his dad comes to pick him up, he asks Fred about his school day and he says it was boring. Readers can see he is really smiling, thinking about the story he created. This picture book is sure to be a hit because of the large, colorful illustrations. The characters look modern, and Fred's futuristic vision of the classroom is fun to contemplate. VERDICT This is a great pick for a read-aloud to first and second graders who will understand the concept of not wanting to go to school but enjoying it anyway.–Amy Lukich, Tinley Park Public Library, IL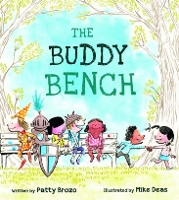 BROZO, Patty. The Buddy Bench. illus. by Mike Deas. 36p. Tilbury House. Aug. 2019. Tr $17.95. ISBN 9780884486978.
PreS-Gr 2–This story shows a variety of children at recess who choose to stay on the sidelines until another child asks them to join the group. Gabe holds back because his leg is in a cast, Emma is self-conscious about her clothes, Sloan is shy, Cooper stutters, Lilly isn't good at games, Jerome feels small and unaccepted, and Will is new\. Jake invites a child no one notices to play; this causes a ripple effect. This child invites another child on the outside of the group to join in. Lively and colorful cartoon illustrations work well with the text and encourage imagination and also help lighten the mood. After recess, the children approach the Buddy Bench in order to wordlessly express wanting to play when feeling sad, shy, or proud and not knowing how to join in. Two pages at the back of the book describe the history behind the Buddy Bench, suggestions for starting a Buddy Bench, and list resources for more information. VERDICT This is a must-have addition to school and public libraries. It promotes kindness and inclusion in a way that will appeal to children and can be used by teachers to promote emotional intelligence in their classes.–Robin Sofge, Prince William Public Library System, VA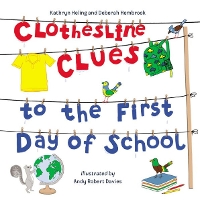 HELING, Kathryn & Deborah Hembrook. Clothesline Clues to the First Day of School. illus. by Andy Robert Davies. 40p. Charlesbridge. Jun. 2019. Tr $14.99. ISBN 9781580898249; pap. $7.99. ISBN 9781580895798.
PreS-Gr 1–What friendly faces will be encountered on a child's first day of school? Look at the clotheslines to find out! As the title indicates, clothing and accessories hang from clotheslines throughout this book. Readers are given pages of textual and visual clues alternating with the reveal of the character described in their expected environment. For example, "Raincoat and warm gloves,/a hat and stop sign, too./Safety vest and badge./Who wants to meet you?/Your crossing guard!" Other clothesline clues reveal a teacher, cafeteria worker, custodian, gym teacher, art teacher, and new friends. The predictability and welcoming nature of each segment will help young children find comfort in the story as they are faced with the potentially nerve-wracking introduction to school. A variety of children and adults are depicted in the images, adding inclusivity and connectedness to the story that is not directly stated by the text. Every illustration gives readers the opportunity to name recognizable objects and places, enhancing the readability of this book. VERDICT Whether readers are entering school for the first time or are old pros, all will enjoy the guessing game and overall message of this lovely story.–Mary Lanni, formerly of Denver Public Library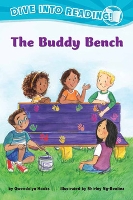 HOOKS, Gwendolyn. The Buddy Bench. illus. by Shirley Ng-Benitez. 32p. illus. Lee & Low. Jun. 2019. Tr $14.95. ISBN 9781620145715.
K-Gr 2–A delightful story about a group of children who create a buddy bench where children can meet and make new friends. Padma is excited to start school. She is the first of her friends to get to the school yard. Padma is a charismatic and friendly child and makes friends easily. She notices a boy all alone during recess. Padma then gets an idea to create a buddy bench where new children can sit and make friends with the rest of the kids. This beginning reader is broken into short chapters. This novelty is great for children who are learning the concepts of transitioning from one story line to the other. There are three to four sentences on each page, which is just enough for kids getting familiar with reading on their own. VERDICT This story teaches children how to be a friend, especially to someone who needs a friend. A great addition for school and public libraries.–Annmarie Braithwaite, New York Public Library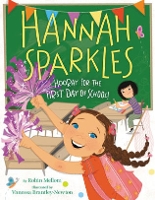 MELLOM, Robin. Hannah Sparkles: Hooray for the First Day of School! illus. by Vanessa Brantley-Newton. 32p. HarperCollins/Harper. Jun. 2019. Tr $17.99. ISBN 9780062322340.
PreS-Gr 1–Hannah Sparkles and her best friend, Sunny Everbright, are about to begin first grade. Though Hannah prides herself on being "the type of girl who can make friends with anybody," she encounters unexpected difficulty in connecting with her new classmates. The other students aren't interested in glitter pens, butterfly nets, or cheers, but with a little help from her pal Sunny, and their classroom's "refill station," Hannah learns that being a good friend means watching and listening and allowing her soon-to-be friends to take the lead. Hannah Sparkles is perpetually optimistic, energetic, and unwaveringly girly. The illustrations are brightly colored and dynamic to match. The illustrations are created with a combination of hand sketching and digital art. The human characters are depicted with a variety of expressive features, which provide readers with a good indication of how Hannah's classmates feel about her exuberant behavior. VERDICT The theme of friendship and first-day jitters will surely resonate with new students. The story introduces mindfulness as a tool even for young students and is told using primarily short sentences, suitable for reading aloud to young children or independent reading for early elementary students.–Kelly Topita, Anne Arundel County Public Library, MD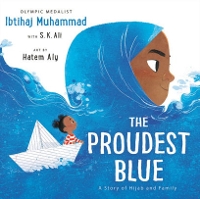 MUHAMMAD, Ibtihaj with S.K. Ali. The Proudest Blue: A Story of Hijab and Family. illus. by Hatem Aly. 40p. Little, Brown. Sept. 2019. Tr $17.99. ISBN 9780316519007.
K-Gr 4–Faizah is excited for her first day of school but even more excited for her older sister, Asiya. Asiya is starting sixth grade with her brand-new blue hijab. As Faizah walks to the school in her new light-up shoes and backpack, she admires her sister who looks like a princess in her blue head scarf. At school, some students celebrate with her, some are ambivalent, and some faceless, nameless characters taunt her. Their mother has prepared the girls with wise words. When the kids in the school bully Asiya, she remembers her mother's advice to not carry hurtful words as "they are not yours to keep. They belong only to those who said them." The illustration and the colors are just as powerful as words conveying the passionate message of how to be proud of one's culture, individuality, and religion and how to stay strong and keep one's faith. This is an empowering book for young readers who can see themselves in Asiya or know someone like her. The touching and celebratory illustrations complement the quiet strength of Asiya as she steps into a beautiful and celebrated coming-of-age rite. VERDICT This excellent story about identity, visibility, and confidence, touches on rites of passage, bonds between sisters, and bullying and is unapologetic in tackling misconceptions and demanding equality.–Noureen Qadir-Jafar, Syosset Library, NY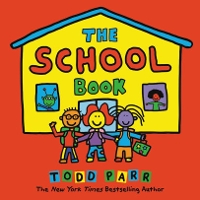 PARR, Todd. The School Book. illus. by Todd Parr. 32p. Little, Brown. Jul. 2019. Tr $17.99. ISBN 9780316423809; ebk. ISBN 9780316534178.
PreS-K–Parr's signature bright, bold illustrations introduce an exciting day at school. Kids—and some creatures—with different skin colors including green, purple, and blue, go to school on foot, by bike, skateboard, bus, car, and flying saucer. They participate in myriad activities, including eating snacks, napping, visiting the library, painting, sharing stories, and exercising. The small children with round heads and smiley faces stand with arms open wide indicating their joy and inviting readers into their sunny world. Little details fill each page creating scenes that will jump-start discussions: The "We share our things" page reveals a show and tell session in which a skunk shows his frog and worm to the class while a girl waits her turn to talk about her robot which hovers nearby. VERDICT Each page offers one short, concise sentence creating a story geared for preschoolers and kindergartners and works well as a beginning reader. The energetic artwork and nonstop fun activities will have youngsters eager to go to school.–Maryann H. Owen, Oak Creek Public Library WI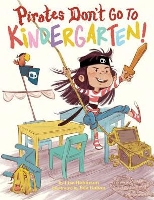 ROBINSON, Lisa. Pirates Don't Go to Kindergarten! illus. by Eda Kaban. 32p. illus. Amazon/Two Lions. Aug. 2019. Tr $17.99. ISBN 9781542092753.
PreS-Gr 1–Entering a new grade can be hard. Emma does not want to leave her pirate-themed preschool class to attend space-themed kindergarten. She does not want to abandon her beloved pirate Cap'n Chu for spaceship Cap'n Hayes. Her teachers work together to lure Emma into kindergarten—fun space theme, good kids and great activities, a guinea pig, a reading nook—but again and again Emma "swims back" to her pirate ship. She even rallies the new pirates into a mutiny, which peters out when naptime begins. In the end Emma is reassured that she can visit Ms. Chu who will of course miss Emma, too. Finally, a confident Space Pirate Emma joins the spaceship crew because as it turns out, "Pirates do go to kindergarten!" Using a mixture of fantasy (Emma literally swims back to preschool) and reality (Emma and Ms. Chu hugging goodbye), Kaban's illustrations perfectly capture Emma's defiance, sadness, and acceptance with sincerity and humor. Robinson's fun-to-read text is chock-full of pirate lingo and heart. This dynamic text uses various fonts, locations, and colors to mesh with the illustrations. Warning: The super cool pirate and space-themed classrooms may make both children and adults wish they could attend this school. VERDICT A fun and raucous ride with great pirate lingo that reminds readers that change isn't bad, but it can be challenging.–Catherine Callegari, Gay-Kimball Library, Troy, NH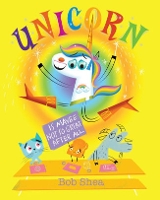 SHEA, Bob. Unicorn Is Maybe Not So Great After All. illus. by Bob Shea. 40p. Disney/Hyperion. Jul. 2019. Tr $17.99. ISBN 9781368009447.
PreS-Gr 1–Unicorn is ready to start school with his friend Goat, but becomes upset when he is not the center of attention. In an attempt to win back favor, Unicorn dons a new fancy look, covers everyone in glitter, and throws flaming birthday cakes into a crowded soccer game. He is told to go home, leaving Unicorn to doubt himself and his friendships. Shea never fails to deliver and the follow-up to Unicorn Thinks He's Pretty Great does not disappoint. Unicorn and Goat's classmates include some familiar Shea characters, including Dinosaur and Ballet Cat, along with a humorous ice cream cone and piece of toast. Much like Unicorn, the illustrations dazzle and excite, and the text is hilarious and packed with rich vocabulary for young readers. Text and images in the margins and background are equally as engaging and funny, inviting readers to revisit the pages again and again for small details one might have missed. While Unicorn is home and depressed following his failed attempts at gaining positive attention, the pages take on a darker tone. His eyes become bloodshot and he wears a bathrobe, another example of subtle details that are among Shea's strengths. Eventually, the pages return to a cheerful palette of pastels and sparkles once readers reach the happy ending complete with a valuable lesson about friendship. VERDICT A sensational choice for any collection and a welcome addition for Shea's many fans.–Kaitlin ­Malixi, Kensington Health Sciences Academy, Philadelphia
SILVESTRO, Annie. Butterflies on the First Day of School. illus. by Dream Chen. 32p. Sterling. May 2019. Tr $16.95. ISBN 9781454921196.
PreS-Gr 2–What happens to all those butterflies in your stomach? Rosie is excited and ready for her first day of school. She picked out her backpack over a month ago, decorated it herself, and even practiced raising her hand at home. However, the night before the first day, she cannot sleep. The next morning her belly hurts and she cannot even eat her breakfast. Her mother reassures her, "You just have butterflies in your belly" and hugs her tight. Once on the bus, she quickly makes a new friend, and a butterfly flies out while she's talking. Her new friend doesn't seem to notice, and as they continue to talk, more butterflies flutter out. Throughout the day, the butterflies, unnoticed by everyone else, fly out of her mouth. Rosie's belly begins to feel much better. At recess, she even helps a fellow student get a butterfly out of her belly by saying hello. Rosie's mom has a butterfly of her own fly out once she realizes that Rosie had a great first day. The mixed-media illustrations match the text well, and the bright colors fit the story's theme well. VERDICT A first purchase for back-to-school shelves that will reassure both students and caregivers.–Brooke Newberry, Winding Rivers Library System, West Salem, WI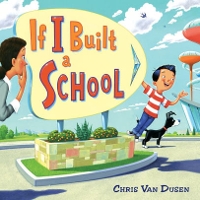 VAN DUSEN, Chris. If I Built a School. illus. by Chris Van Dusen. 32p. Dial. Aug. 2019. Tr $17.99. ISBN 9780525552918.
K-Gr 3–School would be infinitely more fun if it were designed by a kid. One day on the playground, a young boy tells his teacher his vision of a perfect school. In it, there are zooming pods to transport students from class to class, classrooms that open up to the sky, and a robo-chef who will make anything requested of it. While there are elements that support traditional learning, most features of this ideal school emphasize fun. Told in excellently structured rhyming couplets, this story has a Seussian feel, although the vocabulary is much more varied and advanced. Though there is a sizable amount of text on each page, its design keeps the flow of the book moving at a comfortable pace. The illustrations have a modern, digital feel, incorporating exaggerated rosy cheeks on the main characters. Bright colors make the pages visually appealing, and the detail invites readers to scrutinize each image. Reluctant readers will be especially intrigued by this book, as it is engaging on a variety of levels. Additionally, the vivid imagination of the main character will inspire readers to create utopian schools of their own. VERDICT This book is an auditory treat to share with early elementary aged readers in a read-aloud setting.–Mary Lanni, formerly of Denver Public Library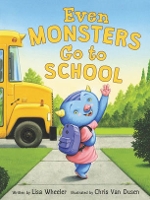 WHEELER, Lisa. Even Monsters Go to School. illus. by Chris Van Dusen. 32p. HarperCollins/Balzer + Bray. Jun. 2019. Tr $17.99. ISBN 9780062366429.
PreS-Gr 1–On the first day of school, the little blue, furry monster child from Even Monsters Go to Sleep, trudges downstairs to breakfast. Dad regales his reluctant pupil with exuberant descriptions of how other monsters are enjoying their big day: Bigfoot hops onto a yellow bus and gives a thumbs up from the back window; Frankenstein's brand-new jacket and cool, platform, metal-studded sneakers garner admiring glances from his classmates; and tousled-haired Troll has a ball at recess, playing tag with billy goats. Each fun-filled scene is relayed in jaunty, rhyming verse with a repeated concluding line that names the individual monster showcased and delivers the message that "Even ["Yeti", "Nessie", "giants" etc.] go to school." Van Dusen's colorful, gouache illustrations are packed with comical details, like three-eyed aliens who "go gaga over school supplies" and chow down on crayons and massage glue onto their noggins. By the time breakfast is eaten and fangs are brushed, the formerly hesitant child eagerly embraces "the rule … All little monsters go to school." VERDICT A witty and encouraging pep talk to ease back-to-school jitters.–Linda Ludke, London Public Library, Ont.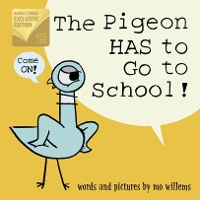 Willems, Mo. The Pigeon HAS to Go to School! illus. by Mo Willems. 40p. Disney/Hyperion. Jul. 2019. Tr $16.99. ISBN 9781368046459.
PreS-Gr 2–Willems's famed feathered protagonist faces the inevitable with a winning mix of chuckle-inducing bravado, honest emotion, and a child-grabbing point of view. The pigeon is not happy about the prospect of launching his educational career, flapping his wings in desperation as the book begins ("WAIT! Don't read that title!") and spouting a series of fervent objections that range from the familiar to the delightfully absurd: "Why do I have to go to school?" "I already know EVERYTHING!" "Does 'school' start in the morning? Because you know what I'm like in the morning! It is NOT pretty." "What if the teacher doesn't like pigeons?" "WHAT IF I LEARN TOO MUCH!?! My head might pop off." Utilizing muted monochromatic backdrops, the pages are dominated by the vividly drawn character, and his dramatic body language and ever-expressive single eye accentuate each and every comic beat. When the pigeon finally gets to the heart of the matter and reveals his true feelings ("I'm…scared"), he is drawn much smaller, with thinner lines and tighter body posture. Never fear, this lovable character works his way through his emotions (raising questions that parents can discuss with their own soon-to-be-students) and finishes on an upbeat note—total jubilation at his means of transportation: a school bus! ­VERDICT Deftly balancing genuine concerns with humor and buoyant reassurance, this irresistible offering starring a fan favorite is sure to become a first-day-of-school classic.–Joy Fleishhacker, Pikes Peak Library District, Colorado Springs