Carter G. Woodson, known as the "Father of Black History," created the Association for the Study of Negro Life and History in 1915. Eleven years later, Woodson chose February 7th to start the first "Negro History Week" to commemorate the birthdays of Frederick Douglass, February 14, and President Abraham Lincoln, February 12.
But it would take another 50 years—until 1976—before President Gerald Ford officially recognized Black History Month, urging Americans to "honor the too-often neglected accomplishments of Black Americans in every area of endeavor throughout our history."
The publishers featured here are celebrating Black history by highlighting not just the achievements of iconic Black leaders; they are delving into little-known historical events and unveiling individuals who were pioneers in the fight for freedom and civil rights. For example, a new title from Algonquin Young Readers features teenager Barbara Rose Johns, who led a 1951 student protest for educational equality. And Read Woke Books, a social justice brand, has produced a book about Miss Mary Hamilton, a Civil Rights activist whose fight for respect brought change to courts across the country.
These inspiring and revelatory books are just two of the many titles that are spotlighted in this feature. Librarians seeking to create inclusive, diverse, and representative library collections have a wealth from which to choose. Read on to discover more publishers and titles that are elevating Black voices and honoring key moments in Black history.

Fatherless Fathers
Author and CEO of POWEM Publishers Moses D. Powe has almost twenty years of experience working as a licensed professional clinical counselor. He started the Fatherless Fathers imprint to publish books about the importance of fathers being present in family life. "I thought about how my own father's absence motivated me to be present for my son," says Powe.
Inspired by his son's first birthday party, Powe wrote The One Book, October 2020, ISBN 9781735180311, for readers up to age five.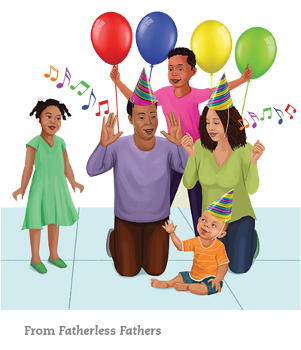 This picture book shows the fun things that happen at a party like singing, eating cake, and getting toys from Dad. "We show Mom and Dad preparing for the party together," explains Powe. "That is something I did not have growing up—and something I have created with my own family."
Powe's son takes centerstage in Sean Moses Is Martin Luther, The King Jr., written by Powe and illustrated by Angelina Valieva, June 2021, ISBN 9781735180335. Readers ages 8–12 will see Sean Moses talk to his parents about portraying Martin Luther King, Jr. in his school production for Black History Month. Sean also imagines himself playing iconic figures like Malcolm X, Marcus Garvey, and Barack Obama. Kids will be entertained by Sean's antics while learning about important Black leaders.
"My creativity flows when I think about my son," says Powe. "He really did contribute to the story. I get his feedback when the proofs come back to get that kid's perspective."

Lerner Publishing Group
Lerner Publishing Group has been a leading children's book publisher for over 60 years. Offering fiction and nonfiction books for grades K–12, Lerner currently has more than 5,000 titles in print. "We have a long history of featuring Black history topics," says schools and libraries marketing director Lois Wallentine. "We want students to see themselves in their library books."
Under the Read Woke Books brand, Lerner will soon release a six-book series for readers ages 9–13 titled "American Slavery and the Fight for Freedom." Created in partnership with Read Woke founder librarian Cicely Lewis, this examination of American slavery features on-page QR codes that link readers to recorded interviews with formerly enslaved people. By giving voice to the silenced, these books tell true stories of resistance to inspire readers to challenge social norms.
This series includes Resistance to Slavery: From Escape to Everyday Rebellion by Cicely Lewis, January 2022, ISBN 9781728439068, which features uprisings like Gabriel's Rebellion, organized by a literate enslaved blacksmith in Virginia in 1800. Students can also learn about post–Civil War justice movements in Slavery and Reconstruction: The Struggle for Black Civil Rights by Elliot Smith, January 2022, ISBN 9781728439105.
"A lot of Black history is about oppression and enslavement, yet people have fought back for a really long time," says Wallentine. "This series gives more voice to resistance efforts and the Black people who acted to change the system."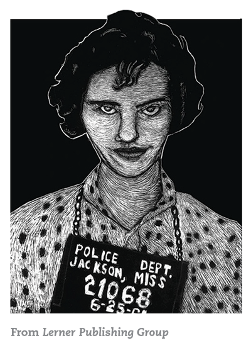 Minneapolis-based law professor Artika Tyner celebrates the poet who recited "The Hill We Climb" at President Biden's inauguration in Amanda Gorman: Inspiring Hope with Poetry by Dr. Artika Tyner, January 2022, ISBN 9781728448756. From the "Gateways Biographies" series, this book for readers 9–14 describes Gorman's early life, poetry collections, rise to fame, and future plans.
For children ages 7–11, Call Me Miss Hamilton: One Woman's Case for Equality and Respect by Carole Boston Weatherford, illustrated by Jeffrey Boston Weatherford, February 2022, ISBN 9781541560406, spotlights the civil rights activist who insisted that an Alabama judge address her in the same respectful terms used for white people. In 1964, Miss Mary Hamilton brought change to courtrooms nationwide when she won her case in the U. S. Supreme Court.

Visible Ink Press
Founded in 1989 as an imprint of Gale, Visible Ink Press publishes entertaining reference "mega-works" on subjects including science, America's Indigenous peoples, and Black history. Independent since 2000, Visible Ink Press has retained its focus on educational publishing for public, academic, and school libraries.
"We produce fact-filled nonfiction books that dig much deeper than a web page," says publisher Roger Jänecke. "Since the 1990's, we've gotten love letters from people passionate about our Black history titles. We like to publish books that will work both as a reference book or to read cover to cover at home."
Originals! Black Women Breaking Barriers by Jessie Carney Smith, February 2022, ISBN 9781578597598, features groundbreaking historical figures like Rosa Parks, Kamala Harris, Michelle Obama, and Gwendolyn Brooks, the first Black American awarded the Pulitzer Prize for poetry. Readers will also discover that the author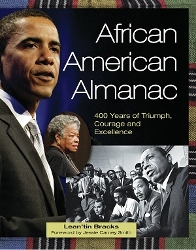 is the first Black national president of Beta Phi Mu, the library and information science honor society. This volume, for strong middle school readers and above, focuses on each woman's inspiring accomplishments and includes an extensive bibliography for further reading.
One of Visible Ink Press's best-selling back list titles is the African American Almanac: 400 Years of Triumph, Courage and Excellence by Lean'tin Bracks, November 2011, ISBN 9781578593231. This invaluable tome includes over 750 historical figures, essays on the civil rights movement, Black music, and literature, plus 445 photographs and illustrations. "This is probably the most comprehensive, most affordable, one-volume reference on Black history available anywhere," notes Jänecke. "Middle and high school librarians should all have a copy of it on their reference desks."

Swank Motion Pictures, Inc.
Swank Motion Pictures' film streaming platform, Swank K-12 Streaming, offers exclusive access to a comprehensive library of 30,000 films. Featuring movies, documentaries, and foreign films from the largest studios in the world, including Disney, Warner Bros., Sony, Paramount, and Universal, the platform is specifically available to K–12 schools for instructional support.
Swank K-12 Streaming overcomes common obstacles to movie use in schools, such as lack of DVD players and devices in classrooms and districts blocking access to personal streaming accounts in schools. Teachers can quickly and easily use the streaming platform to show movies in class to spark discussion or to assign movies to students to view on their own time through any Learning Management System, including Google Classroom, Schoology, Blackboard, etc.
"We were finally able to extend our educational offering to K–12 schools in 2018," says Brian Edwards, director of educational streaming at Swank. "From our film library, we curate the most commonly used films in the classroom, while allowing educators the ability to customize their school or district libraries throughout the year to meet their specific needs."
Swank's library includes an extensive collection of films used in support of Black History studies, such as Amistad, Glory, Malcolm X, Selma, and Remember the Titans. "Enabling teachers to help students visualize history provides such important context for the learning process," says Edwards. "Using a film like Just Mercy—a 2019 biographical legal drama starring Michael B. Jordan—to examine the racial and cultural divide in the courts gives students a new perspective on the U.S. justice system." Selma, a film based on Martin Luther King's walk from Selma to Montgomery, AL to secure voting rights for Black Americans, was deemed by a recent study to be 100 percent historically accurate.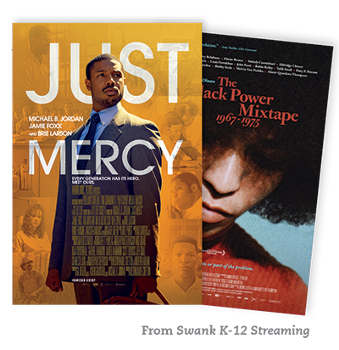 "I'm often amazed at the creativity I see in how teachers utilize the films to bring these stories to life and engage their students," adds Edwards.
Swank's library also features a significant collection of documentaries. For example, The Black Power Mixtape 1967-1975 examines the Black Power movement through previously unseen archival footage of 60s and 70s Black radical icons including Stokely Carmichael, Eldridge Cleaver, and Angela Davis. The footage is accompanied by contemporary reflections from leading historians, artists, and activists. Educators have used this powerful film to explore the Black Power advocacy of violence vs. the civil rights movement's peaceable stance.
One Missouri librarian commented: "This digital library is so much easier than struggling with outdated materials [DVDs]. By going digital, the whole world is open and that helps my students." An instructional management coordinator in Illinois also praised Swank's new service: "Teachers can assign films and students can finish them on their own without juggling their schedules or going to the library for the DVD."
"Our goal is to give teachers and librarians everything they need," says Edwards. Swank offers annual or multi-year subscriptions at the school or district level. Statewide agreements are also available.

Schlager Group
Since 1997, Schlager Group has specialized in publishing innovative, expert-curated primary source document collections. From award-winning encyclopedias to cutting edge digital products, Schlager Group creates resources for high school, college students, teachers, and general researchers. "I was a history major in college, so I feel there's a role for diverse, accessible primary source collections," says founder and president Neil Schlager.
The Schlager Anthology of Black America: A Student's Guide to Essential Primary Sources, edited by Dan Royles, August 2021, ISBN 9781935306580, is a three-volume sourcebook covering Black history from the 1500's to the present.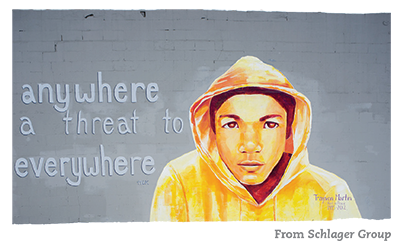 In addition to icons like Frederick Douglass and Booker T. Washington, this inclusive collection highlights often-marginalized figures, like women and members of the LGBTQ community. Alongside the primary sources, students will find activities to help engage with documents from all periods of Black American history, starting in the 1540's with the first African-born person in New Mexico.
Offered through FactCite Lincoln Library Online, Milestone Documents Online, ISBN 9781935306535 is an online library database of award-winning reference books and classroom e-sourcebooks. A global team of more than 300 hundred historians provide in-depth analysis of over 1,700 primary sources from U.S. and world history. This database features a trove of sources on Black history, world religions, modern Chinese history, and the Middle East and includes study guides and quizzes.
"Our goal is to present a modern, accessible collection of Black history documents with many different voices and perspectives," says Schlager.

Calkins Creek/Astra Books for Young Readers
Calkins Creek Books—an imprint of Astra Books for Young Readers—publishes rigorously researched nonfiction and historical fiction for children ages 7+. Editorial director and founder Carolyn Yoder has a passion for unsung heroes, social justice, and overlooked Black history. "These are vibrant stories that kids need to hear from all aspects of our diverse country," says Yoder.
Evicted! The Struggle for the Right to Vote by Alice Faye Duncan, illustrated by Charly Palmer, January 2022, ISBN 9781684379798, explores the little-known Fayette County Tent City Movement for voting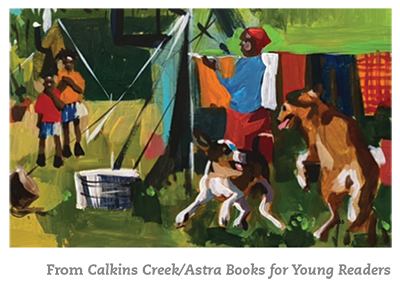 rights in 1950s Tennessee. For middle grade readers, this forgotten history charts how Black landowners organized registration drives to help Black citizens vote, even in the face of violent threats from white farmers. Told through the eyes of a child using poetry, prose, and colorful illustrations, these events contributed to the passage of the Voting Rights Act of 1965, which ended legal voter discrimination.
Seeking Freedom: The Untold Story of Fortress Monroe and the Ending of Slavery in America by Selene Castrovilla, illustrated By E.B. Lewis, January 2022, ISBN 9781635925821, recounts the true story of George Scott in a picture book for readers ages 7-10. Scott, a Black man fleeing slavery at the outbreak of the Civil War, helped a Union general save Fortress Monroe from the Confederate Army. George Scott's heroic efforts were among those that moved President Lincoln to write the Emancipation Proclamation, ending slavery in the rebellious states. In 2011, President Barack Obama declared Fort Monroe a national monument for symbolizing the "pathway to freedom for thousands of enslaved people."
Scipio Africanus Jones, a self-taught lawyer who was born into slavery, rescues a group of 12 Black men from execution in Race Against Time: The Untold Story of Scipio Jones and the Battle to Save Twelve Innocent Men by Sandra Neil Wallace and Rich Wallace, January 2021, ISBN 9781629798165. This carefully researched book for readers ages 10–14 describes how Jones skillfully appealed the death sentences of the convicted men following the Elaine Massacre in 1919, the deadliest racial confrontation in Arkansas history.
"We make a conscious effort to diversify our list—in scope and in the contributors," Yoder says. "Books on social justice themes are more relevant because kids are becoming more activist."

Algonquin Young Readers
In 1983, Louis Rubin started Algonquin Books in a woodshed behind his home in Chapel Hill, NC. Now a division of Workman Publishing, Algonquin Books launched the Algonquin Young Readers (AYR) imprint in 2013 to publish fiction and narrative nonfiction, picture books and graphic novels, for children ages 3+, teens, and young adults.
Readers follow Emily Edmonson's journey from enslaved person to abolitionist in Passenger on the Pearl: The True Story of Emily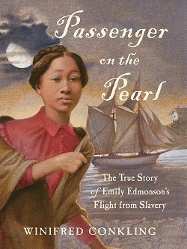 Edmonson's Flight from Slavery by Winifred Conkling, January 2015, ISBN 9781616201968. For ages 12-18, this nonfiction page-turner chronicles 13-year-old Emily's attempt—along with 70 other enslaved people—to sail north to freedom in 1848. An armed posse captured the fleeing schooner and rerouted it to New Orleans, where Emily faced even crueler conditions. The first YA book to document the largest escape attempt by enslaved people in U.S. history, Passenger on the Pearl's story-like narrative, information-filled sidebars, and 50-plus period illustrations and photographs illuminate this little-known episode in Black history.
Kids on the March: 15 Stories of Speaking Out, Protesting, and Fighting for Justice by Michael Long, March 2021, ISBN 9781643751009 features the inspiring stories of kid-led protests in America, including leading movements like Black Lives Matter and the March for Our Lives protest. Readers ages 10–14 will see themselves in young activists like 16-year-old Barbara Johns, who led the 1951 student strike in Virginia that helped build the case for Brown v. Board of Education and the high school students who led the 2018 March for Our Lives. "The whole country rallied around these kid-inspired protests," says Caitlin Rubinstein, senior manager for children's school & library, "When kids protest, people say, 'Wow!'"
"History books need to be rewritten...We need to make sure kids know who influenced the world we live in today," says Rubinstein. To that end, New York Times best-selling author Tracey Baptiste honors ten remarkable kings, queens, inventors, and thinkers whose vision and achievements shaped the world in African Icons: Ten People Who Shaped History, illustrated by Hillary D. Wilson, October 2021, ISBN 9781616209001. Baptiste introduces readers ages 8–12 to great leaders like First Dynasty Egyptian pharaoh Menes, Mansa Musa of the Mali Empire, and Queen Idia of Benin.
SPONSORED CONTENT