A frank Q&A with First Second publisher Mark Siegel on the desire to look beneath the surface and ask difficult questions, as well as his quest to build a better world through comics.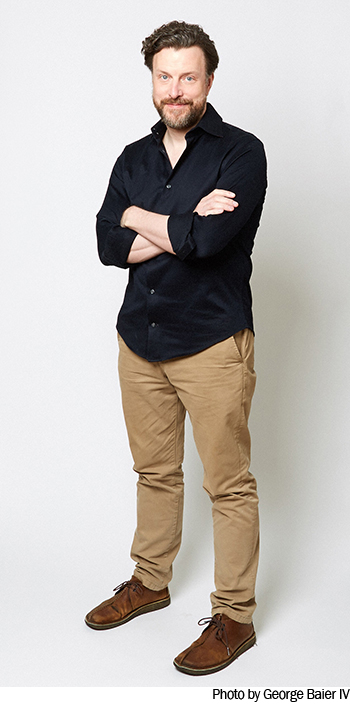 Mark Siegel is the editorial director of the graphic novel publisher First Second Books, and he is also a graphic novel creator in his own right. He is co-creating a middle grade graphic novel fantasy series called " 5 Worlds" (Random House) together with his brother, Alexis Siegel, and artists Xanthe Bouma, Matt Rockefeller, and Boya Sun. On the editorial side, he is shepherding First Second's new "World Citizen Comics" line, which launched in July with Unrig: How to Fix Our Broken Democracy, by Daniel G. Newman and George O'Connor (the artist for the publisher's "Olympians" series). The second book, Fault Lines in the Constitution, a graphic adaptation of the book of the same name by Cynthia Levinson and Sanford Levinson, is out right now.
If there's a theme that ties these two projects—middle grade fantasy and civics education—together, it's the desire to look beneath the surface and ask difficult questions. The fourth volume of "5 Worlds," titled The Amber Anthem, came out in May. I spoke to Siegel about his quest to build a better world through comics.
Can you start by giving us an idea of what "5 Worlds" is about?
There's Oona Lee, who is a young, clumsy sand dancer, and her friends An Tzu and Jax Amboy, and they are on a quest to light five beacons. Each world has an ancient beacon left behind by a race of ancient gods, and they need to light all these beacons in order to save their worlds from catastrophic change.
In the third book, the beacon was completely covered with pipes and machinery that were drawing off its power and sustaining the entire economy of the five worlds. The conundrum was do you go in and light it, knowing it's in the long term the only right thing to do, but in the process you are going to completely put the economy into upheaval?
Then in the fourth book they go to a moon called Salassandra, where there's a thousand different religions. Some are quacks and crackpots and charlatans, but some have a genuine connection to the universe and abilities and beliefs that have a kind of a power. There's an incredible amount of disagreement, and in the course of the quest they come to understand that they need a collective signal, and there needs to be a unifying harmony between the five major races.

There are a lot of middle grade fantasy series. What sets "5 Worlds" apart?
We are tackling a depth of thematics that I think is unusual in the space. One of the things we are exploring is the villain, this character called the Mimic. We were trying to bring a genuine reflection about evil into the character of the Mimic. I feel like the best villains offer real insight.
When my own kids really love a book, they put it into this perennial cycle of reading and rereading. We wanted something that would be dense enough and rich enough, in terms of the world-building but also the characters' own transformations, and the plotlines, and the emotional substance of it, that kids could read it 10 times, 20 times, and still be discovering things and making new connections.
Did you expect this story to be so resonant with real life when you first started out?
There are some things we did not expect at all. We started this project quite a while before Trump was elected, and the landscape has changed so dramatically. Someone was pointing out that in this new book we are emphasizing the fact that our heroes are in a system of five worlds that are in quarantine. They are cordoned off from the rest of the universe because of this kind of an infection, which is the Mimic.
I'm really looking forward to the conversation that Book 4 is going to spark. It tackles greed combined with corruption and deception and lying and disinformation, themes that are of real importance today.

[Read: Review of The Sand Warrior] 

Moving from your work as a writer to an editor, what's the origin story of the "World Citizen Comics"?
Back in 2017, I had meetings with a number of librarians, and it became instantly apparent that we need some civics education, that there is this massive gap in the mind of your average American, and even the not-so-average, and it's part of what enabled the advent of these times.
So what are you doing about it?
I wanted a couple of media literacy projects, so we have The Media Adventurers Handbook [by Melissa Hart, for middle graders] and one called Breaking (the) News [by Jenn Pozner and artist Gideon Kendall, for YAs]. These are books to understand persuasion and how manipulation works, and to inoculate us and future generations against some of that.
There's one great book by the Gaslit Nation [podcasters] Sarah Kendzior and Andrea Chalupa, that's going to be called Dictatorship: It's Easier than You Think. It's a manual for an aspiring dictator; it basically unpacks the authoritarian playbook with a lot of context.

[Watch: Video of Upcoming Titles in the "World Citizen Comics" Series]
We have several constitutional books. Fault Lines in the Constitution gets you inside the United States Constitution so you can actually grasp every line of that document in context. That book alone is going to create millions of Constitutional scholars, including some young ones. There's one called Re: Constitutions, which is about constitutions worldwide, by Beka Feathers, who's one of the handful of people that helps countries draft new constitutions. She was involved with drafting Yemen's new constitution. So some of these books have a global focus.
Dan Rather's book What Unites Us is another one we are adapting. It's reflections on patriotism, and I feel just the chapter alone on the difference between nationalism and patriotism should be mandatory reading.
When Beka Feathers finished the script for Re: Constitutions, she asked me, what are you still missing? I said we really need a book that can sell democracy to a new generation, and she came back with a proposal for Why the People? In it, she says "Let's look at the whole gamut of possible governments like a menu. What's wrong with a kleptocracy or an oligarchy?" You just unpack what that looks like, and also there are many different kinds of democracies, so you can look at those. You come to see very clearly that yes, it's imperfect and messy, but it's still our best bet.

[Read: Review of Fault Lines in the Constitution]
Is there an overall slant to this line of books?
It's not partisan, it's not limited to one point of view, but fundamentally, all the books in this line adhere to a basic belief in democracy and rule of law and accountability and belief in the free press. Whether the writers are conservatives or liberals, they all have some fundamental agreements.
How do you think you will feel about them in 10 or 20 years' time?
I think that my mindset about this line of books has changed in the sense that when we started, there was a part of me that was thinking this is going to help pull the brakes and return things to a better way. Now I don't see that happening, and I feel like it could well be that World Citizen Comics is for us to rebuild our society on the other side of this strange, strange chapter in America's history and world history.