Digital book displays help students and patrons find the perfect title.
Creating eye-catching, timely book displays that young people discover what they want to read is a time-honored tradition for school and youth librarians. With students all over the country learning from home, many librarians are creating digital displays and using online tools and platforms to showcase their books and other resources.
"Even if we weren't in the midst of a pandemic, digital displays are a great way to engage patrons and readers when they are not in the library," Allison Cusher, head of teen services at Grafton Public Library in North Grafton, MA, said via email. She believes all librarians should be creating digital displays. "Right now, many libraries are still closed to the public, so we need to have a way to share and highlight our collections digitally."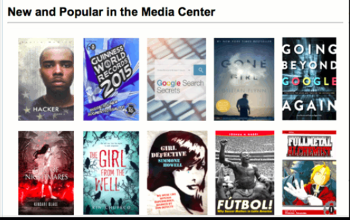 An example of a digital book display from Krista Welz.
Cusher and other librarians use the design platform Canva. It allows users to create interesting graphics that can be posted on websites or social media. Cusher, who also runs the blog 5minlib.com, uses templates to help save time. For example, she uses the same layout and design for highlighting Hoopla items.
"I change the colors, but it's easy to create multiple different display posts in a short period of time," she says. "I also use the grids on Canva if I want to showcase a bunch of different titles, because I can just put book covers in and not spend lots of time making things look neat."
The Thompson Valley High School library in Loveland, CO, now has a section of its website devoted to virtual book displays. Liza Bauer, the school's librarian, started making digital displays in the spring when schools switched to remote learning.
[READ: Virtual Libraries and Bitmoji Classrooms Bring a New Kind of Book Browsing]
"In my library, we have 10 different physical book displays," she says. "I needed something to highlight my titles digitally and get the students interested in new titles or genres."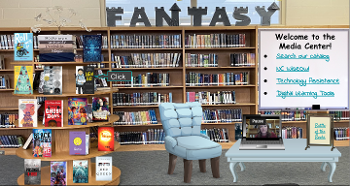 A virtual library book display from Holly Grove, NC.
When students click on the books, they are taken to the
YouTube book trailer for the title.
Bauer creates slideshow displays in Google Slides and then adds them into Wordpress, since that is the platform she uses for her library site. The site recently had a display Bauer created called "Diverse Books in a Diverse World" and one that features books that teachers read over the summer. Similar to what she does in her physical library, Bauer plan to change the virtual displays every few weeks.
Some librarians are adding animation to create more lively displays. Krista Welz, a media specialist and librarian at North Bergen (NJ) High School, creates animated book displays using Google Slides. Her display has two rows and five columns where each book pops up. On her site, kristawelz.com, Welz has put together detailed instructions to teach educators how to make their own animated displays, and she also sells a template that's available on Teachers Pay Teachers.
There are many other tools out there to help you create your own digital displays. Some librarians mentioned that they use visual display tools from AccessitLib, which allows users to add images and info from their own library catalogs. Others use resources that come with Follett's Destiny Discover. Deah Hester, a high school librarian at East View School in Georgetown, TX, is a fan of Wakelet, the content creation platform. She connects it with work she is doing in Sora, an online reading app used by her school.
"Using Wakelet, I gather videos, google slides or pdfs highlighting some of the features of Sora, such as how to log-in for the first time or how to annotate notes in the books we are reading," Hester said via email. She also creates displays by putting together collections within Sora, such as recently added books, or famous women in history.

A scrolling digital book display of books for all ages greets patrons on the library's homepage.
While there are many tools and methods that can be used to make digital displays, librarians and educators need to be especially thoughtful right now when creating these.

[READ: How To Throw a Great Zoom Party]
"People are so inundated with information right now," says Elizabeth Argo, the youth services coordinator at Mayville (MO) Public Library. "First and foremost is relevancy. We don't want to clutter our site so we are trying to do displays that we think are important. We are thinking about what needs are not being met, and how can we best support families."
Melanie Kletter, a freelance writer and editor in New York City, was previously a senior editor of TIME for Kids.