The most valuable aspect of school and other off-site visits is not necessarily that they pose new questions for visitors, but rather that they suggest new answers.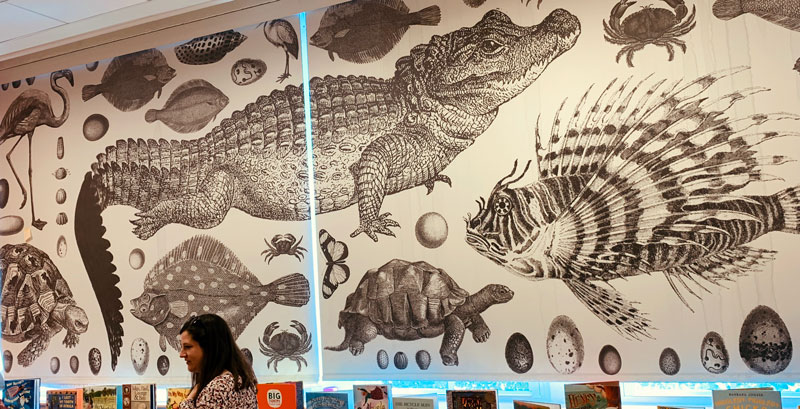 Windsor Hills Elementary/Middle School Library

During professional development, workshops, staff meetings, book clubs with co-workers and community members, and classes in my MLIS program, I have found myself in passionate and well-intentioned discussion about equity, diversity, education, and the school library. Are we meeting all our students' needs? What do we mean when we talk about equity? Do we truly provide "access for all?" These events are usually powerful, and I am grateful for the opportunity to talk about these issues so often. At their most frustrating, however, such conversations can feel like a trip to a go-kart course: an afternoon spent speeding shoulder to shoulder, around and around, only to finish at the starting point. Equity in access is essential, now what? We negotiate an agreement on the questions, their immediacy and significance, but are frequently at a loss for practicable answers.
Answers to "But how?" were in abundance at the School Library Journal's Leadership Summit "Equity and Access for All" in Baltimore in late September, and some of the most galvanizing activities were school visits. Attendees visited Catonsville Middle School, a 6-8 public school in Baltimore County; and Windsor Hills Elementary/Middle School, a pre-K-8 public school in northwest Baltimore. Baltimore County Public Schools were named the American Association of School Library's "Library Program of the Year" in 2017.
As visitors, we met with the staff and learned about the programs that earned them that distinction, including their research guides for kindergarten through grade 12, "Growing Up Digital" online literacy resources, and the "Student Independent Research" project for high school seniors throughout the district, before observing a sixth grade library lesson with makerspace activity. At Windsor Hills, we visited the newly renovated, Weinberg Foundation–funded library and observed a second-grade story-reading and enrichment activity with the school's librarian.
Some of the visit's takeaways were small in scale but large in impact, like fixes that make the whole program run the way it is designed to. In the Catonsville library makerspace, students "buy" supplies with imaginary money in a budget assigned by the teacher for that activity. A price list for supplies allows students to decide which resources they need, e.g. cardboard tubes or Popsicle sticks, before picking them up for their workstation. I pictured putting a similar practice in place, and appreciated the time and energy it would save, now reallocated to supporting students in their creative work.

From the left: Chimère Neal introduces Summit attendees to Baltimore County's impressive public school resources; A library lesson at Catonsville Middle School.

We were also able to speak with a couple of eighth grade student ambassadors for our visit, who gamely answered questions about what they were reading and how they select their leisure reading. (Elizabeth Acevedo's #ownvoices title With the Fire on High was deemed very good but "more high school" as a recommendation.)
Windsor Hills challenged my thinking about the facility of the library itself, beyond furniture and some displays, as a canvas for intellectual engagement. Like the other Harry and Jeanette Weinberg Foundation libraries in Baltimore city, this one has decorations including window blinds, floor and ceiling displays, and wallpaper displaying world maps, scientific illustrations of ocean animals, images of space, encouraging phrases in multiple languages, and more. The full-color decorations are designed to attract students' eyes while also encouraging their curiosity.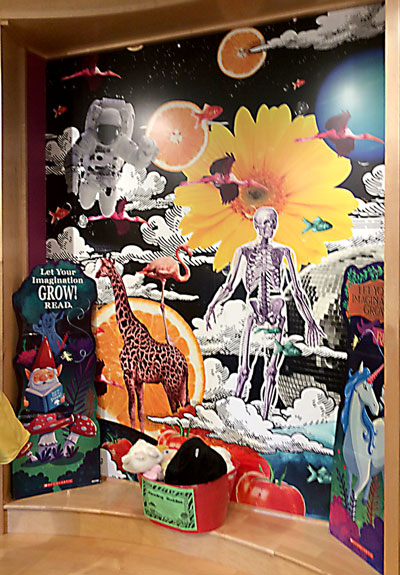 Display at the Windsor Hills Elementary/ Middle School
The library was also full of its own touches, including instructional posters about digital formatting and grammar rules that connected to the school's typing and writing curriculum, as well as a large coloring book page–style wall hanging with nearby art supplies where students could take a break and color when needed. I left Windsor Hills turning over the possibilities for how my school's blank spaces could better engage different types of learners and spark curiosity.
Beyond the quotidian, these school visits also pushed me to think bigger about oft-discussed questions regarding access. Both Catonsville and Windsor Hills have recently expanded their relationships with local public libraries to make access to library resources easier and more comfortable for students and families.
The bar code on Catonsville student IDs can also be scanned at Baltimore County Public Library branches, and their other identifying information can be used to check out digital materials as well. At the Windsor Hills library, as well as in other Weinberg libraries around the city, there is a computer station from the Enoch Pratt Free Library. Students and their families can use that station as if they were at a branch of the public library, accessing the Internet and other resources.
The possibilities presented here for breaking down access barriers felt like a paradigm shift regarding the time saved when public library card application drives are no longer necessary and the practicality of students needing to only one card. Consider what it would be like for families to be able to access the full resources of the public library at a site where they are already present and comfortable rather than having to travel to a separate location, spending gas money or bus fare, and absorbing limited time. For many, and for those for whom English is a second language, that would might also include having to familiarize themselves and become comfortable with another institution. This emphasis on the school-public library relationship in Baltimore County and the city of Baltimore handily addressed many of the invisible factors that restrict access to those who need it the most.

The most valuable aspect of school and other site visits is not necessarily that they pose new questions for visitors, but rather that they suggest new answers to the specific issues already being discussed. The perspective offered by stepping out of our own communities helps to ground us, showing that sometimes it is just as important to look at the trees for the forest as it is to see the forest for the trees.
---
Caroline Cullinane is a public school educator and current MLIS candidate at Long Island University. She lives and works in Queens, NY.