Administrators' efforts and advice, the power of immigrant stories, and the impact of the library on journalist Scott Pelley were among the highlights of the second day of the SLJ Leadership Summit.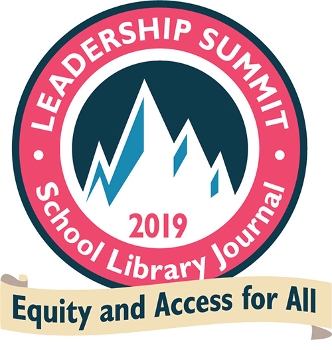 Sunday at the SLJ Leadership Summit in Baltimore was packed with speakers and panels, insight and inspiration. It began with a keynote address from Dayvon Love, the director of public policy for Leaders of a Beautiful Struggle, a grassroots think tank to advance public policy interests of black people, particularly in Baltimore. Love offered enough in his thought-provoking speech to prompt hours of discussion. But that would have to wait. There was much more on the morning's agenda: panels and presentations that would spark many more conversations, "a-ha" moments, and ideas to take back to school.
Here are some of the highlights following Love's keynote:
A panel of administrators took the stage to speak honestly about how they came to recognize the power and importance of the school library; how they try to support their district's libraries; and what school librarians can do to spread their message to the administrators, school boards, and local legislators who still don't understand.
The panel included Mary Boswell-McComas, chief academic officer of Baltimore County Schools; Michael Daria, superintendent of Tuscaloosa (AL) City Schools; Monica Merritt, superintendent of Plymouth-Canton (MI) Community Schools; and Keith Oswald, deputy superintendent and chief of schools at the School District of Palm Beach County (FL).
When asked if they had any formal education or previous knowledge of the role of school libraries and school librarians within a school and district, they all said no, it was on-the-job training.
Even Boswell-McComas and Merritt, who spoke movingly about the importance of the library in their lives growing up, still came to administrative work without any formal instruction about where libraries fall into the system of educating students in their districts.
As moderator and Verona (NJ) High School teacher librarian Elissa Malespina said, "Once you know better, you do better."
Daria learned by listening, to all of the faculty then sitting down with only the district's librarians.
"We have 22 incredible educators that, for the most part, were one-offs in their school," he said of the librarians. "If the school made the library important, you saw evidence of it, but the system didn't necessarily do it."
He sought school librarians' input on how to work them into the system.
"I knew them all individually, but not as a collective group, I didn't know their power until I met with them," he said. "They were very clear, as a group, that they were a key tool to really producing outcomes for our school systems. And my answer was, 'Alright, tell me how.' And as you might imagine, they told me how."
Those librarians created a researched, data-based "blueprint" that led to a revised strategic plan that now includes the schools' libraries.
"The important thing is to really look at the strategic plans of school districts and crosswalk that with the role of the library," Daria said. "There are gaps in these strategic plans that I believe can only be filled in with libraries, access to books, and access to information at a higher level."
The administrators spoke openly about where they were still failing, particularly in terms of students of color and those with special needs in their districts, and their plans to correct that—and where the library and books play a vital role in the solutions.
In Michigan, Merritt found that a lot of administrative staff turnover left her with multiple strategic plans for the district. She had to streamline. District staff audited the curriculum, brought back reading and writing workshops, put together classroom libraries, and emphasized literacy—particularly for those students who, she admitted, the schools are failing. She has seen a positive impact from the changes.
"As I travel throughout the district, the response from students to reading again is just amazing," she said. "They just want to talk about it all the time and they have access to books at their level and things that are of interest to them. One of our priorities is increasing our culturally responsive practices throughout the district. We put a ton of resources into buying new books so all students could see themselves in the literature they were reading."
---
Tea Rozman-Clark and Zaynab Abdi, of Green Card Voices, came to Baltimore to share the story of the organization that uses the first-person narratives of immigrants to combat bias and build empathy in communities across the country. The nonprofit was formed in 2013 by a group of immigrants, including Rozman-Clark, who is the co-founder and executive director.
Rozman-Clark grew up in Yugoslavia and was 15 when the war started there. At 20, she went to the University of Wisconsin. While researching for her doctorate, she documented stories of her countrywomen who had survived the genocide.
"I realized the power of storytelling, especially when it comes to building empathy and melting hate," she said.
About seven years ago, she says she observed more bias in the U.S. and felt hate was on the rise. She heard stories of Somali families living in Minnesota who couldn't stop at a gas station without being harassed. She helped launch Green Card Voices at that time to not only build empathy in others but also to change the narrative. Oftentimes, outsiders tell the story of the migrant and immigrant community. It is a narrative often hijacked for political purposes. Rozman-Clark wanted people to tell their own stories.
Green Card Voices started with adult immigrants recording their stories. It has since added high schoolers to the mix and expanded from video-only format to publishing books of first-person essays. The group has also created a teaching guide and traveling exhibits that visit schools and libraries to shares these stories and impact the way people think about immigrants.
Rozman-Clark met Abdi, a refugee from Yemen, when Green Card Voices went to her Abdi's Minnesota high school and asked a group of young people to work with the organization. Now the immigrants and refugee youth ambassador for the organization, Abdi spoke to Summit attendees about how empowered she felt when Rozman-Clark told her she could and should be the one to author her story.
Abdi has since toured the country for Green Card Voices and has worked with the Malala Fund. She is speaking at the United Nations this week to advocate for girls education in war zones.
Rozman-Clark made her biggest impact on the Summit crowd discussing the organization's work with a high school in Madison, WI. The school librarian contacted her for copies of Green Card Youth Voices: Immigration Stories from a Minneapolis High School to use for the whole-school read. As part of the program, Rozman-Clark surveyed the high school students before and after reading the book, asking what words they think of when they hear the word "immigrant." The word cloud results she put up on the ballroom screen produced an audible response from the crowd of educators.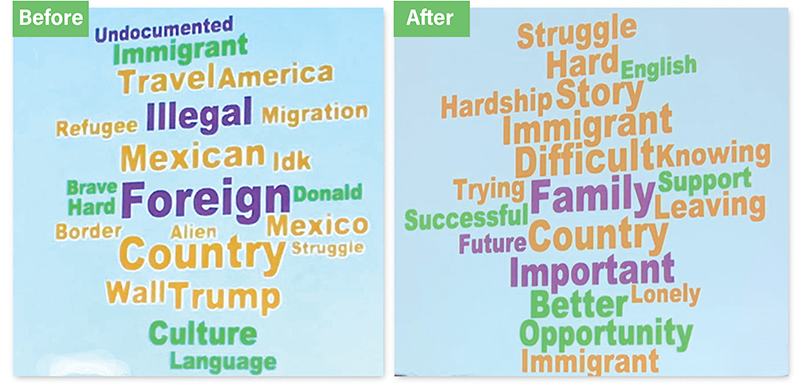 ---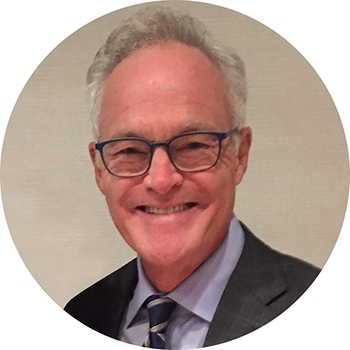 The weekend conference closed with a keynote address from 60 Minutes correspondent Scott Pelley, who spoke about the impact of his local library as he was growing up in Lubbock, TX.
"They would not have been a Scott Pelley without a library," he said.
As a child, he would ride his bike to his local branch, take out five books—the limit—read them, and return for five more.
"It was magic," he said. "This ignited in me a love of learning, a love of words and, eventually, a love of writing and a love of traveling all around the world to discover all of these marvelous cultures that inhabit this planet with us."

Before reading from his new book Truth Worth Telling and talking about some of his most memorable interviews and stories, Pelley made the connection between journalists and librarians. He spoke of his belief in the importance of both professions, particularly at this time in America.

"In a sense you and I are in the same business, aren't we?" he said. "We are in the education business. And I think we face a moment in this country, an insidious moment in this country, in which ignorance poses as enlightenment. Ignorance of immigration policy, ignorance of gun policy, ignorance of race, ignorance of each other. And yet this ignorance tells us that it understands these issues uniquely. Well, I fight against that. And you fight against that. And that's why I like to think we're all in the same business together—the education business. The antidote to ignorance."