Hours of research and conversations with survivors aided the author as she pieced together the tragic story a 1940 attack on a ship carrying children from war-torn England to Canada.
Deborah Heiligman's Torpedoed: The True Story of the World War ll Sinking of 'The Children's Ship (Godwin Books/Henry Holt, Oct. 2019; Gr 6-10), details the tragic story of an attack on the SS City of Benares on September 17, 1940, an ocean liner carrying children from wartime England to Canada, presumably to safety. Beyond that incredible story of heroism, death, and survival is another—one of dogged research that encompassed years of combing through war records and archives, pursuing contacts and leads, and traveling miles to amplify a story that is both gripping and heart-wrenching, and ultimately, life affirming.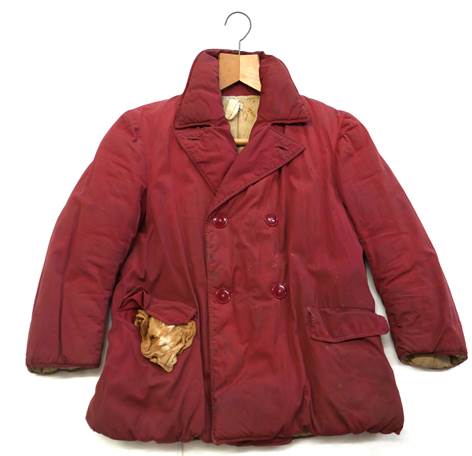 Sarah Ryder Richardson courtesy of
the Egham Museum.
The image of a red life jacket pervades this story. Can you tell our readers a little bit about it and who it belonged to?
Yes! I actually started on the journey of writing the book because of the red life jacket. My editor, Laura Godwin, saw it on display in the Imperial War Museum in England years ago, and took a photograph of it. She showed me that photograph, and suggested I might want to look into the story. The jacket belonged to one of the children on board the SS City of Benares in September, 1940.

Of the 100 children on board, 90 were with a government program set up to help parents send children away from the bombs of war and to safety, and nine were with family members. Colin Ryder Richardson was not with the government program, nor was he with family. Clearly sending Colin to relatives was very difficult for [his mother]. One of the things she did to ease her mind was to have a special life jacket made. It was warm, padded, and much more comfortable than any ship-issued lifesaving device would be. That life jacket saved him, as did his belief that the Royal Navy would rescue him.
The description of the 20-foot waves that battered those clinging to rafts and boats —hour after hour—after the ship was torpedoed, paint such a vivid image of what they had to endure, and echo the emotional ups and downs experienced by them (and readers) when hope after hope is smashed. Talk to us about the framing of the story.
I hadn't thought of that—that readers ride the same up and down waves the passengers did. I didn't do that on purpose—exactly. But I did want readers to feel the same kind of terror and suspense that the children felt, and the way to do that was to leave the characters' fates up in the air (so to speak) as often as possible.
Of course, I had no idea how I would do that, I just knew that I wanted to. I thought a lot about each character, and what he or she went through, and what the crisis points were, and then I pretty much knew where I wanted to leave off telling each story to keep readers in suspense. But I also wanted to get in background about the characters so readers would care. One thing I decided fairly early on was not to give all of the characters' background or salient details at once, but to use them to help increase the drama. This would allow me to keep the momentum going, but also to slow it down when I wanted to—to drop away from the action and build suspense. (And maybe also give some readers a relief—I hope it works both ways.)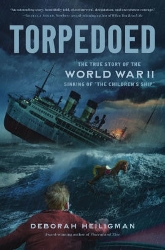 This is a story of hugely tragic dimensions, but it's also one of sacrifice, bravery, resilience, and survival.
The stories of bravery, altruism, courage, and survival pulled me through writing about the deaths. Writing those deaths was heartbreaking—the [death of the five] Grimmond children especially. In fact, at first I was certain I wouldn't include their story because it was such a tragedy. Finally I knew that I would, partly because I had Gussie's and her sister's letters [written to their parents just before the City of Benares set off]. War kills innocents and I had to show that up close, in an intimate way. Writing about the heroes who lived and died propelled me every day to get into my writing chair and do my best to honor all of them.
You've stated that it is human connections that motivate you as a writer, exemplified here in the many stories of those who helped each other when disaster struck.
What I always come back to is that phrase "only connect" from E.M. Forster. At first I didn't realize this book was about connection, but as you say, it is. I was drawn to the people I write about because of their connections: Jack Keeley and Eric Davis, the BBC reporter who rescued him. I believe they kept each other alive on that little raft, as well as the crew member, John McGlashen, who was injured and probably should have, by all rights, died.
The poignant and beautiful thing about dramatic events like this, is that bonds are forged quickly. Bess Walder and Beth Cummings had known each other only a few days but kept each other going clinging to the overturned lifeboat. I think in many ways their story is the "keel" to that part of the book. And then Mary Cornish, whose connection to six little boys began when she climbed into a lifeboat—she would have done anything to keep them alive, and in fact, did.
The infusion of quotes from survivors, and the letters and documents of others, add a particular poignancy to the book. Tell us about your research.
I prefer to rely on primary sources as much as possible, and in the course of a project I become obsessed with finding them. Some of that was easy, some difficult, some impossible. The easy part: The Imperial War Museum interviewed many of the child survivors—decades after the event. Although one has to compensate for the deterioration of memory, of course, and check everything that is possible to check, these interviews were conducted beautifully and were invaluable. In addition, I was also able to order records from a few different sources. These records gave me contemporaneous accounts from passengers and from Royal Navy crew, including official reports. There were also memoirs [and secondary sources, and books about war and children in war, etc.].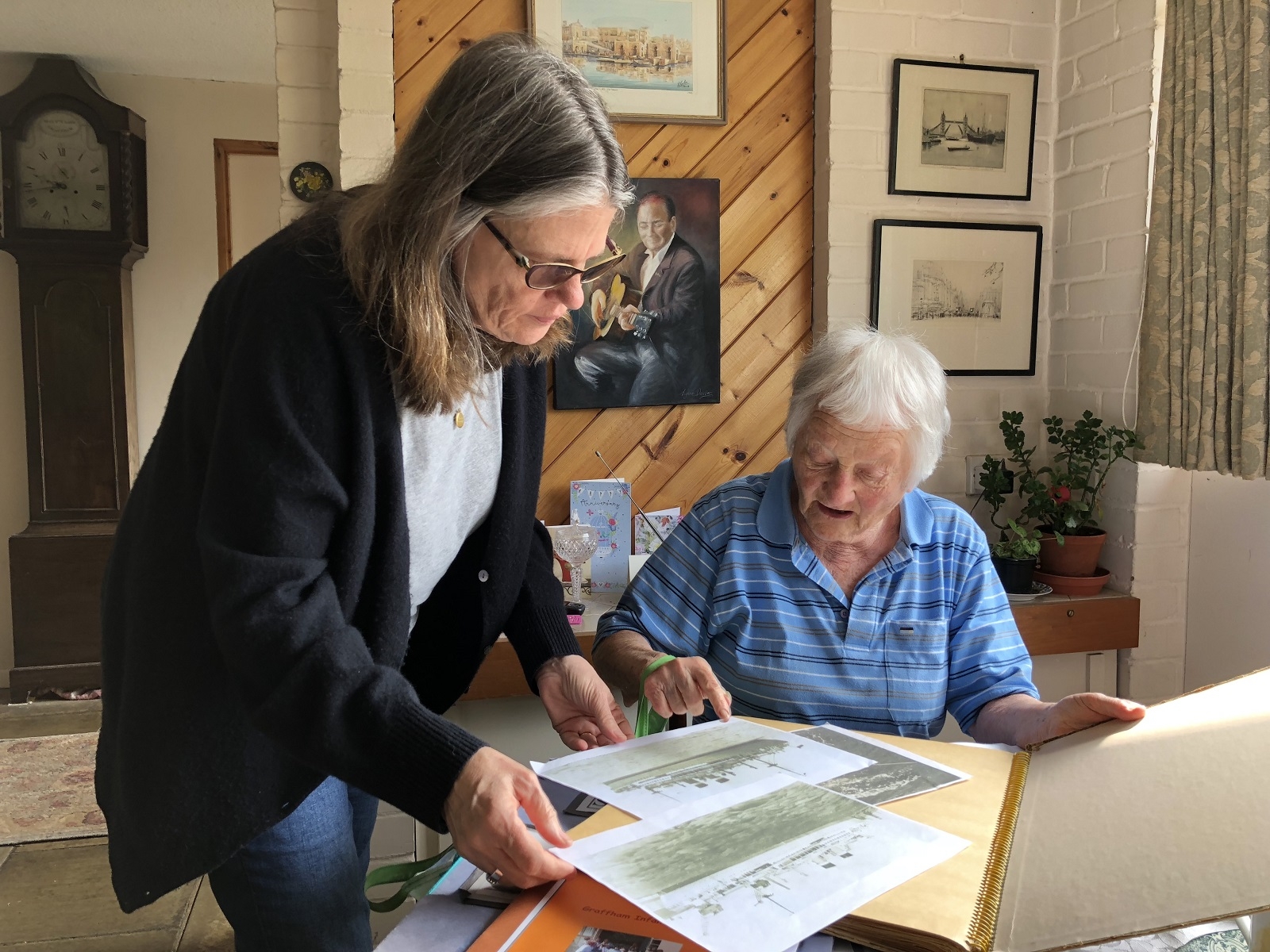 Deborah Heiligman and Sonia Bech Williams
Photo by Jonathan Weiner
I understand you met survivors.
I did meet the two remaining survivors. I talked to one, briefly, on the phone, but he was not up to more than that. I kept reaching out and finally got the address of Derek Bech, who had been nine in 1940. A couple of months later I got an email from his son—Derek had died, but one of his sisters, Sonia, was alive, and wanted to talk to me! Sonia was a survivor whom I already loved—from listening to her interview, reading about her, and watching her in a British documentary. As luck would have it, she had been an elementary school teacher, and she still goes to her old school to talk about her experience.
Within a couple of weeks, Sonia and I were Skyping. After many minutes, she said, "Well, I'm sure you've talked to Maggie Paterson, haven't you?" "Who is Maggie Paterson?" I asked. "Why she's Mary Cornish's niece-in-law." Mary Cornish is one of the most important characters in the story, a school teacher who kept six boys alive for eight days in a lifeboat by telling stories. "And," continued Sonia, "She has a suitcase full of things." Clearly I had to meet Sonia, see the suitcase, and visit the other survivor Sonia help me connect with, John Baker. That trip to England was a fantastic experience both personally and professional.
How so?
I uncovered three things that were hugely important, two of which I could not have gotten without going to England. The Vicar at St. Jude's [where a memorial mural is located] helped me by confirming the death of the radio engineer of the U-boat [that attacked the City of Benares]. That interview was embargoed until his death, and so, because I mentioned that to the Vicar, I was able to listen to it. Crucial! The second thing: in Maggie Paterson's suitcase were letters to Mary Cornish's sister that illuminated Mary's character for me. These were notes written when people thought Mary had died, and told details about Mary's life and personality that I would not have had otherwise.
The last thing made me gasp and almost scream in the quiet Imperial War Museum Research Room. I had ordered the private papers of Bess Walder, one of my main characters. She had given so many interviews in her later years, I didn't think I would find anything new, but I did, and it was significant.