The celebrated graphic novelist had to learn to love sports to tell a larger story of basketball dreams in Dragon Hoops.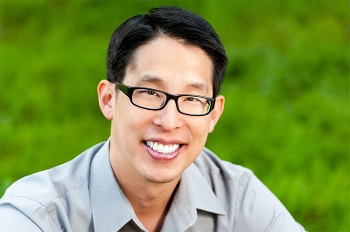 A self-proclaimed nerd, Gene Luen Yang was always mystified by his friends' fascination with sports. "My thought was, who wins or loses in a sporting event doesn't affect the world in any way," he says.
That worldview was turned upside down several years ago when he started following the basketball team at Bishop O'Dowd High School in Oakland, CA, where he used to teach math. Though the Dragons had made it to the California State Championships, they had never won—but in the fall of 2014, they were convinced that their time had finally come. Yang details their story in his graphic novel Dragon Hoops (First Second; Gr 7 Up; Mar. 2020).
While Yang quickly transformed into a basketball fan as he learned about the players' backstories, cheered on the team at games, and became invested in the Dragons' future, depicting the world of athletics still presented challenges. It was difficult, he notes, "getting hand positions and even body positions correct." In addition to reading as many books as he could find on basketball, viewing historic games on YouTube, watching—and with help from the team videographer—rewatching Dragon games, and looking at photo references, Yang leaned on his fellow authors and illustrators. His publisher First Second has a group called the Story Trust, where artists can workshop ideas; critiques from his peers helped immensely.
Dragon Hoops was an ambitious project, as Yang focuses on both the Dragons' journey and the history of basketball. His early attempts to tie those two strands faltered, however, until he realized, with help from the story trust and his editor, Mark Siegel, that he needed to connect each historic moment to one of the Dragons.

Read: Sticks & Scones by Ngozi Ukazu
"I chose six players to focus on, and for each player I tried to figure out how to tie them into something from the past," he notes. One of the players, Arinze Chidom, had an older sister, Oderah, who had excelled at the sport when she went to O'Dowd, and Yang drew parallels between her and women such as Senda Berenson Abbott, who adapted the rules of basketball for women at Smith College in 1899, and Georgeann Wells, who in 1984 was responsible for college women's basketball's first slam dunk.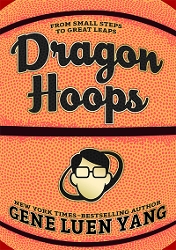 And Yang followed up a section on trailblazing athlete George Mikan, one of the first Catholic players at a time when Catholicism was a more marginalized religion, with a spotlight on Jeevin Sandhu, a Sikh Dragon who often encountered bigotry on the court.
Writing graphic nonfiction was difficult for another reason. With prose, Yang says, "the visual aspect is created in the reader's head, and it feels like the reader is closer to what things truly looked like." But with a graphic novel, where the author/illustrator chooses to depict what scenes looked like, there's a "layer of fiction on top of this nonfiction story."
Portraying real people was hard. Yang posted his drawings of the different players to Tumblr so that each of them could weigh in. Sandhu asked Yang if he could fix his character's hairline—a scene that Yang included in the book itself ("It's more, like, straight across, you know? But if you can't do it, that's totally cool!" "No, you're right. I was trying to make sure that cartoon-you reads as Punjabi rather than African American. It's an important part of the story—your story.").
Many of the players preferred to keep their personal lives to themselves—a decision Yang respected, given that several of the Dragons were treated like minor celebrities on campus. He says, "I realized that it was really about them trying to keep a part of their lives to themselves."
But Yang had a harder decision when it came to deciding whether to include Coach Mike Phelps in the book. Though Phelps had been a beloved basketball coach at O'Dowd, the school learned that decades ago a student at a different institution had accused Phelps of molestation. The crime was never confirmed, and in 2003, the Supreme Court voided prosecutions for old sex crimes, but Phelps was asked not to return to the school, and the O'Dowd community viewed him with mixed feelings.
"For a long time, I was trying to find a way of cutting him out of the story," says Yang. But after talking it over with Lou Richie, the Dragons' coach, Yang decided to keep that element of the story in, even depicting himself wondering how to approach the issue. Yang doesn't come to any definitive answers in the book—something that was intentional. "The uncertainty around Coach Phelps was very real. Everybody who was connected to that school lived with that uncertainty," he says.

Read: Esports Leagues Continue To Play Despite School Closures
To overcome the hurdles of writing nonfiction, Yang decided to insert himself into the narrative. "I just had to have a reminder throughout the entire story that this is one person's perspective; it's not the objective truth," he says.
Yang depicted himself covering the Dragons' games and traveling with them as they played in different cities. But he also showed himself struggling to balance family life with teaching and writing. Eventually he realized he needed to leave Bishop O'Dowd to devote himself fully to his artistic career. "I didn't even know that would be my last year," he says. "I was freaked out about leaving, about going all the way in my comics career, but ultimately those emotions were so omnipresent they ended up in the story."
That personal connection is a hallmark of the format, he adds. "I think one of the strengths of comics and graphic novels is the intimacy that it can build with its reader. Because what you're looking at on that page is the actual lines that were drawn by the cartoonist's hand. I think a well-constructed graphic novel can read almost like a diary."