A middle school librarian and makerspace teacher planned a unit focused on the works of Edgar Allan Poe.
At Oxford Middle School (OMS), we—the library lady and the makerspace teacher—took the month of October to celebrate all of the wonderful creepy and dark corners of literature with a Gothic literature and STEAM collaborative unit. We call these collaborative efforts "STREAM."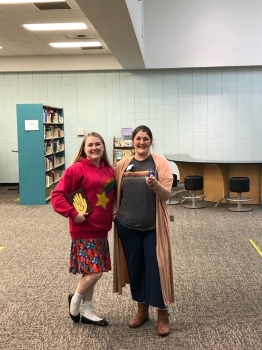 Katlyn Smith, left, and Kristie Noojin-Barnett
dressed up for Halloween.
Photo courtesy of Noojin-Barnett
The OMS library and makerspace are two parts of the same whole, sharing a front door and space with only a glass wall separating them. Until this school year, the two co-existed but lived separate lives: think friendly next-door neighbors. With this unit, however, we married the two and created a plan that uses literature and STEAM. As our first venture was in the fall with Halloween approaching, we chose to pull out our dark sides. (Plus, middle schoolers love all things dark and creepy.)
This was a two-week STREAM unit for the makerspace class and Book Club, which is a library class elective. The classes studied the elements of Gothic literature and Edgar Allan Poe, then read two of Poe's short stories, The Raven and The Black Cat, and identified their Gothic elements. (The Book Club class, which studied Gothic lit for the entire month of October, also read The Monkey's Paw, The Most Dangerous Game, and The Land Lady.) The themed collaboration was perfect for October but could work at any time of year.
Here was our plan and schedule.
Week 1
Monday: Introduction to Gothic literature genre for all makerspace classes using a presentation and class discussion.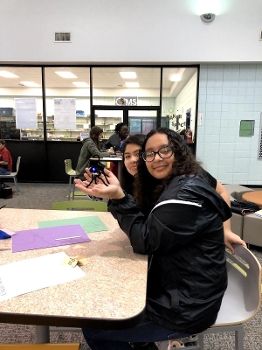 Students with Poe-inspired LED cats.
Photo courtesy of Noojin-Barnett
Tuesday: Introduction to Edgar Allan Poe.
Wednesday: Class reads The Raven as a group and discusses the Gothic elements within the poem. The group then undertakes guided research in the form of a WebQuest on the author.
Thursday: The group reads The Black Cat.
Friday: We conduct a lesson on circuits resulting in creating LED cats. This project uses button batteries, copper wire, LED lights, and pipe cleaners.
Week 2
Monday: Read The Cask of Amontillado.
Tuesday: Students define what a catapult is and how the mechanisms work, create a wall-like structure not easily knocked down, and build a catapult (we did pumpkin catapults) to attempt to knock down the wall.
Wednesday: Read A Rose for Emily by William Faulkner and study mummification and decomposition. Conduct an experiment mummifying apples.
Thursday: Each class celebrated the monsters of literature and Gothic literature with a book-themed Halloween party in the library. Students used toilet paper to make each other mummies, played keep it up using ghost and bat balloons, and constructed paper bats that can fly.
In retrospect, the unit went well. The students enjoyed both the exploration of Gothic short stories and the STEAM elements. Next year, we will consider replacing A Rose for Emily with a work that is more middle school friendly in language and structure. The students definitely took better to Poe than Faulkner.